Publié le par Bernard Duyck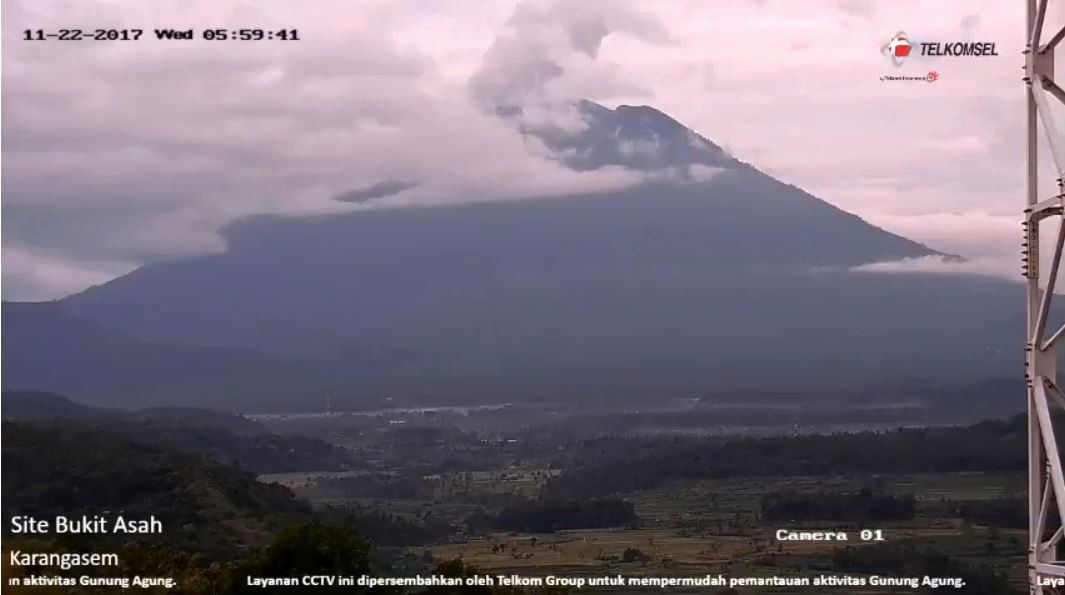 After the phreatic eruption of November 21 at 17:05, we still observe today a degassing above the crater of Agung.
People living in dangerous areas have fled as suggested by the observatory. All is well in the shelters.
On the other hand, the Jakarta Post reports that the Besakih village customary chief has doubts about the fact that there has been an eruption. "We saw the mountain this afternoon, it was not an eruption, there was no earthquake, we did not feel any earthquakes." It should be noted that 50% of the Besakih customary zone is located in the Agung exclusion zone and take into account local customary influences to understand this reaction.
Yesterday morning, before the eruption, the PVMBG teams flew a drone carrying MultiGas equipment (Aeroterrascab Al450 drone equipped by the USGS); abnormal amounts of CO2 were detected, while SO2 was not.
The volcanologist E.Klemetti, Assoc. Teacher. at Denison University, comments this result: "This is a lesson learned at Pinatubo, the sulfur dioxide can be" cleaned "by the hydrothermal system, while the carbon dioxide passes through".
Ashes were sampled for analysis.

Sources: PVMBG, BNPB, Jakarta Post.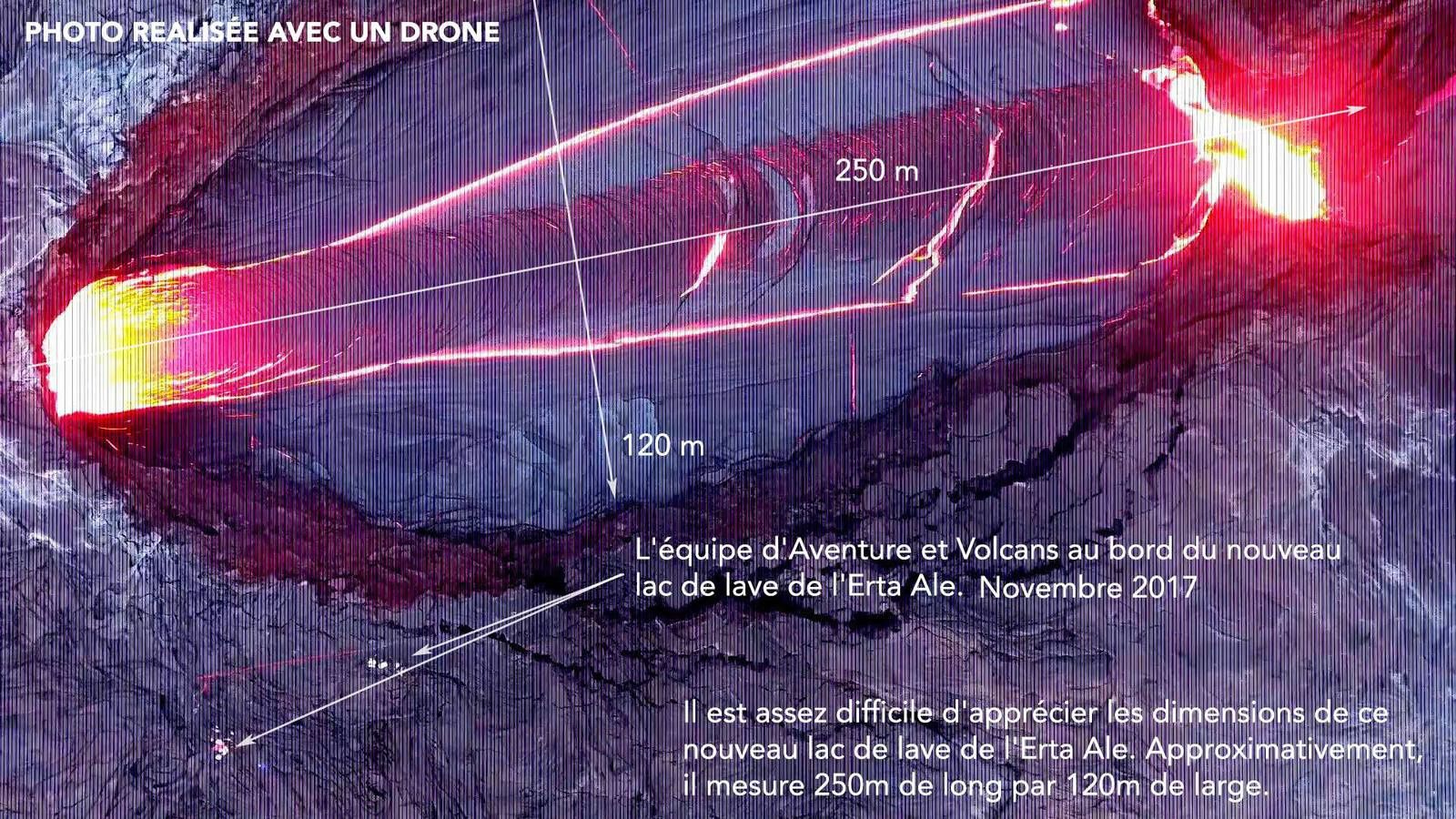 Erta Ale - Drone View of the New Lava Lake in November 2017 - Doc. Adventure and Volcanoes / via Tanguy De Saint-Cyr
A communication from Tanguy De Saint-Cyr tells us that an expedition of Adventure and Volcanoes composed of Guy De Saint-Cyr and a local team with Seifegebreil Shifferaw could find the passage of access to the new lava lake of the Erta Ale in November 2017.
They were able to make a drone flyover of this lava lake located about 5 km south of the southern pit crater, and not yet visited (two previous expeditions had to give up due to difficulties inherent in the terrain). This lava lake is approximately 250 meters long and 120 meters long. wide, and seems to be crossed by a strong current of lava in view of the wrinkles left on the surface.
The last satellite images made by Sentinel2 show a spread of the lavas in the distal portion of the northeast field.

Source: Tanguy De Saint-Cyr / Adventure and Volcanoes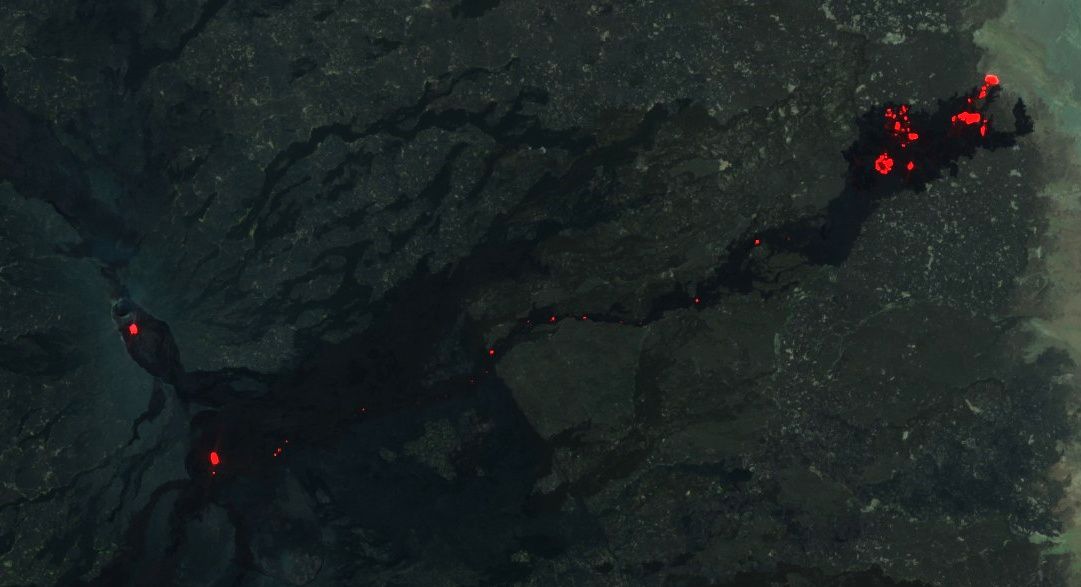 Erta Ale - the active lava field and the two lava lakes - Sentinel-2 image SWIR Cloud coverage: 0 / 15.11.2017
In Villarica, the POVI reports a subsidence of the bottom of the crater and lava lake of 8 meters in ten days between November 10 and 20, 2017.

Source: POVI.