Publié le par Bernard Duyck
In the Izu archipelago, south of Aogashima, the Japan Coast Guards observed on November 14 a discolored surface area at the submarine volcano Bayonnaise rocks.
First demonstration since July 11, it follows a discoloration and surface air bubbles seen on March 18, 2017.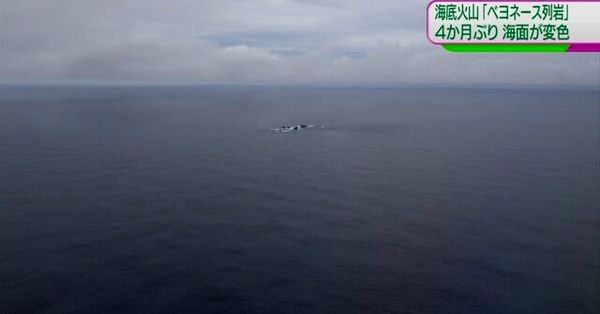 Bayonnaise Rocks underwater eruption - photo from 17.11.2017 taken from the video of NHK / via Shérine France
An explosive underwater eruption destroyed a Japanese research vessel and its 31 crew members in 1952. To analyze this tragedy, the Japanese Hydrographer Department developed a guided radio surveillance boat, the Manbou II.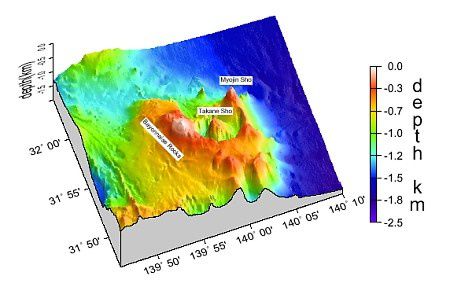 This operation made it possible to discover the morphology of a double volcano.
Bayonnaise rocks is made up of several basaltic volcanic cones, whose peaks are only 9.9 meters higher than the sea level. Their formation dates back 200,000 ± 20,000 years, before the formation of the 10 by 7 km caldera, which separates them from Myōjin-shō, a solitary cone located less than 50 meters deep.
The caldera with its central cone was formerly called Takane-Sho; it ranges between 770 and 328 meters below sea level.
The eruption in 1952 was well documented: beautiful black and white photos are available on one page Getty Images - link
Sources:
- NHK video and article - link, via Shérine France
- Global Volcanism Program - Myōjin-shō
- The survey of Myōjin-shō, the submarine volcano by unmanned radio operating boat Manbou II - link
A strong eruptive activity is maintained at the Reventador. Nighttime glow is observed, as well as avalanches of blocks over 400 meters on the south and east flanks, on November 15th.
On the morning of November 16, plumes of ash rose more than 600 meters above the crater, then dispersed to the north and west.

Source: IGEPN
Also in Ecuador, some news of Tungurahua, and birthdays.

The first anniversary, that of the eruption of 1916-1918: it is marked in 1918 by seven episodes of pyroclastic flows, accompanied by falls of ashes and mudslides. The pyroclastic flow of November 16th descended by the quebrada Juive Grande, and the ash cloud reached Quito, where falls of ashes were observed.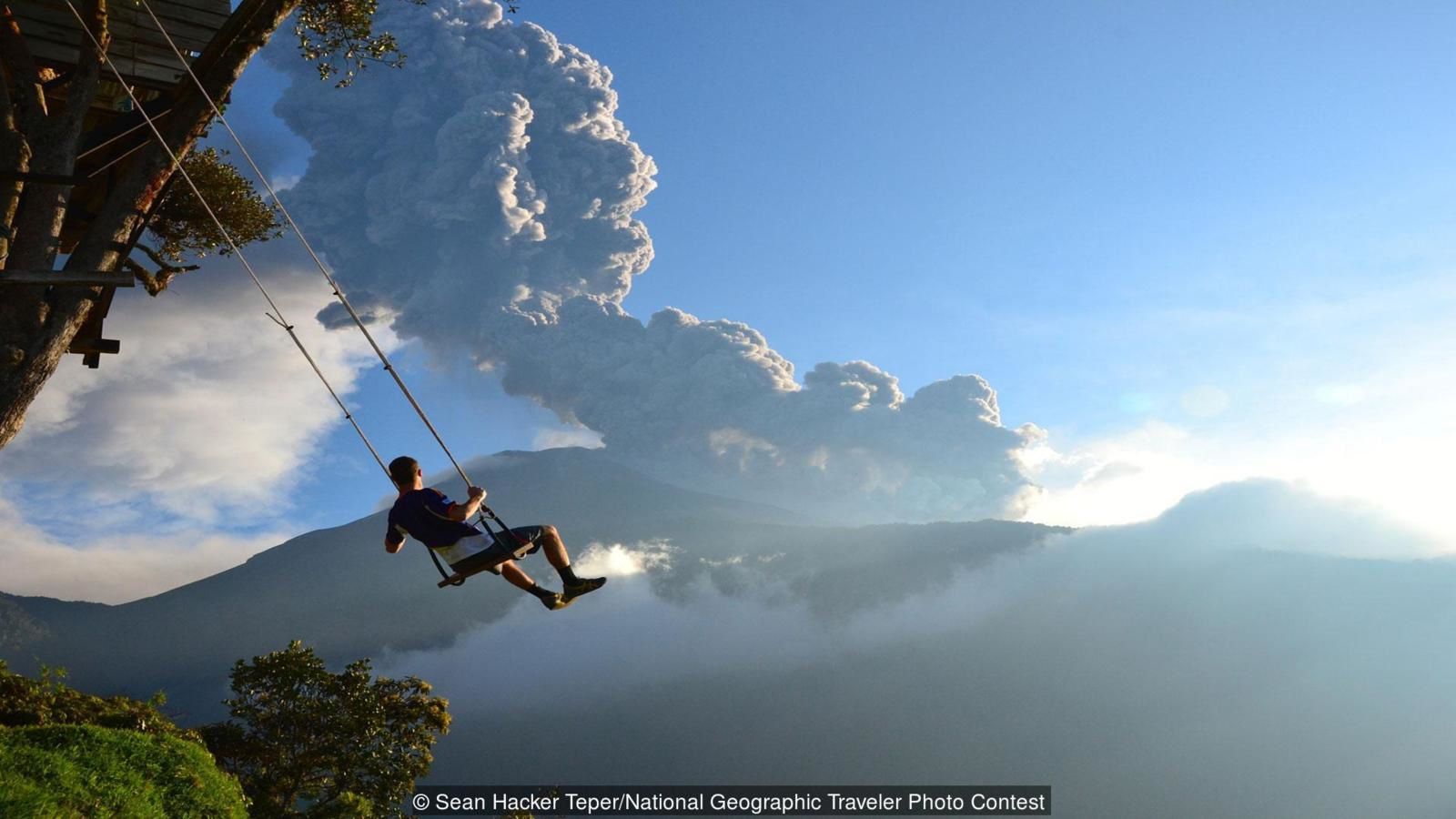 "End of the World" - International Recognition via Photo in National Geographic / Credit Sean Hacker Teper -National Geographic Traveler Photo Contest 2014
The second is that of Carlos Sanchez, 75 years old: this volunteer of the Geological Institute has been monitoring for decades the Tungurahua from a cabin that was built in a tree, the "casa del árbol" in Baños de Agua Santa.
Located less than one kilometer from the summit, this watchtower allows him to give warning in case of pyroclastic flows that could threaten Baños. He says that will continue this action throughout his life.
Swings built for his grandchildren have become an attraction for visitors.
As a bonus, a beautiful bomb in bread crust, typical of magmas rich in silica (> 55%) and water (> 3%) photographed by Benjamin Bernard, a volcanologist. His page Volcanes del Ecuador on Facebook is worth seeing.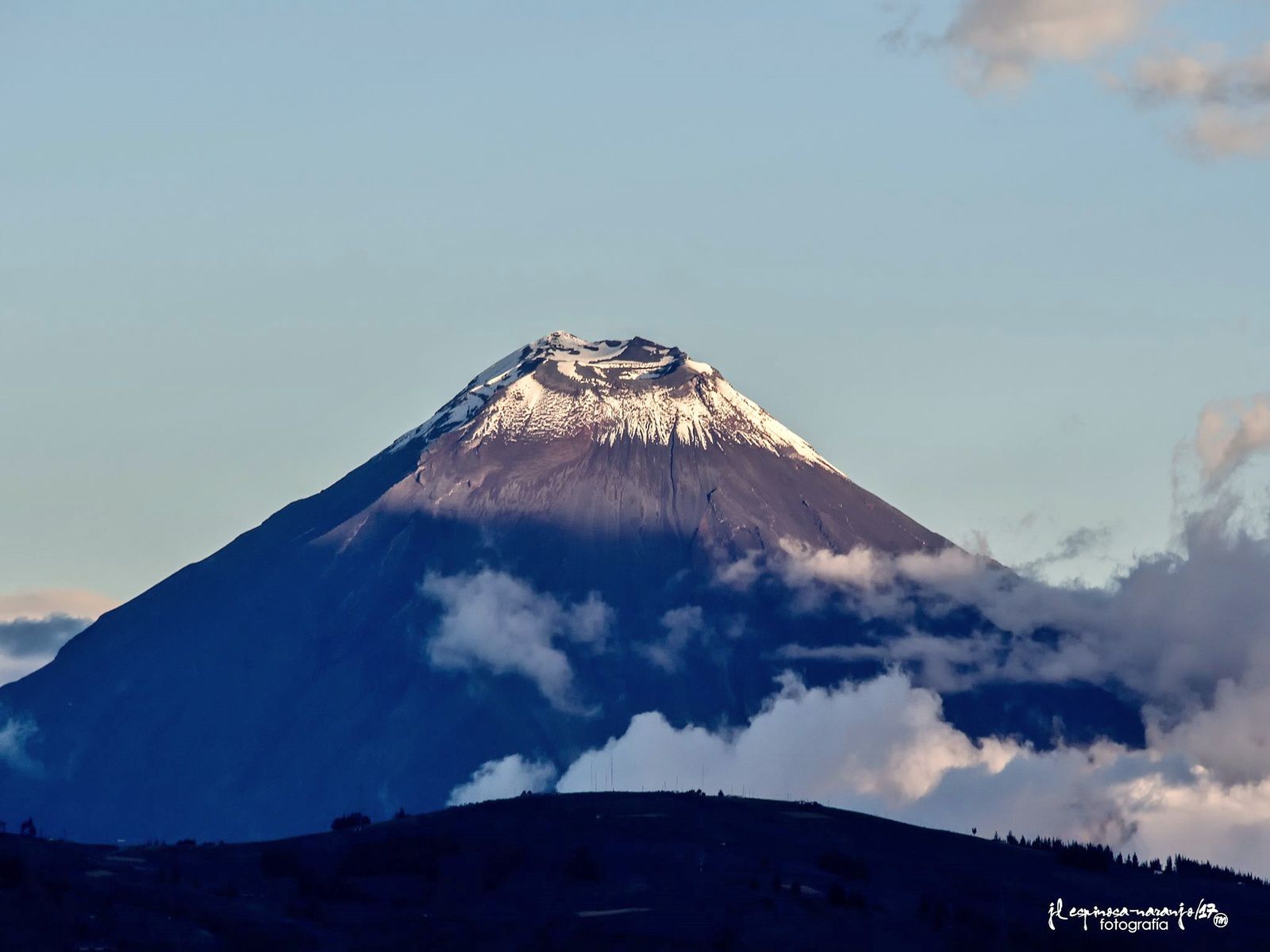 The Tungurahua on 14.11.2017 by José Luis Espinosa-Naranjo, always on the lookout for beautiful views.
In Villarica, the month of October is characterized by a low release energy, but the lava well remained active, with the 15,22, and 25 of October ashes and lapilli observed on the edges of the crater. On October 22nd and 23rd, ejections of small lava spatters (salpicaduras de lava) were filmed by a webcam. On October 23, an increase in LP seismic signals is associated with Strombolian explosions.
The measurements of the active lava pit are about 8 meters in diameter, 100 meters deep in the crater.
On the left, pyroclastic fragment near the crater / Werner Keller 25.10.2017 - on the right, the Villarica - 14.10.2017 photo ivan saez @maturete - a click to enlarge.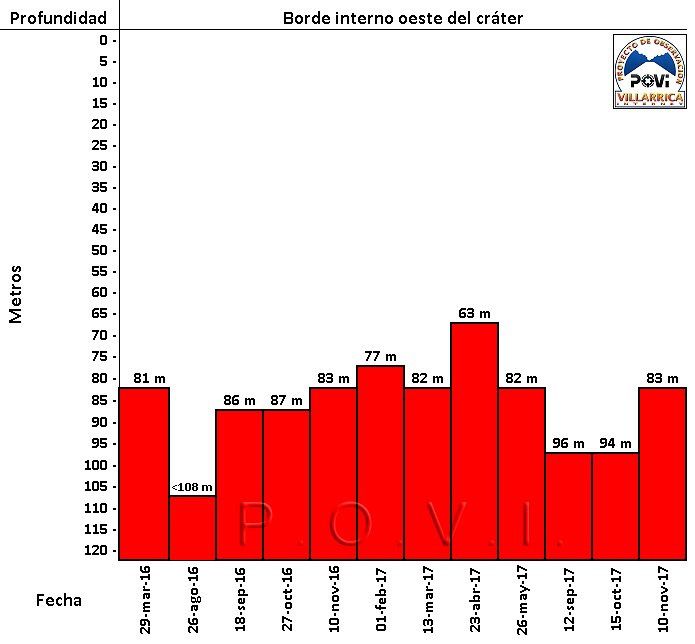 Villarica - vertical oscillations of the magmatic column between March 29, 2016 and November 10, 2017 - Doc. Werner Keller / POVI
Oscillations of the crater floor level were measured from March 29, 2016; on the POVI chart, there is an oscillation of more than 50 meters from the magma column inside the volcano's chimney.

Sources: Werner Keller and POVI