Publié le par Bernard Duyck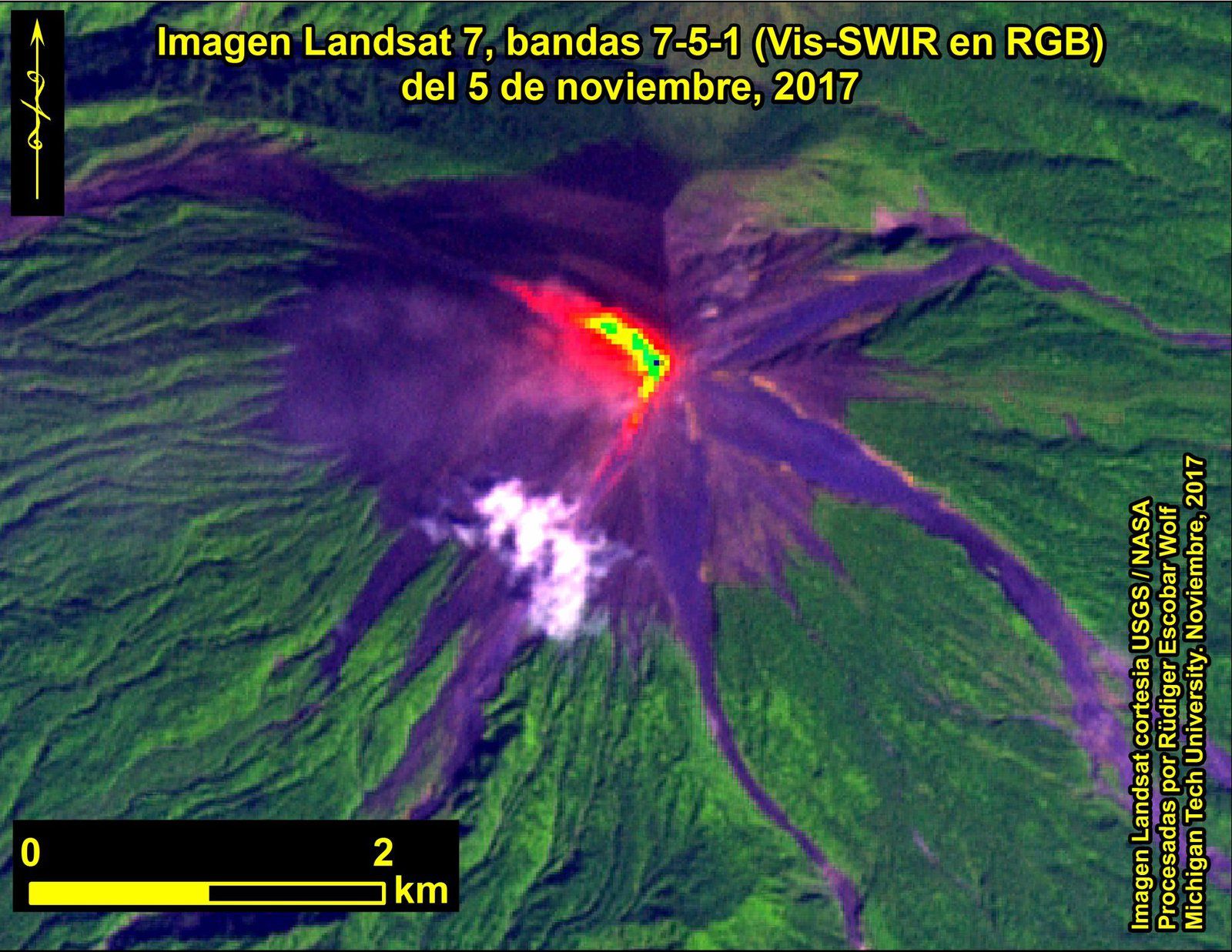 Fuego - lava flows towards the Santa Teresa Barranca on 05.11.2017 - Landsat 7 (7-5-1 - Visible-SWIR Bands) image - USGS Nasa via Rudiger Escobar Wolf
In Fuego, the 11th eruptive phase of the year has begun. The OVFGO records 6 to 8 explosions per hour, generating ash plumes rising to 4,500-4,800 m asl. then dispersing for 15 km to the W and SW. Aircraft turbine degassing noises are audible at an interval of 5 minutes.
Small avalanches are observed up to the vegetation limit.
Two lava flows concerning the Seca / Santa Teresa and Ceniza barrancas, respectively 1,200 and 700 meters long, fed by incandescent pulses with a height of 100 meters.

Sources: Insivumeh & Conred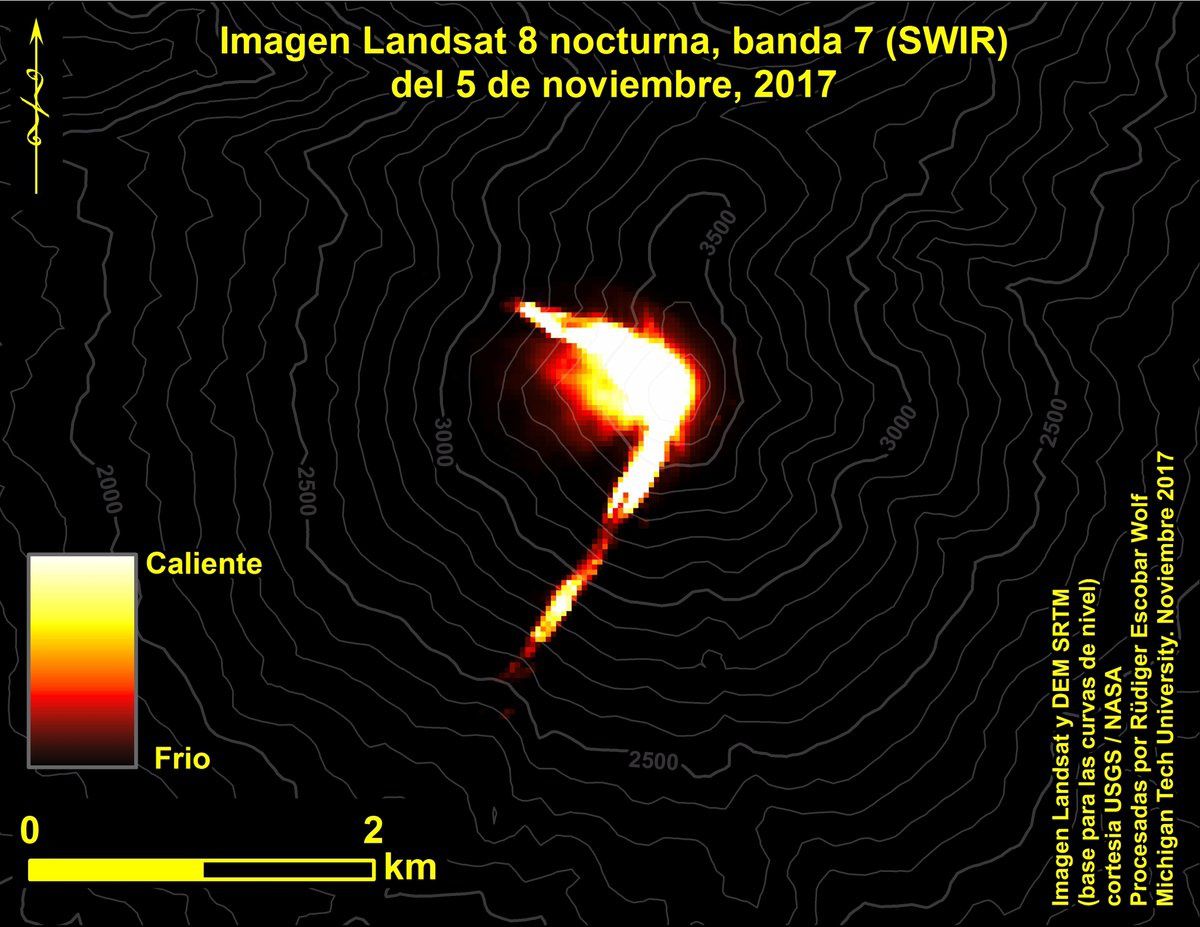 Fuego - 2 lava flows on 05.11.2017 - night image from Landsat 8 SWIR 7 band - via Rudiger Escobar Wolf
The Popocatépetl experienced, in addition to many exhalations, four explosions this November 4, at 1:45, 6:08, 14:40 and 23:21. Ash falls are reported on Yecapixtla and Zacualpan de Amilpas.
On November 5, an explosion occurred at 4:11; a Strombolian episode, lasting a total of 80 minutes, began at 10:29 am, and was accompanied by ash falls on Telela del Volcan.
At the seismic level, the Cenapred recorded five volcanotectonic earthquakes in three days of magnitude between 1.1 and 2.1, as well as 150 minutes of low amplitude tremor.
The alert level remains unchanged: Amarilla fase 2.

Source: Cenapred
Vanuatu Geohazards reports continued seismic activity and minor eruptions on Ambae this November 5th.
Incandescent explosions were seen and heard at night from the neighboring islands. The webcams allowed the observation of ash plumes at 24:30 and the glow accompanying the explosions at 18:15 and 19:00.

Source: VMGD
On Saturday, November 4, 2017, 22:07 (local time - that is 18:07 UTC), an earthquake was felt by residents of Reunion Island, mainly in the west and southwest.
This earthquake was recorded by the seismometers of the Volcanological Observatory of Piton de la Fournaise. The first analyzes of this earthquake made it possible to locate it, 28 km below sea level between Saint Pierre and Saint Joseph. Its magnitude was measured at 2.5 on the Richter scale. There is considerable uncertainty about its location, which is possibly at sea. The OVPF staff is working on refining the location calculations for this event. Also location and intensity information could change marginally.
This type of event, felt by the population is recorded several times a year. This event is isolated and is of tectonic origin. At present, this earthquake has not been followed by replicas.

Source: OVPF
Note: the daily activity bulletins have not been updated since October 31 ... this "information hole" is commonly noticed in the pre-eruptive period; Will this also be the case in November ?