Publié le par Bernard Duyck
Over the past 24 hours, Cenapred has identified 434 low-level exhalations at Popocatépetl, characterized by gas, water vapor and a small amount of ash.
On November 10, three explosions were observed at 7:34, 7:53 and 9:02 respectively; the first explosion, the strongest, generated a plume rising to 3,000 meters, then dispersed to the southwest. The intervals between these episodes of more intense activity are furnished by constant emissions of gas and water vapor.
Nighttime glow is observed, more intense at the time of exhalations.
Sources: Cenapred, Segob, WebcamsdeMexico.
Popocatépetl - explosions of 10.11.2017 at 7:36 and 9:05 - one click to enlarge - webcam Tlamacas / Cenapred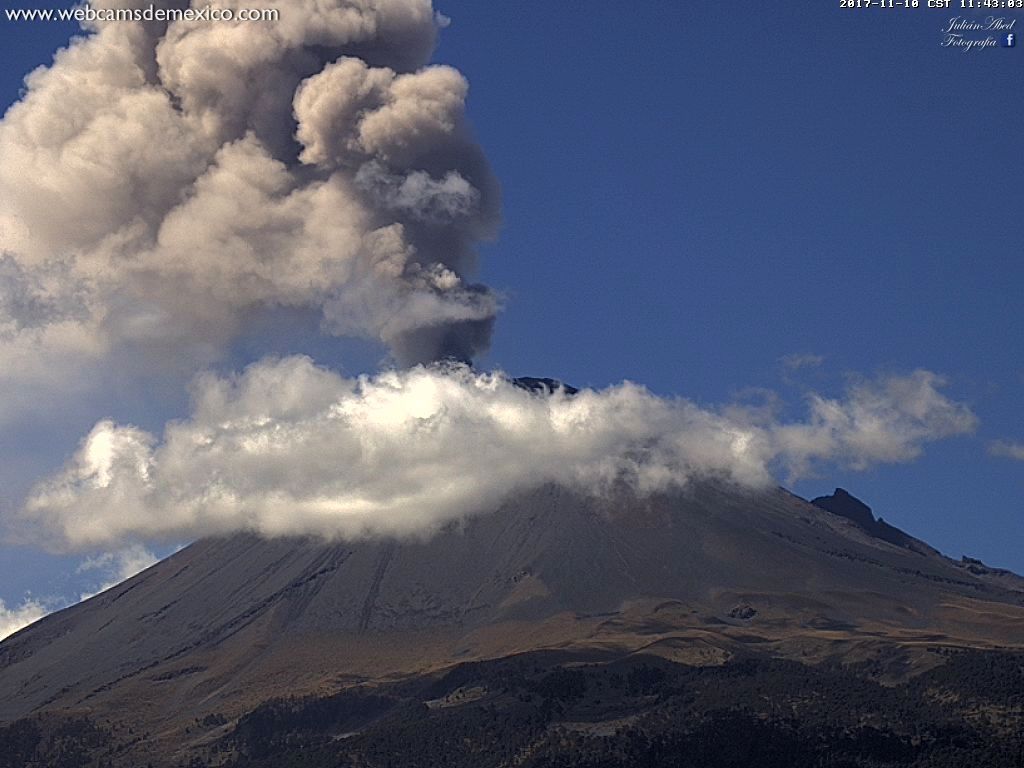 Popocatépetl - emission of gas and water vapor, with a low ash load - 10.11.2017 / 11h43 - webcamsdeMexico
The National Weather Service issued a special opinion for the west side of Kodiak Island in relation to ash impacting visibility.
These ashes do not come from an ongoing eruption ... they are the ashes of the eruption of Katmai / Novarupta, which occurred 105 years ago, remobilized by strong northwesterly winds.
This phenomenon occurs several times a year, during regional storms. The AVO reports that the ash cloud extends over Shelikof Strait and Kodiak Island.
The alert level of the Katmai Zone (which includes Snowy, Griggs, Katmai, Novarupta, Trident, Mageik, Martin volcanoes) remains at Green / Normal.
Sources: Alaska Dispatch News, National Weather Services, AVO, USGS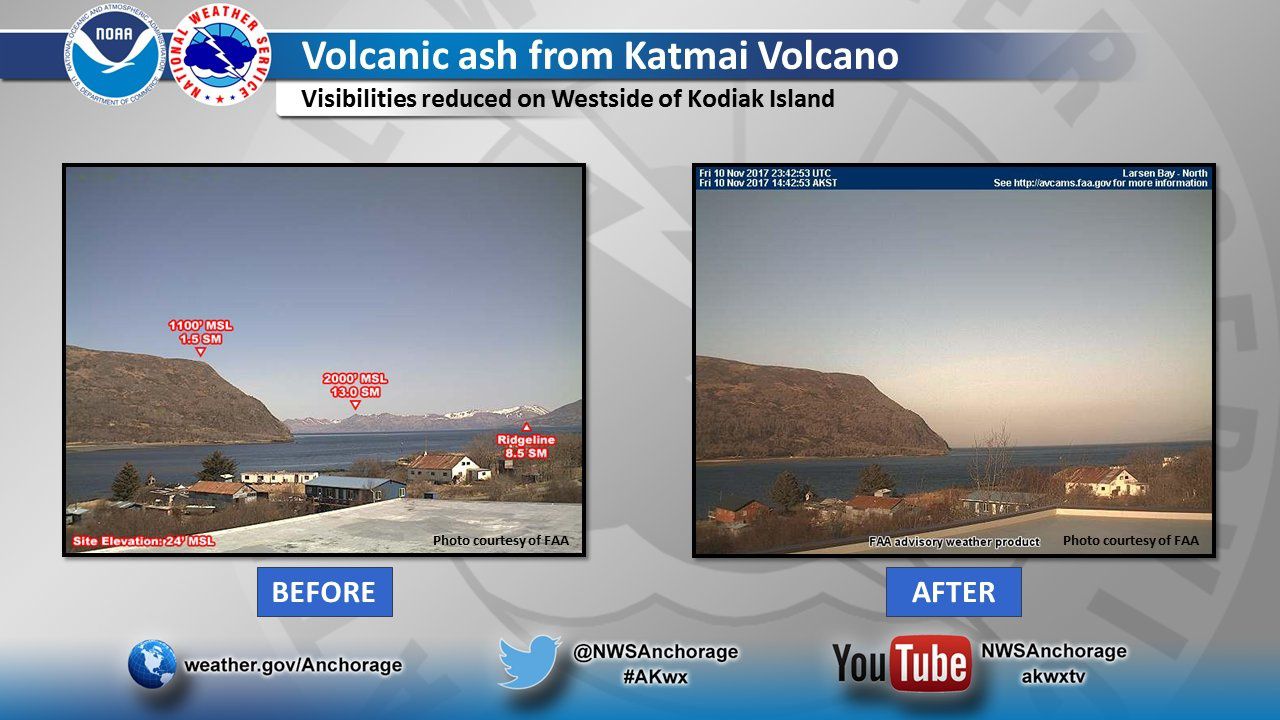 The ashes of Katmai remobilized views of Kodiak Island on 10.11.2017 / 14:42 local (right image) - Doc. NOAA NWS
On Ambae, the satellite images reveal the formation of the youngest isthmus on the planet ... the lava volcanic cone located in Lake Voui have joined the edges.
The view of the cone and the opposite side is obscured by the important plume of steam.

Source: Planet Labs Inc

At the Piton de La Fournaise, after a small fever spurt ten days ago, coinciding with the lack of daily information of the OVPF, the internal activity of the volcano seems to have returned to a basal level.
This is not the first time that the Fournaise presents this type of behavior ... next time, the activity may lead to the third eruption of 2017 ... time is running out!

Source: OVPF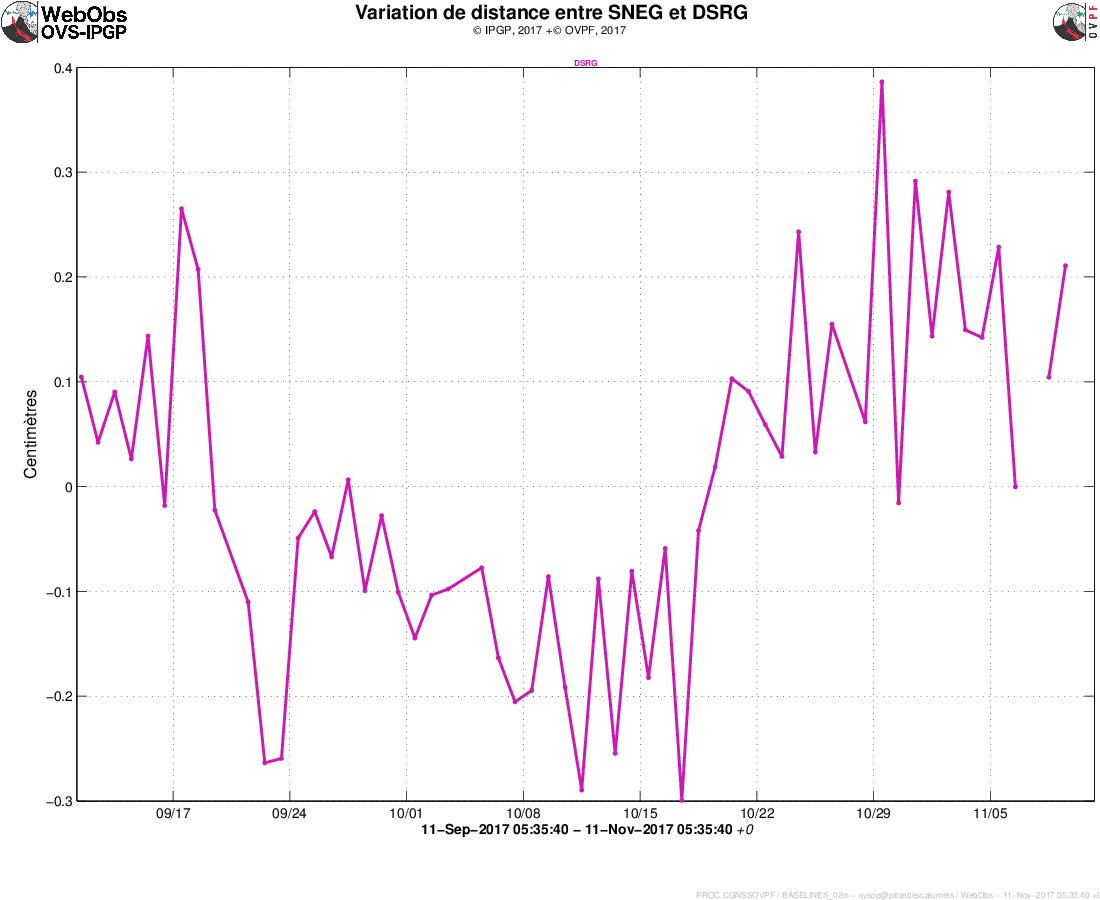 Piton de La Fournaise - Illustration of the summit distortion over 2 months / 11.09.2017 - 11.11.2017. Here is shown a baseline (variation of distance between two GPS receivers) crossing the crater Dolomieu (see location). A rise is synonymous with elongation and therefore swelling of the volcano; conversely, a decrease is synonymous with contraction and therefore deflation of the volcano. Any periods colored in light pink correspond to eruptions.