Publié le par Bernard Duyck
The explosive activity of Sabancaya is increasing, for the week of 6 to 12 November 2017, with an average of 66 explosions per day.
The seismicity remains marked by emission tremor, and LP earthquakes related to the movements of fluids.
The ash and gas plumes remained at similar heights as the previous week, with a maximum height of around 4,000 meters above the crater.
Slight inflation is observed. The flow of sulfur dioxide remains high, with a max value. From 2,763 tons / day.
The alert level remains with the Orange.

Source: IG Peru / OVI / Ingemmet
In Misti, on green alert, the week is characterized by an average of 45 volcanic earthquakes (including volcano-tectonic earthquakes and LP) and emissions of gas and water vapor reaching 300 meters above the summit.

Source: IG Peru / OVI / Ingemmet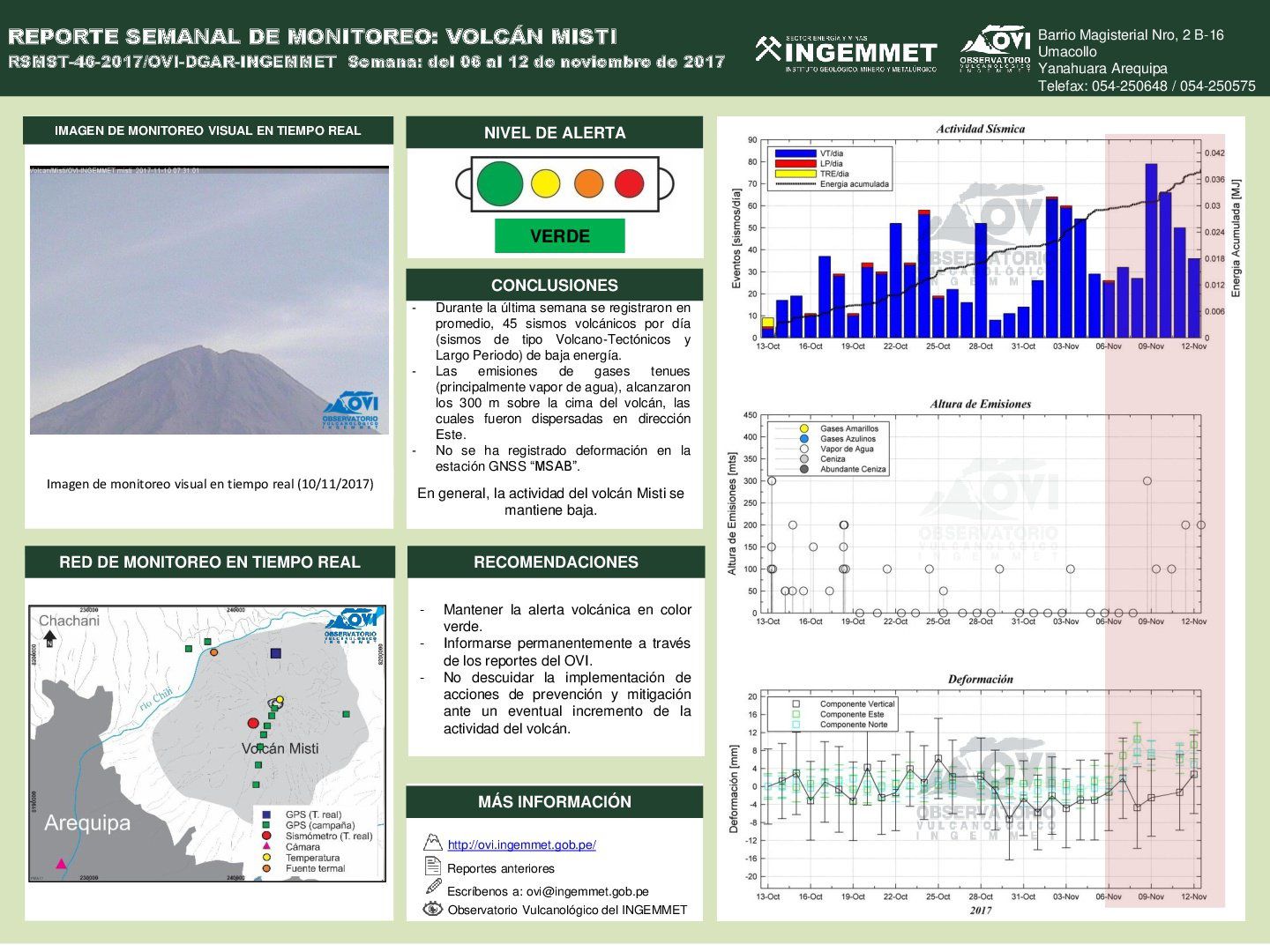 El Misti - summary table of activities between November 6 and 12, 2017 - Doc.IG Peru / OVI / Ingemmet
The INGV shares with us the results of several oceanographic campaigns conducted in collaboration with the New Zealand Institute for the Marine Environment: a chain of 15 submerged volcanoes, 7 of which are unknown so far, forms a linear structure of 90 km of log 20 km wide, oriented east-west in the Tyrrhenian Sea.
The Palinuro range, spread in depth from 3,200 meters to 80 meters below sea level, forms a larger group than the other volcanoes of the Tyrrhenian Sea, the Aeolian archipelago and the Marsili volcano.
Many of these structures have features consistent with the opening of micro-ocean basins, where magma surges along fractures produce a new earth's crust.
The activity of these volcanoes goes back between 300,000 and 800,000 years, without excluding a possible more recent activity. They are today marked by an underwater hydrothermal activity marking a zone of thermal anomaly, where the temperature reaches the 500 ° C to 1,000 meters under the seabed.
The study, which is still in its infancy, opens up new perspectives on subduction associated with volcanic arcs and spreading volcanic centers.

Source: INGV