Publié le par Bernard Duyck
Agung - numerous plumes of ash on 11.12.2017, of which two respectively at 12h 12 & 18h27 Wita - PVMBG / Magma Indonesia webcams - a click to enlarge
At Agung, the situation does not change substantially; the plumes of ashes stood yesterday between 2,000-2,500 meters above the summit, and nocturnal glow was observed.
At the seismicity level, there are 7 VA deep volcanic earthquakes, 6 VB superficial volcanic earthquakes, one harmonic tremor episode, and 50 emission earthquakes.
On the morning of December 12, we observe a dark ash plume around 7 am local, rising to 1,500 meters above the summit
Sources: PVMBG, BNPB, Magma Indonesia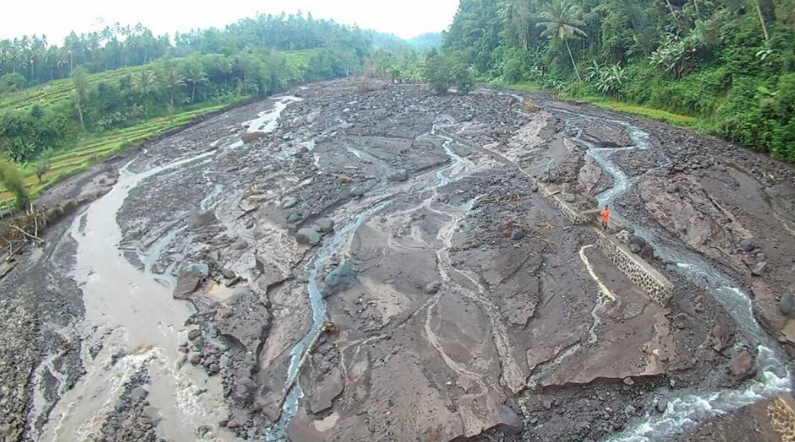 Lahar of remobilization of ashes by the rains on 11.12.2017 in the area of ​​Muncan - scale give by a man standing on the wall - photo Bali volcano eruption Agung 2017
At Kanlaon, the number of volcanic earthquakes decreased in 48 hours; they go from 155 episodes to 14.
Moderate emissions of white steam plumes are observed, reaching 800 meters before moving to a large southern sector.
The building still has a slight inflation.
Source: Phivolcs reports of 11 and 12,12,2017
The activity of the twelfth eruption 2017 Fuego is down as shown in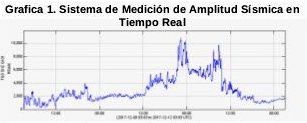 the RSAM chart.
Constant explosions are moderate, but the ash plume remains high, at around 5,000 meters asl, causing ash falls on villages on the southern flank.
The lava fountain only reaches 150 meters above the crater; it feeds the lava flow of the Barranca Seca, where it is waiting 1,000 meters.
Source: Insivumeh report 11,12,2017 / 21:10 local.
At the Reventador, the activity remains high, without variations of the parameters.
On the morning of December 11th, the IG informs of an emission of ash to 600 meters above the rim of the crater, with dispersion towards the northwest.
Beautiful photos of the day and night activity of the Reventador have been posted by Martin Rietze ... to see on the facebook page "volcanoes and volcanism" - link
Source : IGEPN
Explosive eruptive activity has continued in Nevados de Chillan since 7 December, characterized by sporadic ash emissions, phreatic explosions and the presence of a solfatara, which could have a role in the dynamics of the volcano.
Source: Sernageomin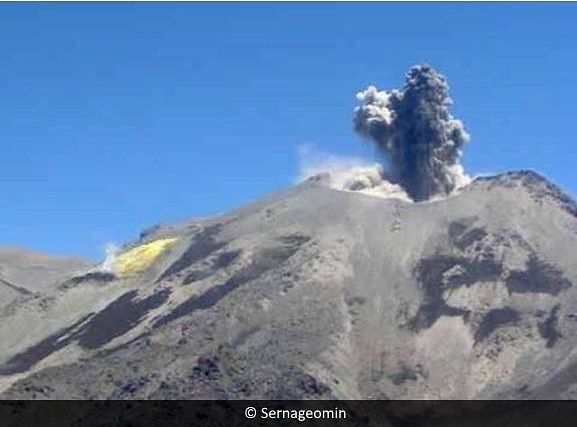 Activity of Nevados de Chillan between 7 and 11.12.2017 - notice the sulfur field to the left of the photo - doc.Sernageomin
At Sabancaya, the number of explosions was decreasing last week; the volcano has a deflationary tendency and a sulfur dioxide flux considered moderate, with 1,392 tons / day.
The eruptive plumes remained at a height similar to the previous week, about 3,000 meters above the crater, and a 50-kilometer spread mainly in NE and SW directions.
LP earthquakes, related to fluid movements, are also decreasing.
Source: IG Peru / OVI / Ingemmet