Publié le par Bernard Duyck
The level of Fuego activity remains high, with 5-8 moderate to high explosions per hour, accompanied by ash plumes at 4,500-4,700 meters asl. dispersing to the west and southwest. Fine ashes fell among others on the villages of Panimache I, Morelia, Santa Sofia, and El Porvenir.
Incandescent pulsatile emissions rise 200-250 m above the crater and generate block avalanches around the crater.

Source: Insivumeh & Mirova
At Agung, where seismicity remains in the norms of previous days, nighttime glow was observed.
Several greyish plumes were observed on December 8, respectively photographed at 0:22, 1:15 and 8:03 local by Oystein Lund andersen.
The VONA remains orange and the airports of Bali and Lombok are open.
The number of refugees was 63,885 in 225 centers on 5 December; it increases slightly meanwhile. (BNPB)

Sources: PVMBG, Magma Indonesia, BNPB and Oystein Lund Andersen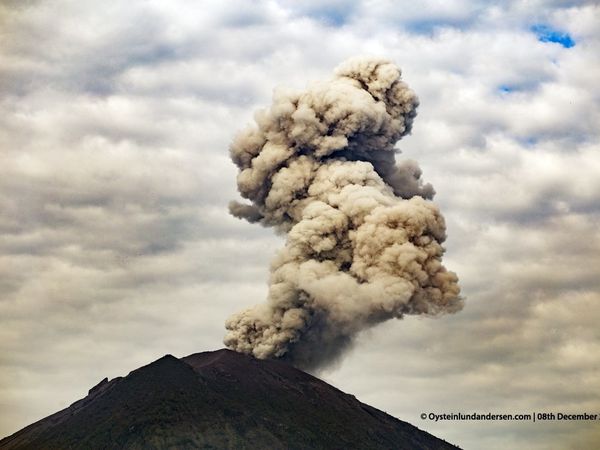 Agung - grayish plumes issued this 08.12.2017 at 0:22, 1:15 and 8:03 LT - one click to enlarge - Oystein Lund photos 
Moderate explosive activity continues at Ebeko in the Kuril archipelago. An ash plume has been observed from Severo-Kurilskmontant at over 2,000 meters asl before spreading 10 km east of the volcano.
Source: KVERT
At Öræfajökull, the situation is "far from normal," according to volcanologist Ármann Höskuldsson.
The cauldron deepened by about twenty meters, following the rising geothermal heat, and the crevices already present have widened. The images of RAX / Ragnar Axelsson taken on November 19 and 28 confirm the situation.
Ingibjörg Jónsdóttir from the University of Iceland reports that the morphology of the cauldron is more like a drop of water that extends to the southwest than to a circle as previously observed.
The seismicity of the last days is characterized by many small earthquakes of magnitude less than 2.
Source: Iceland Monitor & IMO
To see on Volcanodiscovery website : Some beautiful photos of Lengai taken in early December during an overflight by Gian Schachenmann illustrate the current issue of natrocarbonatite at the foot of cinder cone formed in 2007 in the active crater, where a hornito is also visible.

Source and images on: Volcanodiscovery