Publié le par Bernard Duyck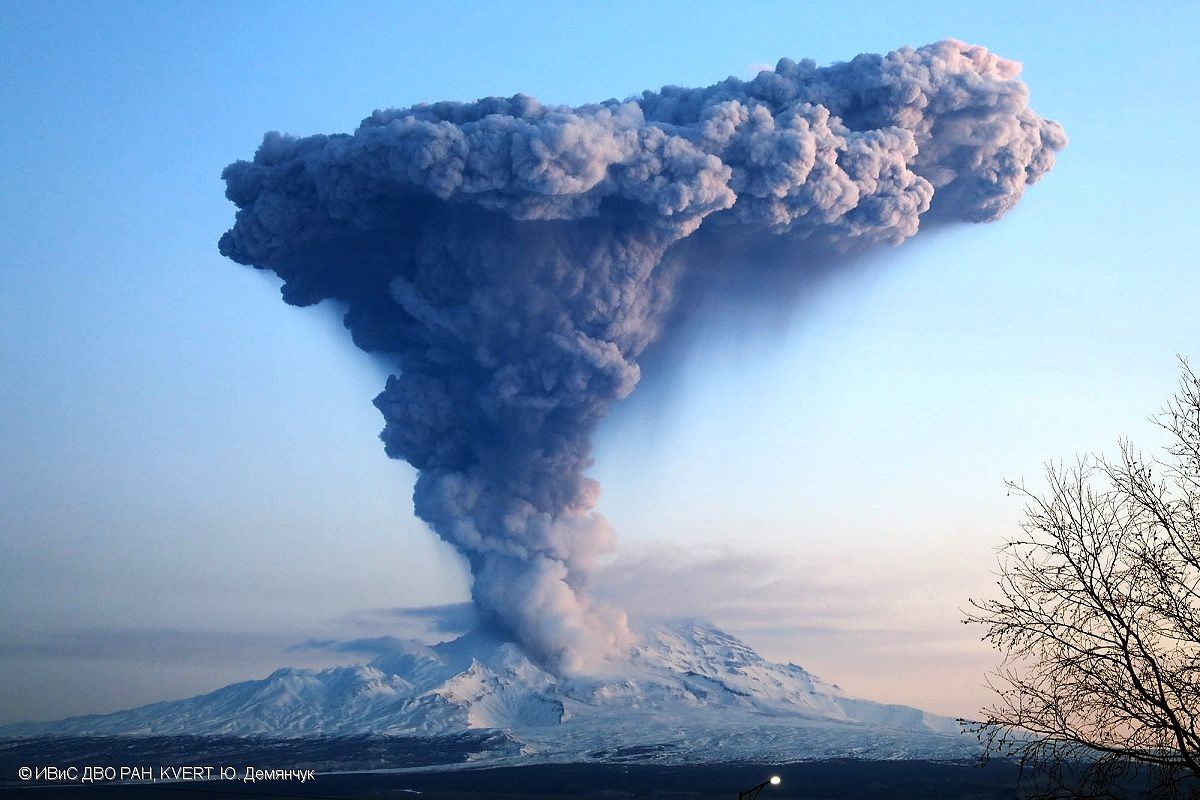 Sheveluch - explosion of 04.12.2017, with its ash plume at 10 km and at its base, the traces of the lahar (white plume) - photo Y.Demyanchuk / KVERT
An explosive eruption produced an ash plume rising to about 10,000 meters on December 4, 2017 at 9 am local to Sheveluch / Kamchatka; the ashes dispersed over 127 km to east-northeast.
A small pyroclastic flow interacted with the snow cover and generated a lahar.

Source: KVERT & VAAC Tokyo
In Chile, the Nevados volcanoes of Chillan and Villarica show an increase in activity.

On December 4, OVDAS recorded a new eruption of ash and water vapor at the Nevados de Chillan complex; the plume rose about 2,000 meters above the massif.
The technical alert is maintained at Amarilla.
In Villarica, the observatory notes an increase of various parameters: the seismicity is characterized by volcanotectonic earthquakes of moderate energy, the volcanic tremor is more energetic, the activity of the lava lake, measured by the infrasonic system, is increasing, in relation to a thermal anomaly between 10 and 82 MW.
The level of technical alert is Amarilla / Yellow from today.

POVI posted a rare image of the entire Villarica volcanic complex, discovering parasitic cones, eruptive fissures, calderas, the Turbio-Pichillancahue glacier and the degassing active crater.

Sources: Sernageomin, OVDAS, POVI
At the Agung, a gray-white plume rose to 500-1,000 meters above the crater, then bowing eastward on December 4 at 23:15 WITA. Nighttime glow was observed.
The seismicity is characterized this December 4 by 4 deep volcanic earthquakes VA, 14 superficial volcanic earthquakes VB, 29 low frequency earthquakes and 2 harmonic tremor episode.
The level of the tremor is of 1-2mm of amplitude, with a dominant at 1 mm.

Agung - Sentinel radar image 1 SAR-C of 02.12.2017
Photos taken by journalists (allowed to enter ?) in the red zone show a large ash cover: the vegetation of the area is gray, as are the temples located there. The necessary protection recommendations regarding volcanic ash are recalled, ash being able to move out of the forbidden zone.

Sources: PVMBG, BNPB, Magma Indonesia