Publié le par Bernard Duyck
The waters north of the Kingdom of Tonga, in the northeastern basin of Lau, are among the most tectonically and volcanically active regions on the planet. There is a high density of active submarine volcanoes in a very small area, including the Mata volcanic group.

Dive map of the second part of the Underwater Fire Expedition, with diving locations - Doc. Susan Merle / Schmidt Ocean Institute
Twenty-one ROV SuBastian dives provided the multidisciplinary team of experts with abundant data on these young submarine volcanoes and their recent eruptions, as well as their impacts on the ocean.
The purpose of this research expedition, dubbed "Underwater Fire" is to understand the geological, biological and chemical processes of these seamounts, in a chronological context. By studying the geological and magmatic evolution of each volcano in particular - and all as a group - scientists develop a better understanding of their volcanic history, how and when they formed and grew, and their levels of activity. Vent biology, fluid chemistry and chimney sampling have also been components of the research, clarifying the relationship between history and volcanic environments, with the development of hydrothermal systems, and related ecosystems.
This unique geological setting induces a great diversity of rock types, among the rarest on our planet. Until recently, experts had only found ancient specimens of boninite, dating back millions of years. It is a very hot and unusual type of lava, formed in pre-arc environments, typically during the early stages of subduction, rich in magnesium and silica. The samples collected here are recent, related to an active volcano, and the eruption could be observed.
The team was able to observe closely the large flows of another type of lava: dacite. Some dacite flows do not appear to be associated with an obvious volcano, and are some of the largest extents of known dacitic lavas on the planet. Another new observation made on this expedition is that the eruptions of the huge lava flows dacite probably included explosive phases. This is an unexpected discovery because the force needed to explode under the pressure of more than two kilometers of water is massive.
West Mata Underwater Eruption - Doc. May 2009 / NSF / NOAA / Woods Hole Oceanographic Institution
The team also observed that volcanism is not limited to volcanoes - many have been active on their flanks and bases. The diversity of places is an interesting future subject for study because it gives researchers an idea of ​​how these volcanoes develop and provides information about their internal "plumbing systems".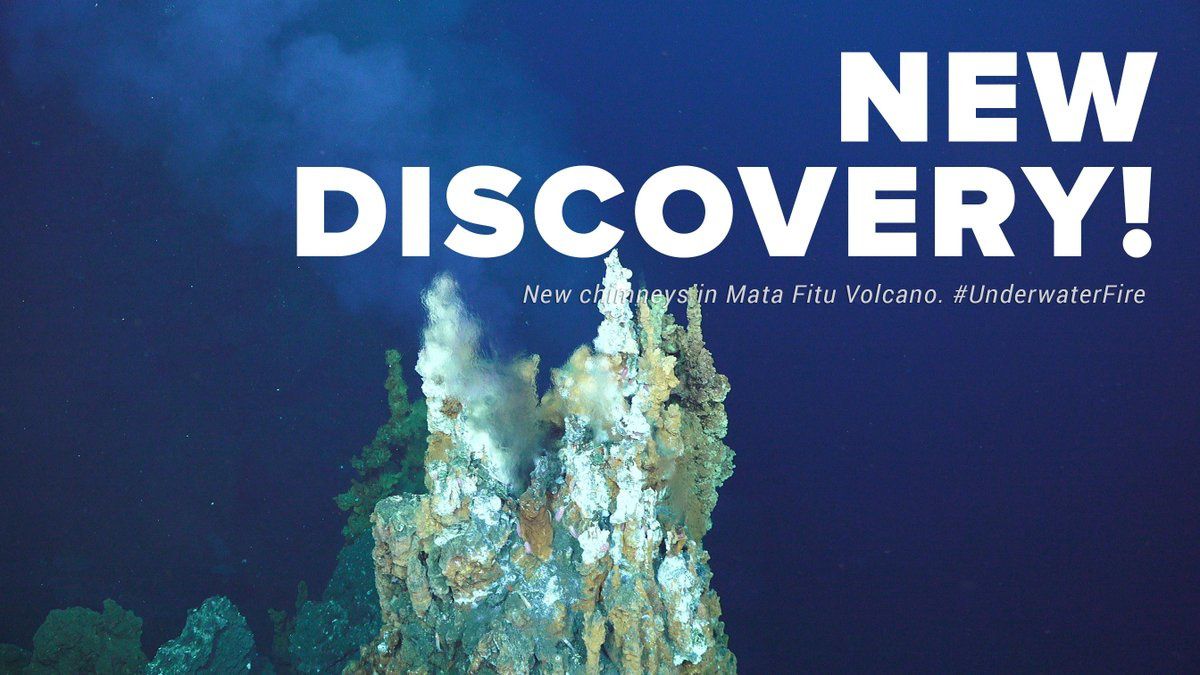 The team discovered 3 new hydrothermal vent sites.
Although these volcanoes are very close (2 km distance on average), the differences between them are striking. Four of them have hydrothermal systems, but the hydrothermal style - the shapes and spacing of chimneys, their height and the biological communities that live in them - is very different from one site to another.
As for the volcanoes of Mata, West Mata stands out from the others. Because of its recent eruptions, the chemistry of the water surrounding it is completely different from that of a typical high temperature black smoker system.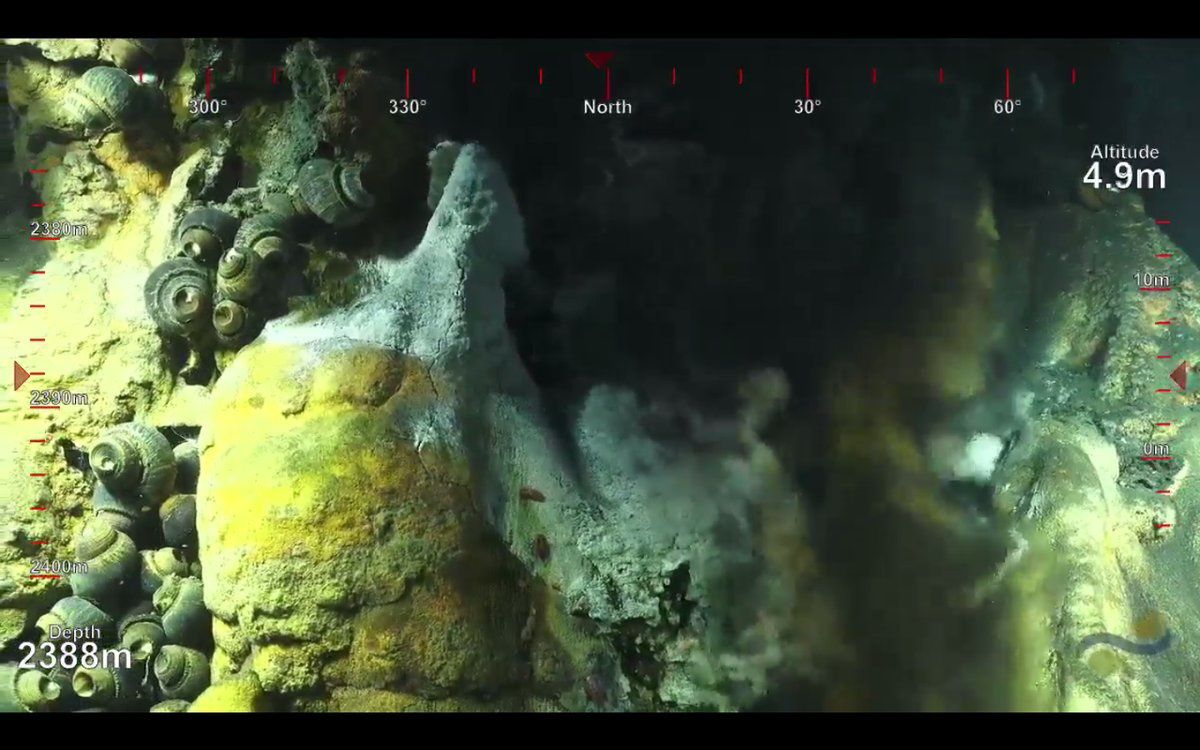 Mata Ono - "Smoke on the water" - live on a black smoker  at 2.388 m. of depth - photo 13.12.2017 Schmidt Ocean Institute
Some numbers : 21 ROV dives on 11 submarine volcanoes, more than 350 rock samples, more than 30 sulphide samples, more than 60 ventilation fluid samples, 470 biological samples, more than 12,000 km² of mapped seabed. The amount of data collected during the Underwater Fire expedition will keep scientists and their teams busy for a long time to come.
" Field work is only the first part when we collect samples of volcanic material, the real work continues in the lab, we separate the rocks both chemically and physically, in a process designed to tell us what is the chemical composition of the rock, how it formed and how it became what it is, it will take months or years "says Dr. Ken Rubin, Chief Scientist.
Sources:
- Schmidt Ocean Institute - Underwater Fire: studying the submarine volcanoes of Tonga - november / december - Author Mónika Naranjo González - link
- Boninite Lava discovered in the Lau Basin