Publié le par Bernard Duyck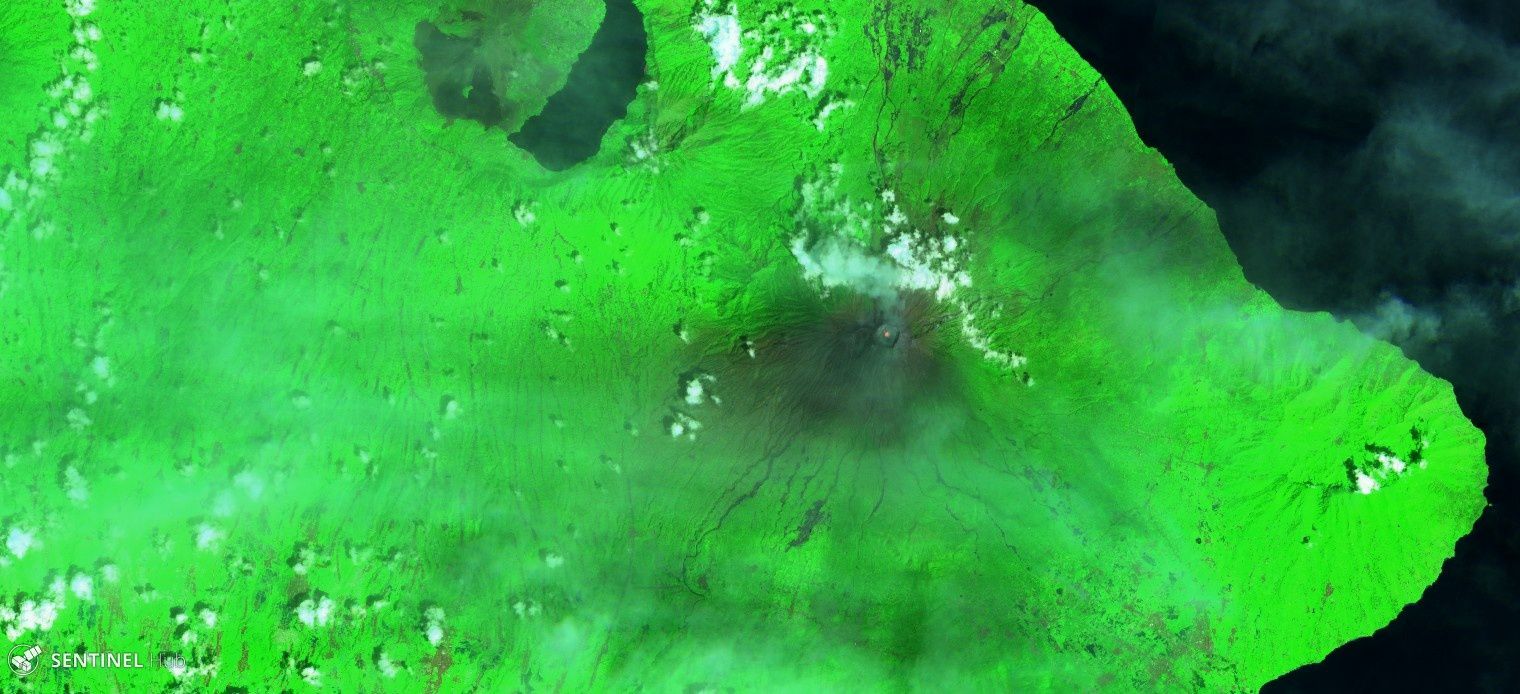 Bali - the eastern tip with the caldera of Batur on the left and the Agung - image Sentinel2 SWIR / 09.12.2017
At the Agung, the plumes of ashes succeed one another more and more rapidly; the BNPB reports thirty this December 10 between 00h and 18h ​​local, thick and reaching 1,000 to 2,000 meters above the summit.
The rains remobilized the ashes emitted by the volcano and generated lahars in the villages of Telaga Waja, Apet and Tangkup.
Sources: PVMBG, Magma Indonesia and BNPB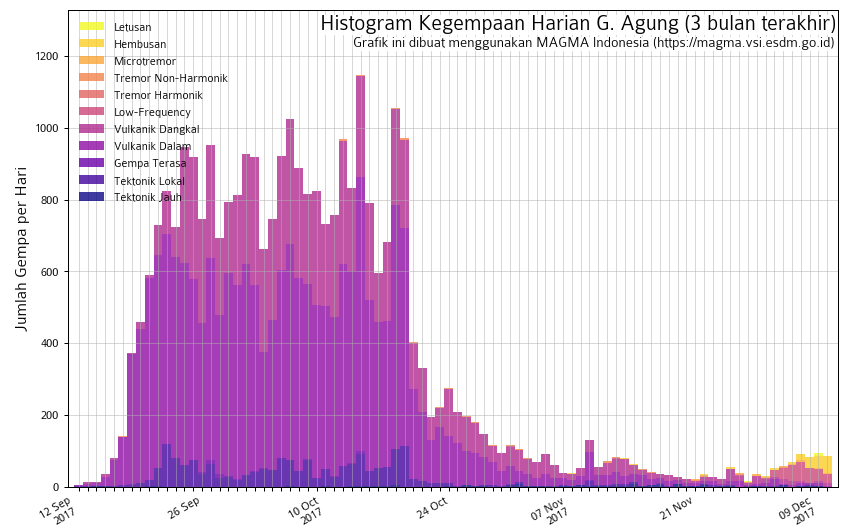 Agung - histogram of seismicity as of 10.12.2017 - the number of emission earthquakes on the rise - doc Magma Indonesia
Agung - ash plumes this 11.12.2017 / at 4:56 and 6:14 - one click to enlarge - photos BNPB & Magma Indonesia
The 12th eruption of the year 2017 began this December 10 in the Fuego, characterized by moderate to strong explosions, on average 12 times per hour, and a plume of ash reaching 5,000 meters asl., traveling for 15 km on a large south sector.
A lava fountain, 500 meters high above the crater, produces ballistic falls more than 300 meters away, small avalanches in the Las Lajas, Cenizas and Taniluya barrancas, as well as a 1,500 meter lava flow. length in the Seca / Santa Teresa barranca.
The explosions are accompanied by shock waves and fallout of ashes on La Rochela, San Andres Osuna, Panimaché, Morella.
Source: Insivumeh local report 10,12,2017 / 17:50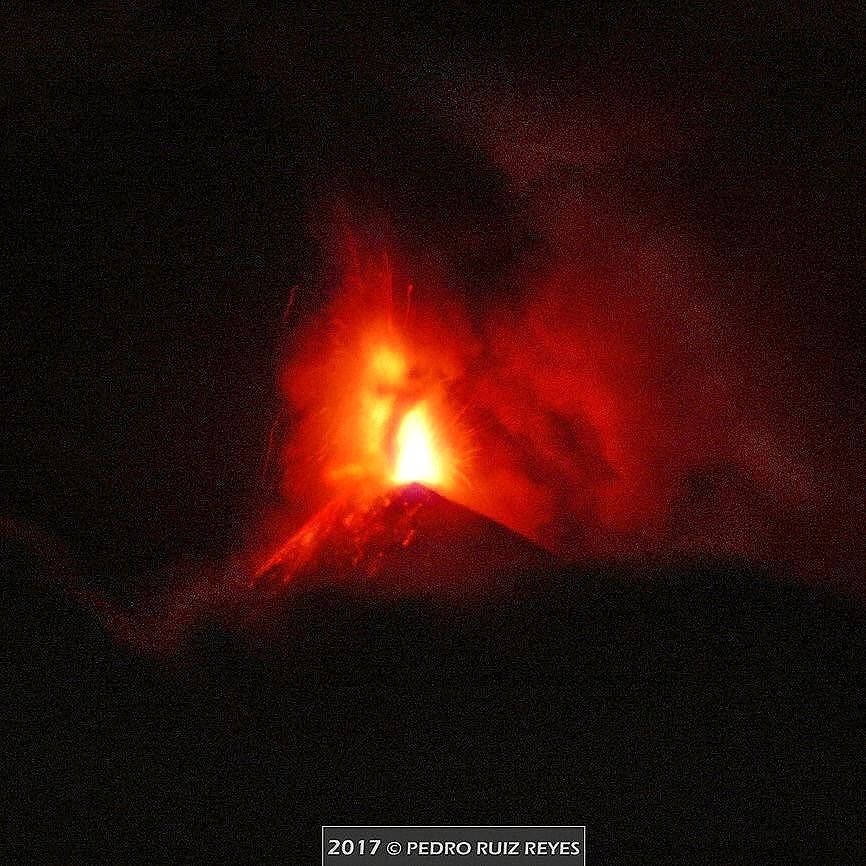 Fuego - 12 ° eruption of the year started this 10.12.2017, sight of Antigua Guatemala - photo Pedro Ruiz Reyes
Activity appears to be decreasing in Villarica, where POVI reports the stabilization of the crater bottom at about 70 meters depth, and five days without spattering observation; seismicity and incandescense are also down
Source: POVI
A seismic swarm marks the Skjaldbreidur shield volcano since 9 December. This volcano, located north-east of Lake Thingvellir, is part of the Oddnýjarhnúkur - Langjökull system, in the West Rift zone.
More than 100 earthquakes have been counted, including at least 4 of magnitude between 3 and 4.
It is by no means an awakening of the Skjaldbreidur, the nature of the seismic activity would be purely tectonic, without signs of magmatic movements for the moment. One can however notice its position directly under the main crater, where may remain a residual magmatic reservoir.
Source: IMO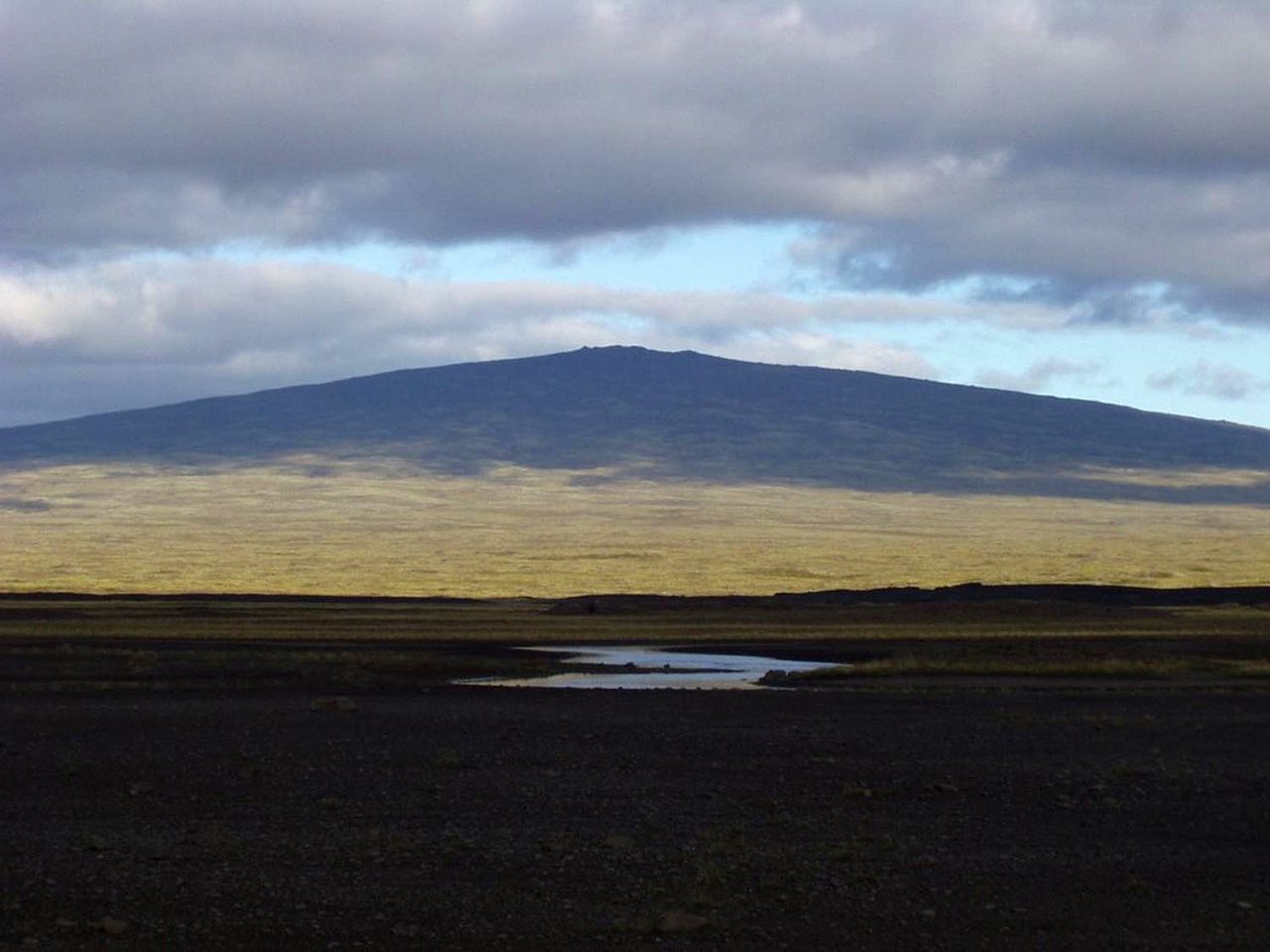 The Skjaldbreidur, a shield volcano in the Oddnýjarhnúkur-Langjökull system - photo Dave McGarvie / Icelandic volcanoes