Publié le par Bernard Duyck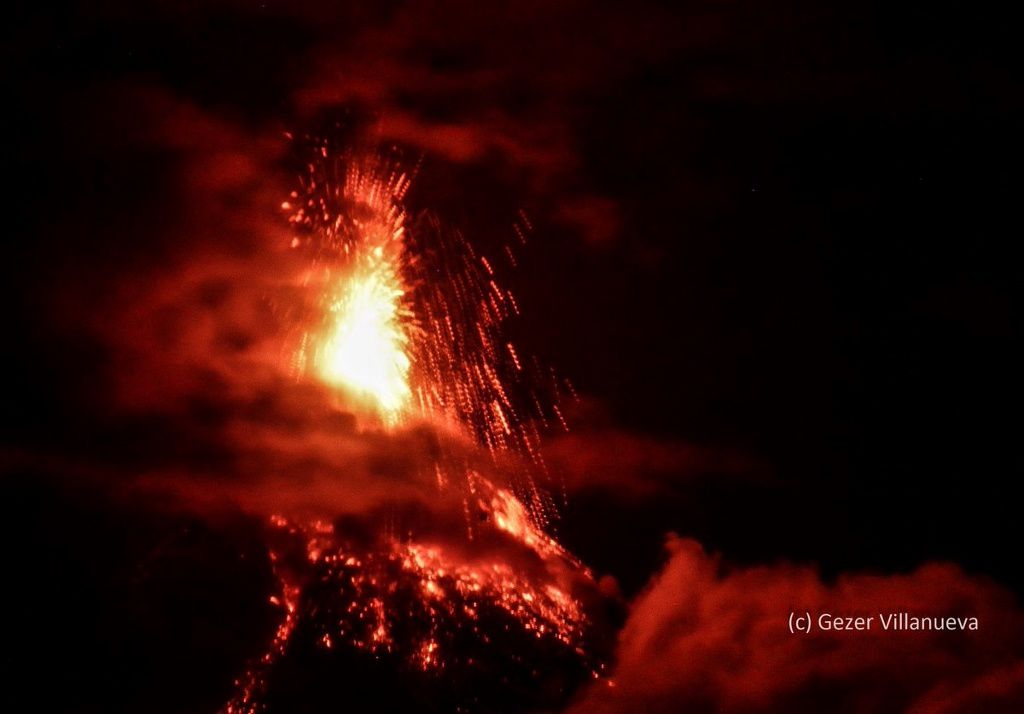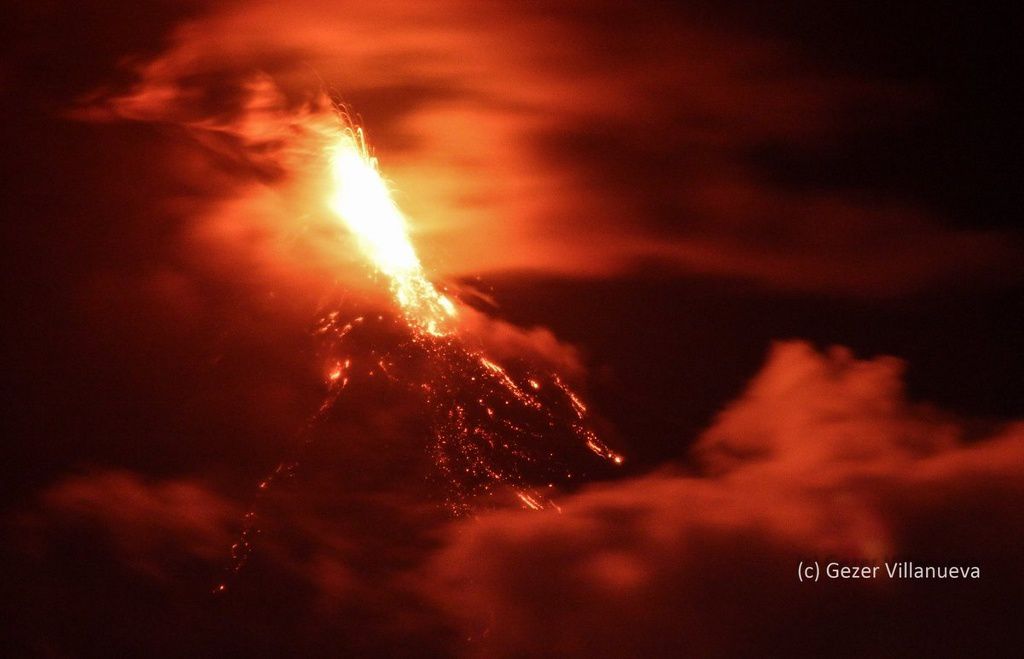 Mayon - fountaining on 25.01.2018, from 2:02 to 3:16 - Gezer Villanueva's photo posted by Joey Sarte Salceda
In Mayon, between 6:01 am and 3:00 am on January 25, six sporadic episodes of intense fountaining, lasting between 9 and 58 minutes, were observed. The lava fountains reached 400-500 meters high, accompanied by ash plumes rising between 3,000 and 5,000 meters above the crater. Lava flows remain fed in the Miisi and Bonga drainages, and spatters and incandescent rocks flood the summit area.
Pyroclastic flows are also observed in the Miisi, Lidong / Basud and Buyuan drainages; in this last drainage, the pyroclastic flow has traveled more than 5,000 meters.
Sulfur dioxide emissions were measured at 1,252 tonnes / day on January 24, and inflation marks the magmatic intrusion.
The increase in the number of refugees poses a serious logistical problem for the authorities, in the context of an eruption that could continue; at least 66 shelters were created in 9 cities in northeastern Albay. The authorities plan to take measures by setting up temporary study centers to allow for continuous schooling, as schools have been converted into shelters. Reception areas for farm animals are beginning to emerge close to the evacuation camps.
Sources: Phivolcs & Physorg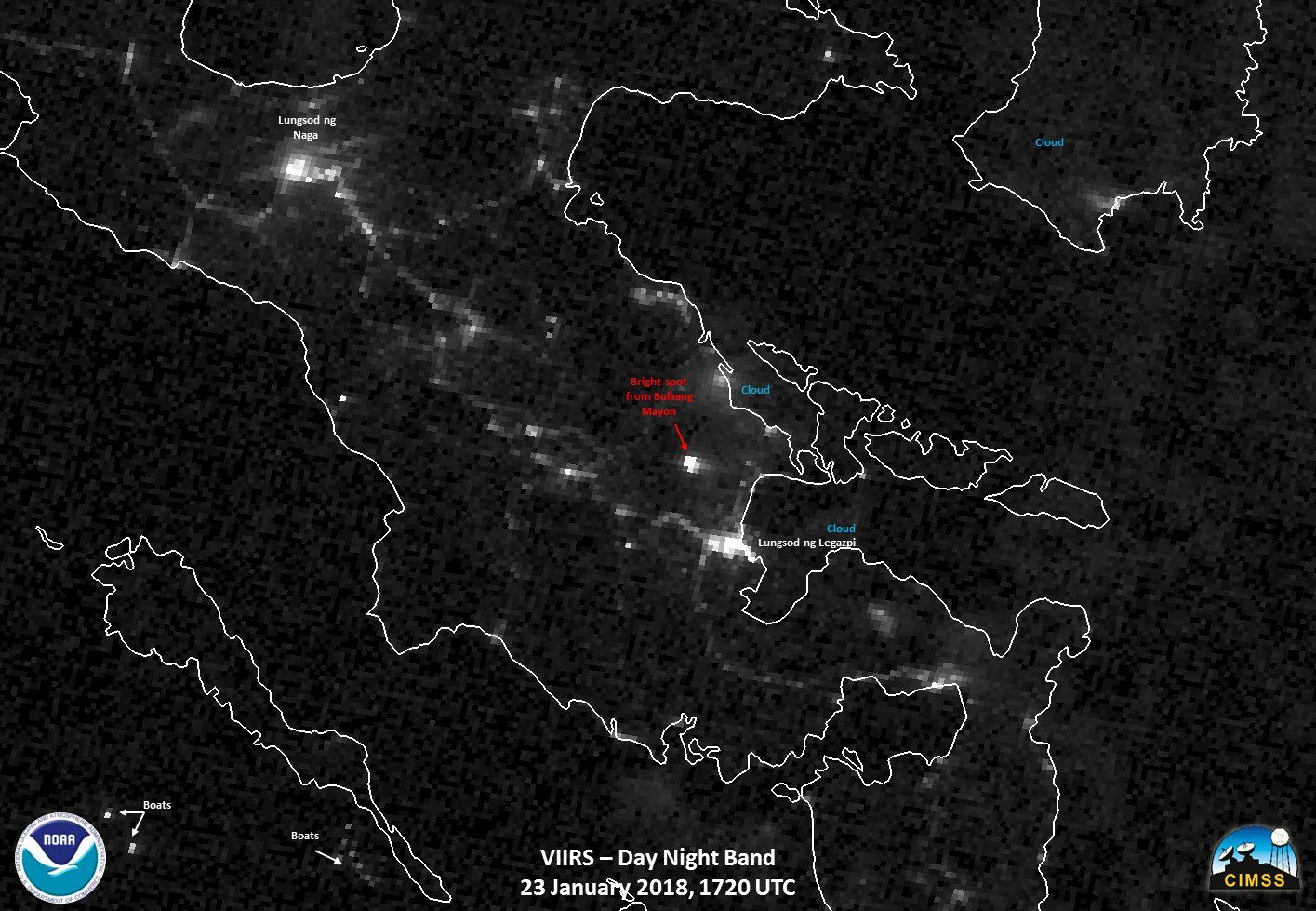 Mayon - the reflection of the lava seen by Suomi NPP VIIRS Day night band / NOAA (red arrow) this 23.01.2018 / 17:20 UTC - one click to enlarge.
At Agung, no substantial changes.
The BNPB reports the loss of an AI450 drone on January 23 during a flight control of the volcano; this drone, worth 45,000 US $ and equipped with gas measuring devices, was shot down by strong winds in an area near the crater at 2,854 meters during its third flight 2018.
Source: PVMBG & BNPB

At Turrialba, a new passive emission of ashes is reported on 23 January from 7:53; the plume rose only 200 meters above the active crater before being dispersed west-southwest.
On January 24, the cloudiness did not allow a direct observation, but the signals indicate a degassing as observed the previous days. The seismicity is marked by sporadic LP earthquakes and low amplitude tremor, in association with fluid movements.
Sources: Ovsicori & RSN