Publié le par Bernard Duyck
Between 8:54 on 23.01 and 03:55 on 24.01, the Mayon presented five episodes of fountaining, sporadic and intense, of varying duration, between 7 minutes and 1h24 minutes. The fountains reached a height of 500-600 meters, and generated ash plumes between 3,000 and 5,000 meters above the crater.
They fed lava flows in the Miisi and Buyuan drainages, which advanced respectively up to 3 and 1 km., sprayed with spatters around the vent and caused falls of incandescent rocks. The pyroclastic flows related to this activity were observed in the Miisi, Lidong / Basud and Buyuan drainages, in the latter of a length of more than 5,000 meters.
Ash falls are reported on the west of the volcano, and concern the municipalities of Guinobatan, Camalig, Oas, Polangui and Iriga City. The flow of sulfur dioxide is greater with 2,466 tons / day on January 23 (against 992 t / d before the phreatomagmatic episode). Inflation is still observed.
More than 56,000 people have left their homes since January 13, and classes are suspended in all schools in the province.
Source: Phivolcs bulletin 24,01,2018 / 12:30 pm loc.

Apart from satellite data and VAAC Darwin forecasts, there is little news of eruptive evolution in Kadovar.
Kadovar 23.01.2018 - satellite image. Sentinel-2 SWIR - and Volcanic ash advisory / VAAC Darwin - one click to enlarge
In Chile, the activity of the Nevados de Chillan complex was marked between January 15 and 21 by gas and steam emissions, sporadic incandescence and minor explosions.
The satellite images show the thermal anomaly and the growth of the dome in the active crater.
A vigorous explosion took place on January 23 at 5:50 am local, which expelled incandescent materials several hundred meters from the active crater.
Source: Sernageomin

In Japan, one day after the Kusatsu's surprise eruption that left one dead and many wounded, search operations had to be suspended on January 24th following the detection of volcanic earthquakes. According to the JMA, a continuation of the activity remains possible, and additional seismometers and webcams have been added for better monitoring of the volcano.
According to Boris Benhcke, who commented on this eruption, the avalanche that accompanied it could be a diluted pyroclastic surge (confirmation expected).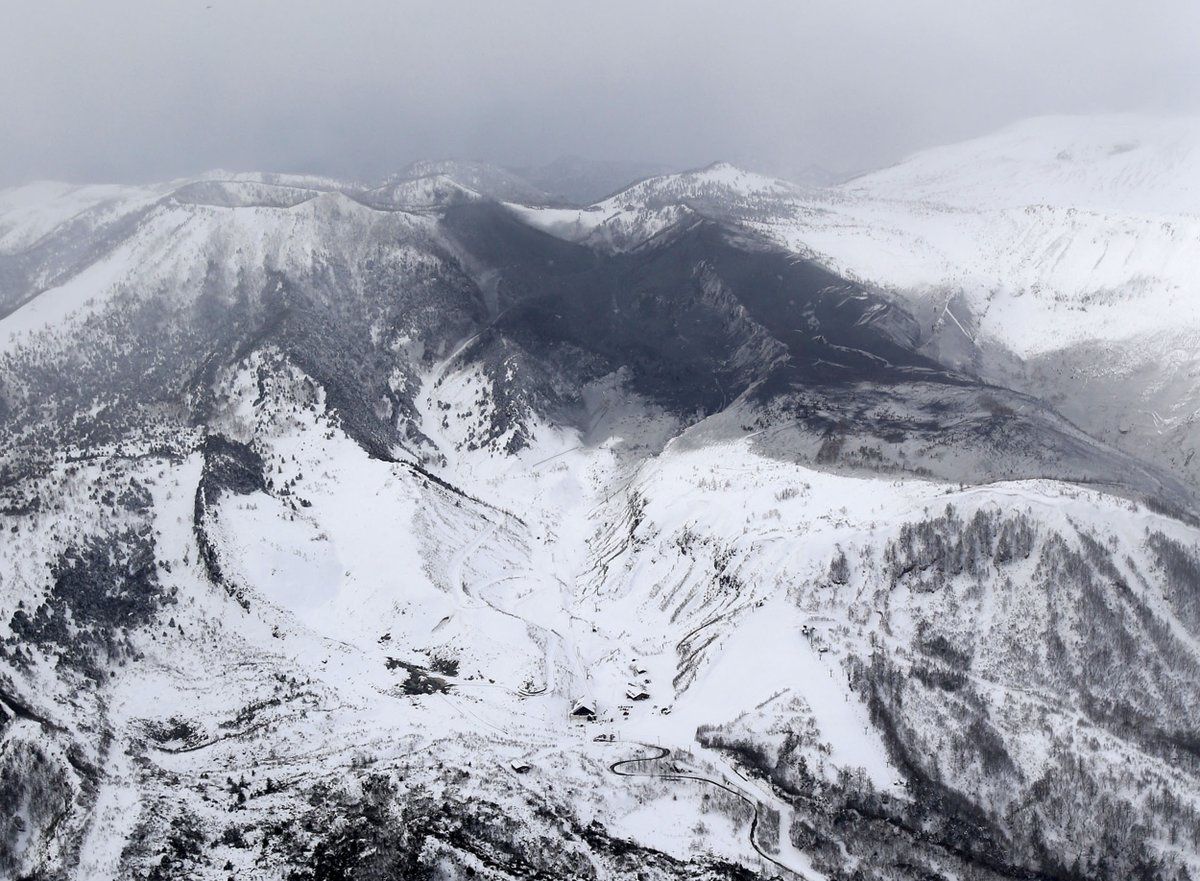 Kusatsu-Shiranesan - traces of eruption contrast with the whiteness of the snow cover - 2018.01.23 - Photo Twitter via @KTVU
The summit of Kusatsu-Shiranesan, located north of Asama Volcano on the main island of Honshu, consists of a series of overlapping pyroclastic cones and three crater lakes. Fields of fumaroles and hot springs punctuate the flanks.
All the historical eruptions of this volcano consisted of phreatic explosions from the acidic lakes, most of them at the Yu-gama crater, or their banks.
The last major eruption was in 1932, but the most recent similar activity dates from 1982-1983.
Sources: JMA, Local Press and AFP, Global Volcanism Program