Publié le par Bernard Duyck
Some details on the day of Monday, January 15 in Mayon: The two episodes of pyroclastic flows of 9:41 and 10:05 lasted respectively 5 and 7 minutes according to the seismic recordings; they seem to come from the front of the lava, and produced at mid-slope during the collapse of lava blocks.
The 11h07 degassing episode lasted 8 minutes and produced a gray to dirty white plume about 1,000 meters above the summit before drifting southwest.
Ash falls have been reported on Brgys. Travesia, Muladbucad Grande, Maninila, Masarawag, Poblacion, Iraya, Ilawod, Calzada, Inamnan Grande, Inamnan Pequeno, Maguiron, Quitago and Mauraro in the municipality of Guinobatan; Brgys. Cabangan, Anoling, Sua, Tumpa, Quirangay, Gapo, Sumlang, Brgys. 1 to 7, in the municipality of Camalig.
During the night, the effusion of lava produced a main lava flow on the south flank, reaching about 2,000 meters in length; avalanches of blocks, originating from the top of the volcano, have traveled two gullies on the south-east flank.
The number of evacuees varies according to the sources, between 12,000 and 15,000. Several flights were delayed because of the ashes emitted by the Mayon.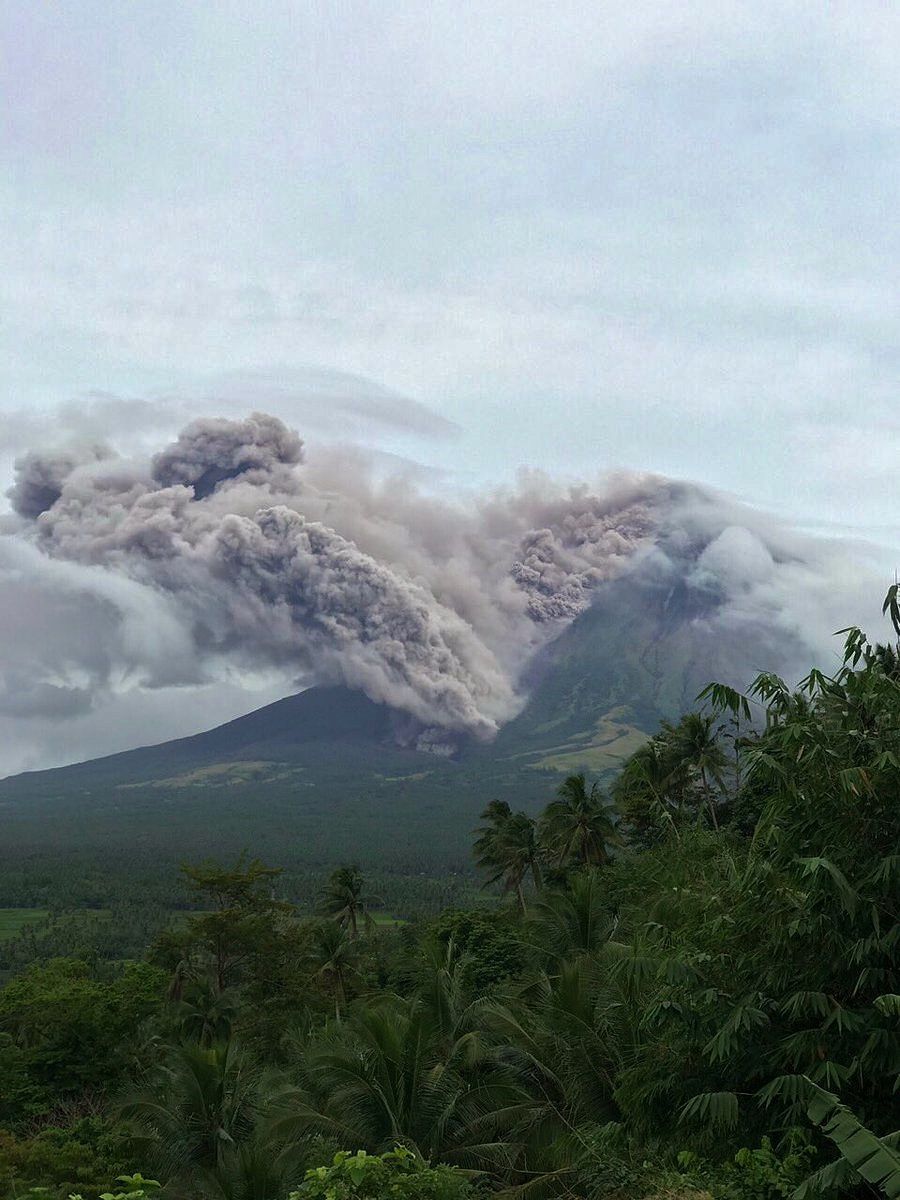 Mayon - 16.01.2018 - Pyroclastic flow seen from the observatory of Lignon Hill - photo Phivolcs-Dost
On the morning of January 16th, the Phivolcs reported lava descending the Miisi drainage, about 2,000 meters, and small volumes of lava on the upper slopes of the Bonga drainage; a pyroclastic flow was observed this 16 January at 8:55 local.
Seismicity is characterized by 9 tremor episodes, 4 of which accompanied short-lived fountaining, and 78 episodes related to lava collapses, with falling rocks, and a short pyroclastic flow in the Miisi drainage.
Source: Phivolcs
In Turrialba, an eruption began on January 15th at 4:11 am local; it lasted 14 minutes according to the seismic recording. Given the cloud cover, the webcam was only able to capture glows and some projections of incandescent blocks. It was not possible to estimate the height of the eruptive column.
Sources: Dr.M.M.Mora / RSN
In Sabancaya, the week of January 8 to 14 is marked by an activity similar to that of the previous week, with an average of 57 explosions per day and plumes up to 2,500 meters above the summit.
Seismicity remains dominated by LP earthquakes (fluid motions) and the emission tremor. Hybrid earthquakes, related to the rise of the magma, remain low in number and energy.
The sulfur dioxide flux peaks at 2,071 tonnes / day on January 12th.

Source: IG Peru / OVI / Ingemmet

The Agung has presented this January 15 at 7:23 WITA an ash plume that rose to about 2,000 meters above the crater, with a tilt to the northeast.
Heavy volcanic ash rains fell in several villages such as Kesimpar village, Datah village, Abang sub-district and Karangasem district. Community activities, however, operate normally, and Ngurah Rai Airport is not concerned.
Sources: PVMBG & BNPB