Publié le par Bernard Duyck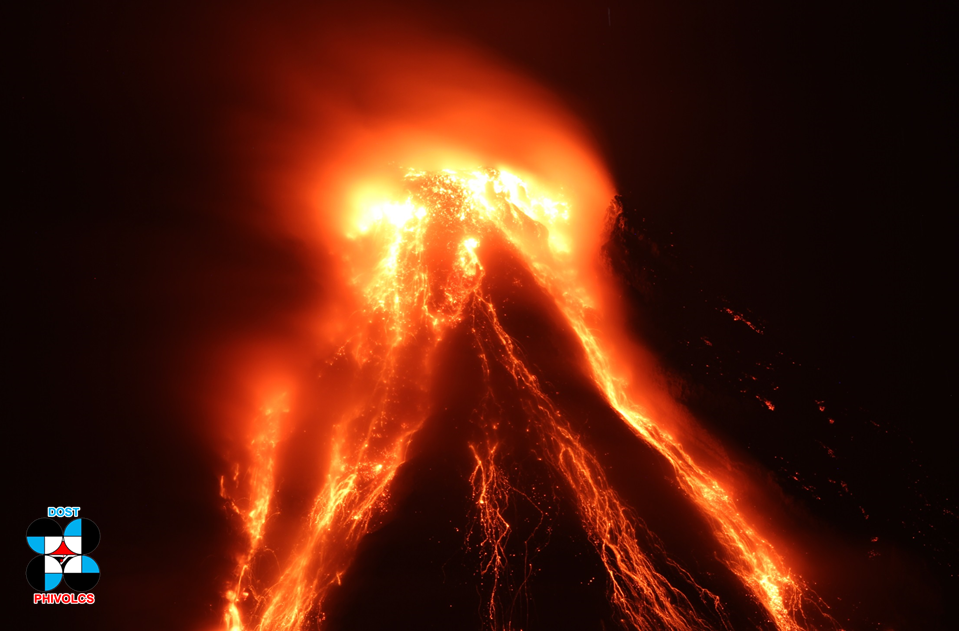 Mayon - Strombolian activity and fountaining at 500 m height this 21.01.2018 / 22:45 - photo Phivolcs
After the activity increased overnight, the Phivolcs decided to raise the Mayon alert level from 2 to 4 / imminent dangerous eruption, on a scale of up to 5, and coupled with an extension of the danger zone to 8 km.
The seismicity is marked by three episodes of volcanic tremor, two of which correspond to the lava fountains observed at 22:45 on 21.01 and 2h25 on 22.01 from a height respectively of 500 and 200 meters, accompanied by ash plume at 1,300 meters above the summit. . Ash falls are reported on Oas and Guinobatan.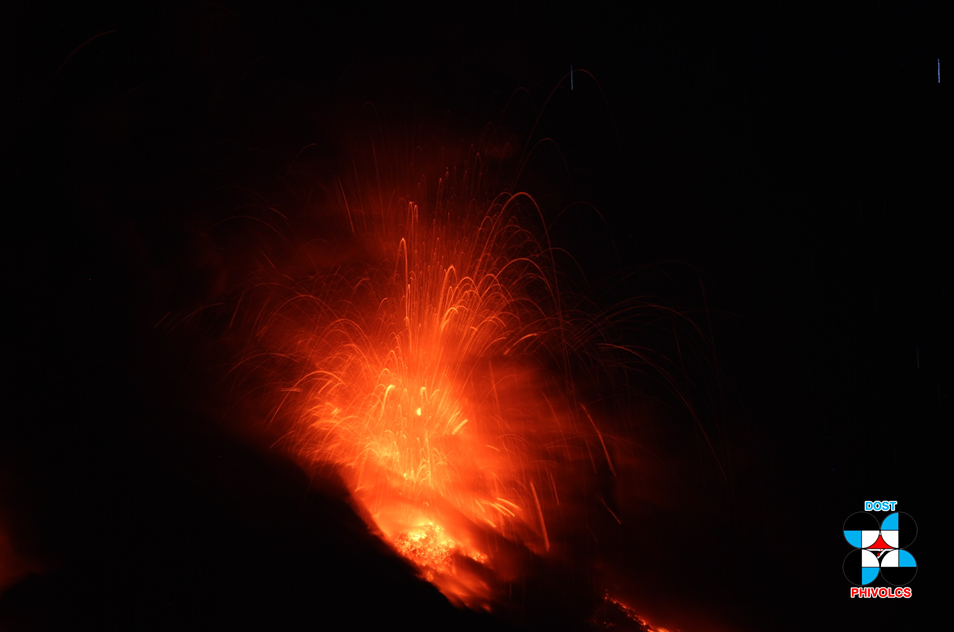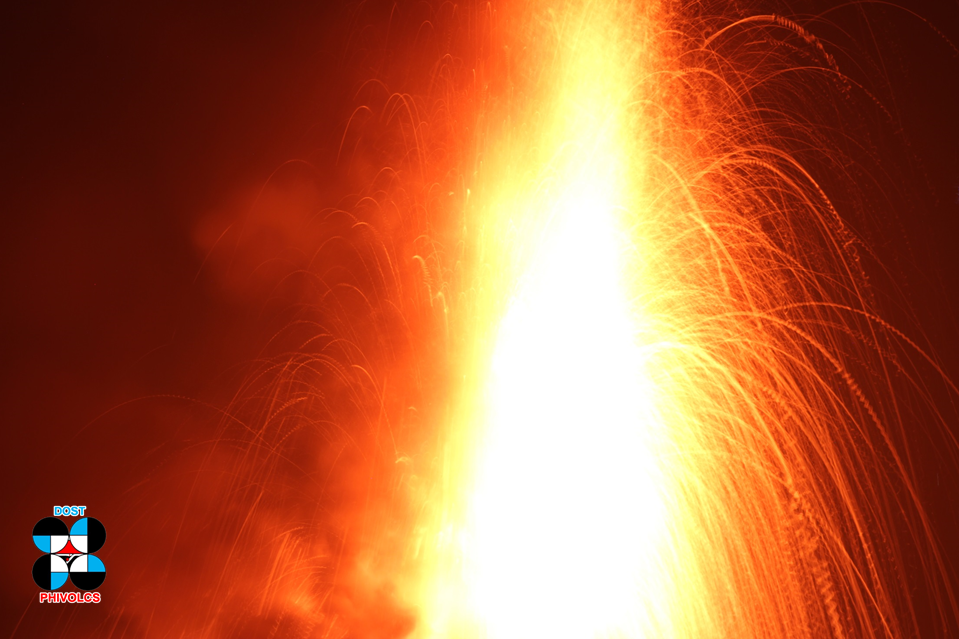 Mayon - Strombolian activity and fountaining at 500 m height this 21.01.2018 / 22:45 - photo Phivolcs
The eruptive mass rising , lava feeds the existing flow into the Miisi drainage, and two new flows into the Bonga drainage and the Buyuan upper basin.
Many rock falls are recorded, like small clouds of ash bound.
Inflation remains strong, witnessing continued pressure.
Pyroclastic flows are repeatedly produced from the lava flows and a huge ash plume punctuates the summit activity, between 10 and 12,000 meters depending on the source.
Classes were suspended in the province of Albay, where the Red Cross services are alerted.
Source: Phivolcs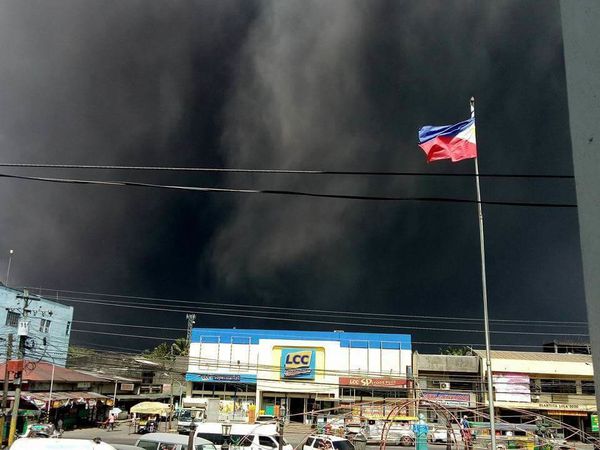 Mayon - impressive cloud of ashes - doc 22.01.2018 / Phivolcs, Joey Salceda.- and thermal anomalies on docs. from Mirova Modis - one click to enlarge.
On the island-volcano of Kadovar, the situation clears up, with on the one hand the video posted on January 18, in which we can see at 3'17 '' a surtseyen-type eruption plume at the bottom of the eruptive column close on the side.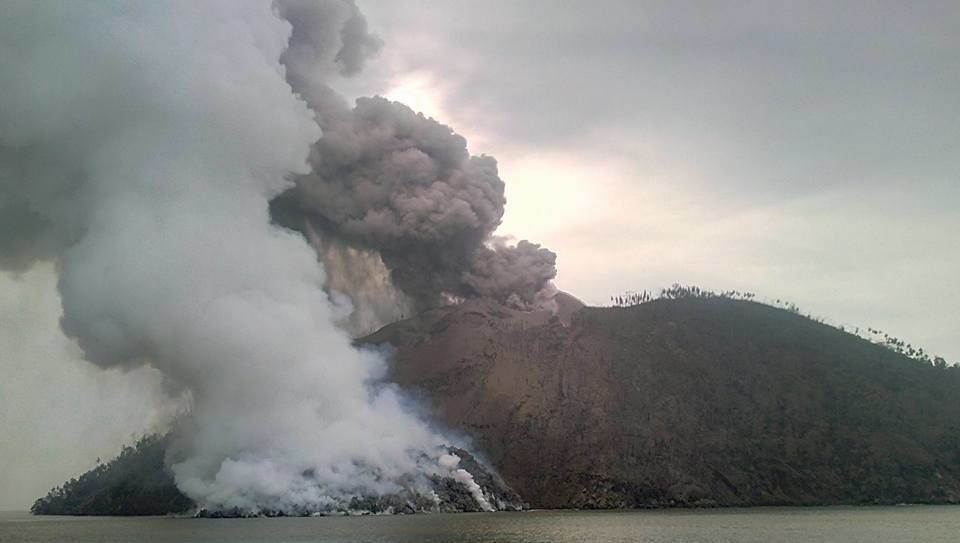 2018.01.20 Kadovar - the double plume: ash on the top, steam and gas over the dome on the bottom of the south bank - photo Beth Acknonero
The photo of Beth Acknonero and the euronews video posted on 21.01.2017 - link - now clearly shows a steaming lava dome, partly leaning against the bottom of the island. The growth of this dome has been rapid.
Two plumes remain visible: an ash plume marks the location of the ancient dome at the top of Kadovar, and a white plume of gas and steam surmounting the dome, contiguous to the coast on the southern slope of the volcano.
Frequent earthquakes related to Kadovar activity are felt not only in Wewak, but also in Madang. The Madang Provincial Disaster coordinator expresses concern for the densely populated island of Larkar, which would have to evacuate more than 2,000 people if the activity increases further. (Looppng)
Sources: local media and videos / photos uploaded.