Publié le par Bernard Duyck
New research from the NOC / National Oceanography Center reveals a link between major volcanic eruptions and landslides, but also suggests that landslides could trigger eruptions.
Flank collapses and explosive volcanic eruptions are among the most important and destructive processes on earth. As evidence, the St.Helens eruption of May 1980 demonstrated how a relatively small flank collapse, of less than 5 km³, could precede a devastating eruption. These lateral collapses at the level of volcano-shields can produce much larger landslides, of the order of more than 300 km³, as is the case in Hawaii, in Cape Verde (Fogo), in Reunion (Piton of La Fournaise) and in the Canary Islands archipelago.
By studying landslide deposits in the Canary Islands and the Moroccan turbidity system, scientists have noted that materials from explosive volcanic eruptions are only found in the upper layers of each landslide... this implies that the early stages of each landslide occurred underwater, before each eruption, and suggests that the initial stages of landslides may have triggered each eruption.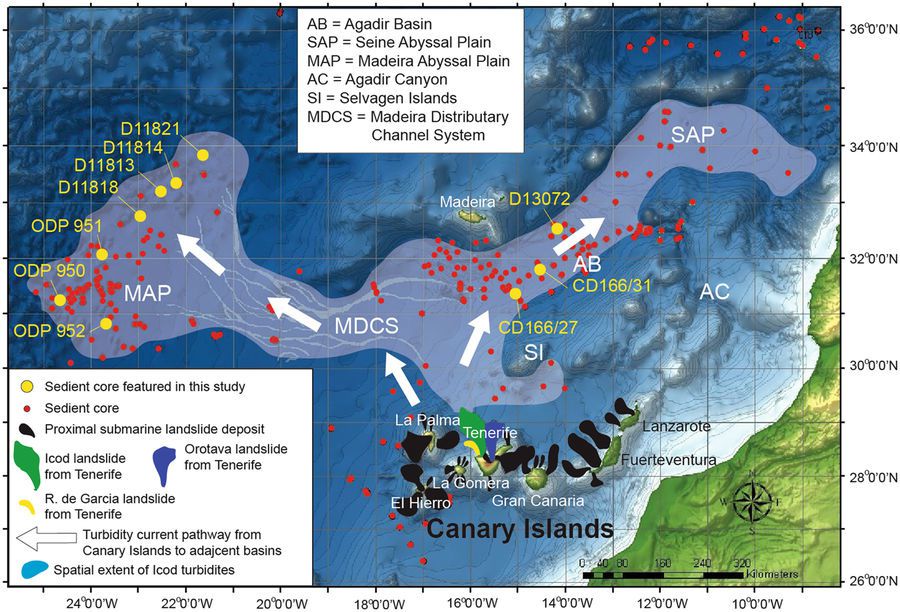 Map of the Canary Islands and the Moroccan Turbidite System. Canary Islands debris avalanche deposits shown in black, while Icod deposit is in dark green, the Orotava deposit in dark blue, Roques de Garcia in red, and Cumbre Neuva in yellow. Pale overlay signifies the spatial distribution of the sediment gravity flow deposits associated with the Icod landslide from Northern Tenerife. Sediment core locations are shown as red circles, while cores referenced in this contribution are in yellow and labelled (including ODP Sites 950, 951 and 952). Abbreviations are: AC = Agadir Canyon, AB = Agadir Basin, MAP = Madeira Abyssal Plain, SAP = Seine Abyssal Plain, MDCS = Madeira Distributary Channels, and CBR = Casablanca Ridge. Canary Islands landslides Icod (brown), Orotava (purple) and Rogues de Garcia (red) from Tenerife and Cumbre Nueva (grey). May also shows the area extent of the turbidites associated with the Icod landslide. Map was generated using ArcGIS 10.1 software based upon bathymetric and digital elevation data from GEBCO. - Doc. Multi-stage volcanic island flank collapses with coeval explosive caldera-forming eruptions – Jaames E.Hunt & al.
By studying the fine clay layers between the landslide deposits and the eruptive deposits, they were able to estimate a minimum delay of about ten hours, to several weeks, between the initiating slip and the subsequent eruption. We are far from the "instant trigger" of St Helens.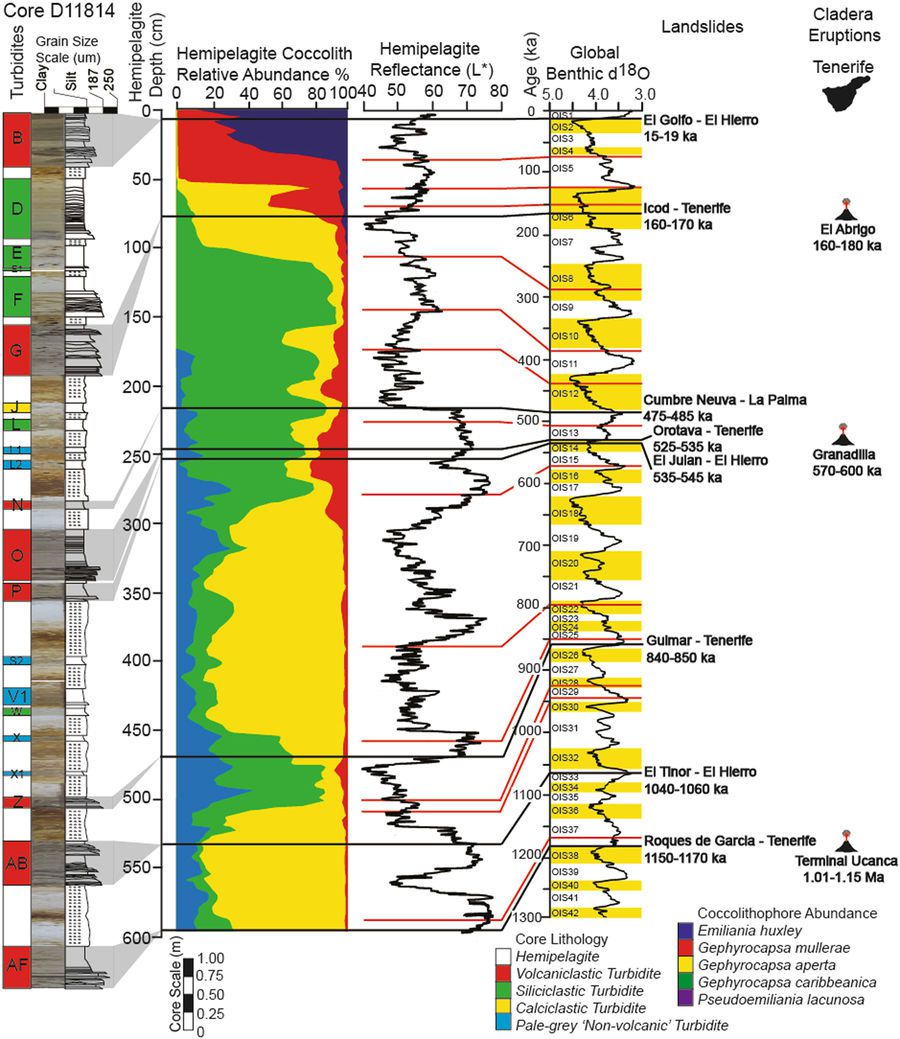 Tenerife - Idealised model for the relationship between the multistage Icod, Orotava and Roques de Garcia landslides and the Abrigo, Granadilla and terminal Ucanca Formation caldera-forming eruptions. (A) Minor vent related volcanism and shallow magma chamber activity precondition the submarine slopes to fail. (B) Minor eruptions and related seismicity trigger initial submarine stages of multi-stage landslides. (C) Submarine landslides unroof both shallow and deep magma chambers, this either (i) caused static decompression in the shallow magma chamber causing immediate explosive eruption, or (ii) static decompression at depth causing ascension of volatile-rich basalt magma that mixes with otherwise volatile undersaturated shallow magma to trigger explosive eruption. (D) Explosive or caldera-formning eruptions weaken edifice flanks resulting in subaerial stages of multi-stage failure, containing volcanic debris from explosive eruptions. - Doc. Multi-stage volcanic island flank collapses with coeval explosive caldera-forming eruptions – Jaames E.Hunt & al.
In the case of Tenerife, and its caldera Las Cañadas, the northern flank of the island is carved by the large landslides Icod (165,000 years), Orotava (535,000 years) and Roques de Garcia (1.15 Ma), corresponding to the age forming eruptions of caldeiras Abrigo, Granadilla and Ucanca.
The turbidites (*) were deposited under dilute turbulent sediment flows, formed as the mass descended under gravity and was disintegrated. The landslide deposits of the Canary Islands in adjacent deep basins, such as the Icod, Oratava and Roques de Garcia landslides, are unusual as they include a series of sand and mud intervals of stacked turbidite.
(*): Turbidity refers to both a structured geological unit composed of sedimentary rocks emplaced as a result of a sediment flow along an underwater or sub-lacustrine slope, and the rocks that make up this unit.
The study suggests that this delay could be due to the fact that the Teide's superficial magma chamber does not contain enough "volatiles" to immediately create explosive eruptions. The removal of volcanic material by the landslide could cause the magma to rise from a deep magma chamber richer in volatiles, and the mixture with the more superficial magma, to generate eruptions displaced in time, and to leave a structure of large caldera type.
This delay between slip and static decompression has implications for the response of magmatic systems to its lack of coverage, and is an implication for the planning of civil protection systems in oceanic islands.