Publié le par Bernard Duyck
The activity of the Mayon continues, with on January 22 at 12:43 a brief phreatomagmatic eruption, lasting 8 minutes, which was accompanied by a plume amounting to 5,000 meters, and pyroclastic flows in drainage Miisi, Bonga, Buyuan, Basud, San Andres, Buang, Anoling and others within a radius of 4 km around the summit. Ash falls have been observed on Guinobatan, Camalig, Oas, Polangui and Iriga City.
A minor degassing at 17:51 was accompanied by an ash plume at 500 meters.
Between 9:37 pm and 5:25 am on January 23, five episodes of sporadic but intense fountaining lasted between 3 and 30 minutes; the lava fountains reached a height of 500 to 700 meters in height, and generated ash plumes up to 3,000 meters above the crater; these fountains fed lava flows in the Miisi and Bonga drainages, while the spatters covered the areas near the vent, causing incandescent rock falls.
Legazpi airport activities were suspended at 2:21 pm until new announcement, due to the massive presence of ash.
The seismology of January 22 consists of 2 explosion earthquakes, corresponding to the vertical plumes emitted, 18 tremor episodes, some related to the fountaining episodes, 35 episodes related to rock falls, and 2 related to the collapse pyroclastic flows .
Lava flows in the Miisi and Buyuan drainages increased by three kilometers and 200 meters respectively from the top.
The sulfur dioxide flux was 992 tonnes / day before the phreatomagmatic episode. Inflation remains high, and the level of alert remains at 4/5.
On January 23, a plume of eruptive ash at 9:02 was reported, accompanied by pyroclastic flows.
Source : Phivolcs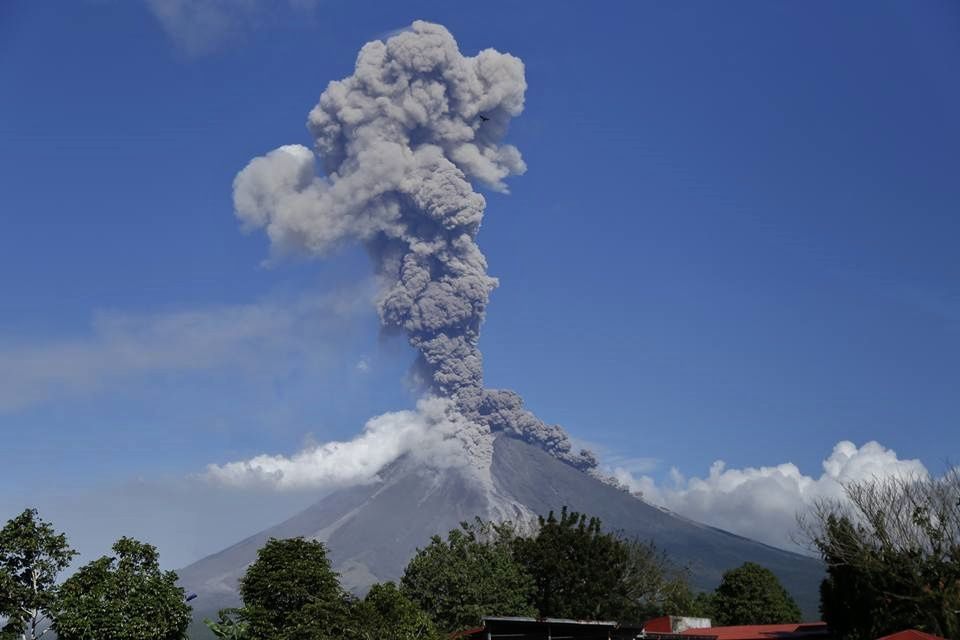 Mayon - 23.01.2018 / 9h03 - eruptive plume and pyroclastic flows - Rico Manallo's photos via Joey Sarte Salceda
An interesting image taken by the Suomi NPP satellite on 22.01.2018 shows the steam plume of the Mayon eruption and its imposing shadow.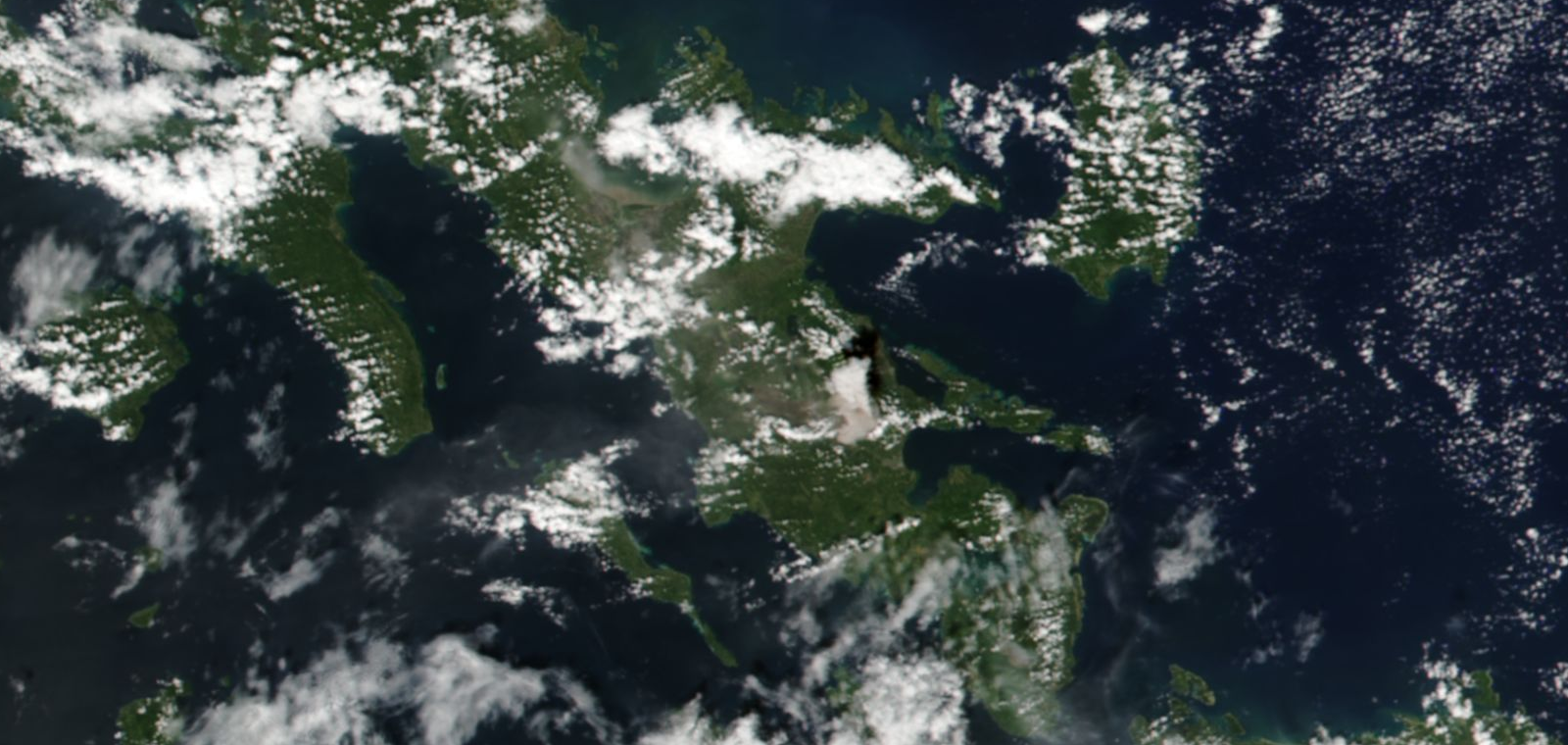 Mayon - 22.01.2018 - steam plume and identiac-shaped shadow, in the center of the image taken by Suomi NPP satellite / via Nasa Worldview - one click to enlarge
Mount Kusatsu-Shirane erupted on January 23, 2018 at 9:59 local time; the JMA simply detected a small tremor a few moments before the eruption.
It spawned an avalanche that killed a member of the Defense and injured at least 10 people. The roof of a ski facility was damaged by rock falls and the glass of a broken cable car.
Another source reports at least 25 wounded and the evacuation of a hundred tourists.
Alert level went from 1 to 3 on a scale of 5.
This 2.160 meter high volcano is close to Gunma, on the border between Gunma and Nagano prefectures, which has many ski resorts. Its last eruption was in 1983; it is known to have phreatic eruptions, or steam explosions.
Sources: Japan Times, via Shérine France - and Twitter
Since early morning, January 22, 2018, the Turrialba maintains a passive emission of ash and a plume 300 to 500 meters high above the edge of the active crater; the ashes dispersed towards the north-west west, adding to the northern sector of the near Irazu. This activity was accompanied by a small tremor.
Source: RSN / Dr.M.M.Mora
The seismicity of Chaparrastique has been rising since January 14, and is accompanied by emissions of gas and ash to less than 300 meters high, between January 14 and 17.
The volcano still has degassing, and episodes of tremor for 20 minutes, interspersed with periods of calm, related to the movements of internal fluids.
Source: MARN / Nicaragua