Publié le par Bernard Duyck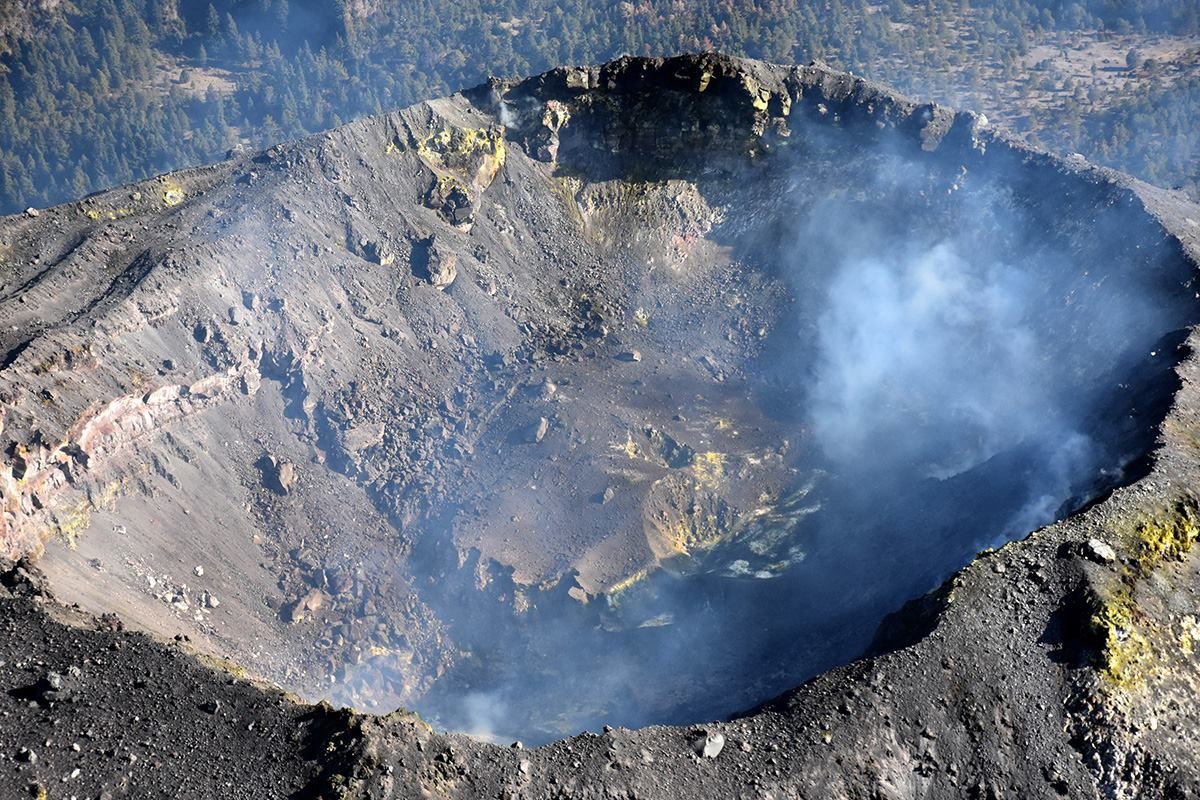 Colima - interior of the crater during the last flight in January 2018, and its morphological changes - Photo Unidad Estatal de Protección Civil y Bomberos Jalisco.
An inspection flyover of the Fuego de Colima volcano has just been executed by the Jalisco State Civil Protection and Fire Department and UNAM.
After the destruction of the dome between December 2016 and January 2017, there are morphological changes: the west terrace has decreased by 4.000 m².
The presence of sulfur deposits, which replaced the smoking activity, indicates a "cold crater".
The bottom of the crater is slowly deformed, probably due to the rise of new magmatic materials.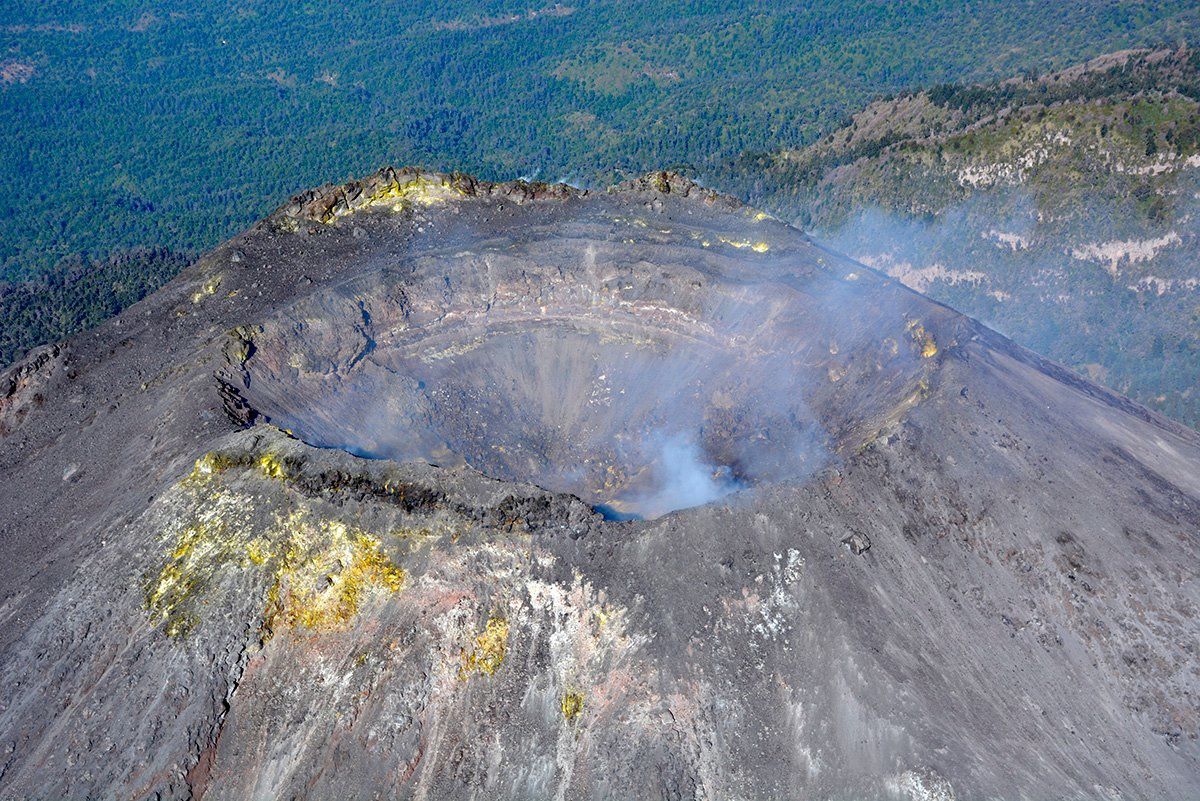 Colima - sulfur deposits indicate a "cold crater" - Photo Unidad Estatal de Protección Civil y Bomberos Jalisco.
The University of Colima has indeed recorded 20 to 26 January 2018, 20 volcanotectonic earthquakes, 8 LP episodes related to exhalations, and the tremor in relation to the internal movements of fluids; 3 landslides left traces.
No other phenomena related to volcanic activity, only a low vapor emission is sporadically observed: passive degassing.
Source: RESCO-CUEIV University of Colima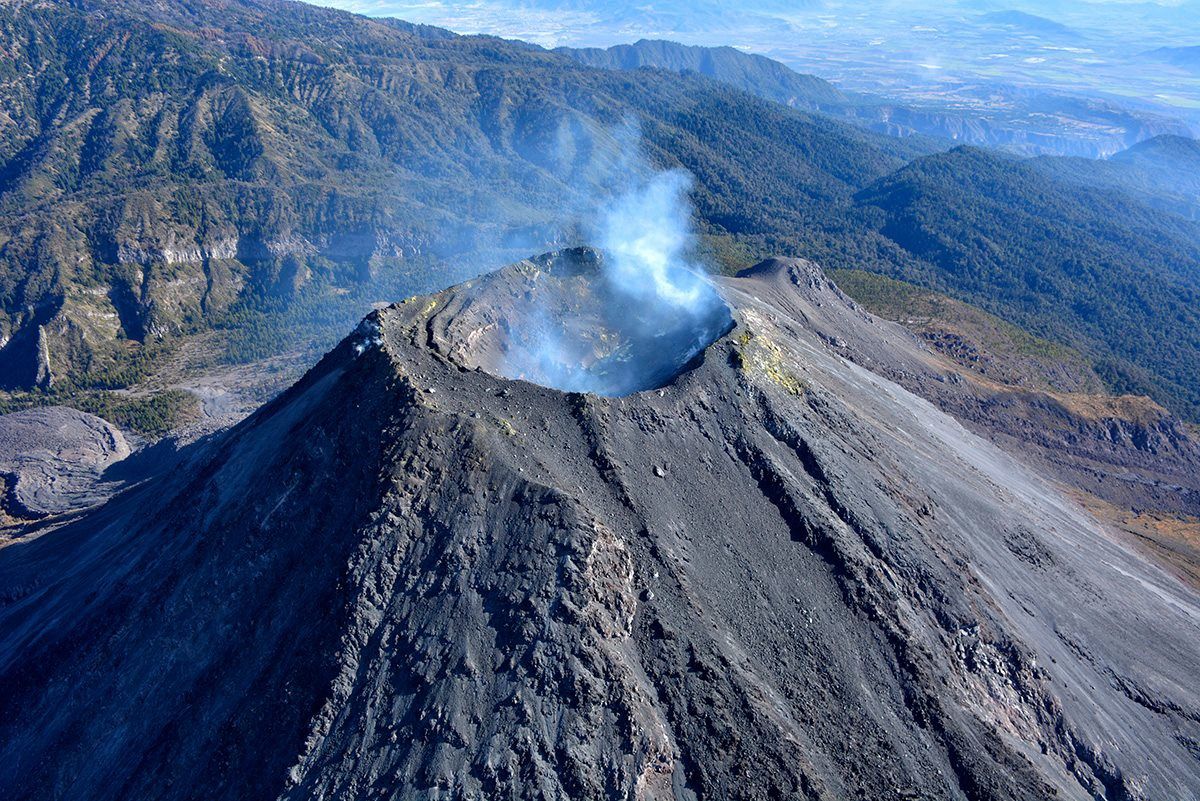 Colima - intermittent passive degassing - photo Unidad Estatal de Protección Civil y Bomberos Jalisco.
On 28 January, Ineter reports treasure troves at San Miguel / Chaparrastique; the micro-seismicity is high, in connection with an intense internal circulation of gas and water, and possibly of magma. Seismic vibrations exceed 150 RSAM units.
Degassing continues sporadically.
Sources: Ineter & MARN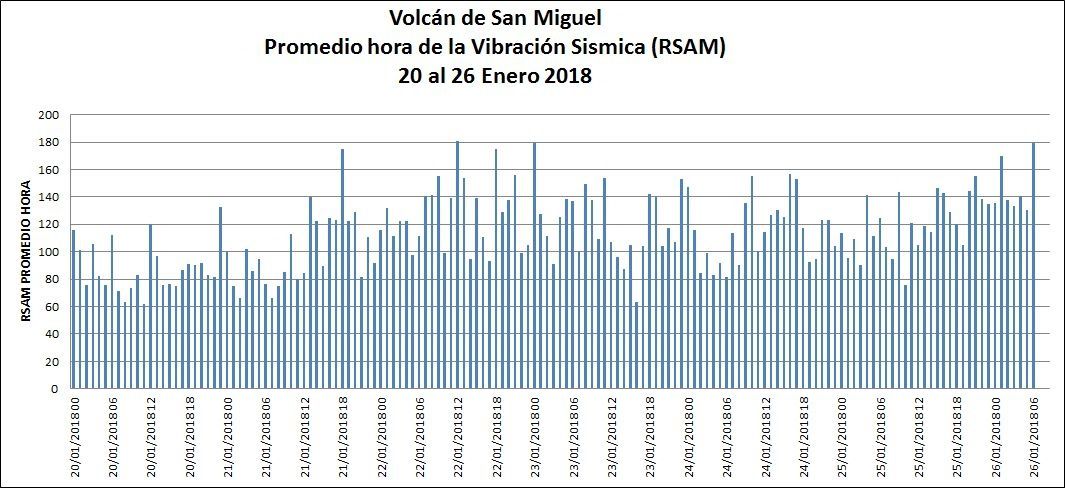 Chaparrastique - 28.01.2018 / 9:15 - photo MARN --- RSAM diagram from 20 to 26 January 2018 - Doc. MARN
The Phivolcs informs two episodes of fountaining at Mayon between 4:22 pm yesterday and 1:40 am on January 28, 2018, a duration of respectively 23 and 55 minutes. They fed the lava flows in the Miisi and Bonga drainages, as well as the rock falls, and sprayed the areas near the vent with spatters.
The flow of SO2 was measured at 1,916 tonnes / day on 25.01.18.
Heavy rains in the Province of Albay increase the risk of syn-eruptive lahars in the many Mayon drainages.
The volume of deposits of pyroclastic flows is about 9 million m³, and the total volume of ash falls on the western sector of 1.5 million m³ ... all these materials can be remobilized by the rains and generate lahars, by incorporating existing eroded materials into the borrowed drainages.
Source: Phivolcs