Publié le par Bernard Duyck
The Cay / Aysén volcano presents variations of internal activity; Sernageomin recorded 86 volcanotectonic earthquakes, associated with rock fragmentation, compared with less than 5 previous months; the largest had a local magnitude of 1.5, with an epicenter 1,600 meters southwest of the crater and a depth of 4,800 m. No sulfur dioxide emissions were seen near the volcano. The alert is maintained at Green.
The Cay is a basaltic to andesitic stratovolcano located northwest of Puerto Aysén in Chile and has dozens of explosion craters and pyroclastic cones along cracks on either side of the summit, considered to be dating from Holocene (GVP)
Source: Sernageomin
Subject to frequent explosions, Semeru produced pyroclastic flows on January 6 and 7, 2018, descending the slopes over 1,500 meters. The area is sparsely populated, there was no evacuation, and the status of the volcano, established at II / Waspada since 02.05.2012, has not been changed.
No major changes in Agung's activity. The heavy rains produced lahars in the river running through the village of Dukuh. This kind of lahar, which can be destructive, is a contribution of sand, then exploitable by the local populations.
Source: BNPB
In Kadovar, the Rabaul Volcanological Observatory reports, through Looppng, that the eruption continues, with ash and steam emitting; the satellites did not observe a thermal anomaly or significant sulfur dioxide emissions ... which would indicate that until now no new magma has penetrated the surface or is in contact via cracks.
Although no record of historical eruption is confirmed by a Macquarie University volcanologist, Chris Firth, he believes Kadovar may have been one of two "burning islands" mentioned in William's diaries. Dampier in the 17th century, during his journey in search of "Terra Australis", the southern continent that was thought to be mythical.
Source: Looppng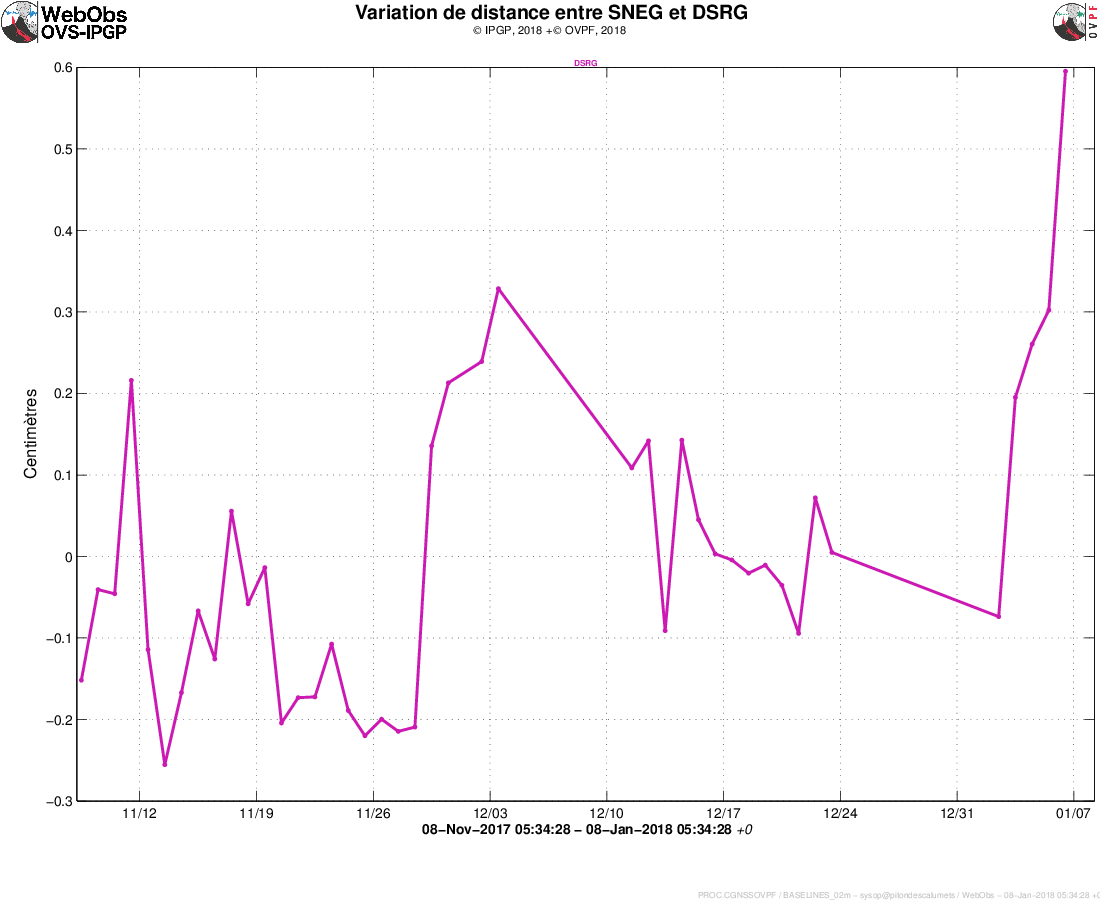 Piton de La Fournaise - Illustration of the summit deformation over 2 months (08.11.2017 - 08.01.2018). Here is shown a baseline (variation of distance between two GPS receivers) crossing the crater Dolomieu. A rise is synonymous with elongation and therefore swelling of the volcano; conversely, a decrease is synonymous with contraction and therefore deflation of the volcano. Any periods colored in light pink correspond to eruptions.
The OVPF reports in its preliminary bulletin of activity of the Piton de La Fournaise inflation both in the summit zone and in the far field, witnesses of a superficial and deep pressurization.
The high inflation currently observed in the Piton de la Fournaise summit zone could be linked to hydrothermal activity following heavy rains in recent days.
Low concentrations of H2S, coupled with water vapor, and SO2, coupled with CO2, are observed in the summit emissions.
Source: OVPF