Publié le par Bernard Duyck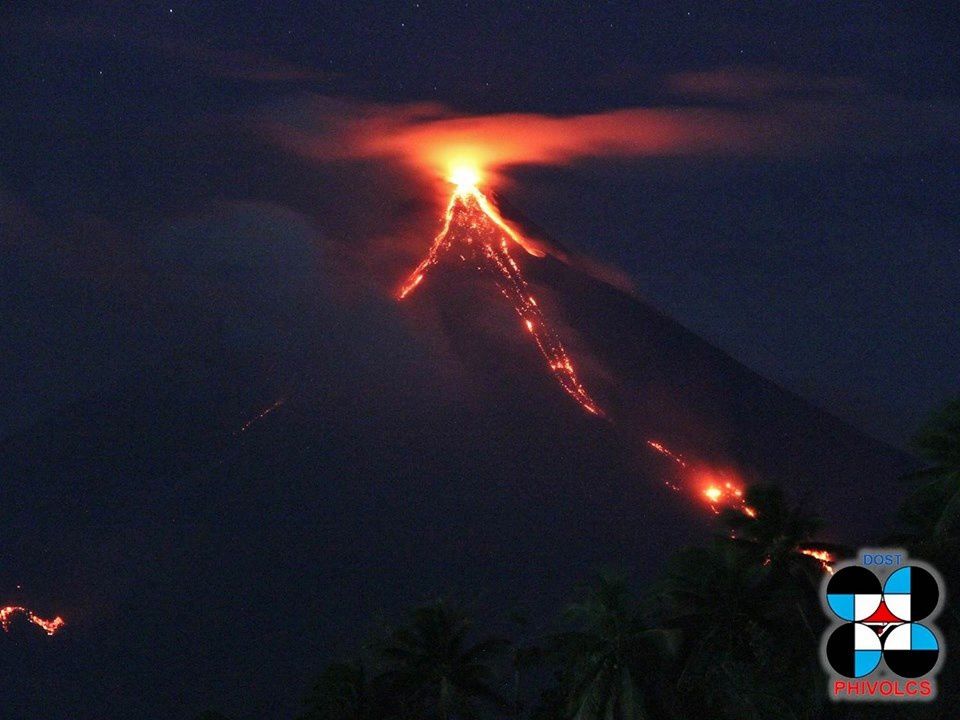 Mayon - Lava flows and boulders in the Miisi and Bonga drainages around 8:30 pm PST, 11,02,2018 - photo Phivolcs from the Ligñon Hill observatory, Legazpi
The activity of the last 24 hours at Mayon is characterized by a low and sporadic fountaining, lava flows and degassing at the summit crater.
The lava fountains reached 150 meters high, and generated plumes rising to more than 400 meters.
During the night, lava flows and consequent falls of incandescent rocks were observed in the Miisi and Bonga-Buyuan drainages; pyroclastic flows have respectively covered the Miisi, Bonga and Basud drainages over 4,600 m, 4,500 m and 4,200 m.
Seismicity is marked by 92 volcanic earthquakes, most often related to fountaining; inflation is holding steady
Source: Phivolcs
In Turrialba, passive ash emissions have continued since the end of last week, accompanied by a column of ash not rising more than 300 meters above the edge of the active crater.
Ash Falls are reported on Moravia, Lindora, Curridabat, San Francisco de Dos Rios, Coronada, Colonia Kennedy, San Rafael de Escazu, El Carmen de Guadalupe, Montes de Oca, San Sebastian, Santo Domingo, San Isidro de Coronado, Purral and Cartago.
Seismicity is characterized by sporadic LP earthquakes associated with fluid movements.
Sources: Ovsicori and RSN
The Nevados de Chillan complex has evolved considerably since January 2016: the new crater Nicanor - named in honor of the late antipoet Nicanor Parra - was formed by explosive hydro-magmatic activity; the various explosions affected the crater Arrau and destroyed almost completely the crater Chudcun, to form the current crater Nicanor of 210 meters in diameter.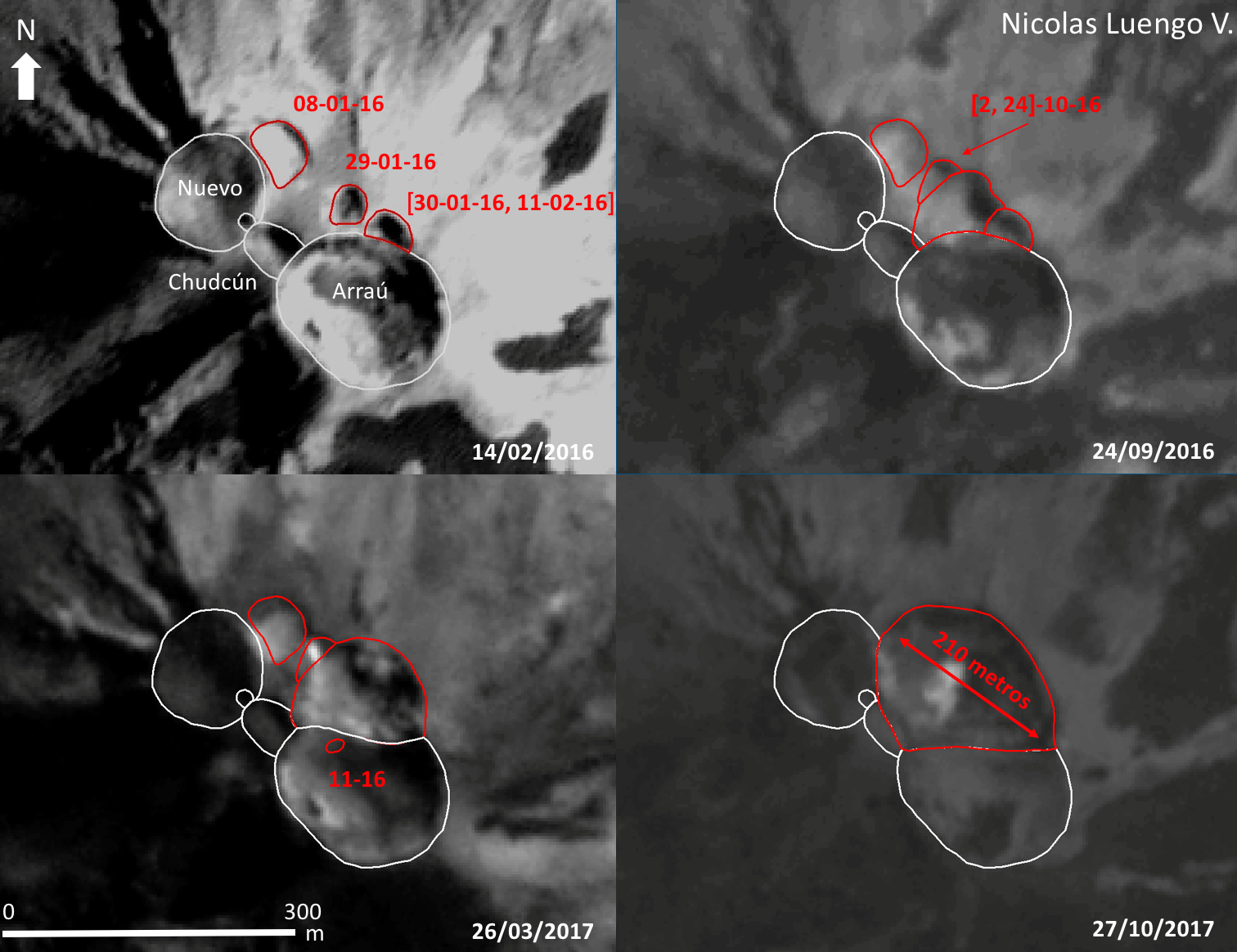 Nevados de Chillan complex - formation of the Nicanor crater between January 2016 and October 2017 - Doc. Volcanologia in Chile
By the end of December 2017, the activity slid to a much more explosive process, with expulsion of magma fragments, and effusive process, which formed a continuously growing intracrateric lava dome.
On February 5, 2018, the dome reached a height of 27 meters, and occupies an area of ​​80 meters by 60 meters, and took the form "torta" / cake. The effusion rate has been calculated since January 21st at 3,824 m³ per day.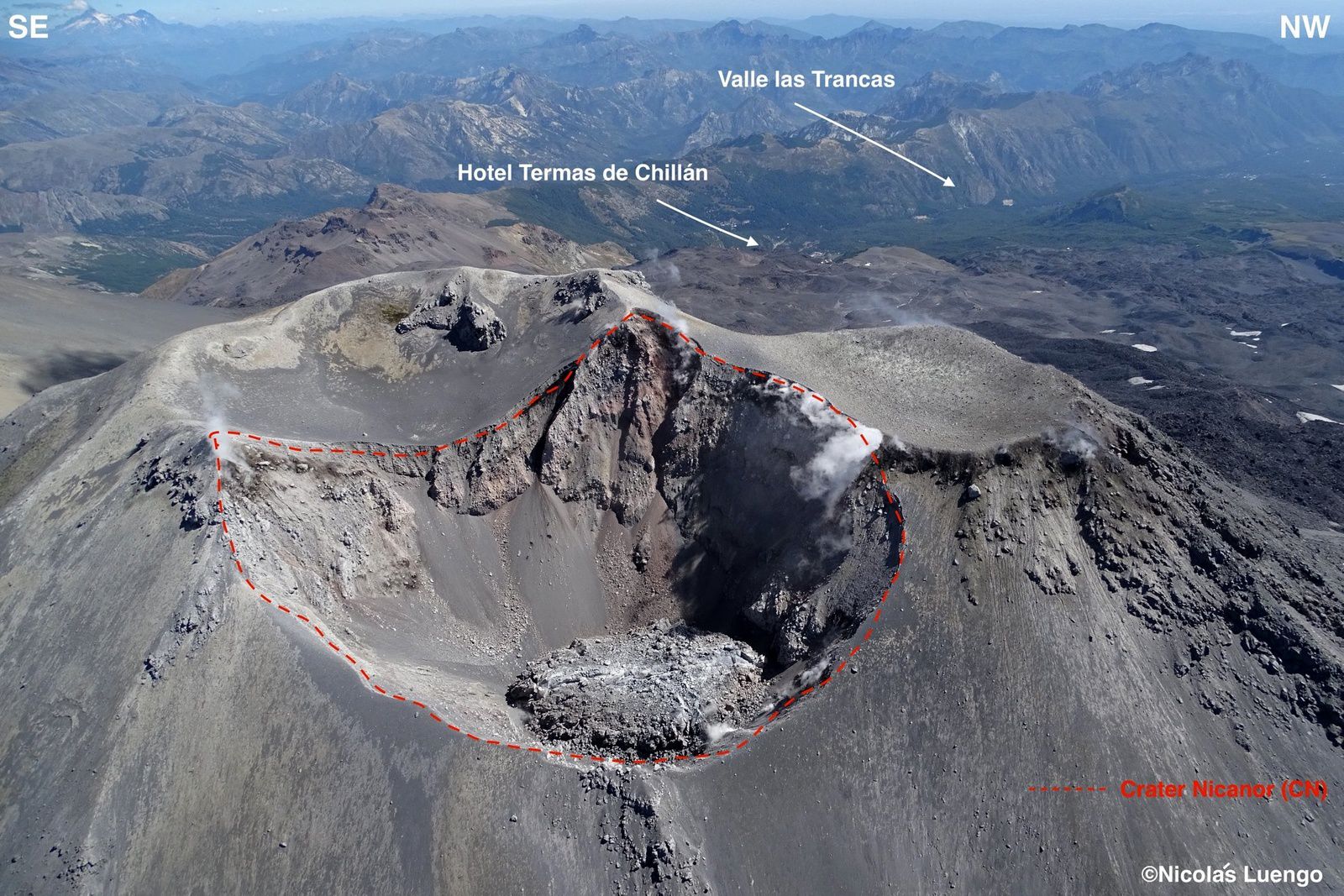 The summit of the Nevados complex of Chillan, with the dome of Nicanor - photo Nicolas Luengo / vulcanology in Chile
The observatories propose three different scenarios of evolution:
- The dome protrudes from the edge of the crater and forms a gravity flow, generating pyroclastic flows towards the NE of the volcano towards uninhabited areas.
- Explosions produce ejections of ballistic blocks in an area around the volcano, and eruptive columns whose collapse can lead to the formation of pyroclastic flows, probably also to the northeast uninhabited.
- Cooling of the dome is possible if the deep magmatic supply weakens or stops, putting the dome in "sleep".
Sources: Sernageomin & Onemi