Publié le par Bernard Duyck
Ed Lagerta, chief volcanologist at Phivolcs for the Bicol region, interviewed the day before yesterday says that Mayon, although with abnormally low activity and low sulfur dioxide emissions, is likely to generate explosions as in 1984, where he had remained calm for a week. The alert remains for the moment at level 4, with a prohibited area of ​​8 km. and the necessary vigilance towards lahars and landslides.
On February 4, there will be two episodes of fountaining, at 10:38 and 13:52, accompanied by ash plumes at 500 and 550 meters; the first episode produced audible sounds within a radius of 10 km.
During the night, a quiet effusion of lava flowed into the Miisi and Bonga drainages, which rose 3.2 and 4.5 km from the summit; this effusion was interspersed by two episodes of fountaining at 2:54 and 5:22.
The sulfur dioxide flux was measured on 2 February at 1.583 tonnes / day
Sources: Phivolcs and Gulf times
In Poas, the hyperacid lake with a milky, slightly turquoise gray color has a stable level, agitated by turbulence and strong evaporation in central and northern parts, linked to the flow of gas and heat emanating from subaquatic fumaroles (stamped fumaroles B and D).
The color of the water and its milky appearance indicate that these fluids are of a more hydrothermal than magmatic nature; on the other hand, the H2S / SO2 ratio of 0.40 in recent days indicates that the Poas system is in a state of transition between a magmatic regime and a hydrothermal regime, characterized by a flow of less oxidizing gases and temperature lower.
Currently, one part of the cone forms a small island, while the other forms a peninsula in lago Caliente.
Various sources speak of a possible reopening of the Poas Park for the Easter holidays, if this situation is maintained.
Sources: Ovsicori, RSN, and local media.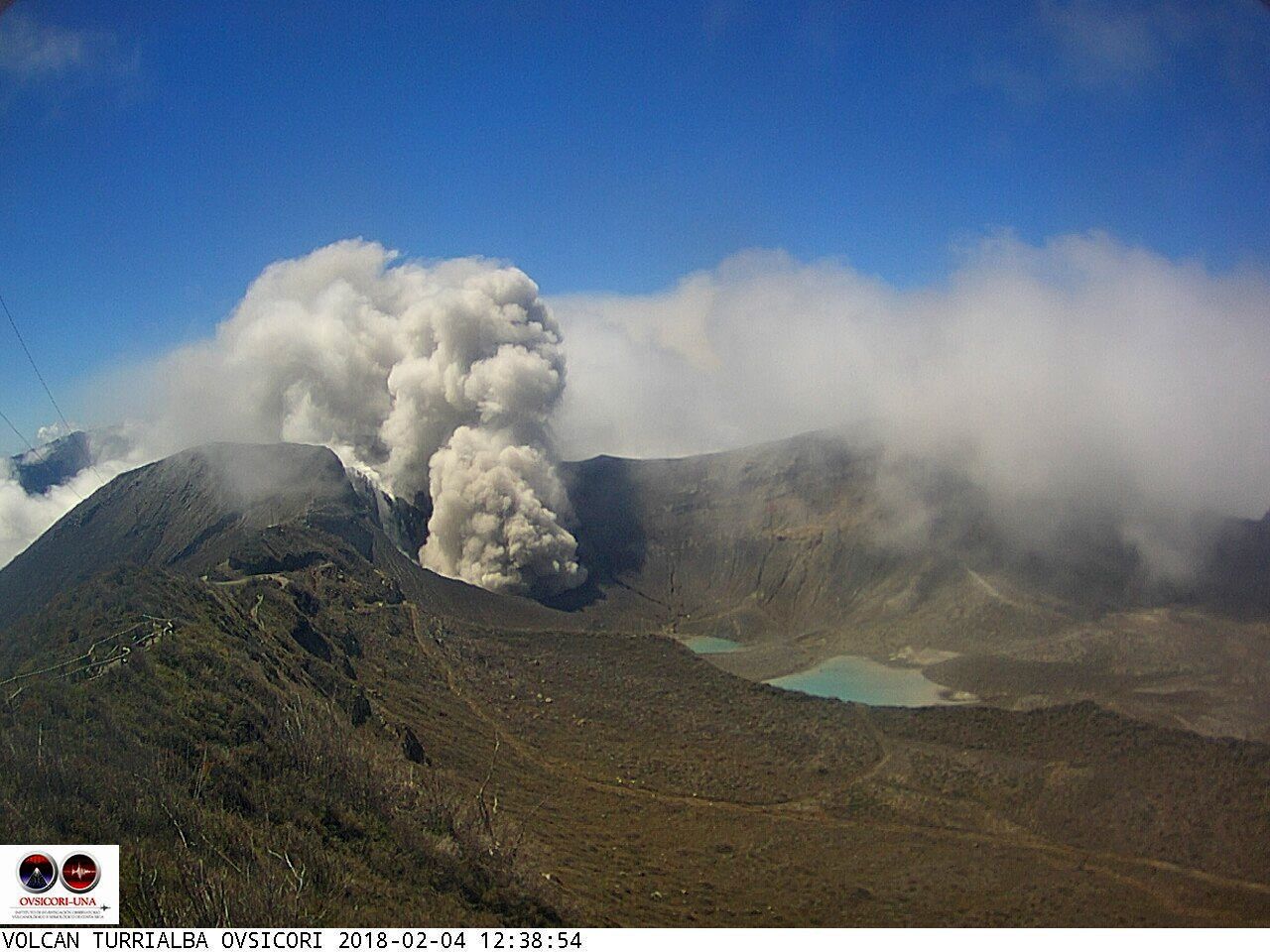 Turrialba - continuous emissions of gas, air and ash resumed - webcam Ovsicori 04.020.2018 / 12:40 loc.
At Turrialba, a continuous emission of small amounts of fine ash has resumed since February 3 at the west crater, accompanied by low amplitude tremor and a plume of gas, ash and aerosols, rising not above 300 meters above the crater.
The Ovsicori gas and aerosol control station located in Coronado-San José, just below the Turrialba plume, detected a significant increase in the concentration of sulfur dioxide and PM10 and PM2.5 particles; Fine particle levels could affect the health of people who are sensitive to environmental conditions, young children and adults with respiratory, cardiovascular or allergy problems. They are asked to stay in enclosed spaces, and not to exercise in the open air.
The seismicity remains generally low, and characterized by volcanic earthquakes LP and tremor of low amplitude, in relation with the movements of internal fluids.
Sources: Ovsicori and Coronado-San José Ovsicori gas and aerosol control station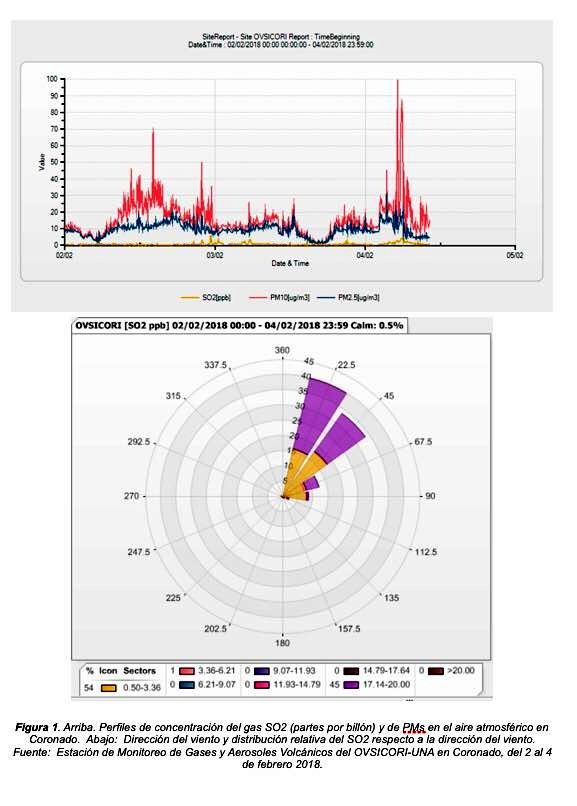 Profile of concentrations of sulfur dioxide (ppm) and fine particles in the atmosphere, conducted by the Coronado-San José Ovsicori gas and aerosol control station, between February 2 and 4, 2018.
The Sinabung maintains its usual activity, sublimated in recent days by the formation of a series of lenticular clouds
Sources: Berastagi Nachelle Homestay and Endro Lewa