Publié le par Bernard Duyck
No big changes in Mayon's activity in recent days. During the past 24 hours, the volcano has been marked by low and sporadic fountaining, lava flows and outgassing. Seven episodes of pyroclastic flows following the collapse of the flows were detected on 21 February in the Miisi, Bonga and Basud drainages.
A video of Thierry Sluys in early February describes the location of homes and crops in the areas surrounding the Mayon.
A review of his photos posted a few days ago.

This brings us to another problem for displaced people: The Visayas Disaster Response Center (VDRC) rejected the request for food relief for the victims of Mayon Volcano in Albay, due to the shortage of rice from the National Food Authority (NFA) in the region.
The buffer stock does not contain the necessary food quotas, while a controversy arises as to the prices practiced by the NFA ... to follow. (Cebu Daily news)
Sources: Phivolcs, Th.sluys and Cebu Daily news
At the Reventador, activity remains at a high level, without variations. On February 21, the summit discovered leaves emissions of ash, water vapor and gas, towards N and NO.
Seismicity consists of 45 LP earthquakes, 35 earthquake and harmonic tremor and emission earthquakes.
The alert level remains orange.
Source: IGEPN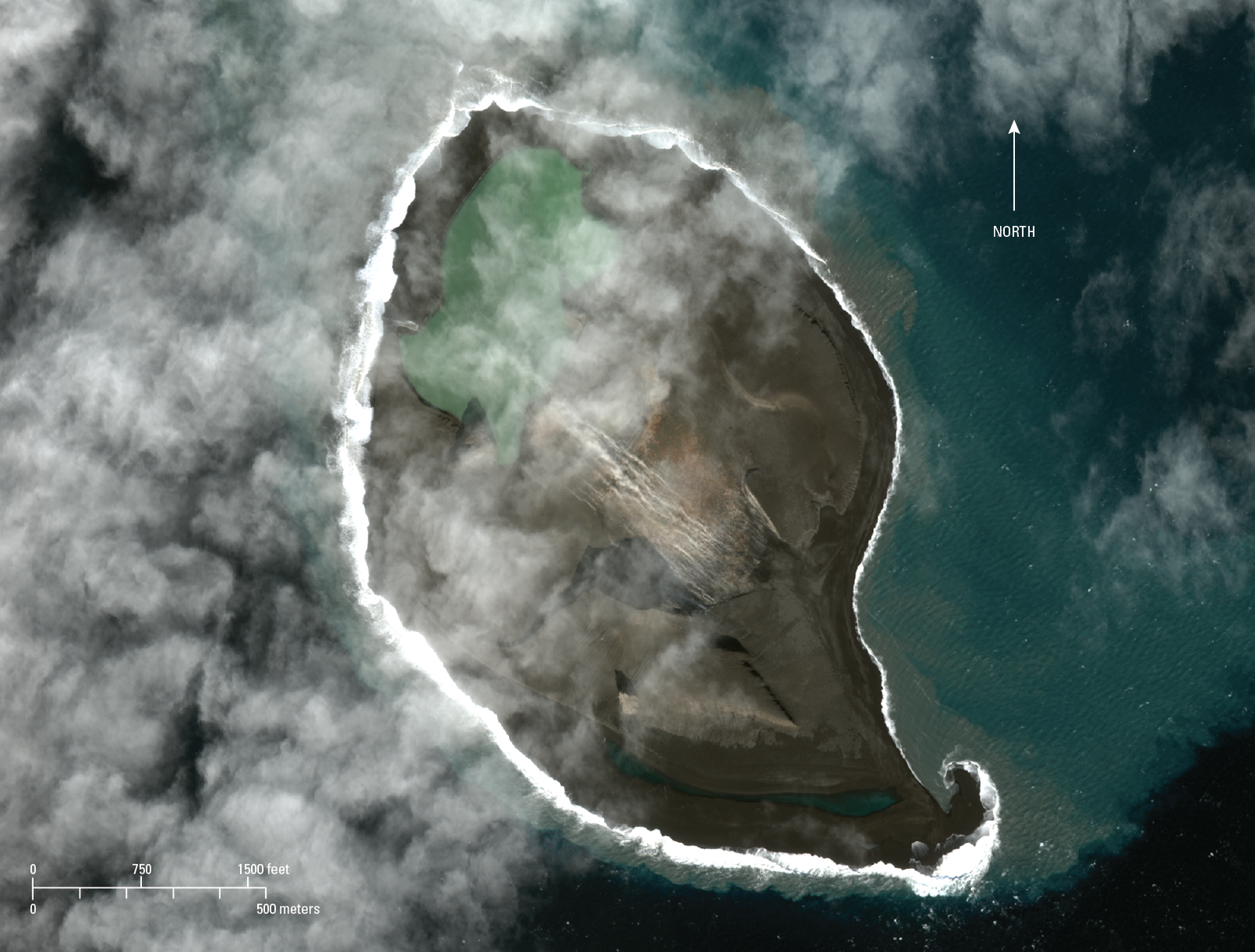 Multispectral Worldview-3 image of Bogoslof collected Feb. 14, 2018. Steaming and likely still warm area just northeast of the tuff cone is evident. Longshore drift has generated a nice fishhook tail at the southeast end of the island. The island area is holding steady at about 1.6 square km which is basically unchanged over the past several months. Image data acquired with the Digital Globe NextView License. via Chris Waythomas - AVO
The AVO has put online a 3D multispectral image of Bogoslof, resting since August 30, 2017, end of the eruption 2016-17. The approximately 60 explosive episodes characterizing this period have significantly modeled the Bogoslof's morphology.
The island has grown by a factor of three, reaching 1.6 km², but new pyroclastic materials and surge deposits are not consolidated; erosion modifies the contours of Bogoslof permanently, and in December, the lagoon of the vent opened on the ocean on the north coast, marking a gradual return to more modest dimensions ... general problem of news or remodeled volcanic islands: construction and destruction.
Source: Alaska Volcano Observatory