Publié le par Bernard Duyck
Kawah Ijen issued yesterday toxic gases: the incident began around 19h, and peaked around 21h.
Thirty people were exposed to gas; 24 of them were treated at Ijen Puskesmas, 4 at Tlogosari Health Center and 2 transferred to Koesnadi Bondowoso Hospital.
Residents of three hamlets near the crater, Margahayu Hamlet, Watu Capil and Dusun Curah Macan, were evacuated to Puskemas Kecamatan Ijen.
The Ijen crater is closed due to toxic fumes, and Magma Indonesia reports a no-go near the crater base, despite a status that remains normal.
Update / PVMBG - Recent Activity
Seismicity is characterized by two deep volcanic earthquakes VA, 19 superficial volcanic earthquakes VB, one episode of tremor.
Abnormal concentartions of gas were found from January to March 2018:
January 10, 2018 / 12:56 WIB: CO2 2563 ppmv, SO2 3.6 ppmv, and H2S 2.4 ppmv
19 February 2018 / 13:26 WIB: CO2 5139 ppmv, SO2 146 ppmv, and H2S 23 ppmv
21 March 2018 / 19:24 WIB: CO2 5140 ppmv, SO2 non measurable (possibly exceeding the measurement capacity), and H2S 175.8 ppmv. This anomaly is interpreted as an explosion, or a sudden release of gas by the crater lake, caused by an overpressure mainly due to an accumulation of CO2 and H2S in the acidic lake.
The seismicity of March 22nd remains above the averages daily recorded
Sources: PVMBG, BNPB, Magma Indonesia and CNN Indonesia.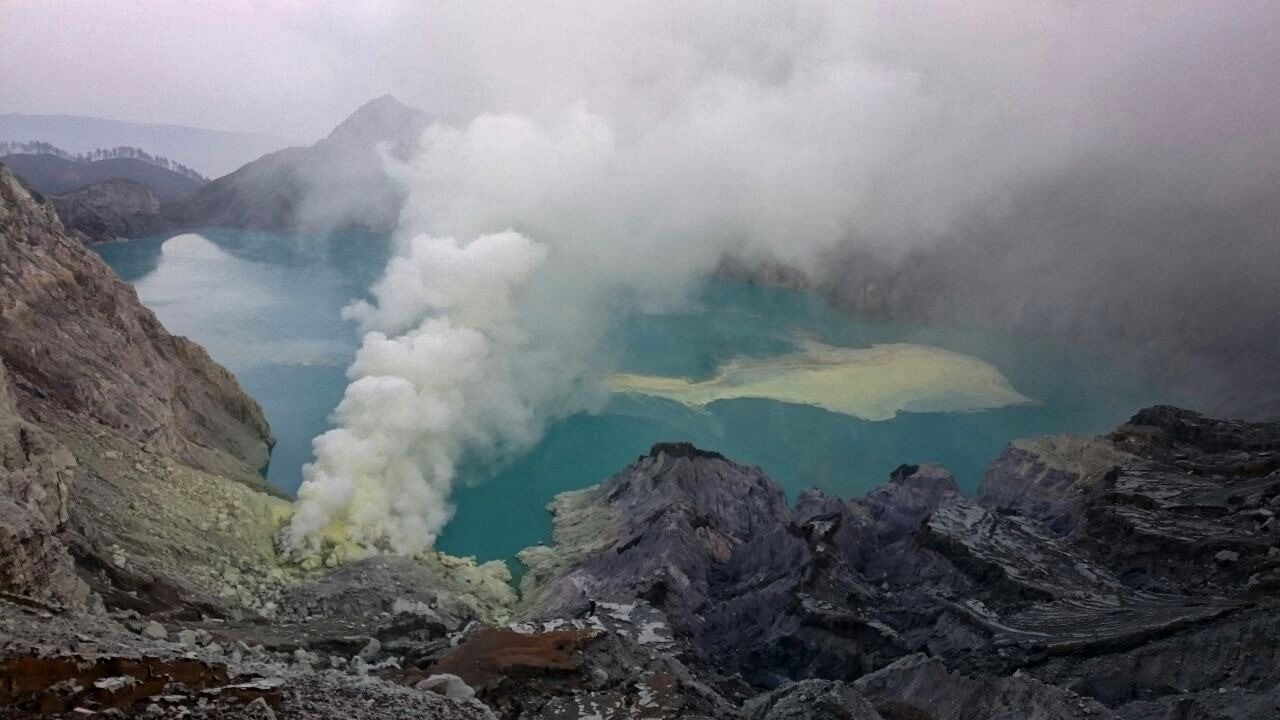 Kawah Ijen - 22.03.2018 / 5h36 WIB - emissions from the solfatare are white, thick, of medium pressure, to 100-200 meters high above the crater - photo PVMBG
The Phivolcs encourages residents on the slopes of Kanlaon to prepare for any eventuality, due to inflation marking the volcano, similar to that which marked the Mayon three months before its eruption.
Yesterday, only one volcanic earthquake was recorded, as well as the moderate emission of a white steam plume, rising 400 meters above the summit, before drifting to a western sector.
Kanlaon is on alert 2, following a probable magmatic intrusion, which may or not lead to a magmatic eruption. A 4 km radius prohibited area (PDZ) remains in effect due to the potential for sudden phreatic eruptions.
Five of the 13 drainages of the volcano are located in this PDZ, and the villagers of these areas will have to be evacuated in priority in case of passage in alert level 3. Evacuation centers have been identified outside the danger zone, 15- 16 km from it.
The last phreatic eruption was in December 2017, while the last magma eruption occurred in 1902.
Source: Phivolcs
The Ambae volcano poses problems for the inhabitants of the island;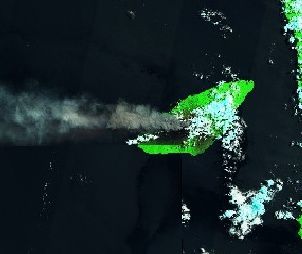 Ash emissions have destroyed plantations after returning to the island, according to the village chief of West Ambae, adding that the water tanks and roofs are covered with ash and lapilli. The food of goats and cattle is problematic because the grass polluted by ashes.
Emergency food resources will be sent from Port Vila
Sources: Radio New Zealand & Sentinel 2
It's moving in Kenya's Rift Valley !
New cracks appeared this March 19th, a week after a similar episode.
The crevice reaches in places 15 meters deep and more than 20 meters wide, and cuts a busy axis.
Although located in the region of Suswa Shield Volcano, this phenomenon appears to be related to an active fault; repair work on this busy road will only provide a very temporary solution in this case. Heavy rains may have leached lands revealing crevices in the subsurface.
Some families, living near these crevasses, are starting to move.
Sources:
- Augustine Sand - twitter
- Global Volcanism Program - Suswa