Publié le par Bernard Duyck
The instability continues in Cleveland, with an explosion detected by the seismic and infrasonic networks on March 2 at 5:57 am AKST / 14:57 UTC, accompanied by the issuance of a small cloud that drifted towards the ENE. The AVO passed the aviation code to orange.
This explosion follows satellite-identified temperature rises on February 28 and March 1 and March 2.
Source: AVO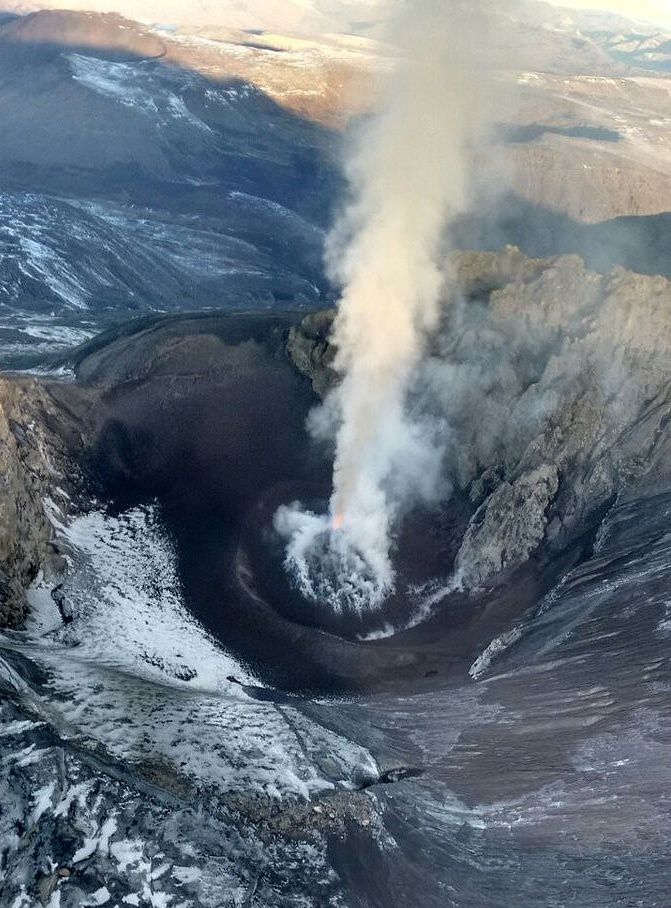 Copahue - Strombolian activity of the pyroclastic cone established on the floor of the crater El Agrio on 03.07.2016 - photo Sernageomin
A joint visit of the Copahue, on the Argento-Chilean border, by the teams of Volcanes Sin Fronteras and Italian and Argentinian volcanologists was recently carried out to measure the fluids emitted by the volcano, and to better understand its internal activity.
Photos of a friend from Argentina illustrate the summit activity of February 28, 2018.
The Copahue volcano forms a composite cone that was erected in the Trapa-Trapa caldera, 8.5 to 6.5 km wide, between 600,000 and 400,000 years ago, near the northwestern edge of the Caviahue caldera (Del Agrio ) of 20 over 15 km.
The eastern summit crater / crater Del Agrio (El Agrio) is part of a line of 9 craters aligned ENE-OSO, and contains an acidic lake 300 meters wide, seat of an intense fumarolic activity.
The last activity period is filled by the Global Volcanism Program from June 4, 2017 to November 27, 2017.
Sources: Valecaviahue / Twitter & VSF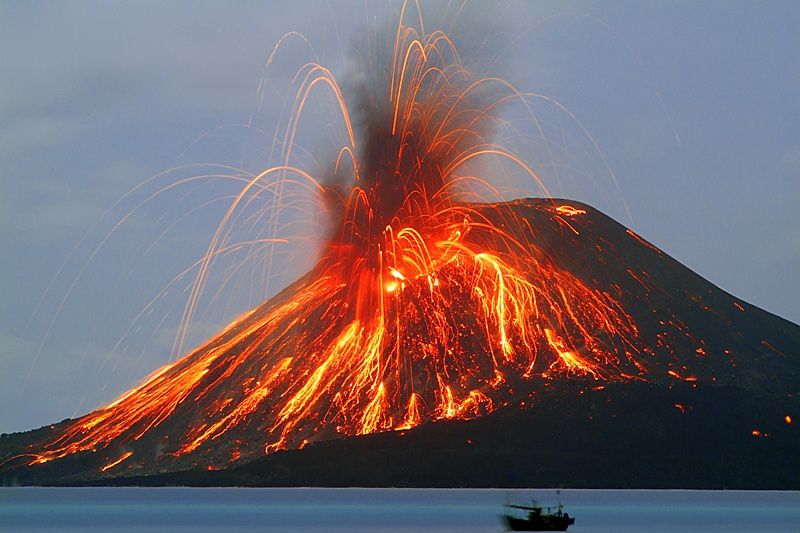 Krakatau - Vulcanian blast 23-24.11.2007 - Rakata taken 5 km from the volcano - photo Marco Fulle / Stromboli on line
In the social media competition, at the initiative of Dr. Janine Krippner, the 2018 Volcano World Cup allowed each volcanophile to defend its favorites. With argumentation of facts and photos, 52 volcanoes disputed the places.
After a long step by step, and 27,056 votes to decide between the volcanoes in competition, the Volcano Cup 2018 has its winner: the Krakatau.
For those who would like to remember the eruption of 1883, then the birth and life of Anak Krakatau, I put you the link to an article: http://www.earth-of-fire.com/article-33036280 .html