Publié le par Bernard Duyck
On the evening of 18 March, a violent explosive sequence involved the eruptive mouths of the crater terrace of Stromboli.
A first explosion at 19:27 from the mouths of the south-central zone was accompanied by the emission of ashes, incandescent materials and large lava blocks, more than 350 meters above the terrace that fell on the summit area of ​​the Sciara del Fuoco.
A second explosion, 40 seconds later, occurred from the mouths in the northern zone, with ash and material emitting at about 100 meters in height.
In both cases, the ashes dispersed to the east.
This episode was accompanied by a strong signal of soil deformation, preceded by about 2 minutes of soil inflation.
Similar violent explosions, more violent than those of a typical Strombolian activity, occurred several times in 2017: March 7th, July 26th, October 23rd, November 1st and December 1st.
These events, occasional and unpredictable, abruptly interrupt ordinary Strombolian activity. However, they are part of the volcanic phenomenology typical of the activity of the Stromboli summit characterized by explosions of variable energy
No other significant change in volcanic activity that remains normal is recorded after the explosive sequence.
Sources:
- INGV Catania - Stromboli: attività eruttiva, 18 marzo 2018
- Laboratorio Geofisica Sperimentale - LGS / Univ Firenze -
Explosione maggiore at Stromboli del 18.03.2018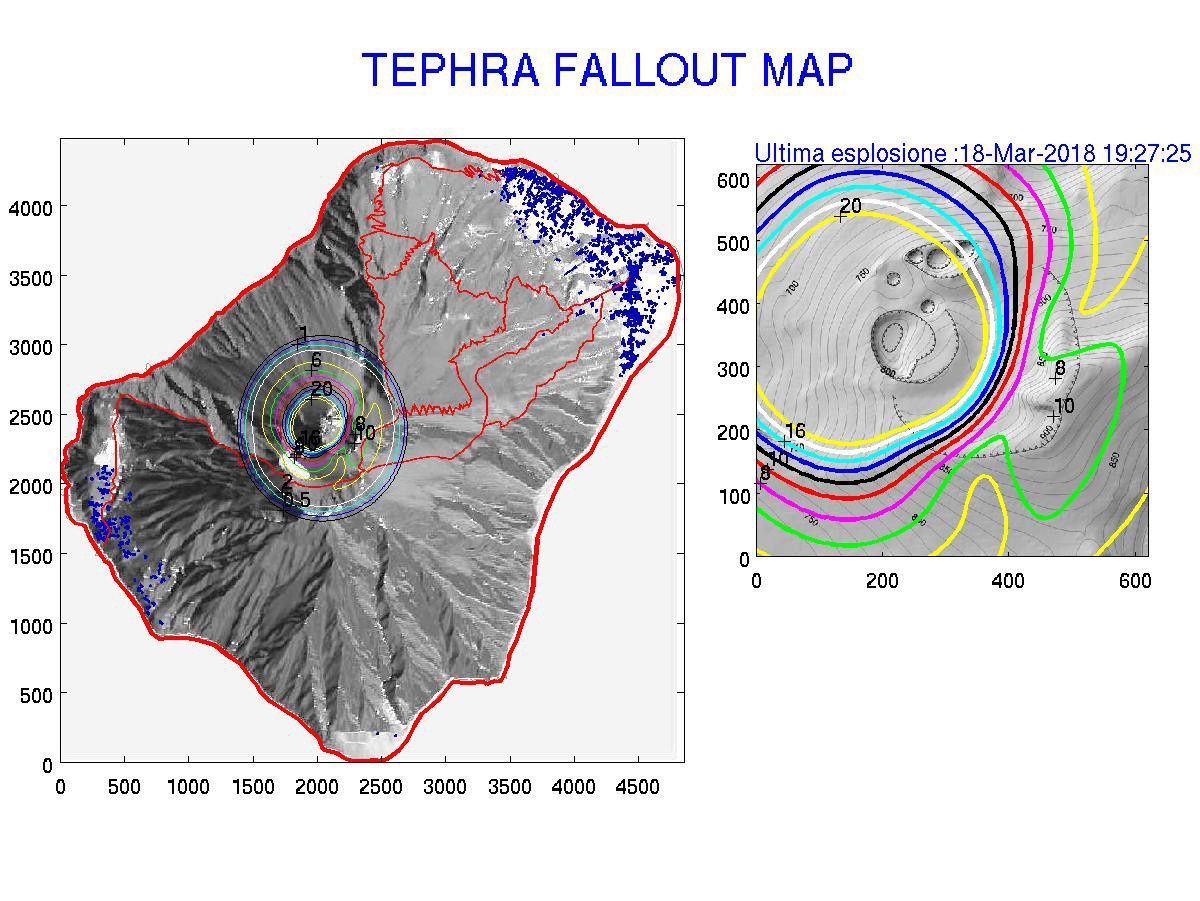 Stromboli - Zone of fallout of materials on the basis of the infrasonic signal of the explosion of 18.03.2018 - Doc. lgs
In New Zealand, two volcanoes are home to seismic swarms, the Ruapehu and White island.
Since March 15, small-scale volcanic earthquakes have rocked the Ruapehu below the summit area.
The crater lake Te Wai ā-moe shows a temperature of 39 ° C, above average. Its two parameters are often associated, but do not lead to volcanic instability, so the level of volcanic alert remains unchanged.
Over the past weekend, a seismic swarm marked White Island, with no apparent changes in subsequent activity.
During a quarterly observation visit, the only significant change observed is the reappearance of the crater lake on the floor of the active zone, following heavy rains discharged during recent cyclones.
Its temperature is relatively cold, 27 ° C. The temperature of the dome vent is 128 ° C, compared with 157 ° C in December 2017. The temperature of the fumaroles also decreased, with 138 ° C instead of 1444 ° C. The deformation of the soil shows a subsidence.
Source: GeoNet