Publié le par Bernard Duyck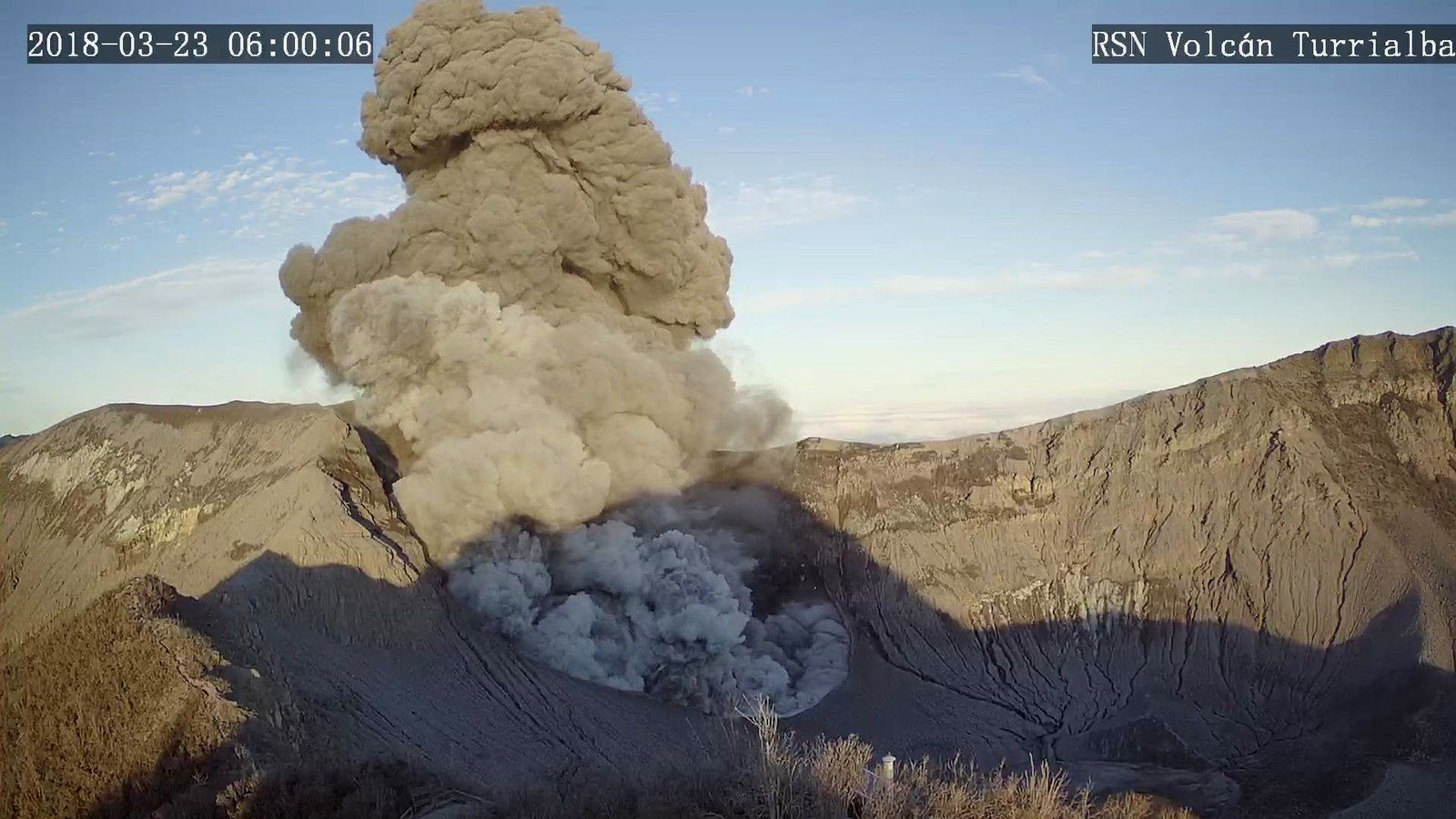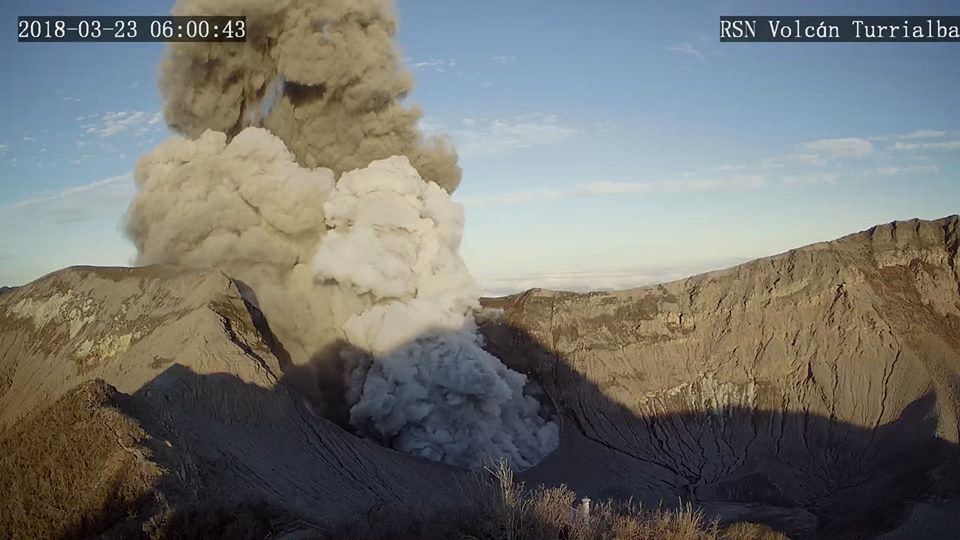 Turrialba - small eruption of 23.03.2018 and rapid change of colors of the plume, suggesting a stripping of the conduit - RSN webcam photos
In Turrialba, a small eruption around 6am loc. on March 23, 2018, lasting over one minute, generated an ash plume 100-200 meters above the summit, according to the sources. The plume quickly cleared, and throughout the day low emissions of steam and gas followed.
Sources: Ovsiori and RSN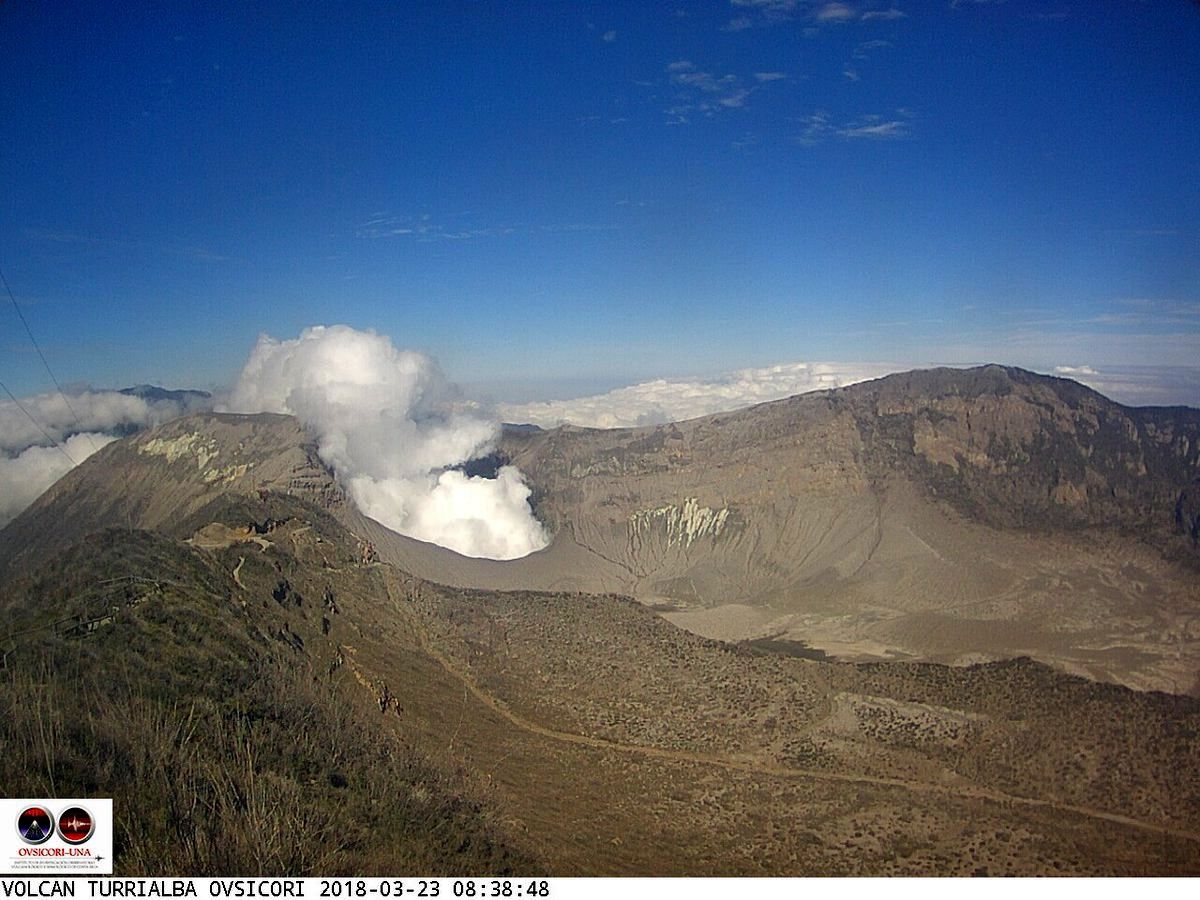 Turrialba - emissions of gas and steam continued during the day - webcam 23.03.2018 / 8:40 / Ovsicori
In Guatemala, two volcanoes, Santa Maria and Agua, are the site of forest fires during the previous days. These fires are difficult to fight, being located on steep slopes.
The Municipality of Quetzltenango reports that on March 24 the Santa Maria forest fire is under control.
Sources: Stereo 100 Noticias - Nasa satellite Terra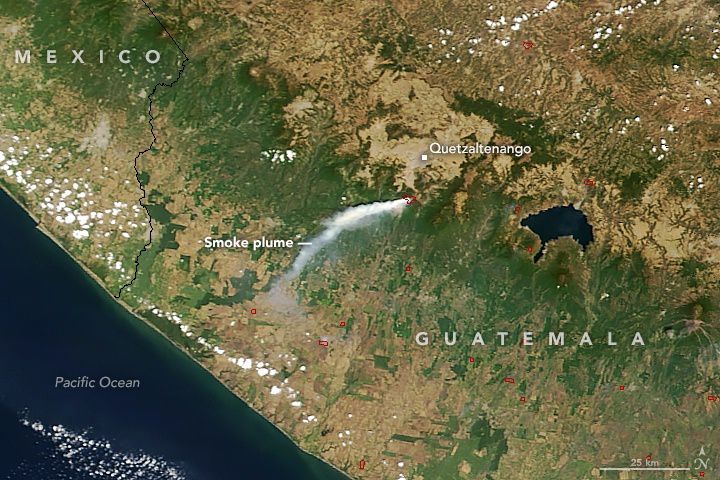 The smoke plume of the Santa Maria forest fires, seen by the NASA Terra Modis satellite on 22.03.2018
Small resumption of activity at Mayon, alert level 3, with two pyroclastic flows from lava flow collapse in Miisi drainage on March 22 at 10:39 and 21:33; they moved 4-5 km and generated clouds of brown ash.
A total of 35 rockfall episodes were recorded by the seismometers; the flow of carbon dioxide is 1,532 tons / day on March 22, and a slight inflation of the volcano's lower slopes, which began on March 11, is still recorded.
Source: Phivolcs
The Satsuma Iojima / Caldeira Kikai, whose alert level had been raised to 2 on March 19 by the JMA, will be subject to field control on March 24 and 25.
Volcanic earthquakes continue after a slight decline on March 20 and 21; on March 22, 48 volcanic earthquakes were recorded between 0 and 15:00 local time, and this activity continue.
Since March 23, plumes of white gas and vapor have been observed above the crater, signs of tensioning of the hydrothermal system.
Source: Hazard lab., Via Shérine France
On Kadovar / Papua New Guinea, the eruption continues at a slow rythm, the thermal radiation of the lava extrusion being visible by the Sentinel 2 satellite on March 22, 2018.
Displaced persons are taken care of on the main island by the authorities.
Source: Sentinel 2