Publié le par Bernard Duyck
In the western branch of the Great African Rift, in North Kivu, areas of depression called mazuku in the Kinyabwisha dialect (a dialect of Rwanda), which can be translated as "devil's breath" or "devilish wind", are dangerous and often lethal to both humans and animals.
These mazuku bags are created when carbon dioxide, heavier than air, accumulates in cuvettes or depressions in high concentrations, well above the lethal threshold of 15%. Isotope analysis indicates that this CO2 originates from the upper mantle (Vaselli & al 2003).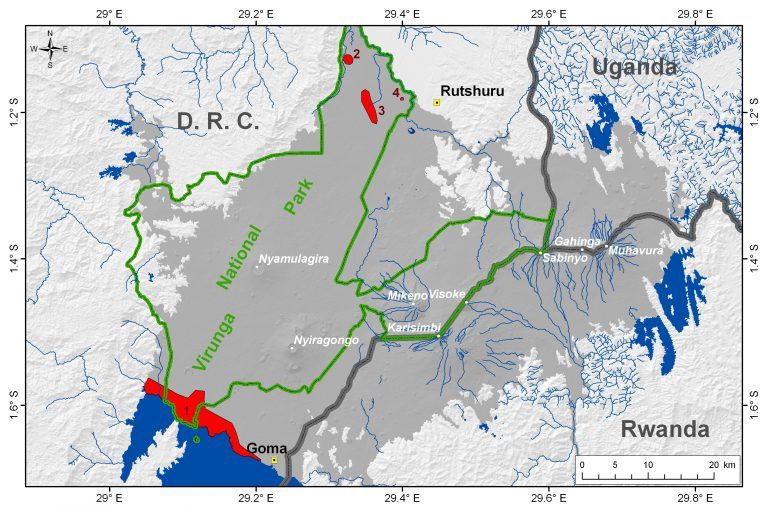 Location of the main mazuku areas in the Virunga Volcanic Province - 1. North coast of Lake Kivu; 2. Lake Ondo area; 3 Kamikoni area; 4. Mbilibaliba area .- volcanoes are shown in white (Location after Verschuren, 1965, and Smets et al., 2010)
This phenomenon is known in other parts of the African rift, and the rumor associated it with the elephant cemetery ... the elephants were in reality trapped in these carbon dioxide filled depressions and died in a group, accrediting the legend.
Although carbon dioxide is colorless and odorless, some field observations can detect mazuku areas:
- A particular vegetation characterizes them. The surroundings are colonized by very green grasses, papyrus and sometimes bamboos, while the centers are devoid of vegetation or have reduced vegetation, and alteration of the rock, presenting a blackish to dark gray color (alteration of the silicate minerals / Smets & others 2010)
- A feeling of warmth, reinforced by reduced ventilation, is reported by scientific observers.
- The presence of dead animals (insects, birds, goats and cows) is an indicator of mazuku. They died there due to an accumulation of gases by gravity, in the absence of ventilation

Carbon dioxide concentrations in a mazuku near Goma bordering Lake Kivu, with wind and no wind blowing - (c) B. Smets, RMCA - 2010. / Gorisk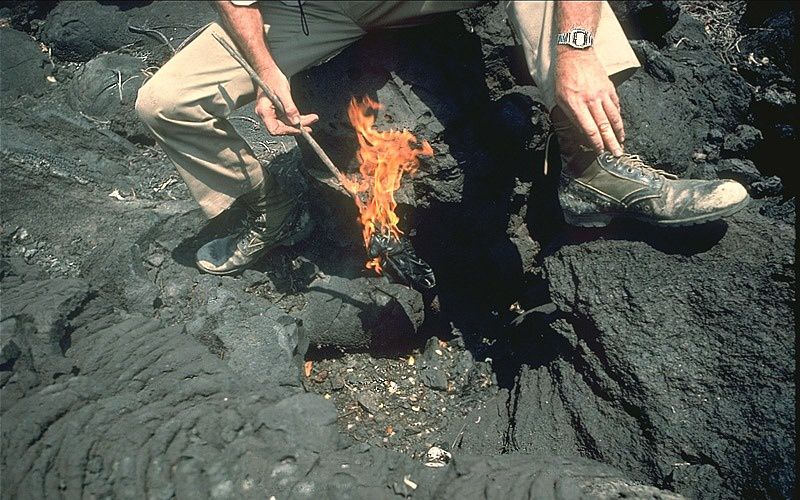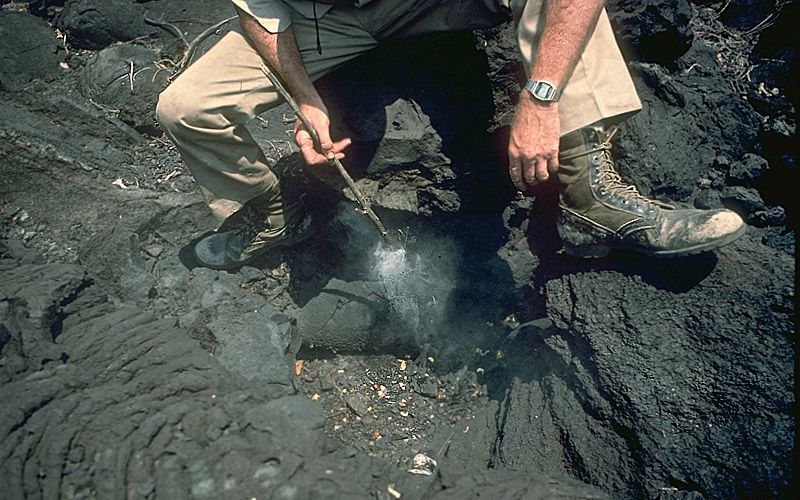 Dry carbon dioxide fumigates on a Nyamuragira lava flow of 1938 - the flame burns in the air, but goes out when lowered into a CO2-filled depression - photo by M.Tuttle 02.1989 / USGS
In the Goma region, these mazuku areas are located in a 3-km-wide strip bordering Lake Kivu, which corresponds to an area where volcanic cones of phreatic or phreatomagmatic origin are located ... suggesting a link possible between mazuku and the hydrothermal volcanic system.
These depressions are created by the superposition of lava flows, by the collapse of lava tunnels, or directly associated with fractures and open faults.
The high number of people displaced by regional conflicts aggravates the situation, as they have established, in ignorance, camps in places where the local population never wanted to settle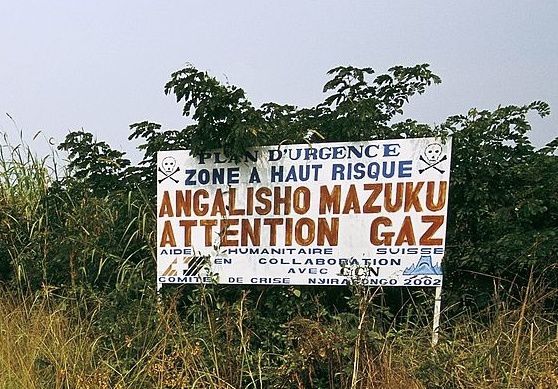 for fear of mazuku.
Various NGOs have posted warning signs, which are not always taken into consideration, and / or removed by the population who believe that the situation has improved. The problem is complicated because it requires the budgeting of information media, and that of necessary information.
The measurements show that 15 years after the devastating eruption of Nyiragongo in 2002, the mazuku, already present before this event, are still present, and the CO2 concentrations have not diminished over time, contrary to local beliefs.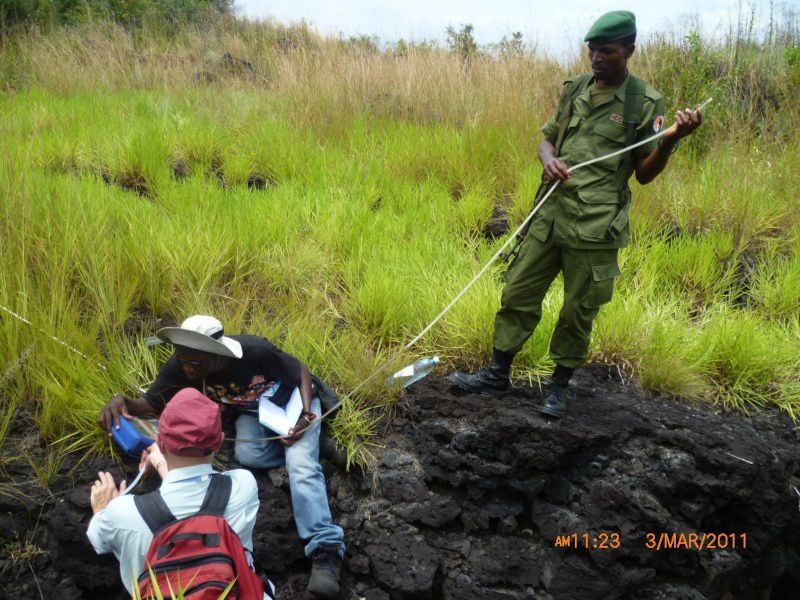 Measuring carbon dioxide in a mazuku - note: the difference between the center of mazuku and the surrounding area (vegetation and rock) - photo skyscrapercity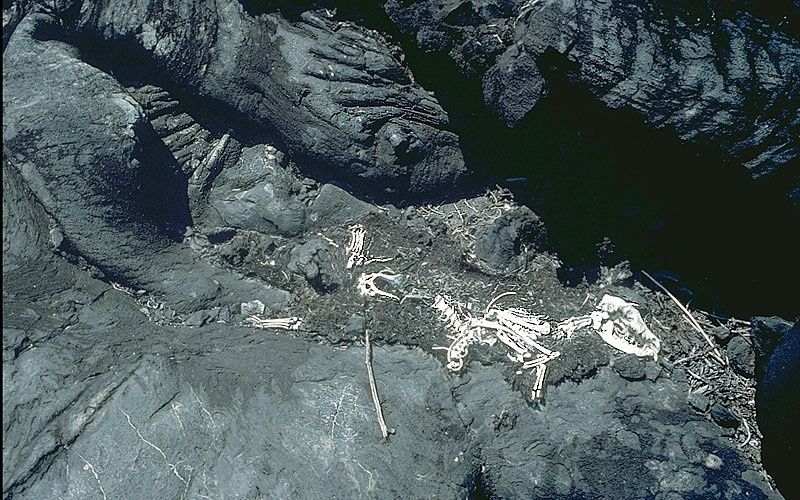 Skeleton of a dog found in a mazuku on the flanks of Nyamuragira / DRC - photo JP. Lockwood 1989 / USGS
Sources:
- Echoes of Monusco - The UN and its partners concerned about the danger of mazuku in Goma and its surroundings - by Cl.Padovan and D.Tedesco
Thanks to Thierry Sluys for the link
- GORISK - Mazuku
- Journal of Water and Environmental Sciences - Mazuku Risks in the Goma Region, DRC - by M. Kasereka & al. - link
- Dry gas winds ("mazuku") in North-Kivu, Democratic Republic of Congo: Training and Risk Assessment - B.Smets, D.TTedesco & al.- link
- New York Times - Deadly Gas Flows Add a Lake of Perils