Publié le par Bernard Duyck
An article in Nature Scientifics Reports revisits a long-standing question: is volcanic activity under the influence and regulation of tidal stresses, a repeatable and predictable external excitation induced by the moon?
These are the conclusions of a Belgian researcher from ULB's Faculty of Science and his colleagues from NASA and Brown University, who examined the surprise eruption of Ruapehu on September 25, 2007.
This explosive erption, lasting over 7-minutes, propelled rocks, ashes and water over the summit area, and produced lahars in two valleys, one of which contained the Whakapapa ski area.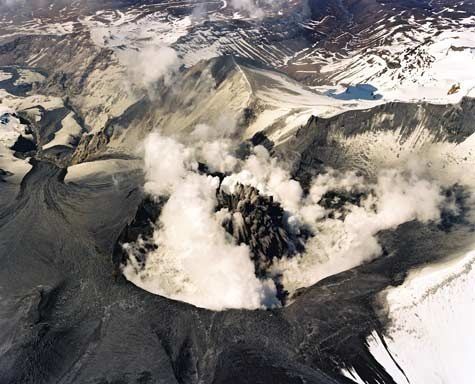 The study focused on the vibrations of the volcano's soil over a 12-year period ... they would correlate with the cycles of the Moon in the three months preceding the eruption.
When the pressure in the gas pocket reaches a critical threshold, the volcano becomes sensitive to the tides caused by the combined effect of the gravitational forces due to the Moon and to a lesser extent to the sun.
The ascension and gradual removal of magma from the earth tides influencing the plumbing system of the volcano generates harmonic variations of the gas pocket overlying the magmatic column, which affects the amplitude of the seismic signal.
The observation of these tides and the modeling will be tested, along with other geochemical parameters, on other volcanoes and used as an additional tool for monitoring and possible prevention of phreatic eruptions.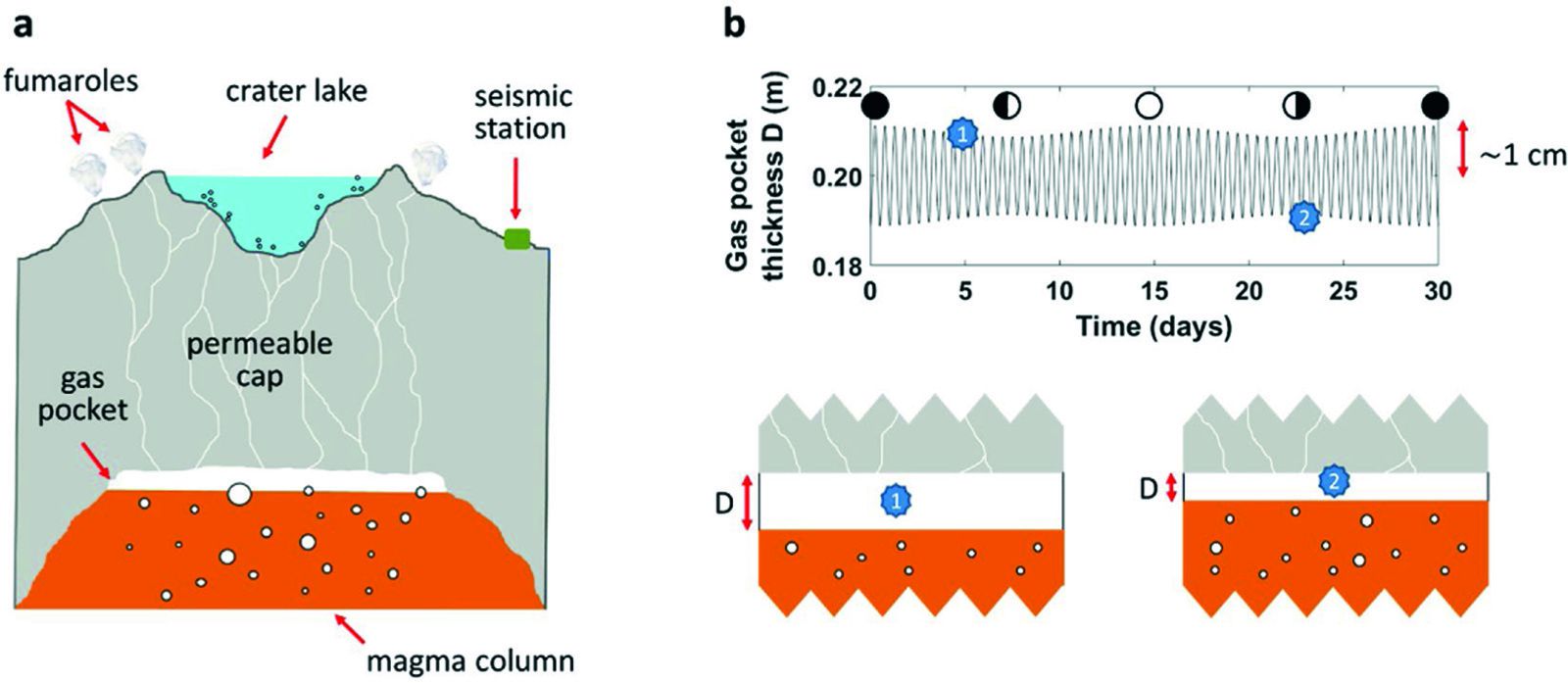 Fundamentals of the model. (a) Sketch of Ruapehu volcano during rest. Tremor-like pressure oscillations spontaneously emerge in ground gas pockets due to the intermittent supply of volatile substances and the transfer of gases through the porous cover. (b) periodic rise and withdrawal of magma due to tidal compression of the magmatic plumbing system; this generates harmonic variations in the thickness of the gas pocket (D), which in turn affects the amplitude of the seismic signal. The black, white and half discs respectively represent the new moon, the full moon and the quarter. Numbered blue stars represent cases with a thick gas pocket and another case with a thinner gas pocket. / Scientific Scientific reports - Sensitivity to lunar cycles prior to the 2007 eruption of Ruapehu volcano - T.Girona, C.Huber, C.Caudron 24,01,2018
Source:
- Nature Scientific reports - Sensitivity to lunar cycles prior to the 2007 eruption of Ruapehu volcano - T.Girona, C.Huber, C.Caudron 24,01,2018