Publié le par Bernard Duyck
In Fuego, the level of explosions remains high, with 7 to 10 episodes per hour, accompanied by ash plumes rising to 4,800 m. asl., before drifting west 20 km.


The activity generates a lava flow on the west flank on 1,300 meters, towards the barranca Seca. It has probability of flows in the other barrancas during the hours to come.
Source: Insivumeh special bulletin 16,04,2018 / 21h local
In Sabancaya, the activity is maintained during the last week, with an average of 15 explosions per day. The plumes of ashes and gases are raised to a maximum height. 2,200 m above the crater, and a 30 km dispersion over a western sector.
Sulfur dioxide flows remain high at 2.726 tonnes / day on March 30th.
Seismicity is dominated by LP earthquakes, associated with fluid motions, and the emission tremor.
Sources: IG Peru / OVI / Ingemmet Week from 9 to 15 April 2018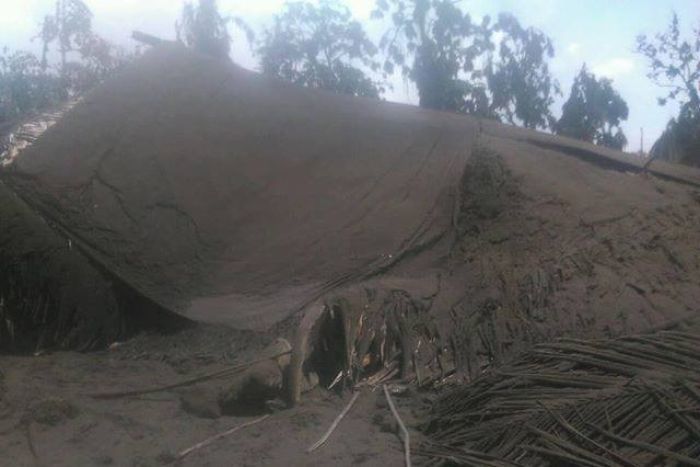 Ambae - a traditional house in the village of Lolosori collapsed under the ashes - photo Hilaire Bule 16.04.2018 via Facebook
Voluntary evacuation is announced on Ambae. Unlike last year, transport is headed by the Provincial Government of Penama, which collects the names and addresses of evacuees and host families for approval.
Talks are underway with the leaders of the neighboring islands of Maewo and Pentecost for the acquisition of land for resettlement.
Sources: Penama Disaster Operation Center, ABC News, Radio NZ, NZ Stuff
In Bulusan / Philippines, the authorities remind tourists that access to the volcano is forbidden. The alert level remains at 1, with a forbidden 4 km radius Permanent Danger Zone. Vigilance is required in the Extended Danger Zone due to the possibility of sudden phreatic eruptions.
Various activities have been organized by Bulusan Town Hall to not disappoint travelers ... it is not certain that these actions are enough to dissuade them.
On April 17, a volcanic earthquake was recorded. Inflation is recorded by tilt meters and GPS in the upper slopes, sign of power up.
Sources: Phivolcs & Philstar