Publié le par Bernard Duyck
Back to the news, a little disturbed yesterday by the eruption of Piton de La Fournaise.
A phreatic eruption took place at Gunung Marapi, on the island of Sumatra (the Megali is located on the island of Java) on April 27, 2018 at 15:50 local; it lasted 43 seconds and was accompanied by a dark plume rising 300 meters above the summit, before dissipating to the east.
The Marapi alert has been level 2 / waspada since August 3, 2011; a prohibited area of ​​3 km radius is in effect. The aviation code is currently orange.
Sources: Magma Indonesia and BNPB
The Karymsky knows again a moderate explosive activity: this April 28, at 6:25 UTC, an ash plume was issued at more than 5,500 meters, then drifted for 150 km to the northeast.
The aviation code is orange, because of the persistence of the explosive activity.
Sources: KVERT & VAAC Tokyo
At Piton de La Fournaise, the eruption started on April 27, 2018 at 11:50 pm local time continues. Nevertheless, the volcanic tremor (indicator of surface eruptive intensity) has been decreasing since the opening of eruptive fissures on the surface
Surface flows estimated from satellite data, via the HOTVOLC platforms (OPGC - Clermont Ferrand) and MIROVA (University of Turin) were included at the beginning of eruption between 8 and 15 m3 / s. At 16h today, they were between 3 and 7 m3 / s.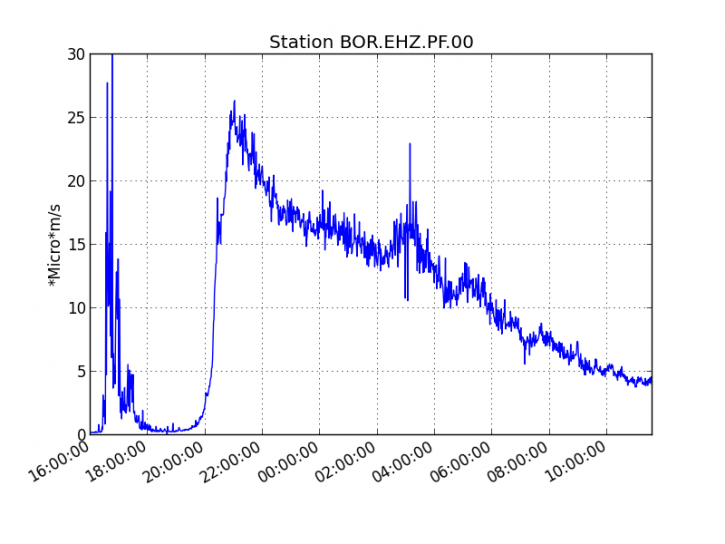 Piton de la Fournaise - Evolution of the RSAM (indicator of the volcanic tremor and the intensity of the eruption) between 20:00 (16h UTC) on April 27 and 16:00 (12:00 UTC) April 28 on the seismic station BOR (located at Mountain peak). (© OVPF / IPGP)
No significant deformation was recorded during the day on the terminal cone.
A volcano-tectonic earthquake was recorded during the day under the Piton de la Fournaise building.
The overflights of the eruptive site realized this day thanks to the help of the SAG and the PGHM made it possible to make a first cartography of eruptive fissures and lava flows.
Sources: OVPF & Mirova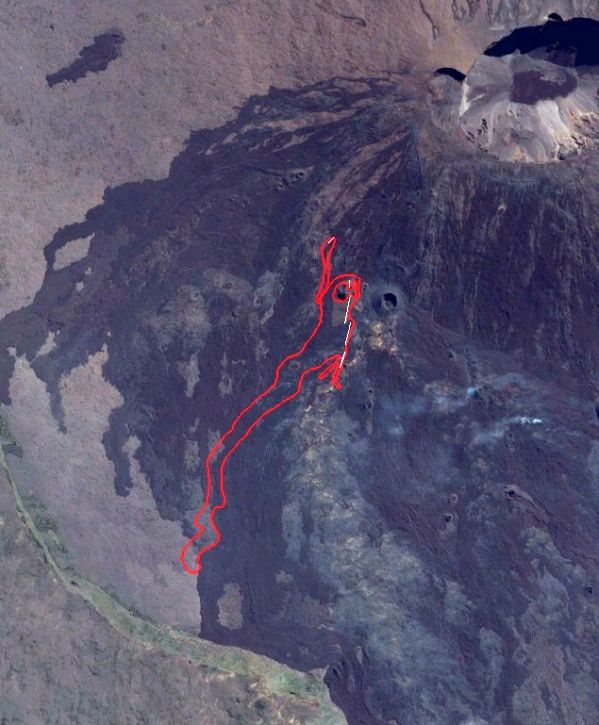 Piton de La Fournaise - Approximate plot of eruptive fissures (in white) and lava flows (in red) at 28/04/2018, 9:00 local time, deduced from aerial images. (Background image: google earth, the fumaroles in the east are from an earlier flow). (© OVPF / IPGP)