Publié le par Bernard Duyck
Small phreatic eruptions occurred in Poas on April 21, 2018 between 10:12 and 11:00. The RSN reports, at 10:14 and 10:17, projections of sediment from the eruptive center.
Sources: Ovsicori and RSN
The inflationary trend noted during the weeks spent at Pu'u o'o continues.
The overflow of the lava pond located in the western pit, a small crater adjacent to the main crater of Pu'u O'o, raised levees around the pond. On April 21, no new flows were observed in the crater.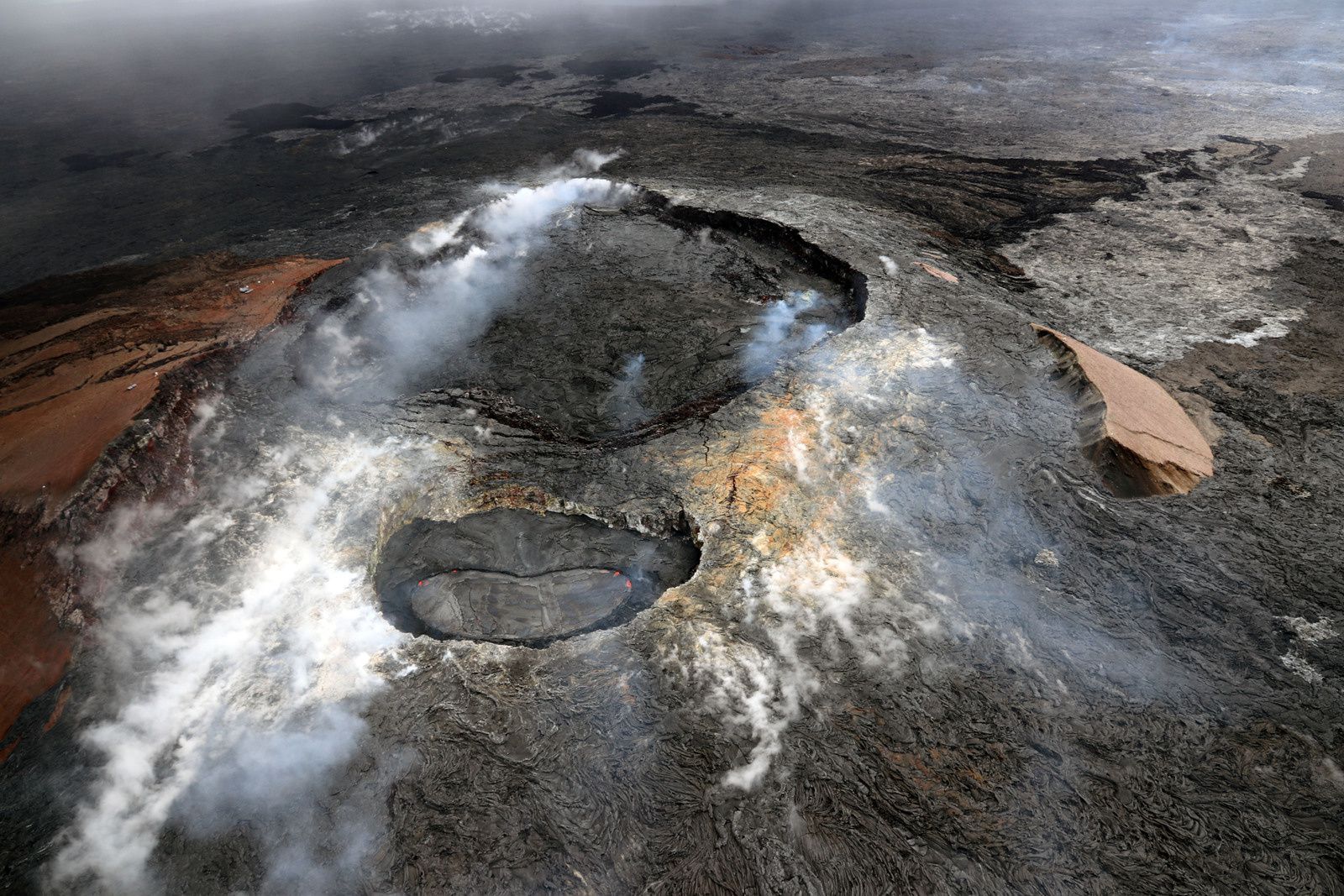 Kilauea - the top of Pu'u O'o with the main crater in the background, and the pit in the foreground. - photo 18.04.2018 HVO - USGS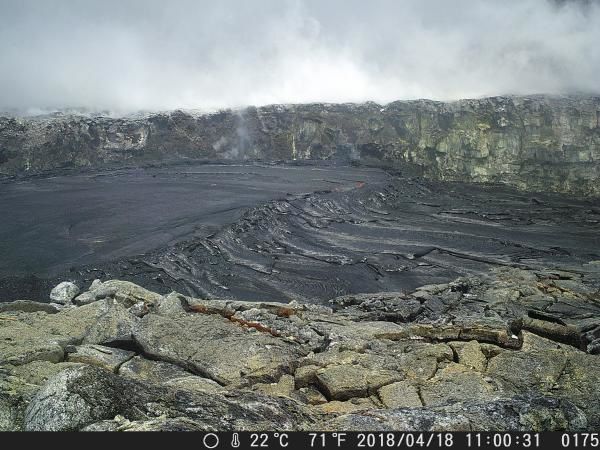 Pu'u O'o - the small lava lake located in the western pit, and maintained in its levees - photo 18.04.2018 / 11 h. HVO - USGS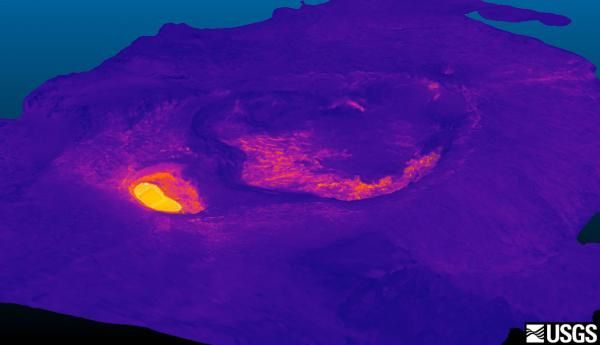 Pu'u O'o - 3D model built on the basis of thermal images collected during a helicopter flight on April 18, 2018; the active lava lake in the western well appears warmer than the surrounding areas - Doc. HVO - USGS
The level of the summit lava lake, measured in the afternoon of April 21, was 10 meters below the rim of the crater Overlook; he continued to climb during the course of the night.
The lava flow 61 g continues to remain active around Pu'u O'o on the upper lava field, an area closed to the public.
Source: HVO - USGS
The Fuego de Colima volcano, located in Trans Mexican Volcanic Belt, records an increase in its seismic activity, with appearance of LP earthquakes, related to gas and internal fluids movements . During the last week, nine collapses, a weak explosion and a fumarolic activity inside the crater were observed.
This renewed activity follows the last big explosion of the Colima of February 3, 2017, followed by a period of lower activity.
Source: Centro Universitario de Estudios e Investigaciones de Vulcanología.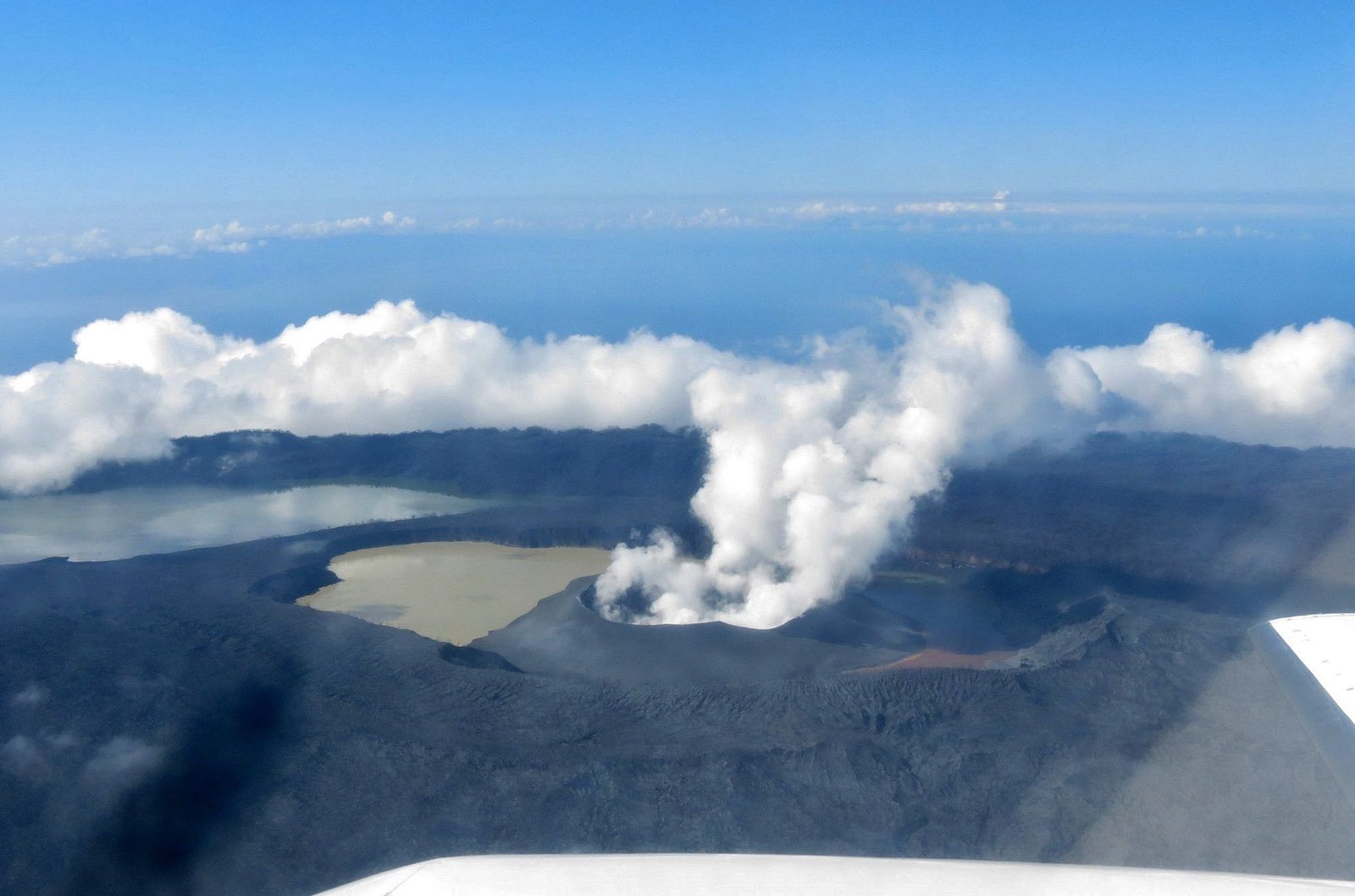 Ambae - volcanic cone separates Lake Voui into two parts, and ash emissions have stopped for the moment - photo 21.04.2018 Brad Scott / VGO
On Ambae, an overview by Brad Scott and teams from the Vanuatu Observatory on April 21, 2018 shows that ash emissions have temporarily stopped. The vent has widened significantly and the cone now separates Lake Voui into two parts.
Regarding the evacuations, a government delegation traveled to Ambae to consult the Penama Provincial Council and get fresh news of the ash falls from the Lombenben eruption. The evacuation plan should be carried out in three successive phases, during which a supply of water and food will be provided.
Sources: Vanuatu Daily Post and Radio NZ