Publié le par Bernard Duyck
A new eruption marked the Shinmoedake this April 5 in the early hours.
Two larger explosions were observed at 3:31 and 3:47, accompanied by high ash emissions and a plume rising up to 5,000 meters, traversed by volcanic lightning generated by friction of ash particles, according to the JMA.
The tonnage of ash emitted in three hours is estimated at between 100,000 and 150,000 tons.
Rocks were projected about 1,100 m away from the crater.
The Meteorological Agency calls to go out only if necessary and to refrain from driving a vehicle in Miyazaki prefecture South and Kagoshima.
Sources: James Reynolds, NHK, JMA, VAAC Tokyo & Hayakawa Yukio / Togetter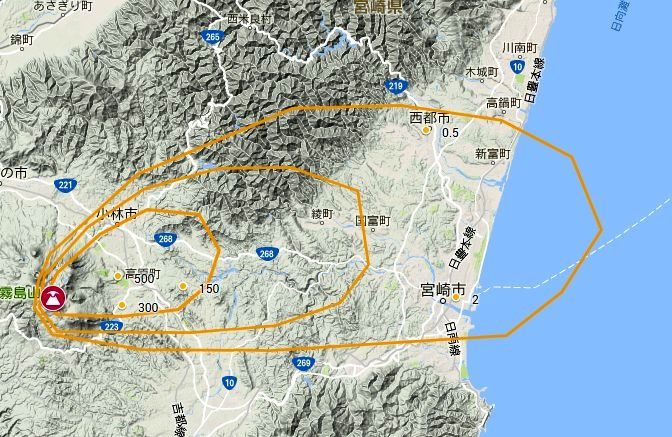 Shinmoedake - eruption of 05.04.2017 - ash distribution isopach at 1.10, 100 g / m² - Hayakawa Yukio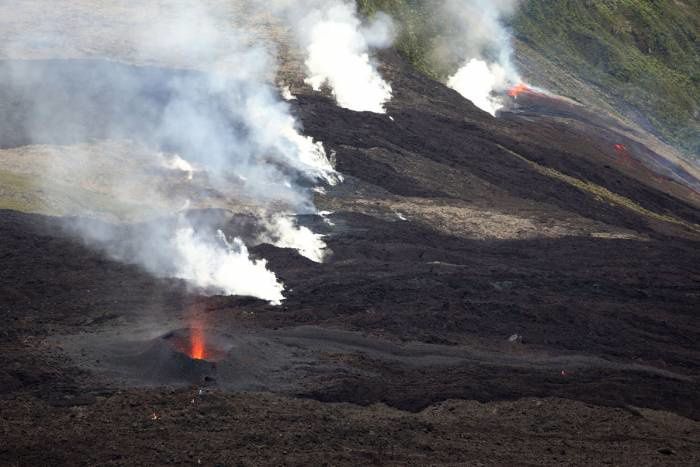 Piton de La Fournaise - 03.04.2018 - the three zones of surface activity, direction main cone - Nez Coupé of St Rose - photo IPR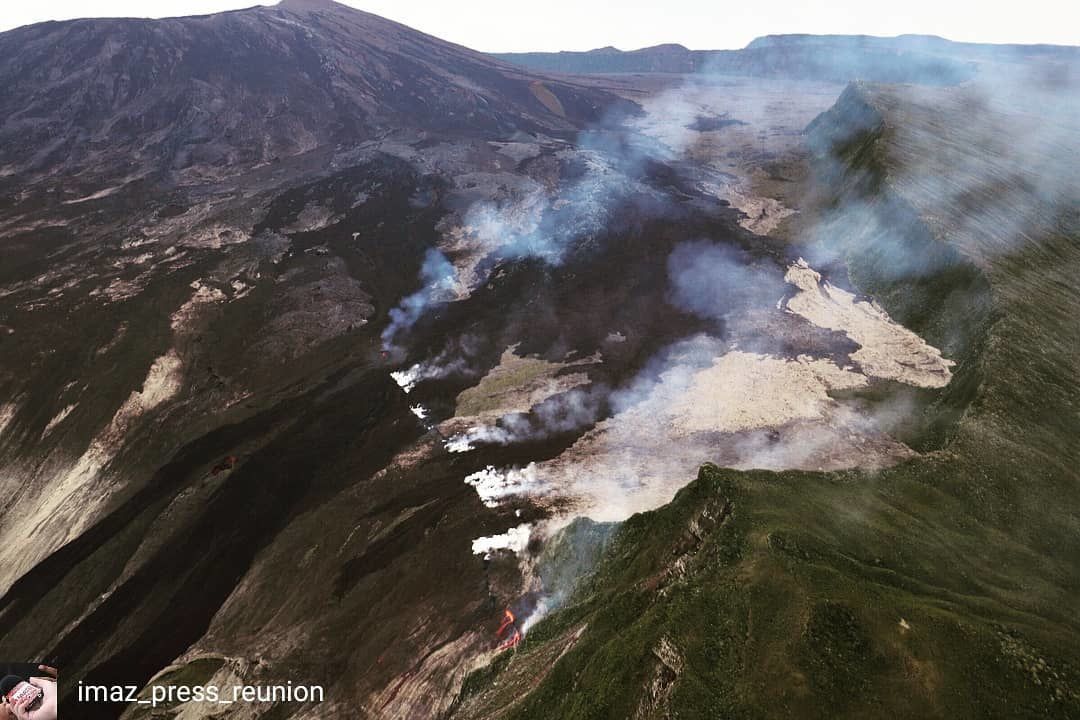 Piton de La Fournaise - 03.04.2018 - the three zones of surface activity, seen from the Nez Coupé de St.Rose to the main cone - photo IPR
At Piton de La Fournaise, the surface eruptive activity stopped yesterday at 4am local. Three zones of activity are distinguished on the fissure which extends from the foot of the cone in the direction of the Nez Coupé de St.Rose about one kilometer long.
In the upper part, a vent produced a small cone.
In the central part, starting point of the eruption that has spread up and down, there are dry fractures, animated by degassing.
In the lower part, under the Nez Coupé de Sainte Rose, the larger slope allowed lava flows about three hundred meters.
However, rock falls in the rampart and a significant seismicity is still recorded in the plain of Osmondes and the area of ​​Piton de Crac.
Question numbers, we went from 515 volcano-tectonic earthquakes on April 3 to 24 earthquakes VT on April 4, and from 14 to 23 landslides on the summit cone and the wall from April 3 to 4. At the deformation level, the GPS does not record particular signals.
Sources: OVPF, Laurent Perrier, Imazpress, Clicanoo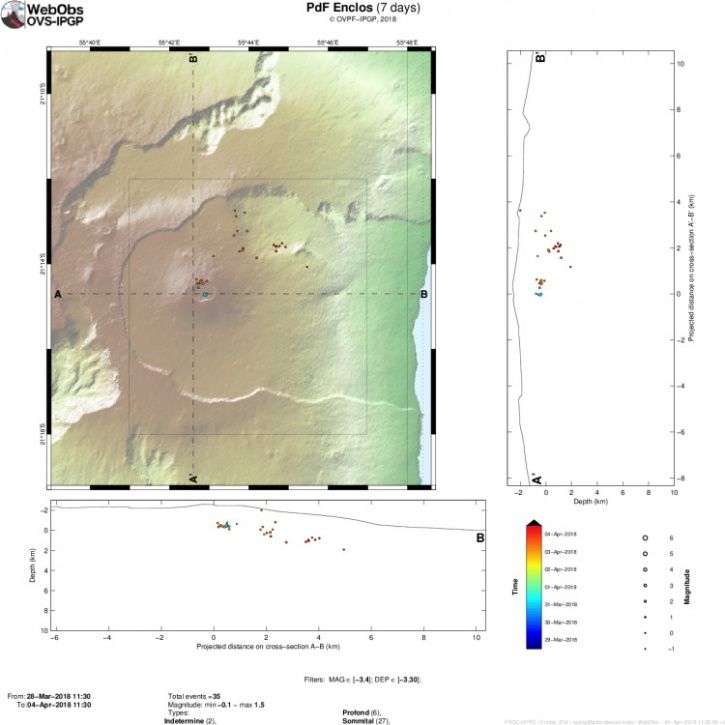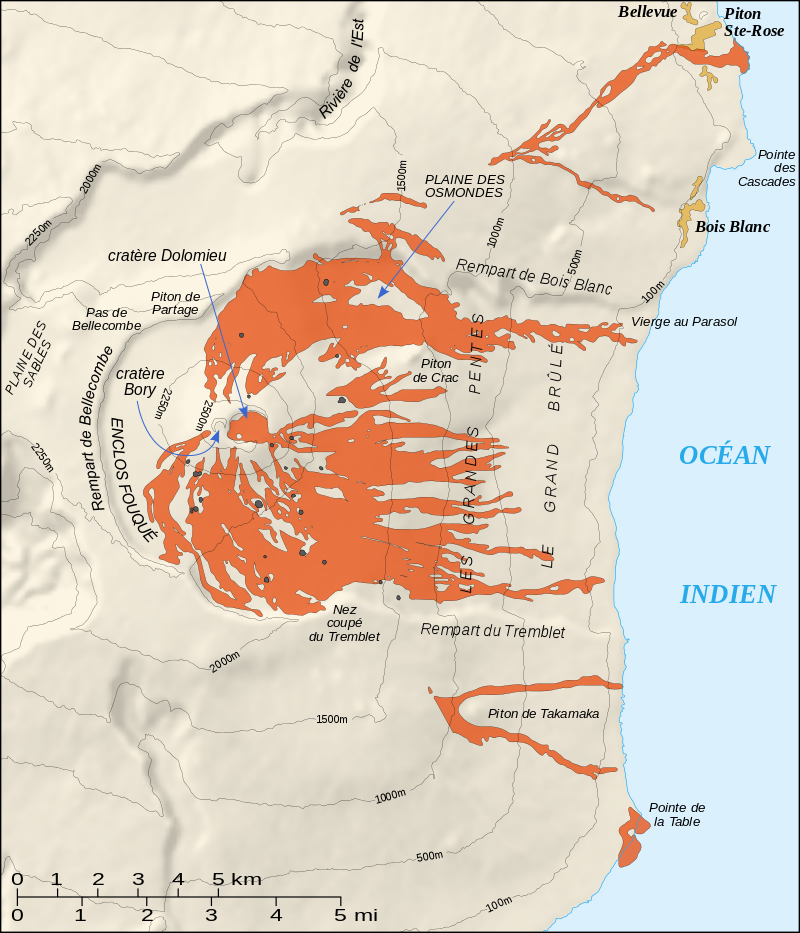 Piton de La Fournaise - Location of seismicity over a week / OVPF / 04.04.2018 and location of Piton de Crac and Plaine des Osmondes
In Cleveland, a small eruption was recorded this 4th of April at 03:55 AKST / 11:55 UTC by the seismic and infrasonic network of the AVO. No cloud of ash was seen by satellite, due to cloud cover.
The Aviation Code has however been raised to orange and the volcanic alert to Watch.
Source: AVO
In the northern Kuriles, explosions at Ebeko were accompanied by a plume of ash rising to 2,500 meters asl, before drifting eastward for 5 km this 04.04.2018.
Moderate degassing followed, sometimes with some ashes.
This activity is likely to affect Severo-Kurilsk airport and low-level flights.
The aviation code remains orange.
Source: KVERT