Publié le par Bernard Duyck
After the first signs of activity in early April (link), a hydrothermal or phreatic eruption started on the volcanic group Kirshimayama / Ebino Highland, Mt.Iwo-yama (or Mt. Io / Mt. Ioyama / Mt.Iozan). April 19 at 15:39 JST (6:39 UTC)
https://www.47news.jp/news/2285542.html
A gray-white plume of steam and ashes rose several hundred meters, reaching at times 500 meters above the crater, at the level it seems of new mouths.
Inflation and earthquakes mark the area of ​​activity.
The JMA has raised the alert level from 2 to 3 / do not approach the crater at 15:55, projections may occur within a radius of 2 km.
On the morning of the 20th, jets of black and fluid mud are visible on the webcams, at the foot of the plume, and give rise to a hot and steamy mudslide descending the Ebino plateau (see video below, from the foot of the plume in the direction of the left)
The presence of ash in the plume ceased around 6:30 am on April 20, followed by a fumarolic activity.
Note that mud projections have reached the JMA webcam.
The last Iwo-yama eruption was recorded in 1768. (GVP)
Sources: JMA, NHK, Kyodo news, Hatakawa Yukio, videos via Shérine France, Global Volcanism Program.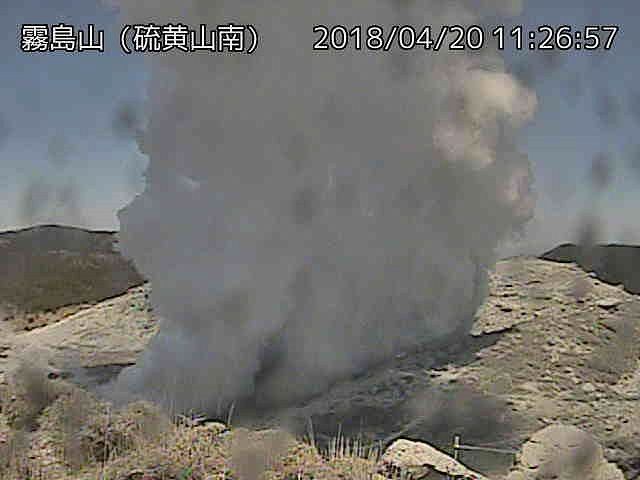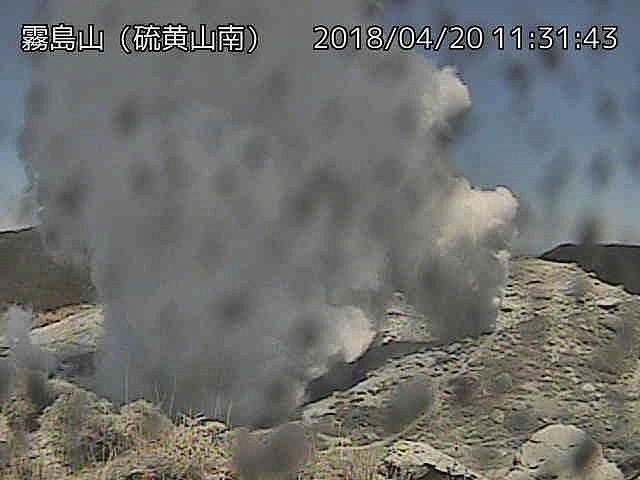 Ebino Highland / Iwo-yama - 29.04.2018, respectively at 11:26 and 11:31 (mud on the webcam) - webcam JMA
The Sakurajima was the site of a strong explosion on April 19 at 6:47, accompanied by a plume rising to 2,300 meters above the crater Minamidake.
This is the 49th episode of the year.
Source: photographers mentioned
Insivumeh reports since the night of the 18th of April four lava flows at Pacaya; they are located on SSO, SO, O and NW flanks. and reach lengths ranging from 200 to 500 meters.
This effusive activity has grown the internal slag cone at Mckenney Crater, surmounted by white and bluish fumaroles, and where strombolian explosions reach 40-50 meters above the crater.
The PCG seismic station records tremor produced by lava flow movements.
Source: Insivumeh bulletin 19,04,2018 / 7:25 local