Publié le par Bernard Duyck
Following the resumption of seismic activity in line with the summit area of ​​Piton de la Fournaise on April 21, 2018, and after a progressive increase in seismicity since 5:45 pm (local time) on April 27, a seismic crisis is recorded on the instruments of the Volcanological Observatory of Piton de la Fournaise since 20:15 local time on April 27, 2018.
This seismic crisis is accompanied by a rapid deformation, This indicates that the magma is leaving the magma reservoir and is spreading to the surface
(Activity Bulletin from Friday, April 27, 2018 at 8:30 pm (local time)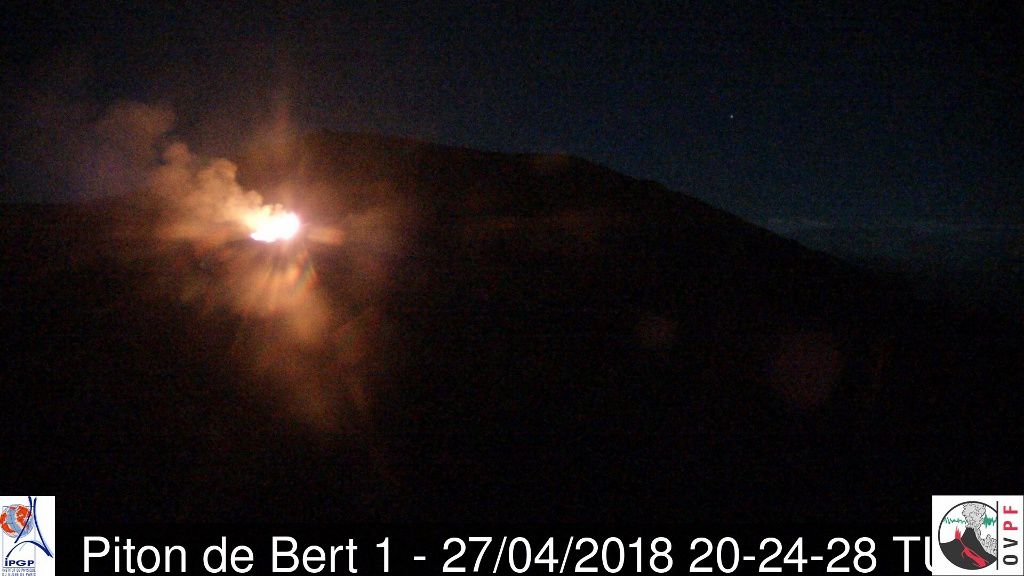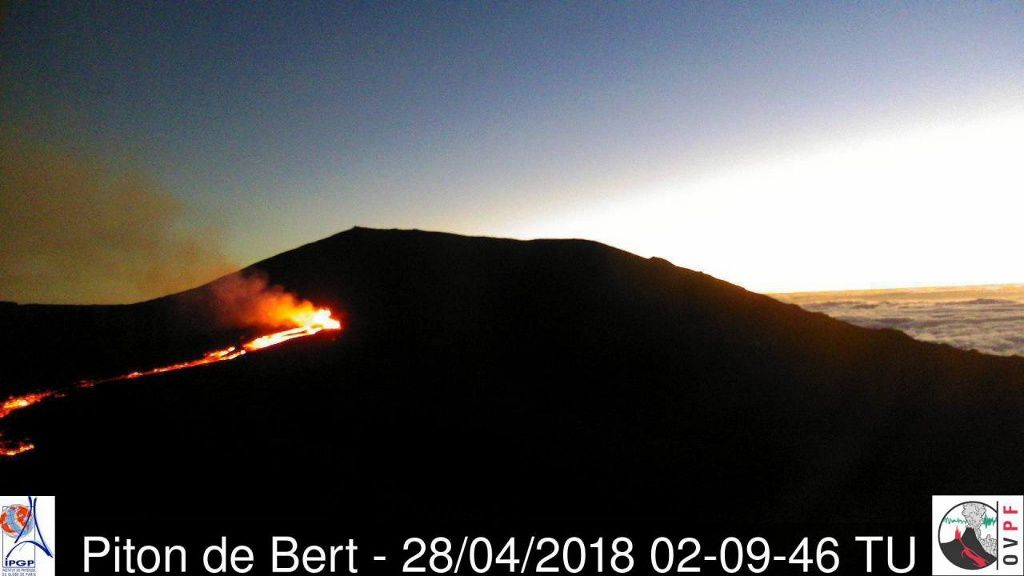 Piton de la Fournaise - eruption - webcam of Piton Bert on 27.04.2018 / 20h24 GMT & 28.04.2018 / 02h09 - doc.OVPF
ALERT LEVEL: Alert 2-2 - Eruption in the Enclosure

Following the seismic crisis started at 20:15 local time on Friday, April 27, 2018, the Piton de la Fournaise erupted at 23:50.
According to the first observations of the Volcanological Observatory, the eruption started on the south flank of the volcano, in the Rivals crater area. The latter is cut by one of the eruptive fissures, the most active. Three other cracks opened. The arms are found rather quickly and give a pouring due south towards the rampart which extends on 200, even 300 meters. The saidlava flow is stuck by that of August 2015.

As a result, the prefect of Reunion has decided to trigger alert 2-2 of the ORSEC * Volcano "eruption in progress", starting this Saturday, April 28, 2018 at 00:30.
Public access to the Fouqué enclosure, from the Pas de Bellecombe trail or from any other trail, as well as from aircraft in the volcano area, is prohibited until further notice.
Sources: OVPF, Furnace Info, Imazpress