Publié le par Bernard Duyck
A new phreatic eruption occurred at Sileri crater / Dieng Plateau on April 8, 2018 at 11:21 WIB; it was accompanied by a thick white vapor discharge rising 50 meters above the crater and projections of mud at a distance of 20 meters to the east.
This episode follows that of 1 April, more important.
The gas analysis shows that the CO2 level remains below normal, and SO2 and H2S are not detected.
An increase in water temperature was recorded: 76.3 ° C instead of 71.5 ° C and 81.1 ° C instead of 71.8 ° C depending on the sensors.
It is advisable to stay at a distance of 200 meters from the edge of the crater
Source: Magma Indonesia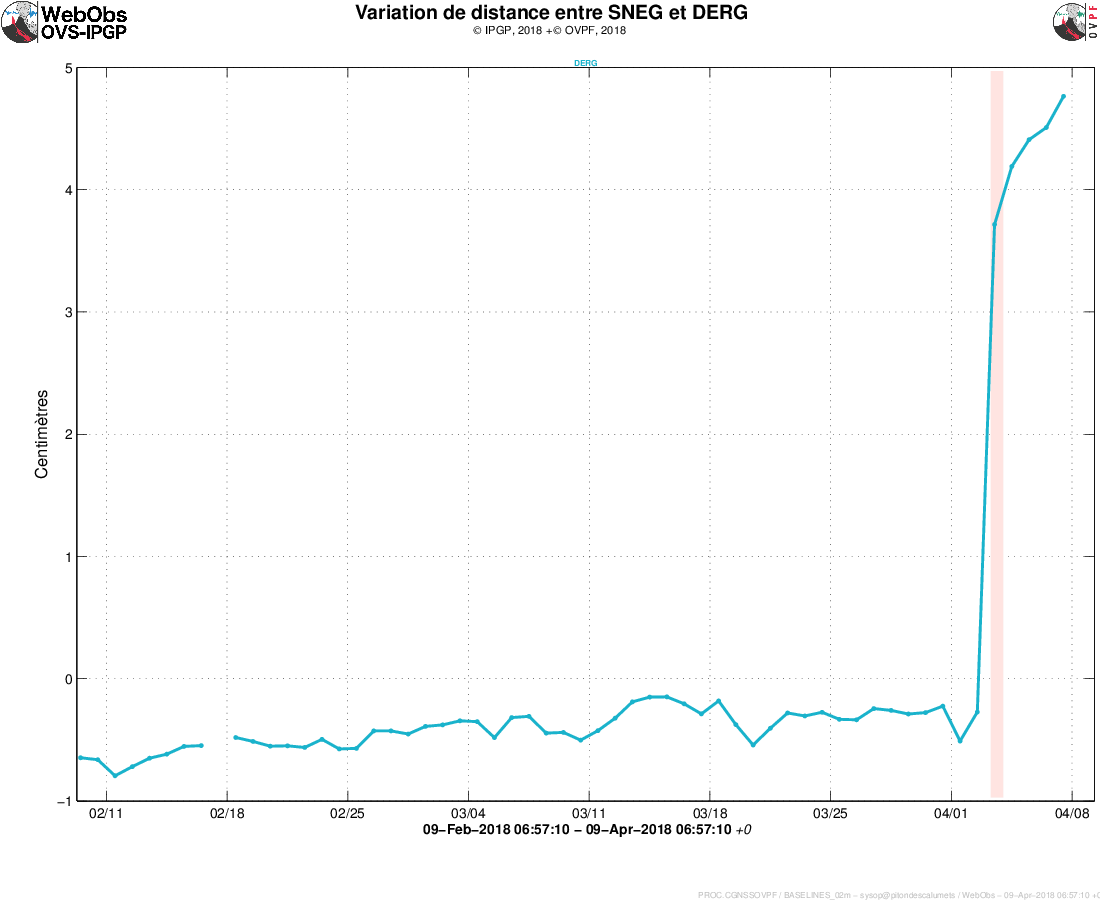 Piton de La Fournaise: Illustration of the summit deformation over 2 months./ 09.02.2018 - 09.04.2018. Here is shown a baseline (variation of distance between two GPS receivers) crossing the crater Dolomieu. A rise is synonymous with elongation and therefore swelling of the volcano; conversely, a decrease is synonymous with contraction and therefore deflation of the volcano. Any periods colored in light pink correspond to eruptions. - Doc. OVPF
The preliminary activity bulletin of April 8 for the Piton de La Fournaise mentions 26 landslides both at the level of the summit cone and in the Enclos, and a single VT earthquake.
The GPS record an inflation of the summit zone, and in far field, witnesses of the pressurization of the superficial and deep sources.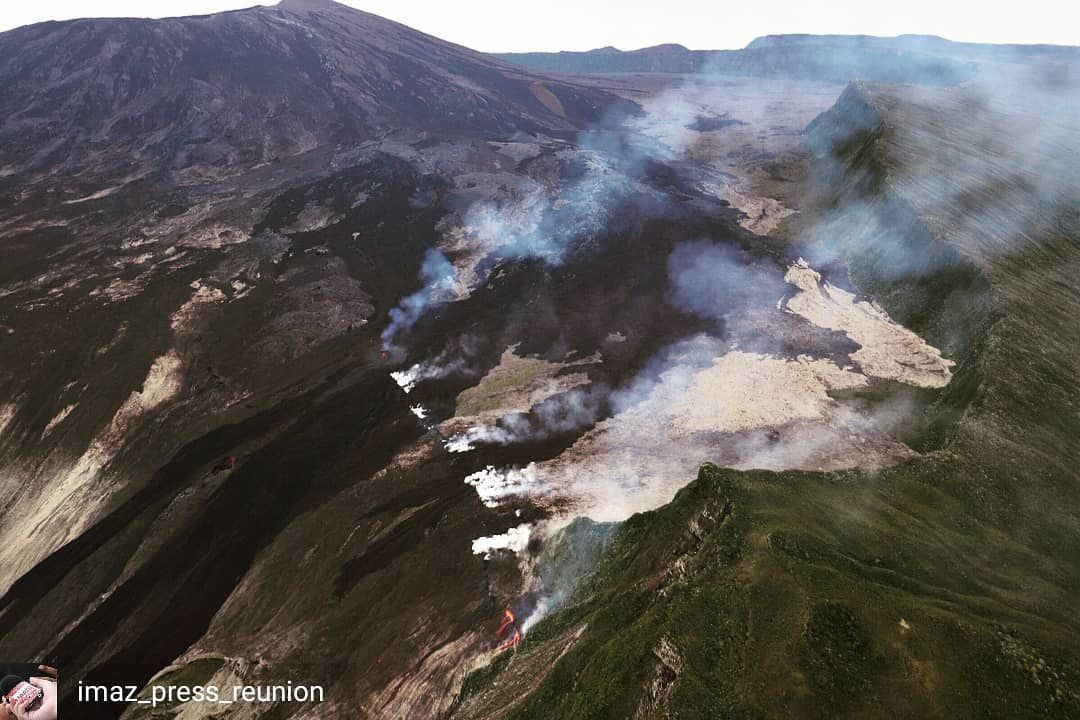 Piton de la Fournaise - eruption April 3-4, 2018 - From the back to the foreground, we can see the active focus, a crack that did not emit lava, then shifted down, two others cracks having emitted lava flows or active at the time of shooting - image IPR
An interesting article from P-E. Geslot in Actus Météo 974 questions the current stage in the cyclical activity of the Piton de La Fournaise, in contrast with Aline Peltier's thesis entitled "Monitoring, modeling and evolution of magmatic injection processes at the Piton de La Fournaise (Réunion), based on a cross analysis of deformation, geochemical and structural data ".
It defines a cyclical nature of the activity, in three stages:
- summit eruptions, at more than 2,500 altitude
- lateral eruptions, between 2 500 and 2000 m altitude
- distal eruptions, more than 4 km from the summit and an altitude of less than 2,000 meters.
"Each cycle is defined by a sequence of summit and lateral eruptions ending in a distal oceanite eruption. The successive eruptions are characterized by dykes beginning at increasingly deeper levels and more and more primitive lavas. These cycles during which cone inflation is continuous, could testify to a continuous replenishment of the superficial storage system. "
How to characterize the eruption of 3-4 April 2018 ?
It seems that this episode can be described as a distal eruption, despite the low volume of lava that has been emitted.
Sources: OVPF & News Weather 974