Publié le par Bernard Duyck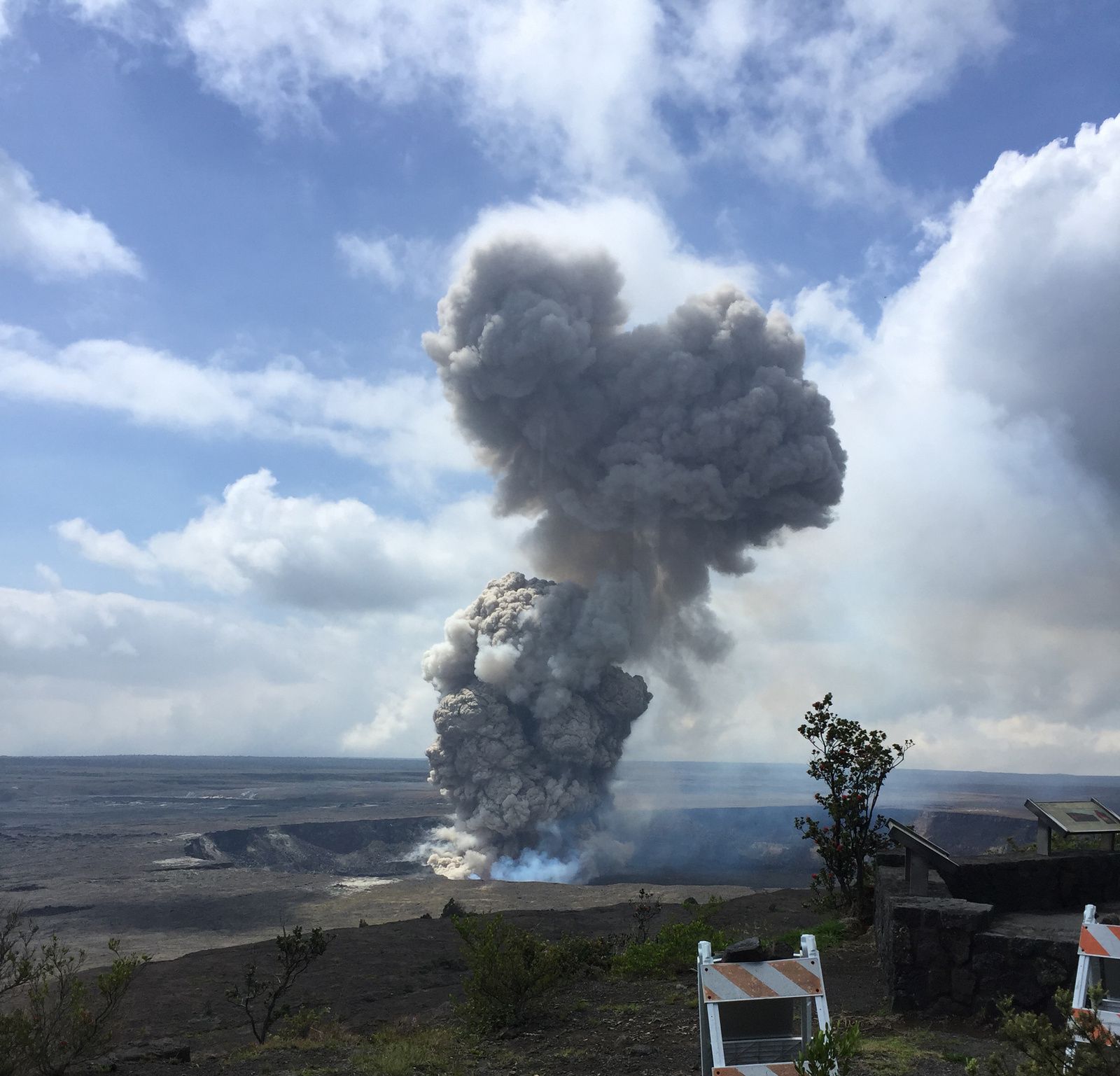 Kilauea / Halema'uma'u: explosion due to the partial collapse of the crater wall 06.04.2018 / 10:48 HST - photo HVO / USGS
A partial collapse of the south wall of the Overlook crater, on April 6 at 10:28 am HST, triggered an explosive episode at the Kilauea summit lava lake.
A plume of gas, ash, lapilli, and lava spatters has developed, visible from the Jaggar overlook.
Spatter, up to 82 cm in length, were projected at the former observation tower, closed due to such explosive events.
Lithic blocks from the older crater wall impacted solar panels feeding monitoring equipment at the edge of Halema'uma'u.
The surface of the lava lake was still disturbed by the impact of the falling rocks, the arrival of geologists on the ground, 40 minutes after the collapse and the explosion.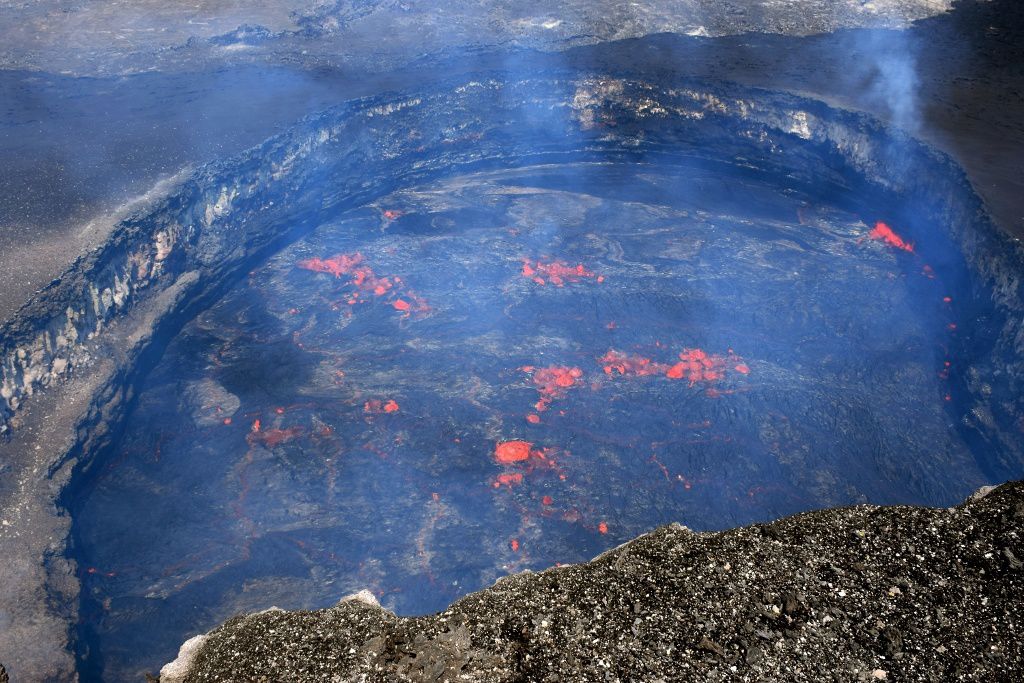 Kilauea / Halema'uma'u: the surface of the lava lake is still disturbed by the impacts of blocks 40 minutes after the explosion - photo HVO / USGS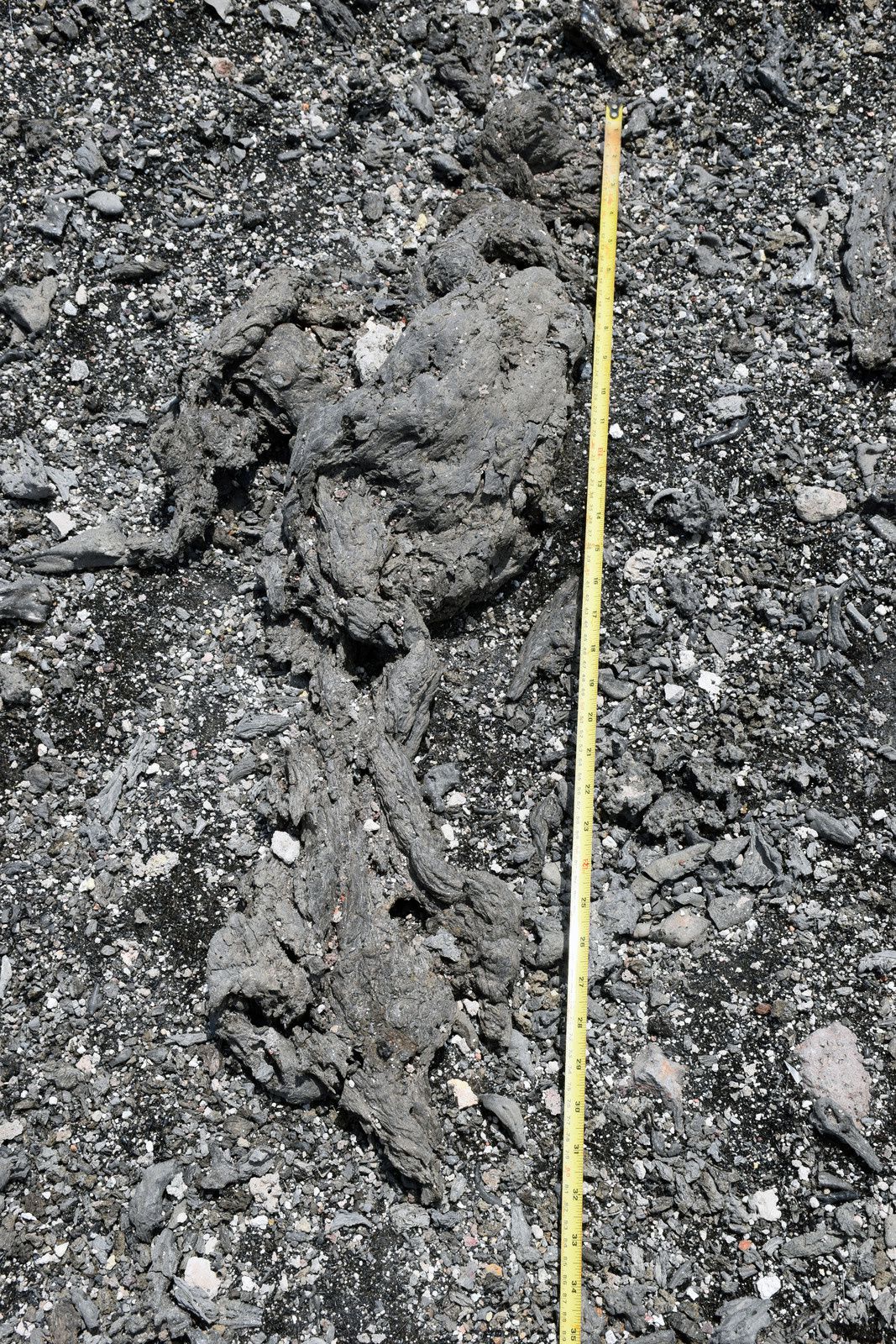 Kilauea / Halema'uma'u: fresh spatter of explosion among lapilli - it is 82 cm long - HVO / USGS photo
For the rest, the observatory points a continued light inflation at Pu'u O'o, and an active lava flow on the floor of the crater. The episode 61 g lava flow is active on the Pali Pulama, near the crater of Pu'u O'o.
Source: HVO / USGS & Epic Lava
Little news of the eruption on Ambae except by satellites.
On April 6, during the night (14h UTC), a plume rich in sulfur dioxide was noticed by the Aura OMI satellite and the Himawari satellite ... the charge was 0.1 -0.15 Tg (data Aura IMO), which is the highest recorded emission for Ambae, probably at least as far as the Troposphere (8-15 km depending on latitude and season), and overall the strongest since the Calbuco eruption in Chile in April 2015.
The World Wide Lightning Network recorded a strong activity at the time of this emission ... although the weather is stormy in the area, this activity seems linked to the eruption.
The alert level remains at 3 for the Vanuatu Geohaazards Observatory.
Sources: Aura IMO / via Simon Carn & Himawari / Twitter
Ambae - 06.04.2018 - flashes at the time of eruption - Doc. WWLN / Google Earth
The seismicity of the Reventador from April 5th to 6th is characterized by 62 LP earthquakes, 51 earthquakes of explosion, 4 episodes of emission tremor and one of harmonic tremor.
Emissions of steam, gas and ashes punctuate the ordinary activity; the plume is reported at a maximum 600 meters above the crater, with a dispersion that varies from west to north.
During the night, falls of incandescent blocks mark all the flanks of the volcano.
The level of activity remains high; and the alert level in Naranja.
Source: IGEPN
Boris Behncke gives us a beautiful photo of the Etna plumes on April 7, 2018, at sunset, and a windless evening, which has not happened for a long time. The plumes can thus rise vertically.