Publié le par Bernard Duyck
After the April 19 eruption at the Kirishima group / Ebino plateau / Yoyama, the fumarolic activity is again increasing since April 26 at 18:15.
According to the JMA, inflation continues at the base of the Kirishima chain, marking a possible deep accumulation of magma.
The alert level remains at 3 with a 2 km forbidden zone.
JMA Source

Overflows from the summit lava lake continue in Kilauea; several episodes occurred during the day yesterday and the night before. This activity is marked by intense radiative power, according to the site Mirova.
The floor of Halama'uma'u is covered 3/4 by new flows.
The inflationary trend is general for the summit and the Pu'u O'o, with brief periods of deflation during the night.
The seismicity is characterized by a tremor of fluctuating amplitude in connection with spattering, and earthquakes in the southern part of the caldera and the upper East rift zone.
The flow of sulfur dioxide remains important.
The episode of lava flows 61 g remains active in the 2 kilometers of Pu'u O'o.
Source: HVO - USGS
At Piton de La Fournaise, inflation of the summit zone continues. Seismicity has fluctuated a bit before rising, with 17 volcano-tectonic earthquakes on April 25 and 16 earthquakes VT on April 26, and a rising magnitude as well.
Inflation marks the upper zone and the remote areas, and testifies to the pressurization of a superficial source and a deep source.
Source: OVPF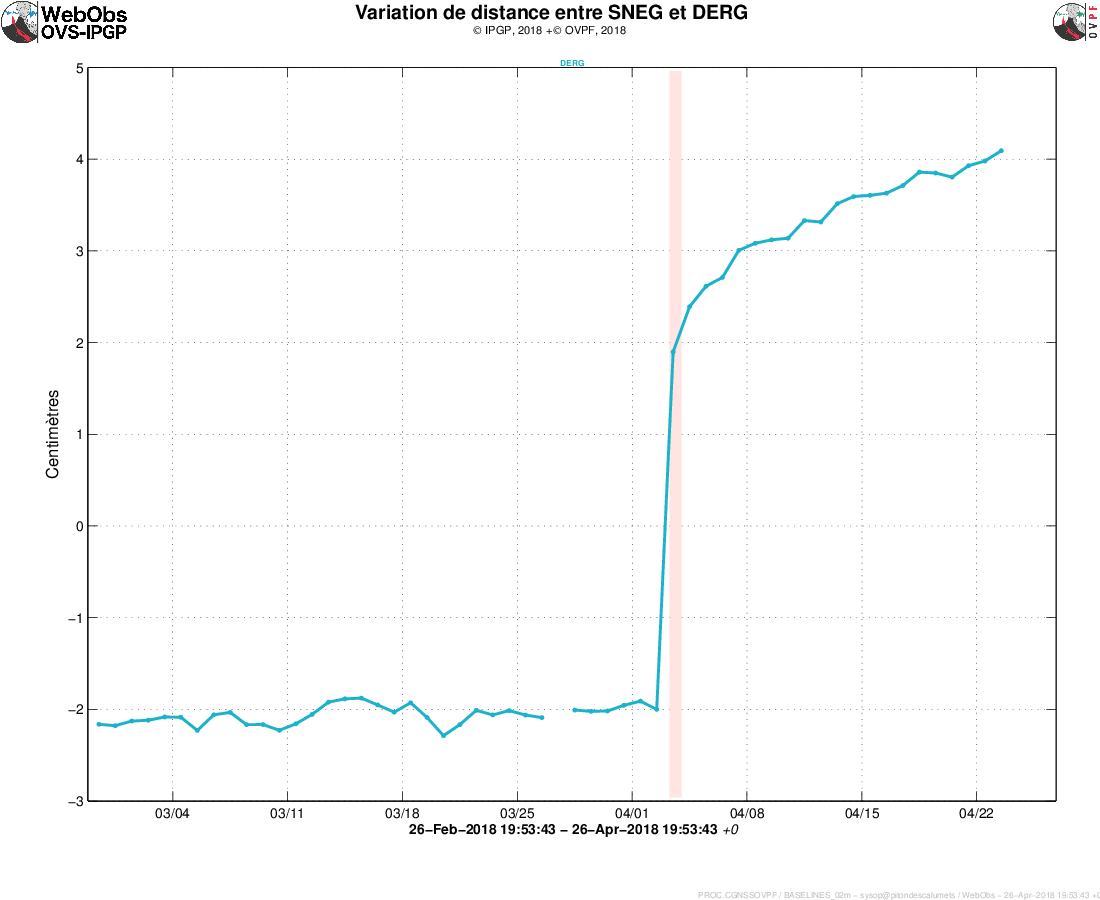 Piton de la Fournaise - Summit deformation between February 26 and April 26, 2018 - Is here represented a baseline (variation of distance between two GPS receivers) crossing the crater Dolomieu. A rise is synonymous with elongation and therefore swelling of the volcano; conversely, a decrease is synonymous with contraction and therefore deflation of the volcano. Any periods colored in light pink correspond to eruptions. - Doc. OVPF