Publié le par Bernard Duyck
Hundreds of volcanic cones have formed the landscape of the Eifel and Auvergne, but in Eifel there is less and less.
Volcanoes disappear in favor of large craters ... result of quarry exploitation, which has disfigured the East Eifel and threatens other volcanic regions in Germany.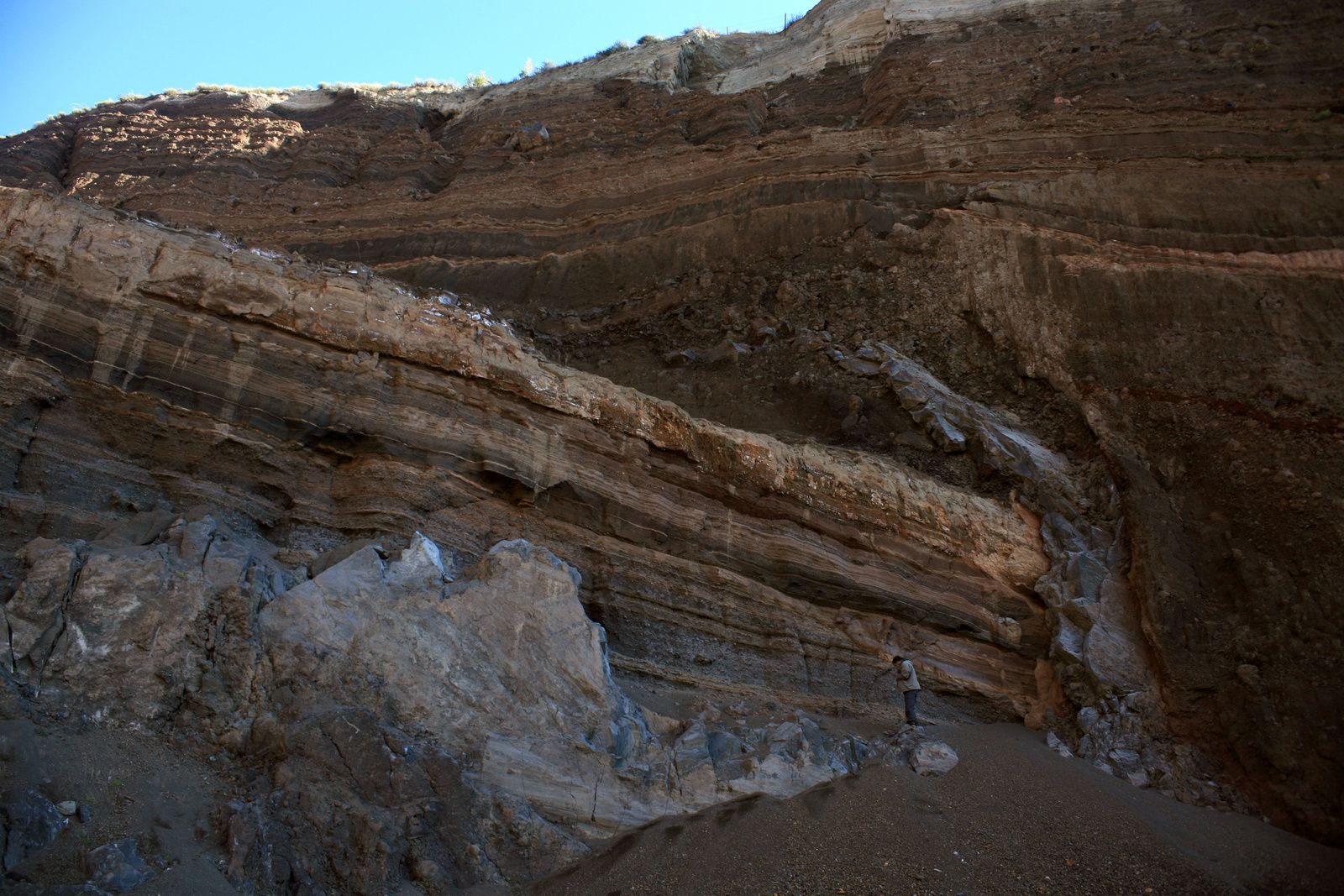 Eppelsberg - Annular basaltic dyke broken by quarrymen (pieces on either side of P.Marcel, which gives the scale) ... imagine a truncated cone structure in the thickness of the sediments - photo © B.Duyck 2007
The Eppelsberg was a volcano 220,000 years ago. This cone of slag still presents today an aesthetic and instructive stratification, encrusted with lava tongues. A superb annular Dyke cuts the sediments ... visible in 2007, it disappeared engulfed by the exploitation of the site.
Another example is given by the Wartesberg at Strohn in West Eifel. A cone a hundred meters high is nowadays only a huge hole.
In the French Massif Central, volcanoes have almost disappeared before we realize the tourist and educational importance of these sites.
This raw material is not renewable, because despite the potential volcanic activity of these regions, the scale of use and renewal are dissimilar.
The lava is a raw material of quality; it has been exploited since antiquity, as millstone, then as decorative stone, or in constructions.
Tephras (slag, pumice, etc.) are also used: slags were used in the composition of a durable and resistant mortar of buildings that have passed through centuries (the Roman Pantheon - the Basilica of Maxentius) ... today they serve as road ballast.
These raw materials should not be wasted to maximize profits in the short term.
The Eifel and the Massif Central have tourist assets, and therefore important economic. The number of people employed in this sector is far greater than the number employed in quarries.
It is also necessary to rehabilitate these abandoned quarries, which are important habitats for a specific flora and fauna, which find here different biotopes of the plains and forests. This responsible ecological aspect must be taken into account.
Are you for or against a reasoned exploitation of our volcanoes?
Sources:
- The volcanoes of Auvergne - The exploitation of the resources of the subsoil
- From the Roman Pantheon to the volcanoes of Auvergne: great history and small uses of pozzolana - the stone life
- Eifel County - Das Verschwinden der Eifelvulkane