Publié le par Bernard Duyck
In Kilauea, after the explosive episode of May 17 in the morning, a significant degassing marked the crater Overlook, drifting to the southwest.
In the eastern rift zone, the crevasses continued to open and widen, vertically and horizontally, during the last 24 hours ... in question, the magmatic intrusion into the rift zone.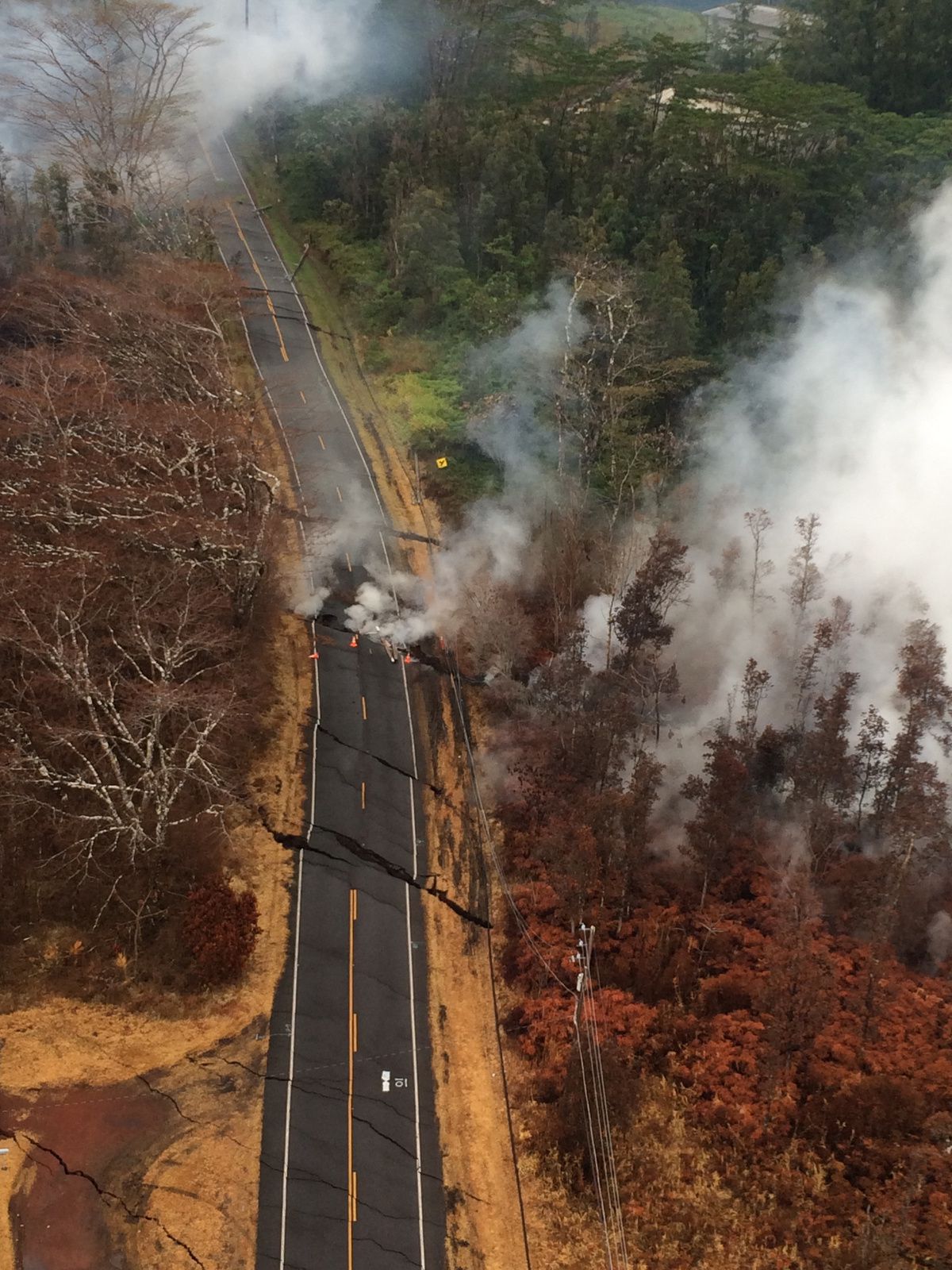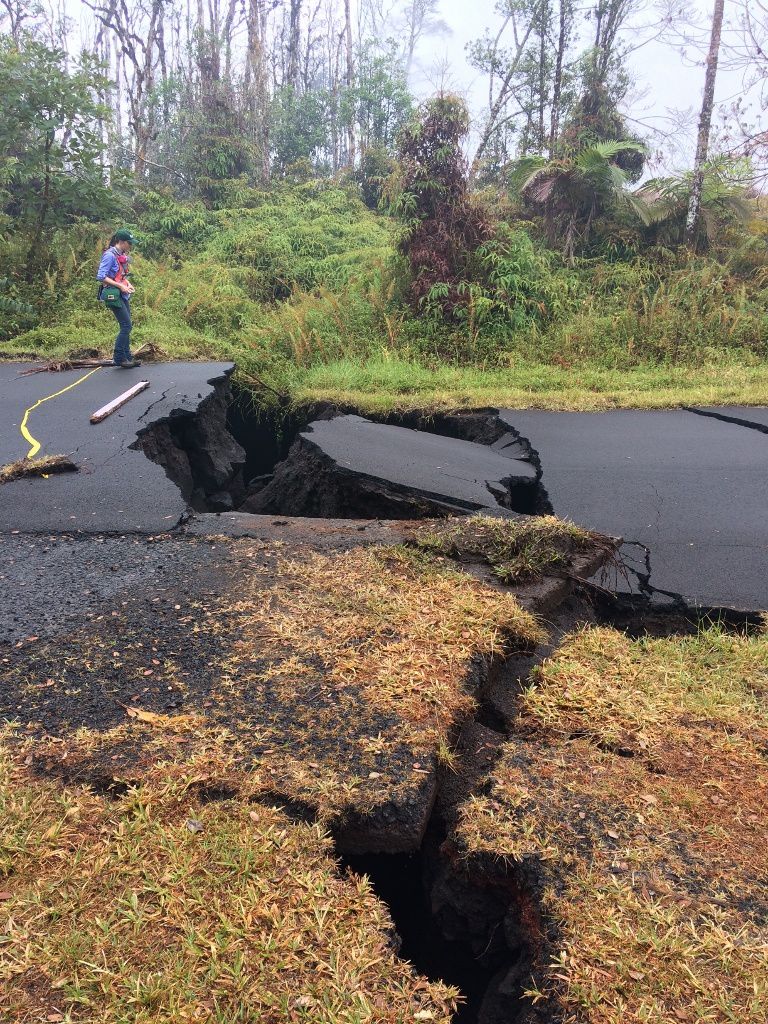 Kilauea East rift zone: top photo, crevasses in Pohoiki roadle 17.05.2018 / 7am HST during an overflight - below, crevasse in Nohea street - to note, the vertical shift, the scale being given by a geologist from the HVO on the spot.- HVO photos
The activity in the East rift zone is still present: active spattering still characterizes the crack 17, but the lava flow is no longer progressing, only small amounts of pasty lava flow exit from the lava front. The lava seems to accumulate inside the same casting, that has expanded a little.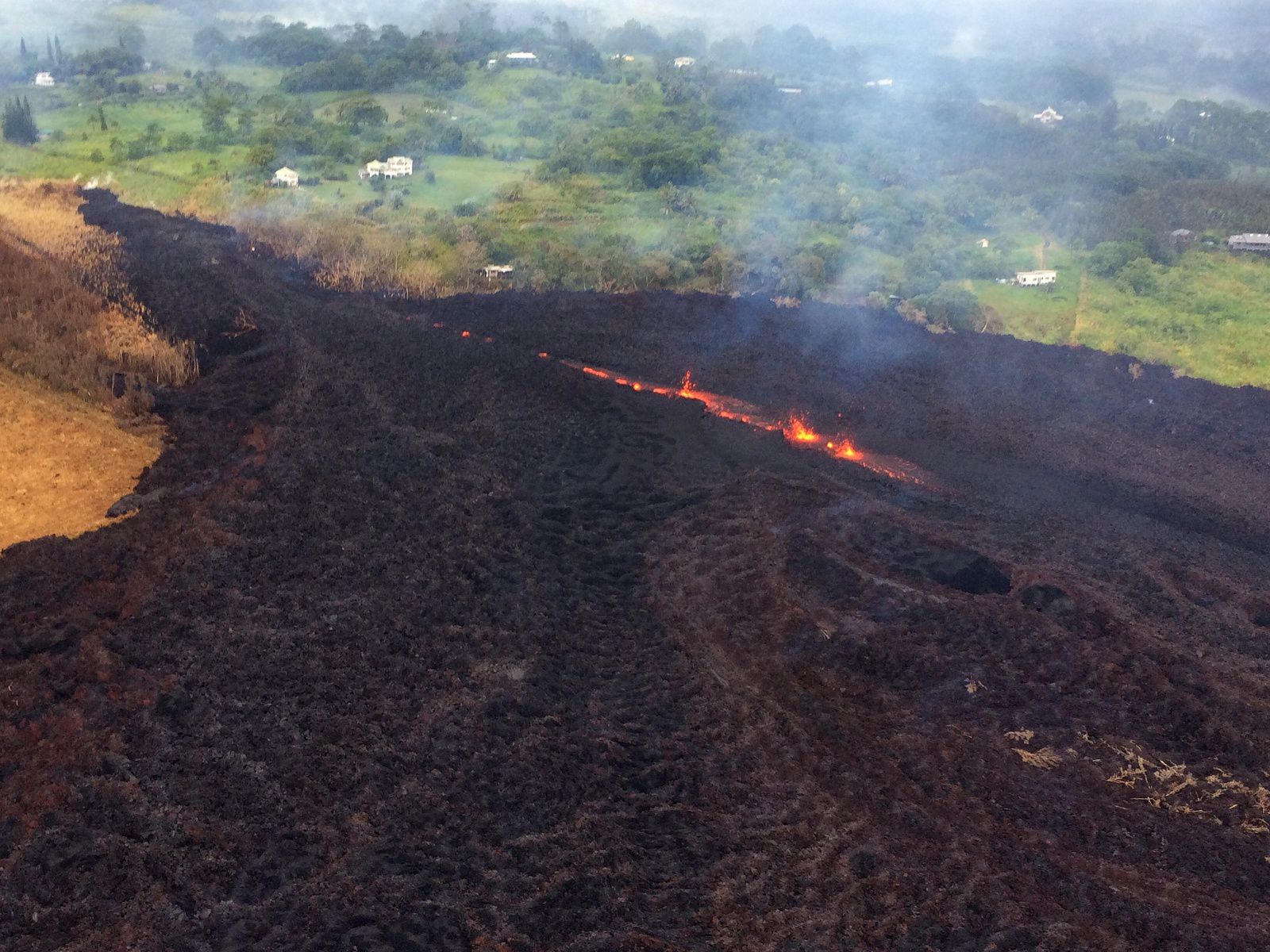 Kilauea - East rift zone: crack 17 at 7am HST on 17.05.2018 a more intense spattering, but on a shorter area - photo HVO-USGS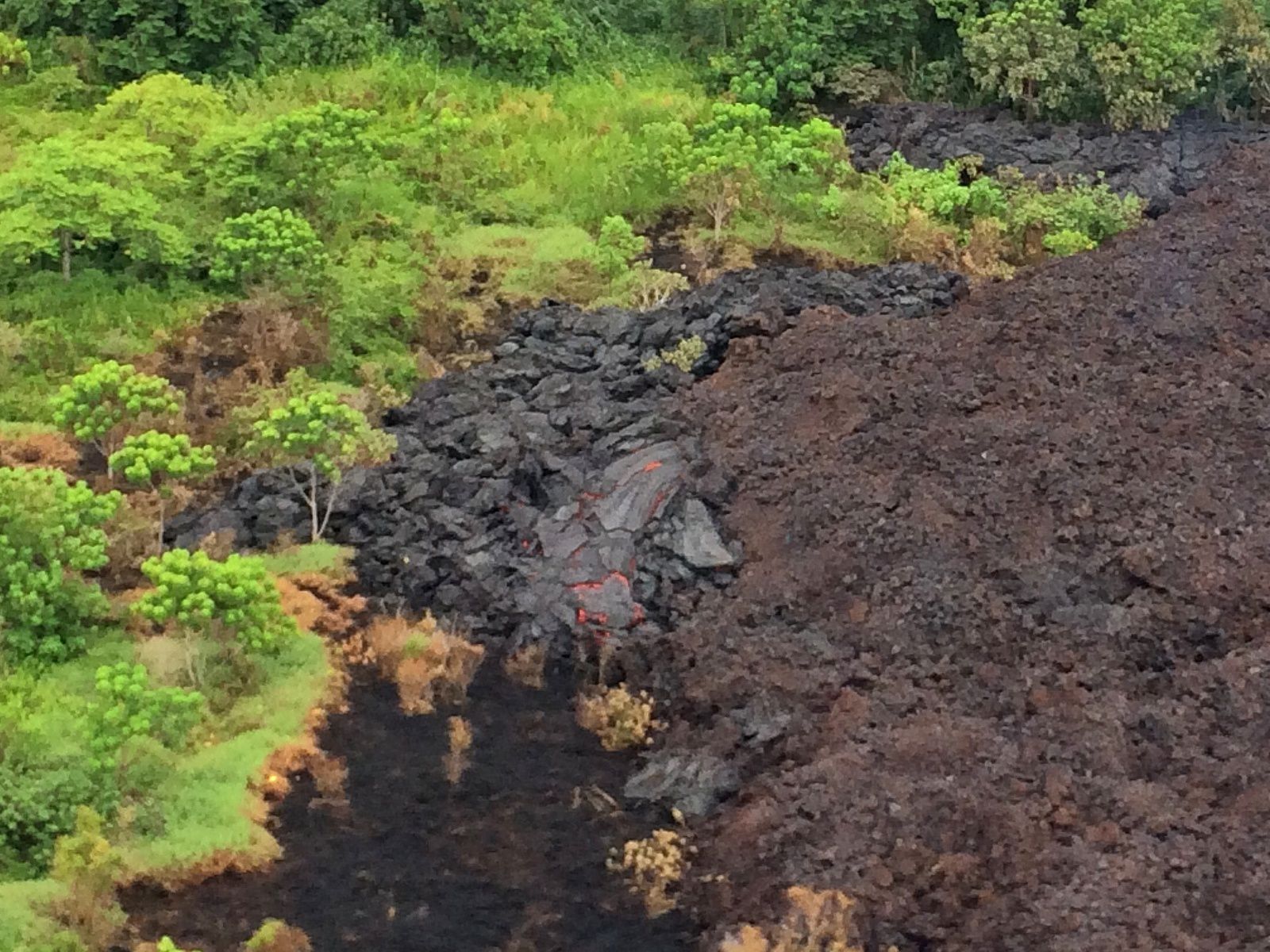 Kilauea - East rift zone: 17.05.2018 - The casting front is no longer progressing, and only small quantities of lava oozing out from the flow front - photo HVO-USGS
In addition, the cracks 18, 19 and 20 reactivated and a new fissure - the 21 ° - opened between the fissure 7 and 3.
An area of ​​40 to 85 m² in width slumped gently parallel to the crack line between Highway 130 and Lapina Gardens; this depression is being filled by pahoehoe flows coming from fissure 20 and 21.
Source: HVO - USGS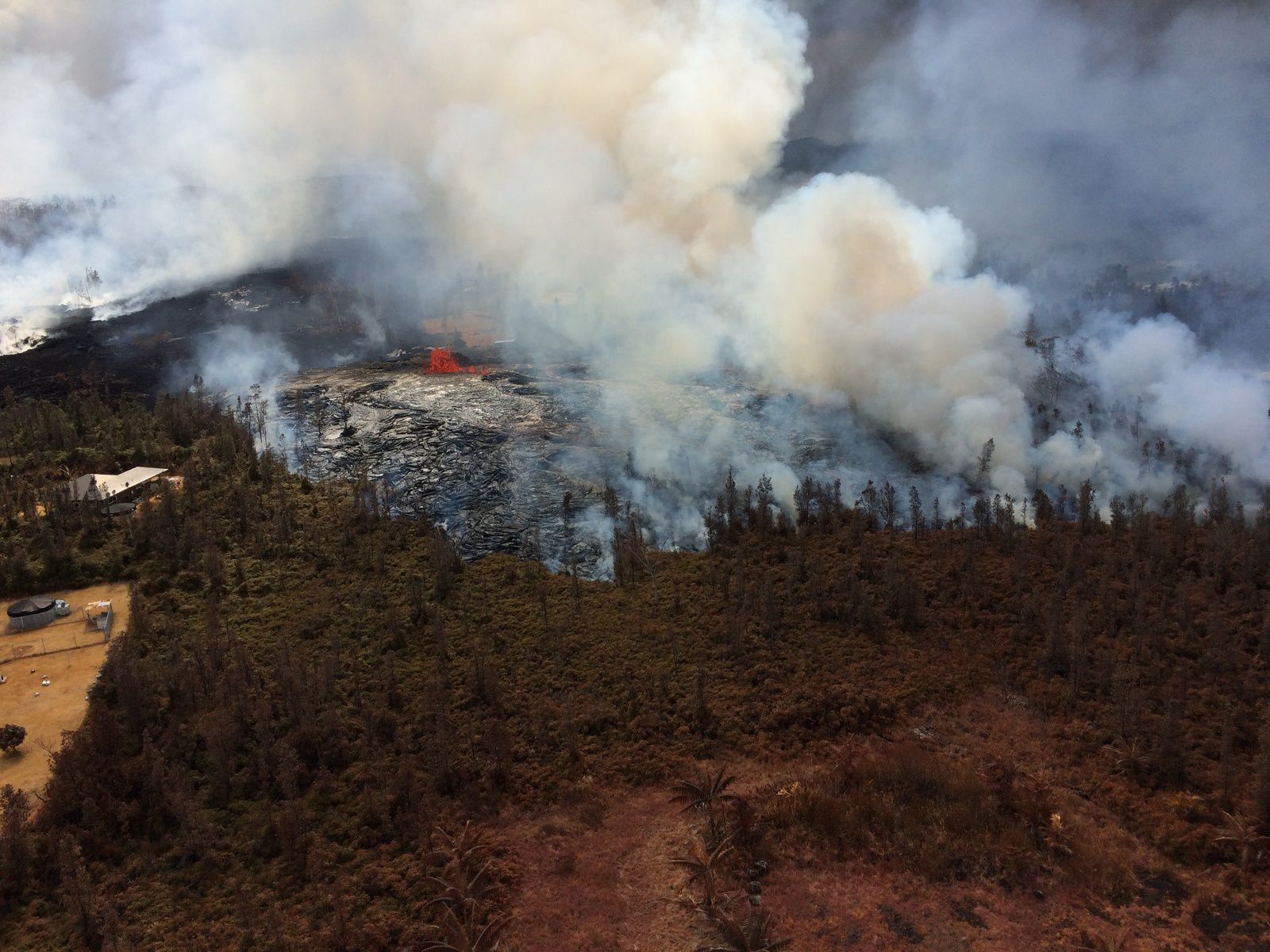 Kilauea - East rift zone: 17.05.2018 / 15h HST the new fissure 21 and a lava flow in Leilani Estates - photo HVO-USGS
At Popocatépetl, in addition to the usual activity characterized on May 17 by 99 low intensity exhalations, accompanied by steam and gas, the Cenapred reports an explosion at 12:51, accompanied by a plume of ashes which is mounted at 2,500 meters in height, then dispersed to a southern sector.
During the night, incandescence was observed, increasing at the time of exhalations.
The level of alert remains unchanged: Amarillo fase 2, and it is recalled not to access the volcano, the risk of falling ballistic fragments, and mudslides in drainages being possible in case of heavy rains.
Source: Cenapred
At Sinabung, we can observe a white to gray degassing, of low pressure, at a height of 700 meters above the summit.
Seismicity is characterized by 3 explosion earthquakes, tremor of constant amplitude, a low frequency earthquake and some tectonic earthquakes.
Sources: PVMBG and Magma indonesia