Publié le par Bernard Duyck
Jocelyn Lardy offers us her last painting, calling at first sight, but rich of a beautiful story.
A professional osteopath, he is also a prolific artist-painter; In addition to his profession and his art, he also takes care of the Lyon Corbas Fighter Aircraft Museum, where he invites and films the testimony of former pilots.
A former fighter pilot recently told him his memories of flying: in the 50s, during a mission with the Air Force in southern Italy, he flew over Etna in eruption.
In his work based on various stories that he has mixed, he proposes the interception by two hunters of a Russian airliner on a background of erupting volcanoes.
At the time, it was not uncommon for Soviet Union planes to "get lost" in the skies of Europe ... just to test the reaction time of NATO forces.
American hunters with French cockades are depicted with precision and dynamism worthy of the situation.
Although the announcement in some films may be relevant here - " this is a work of fiction. Any resemblance to a situation that really existed would be purely fortuitous "- the atmosphere of the Cold War is confused with the heat of Etna in activity.
In the first half of the 1950s, Etna's activity was focused on the central crater and the north-east crater with some eruptions of VEI 2.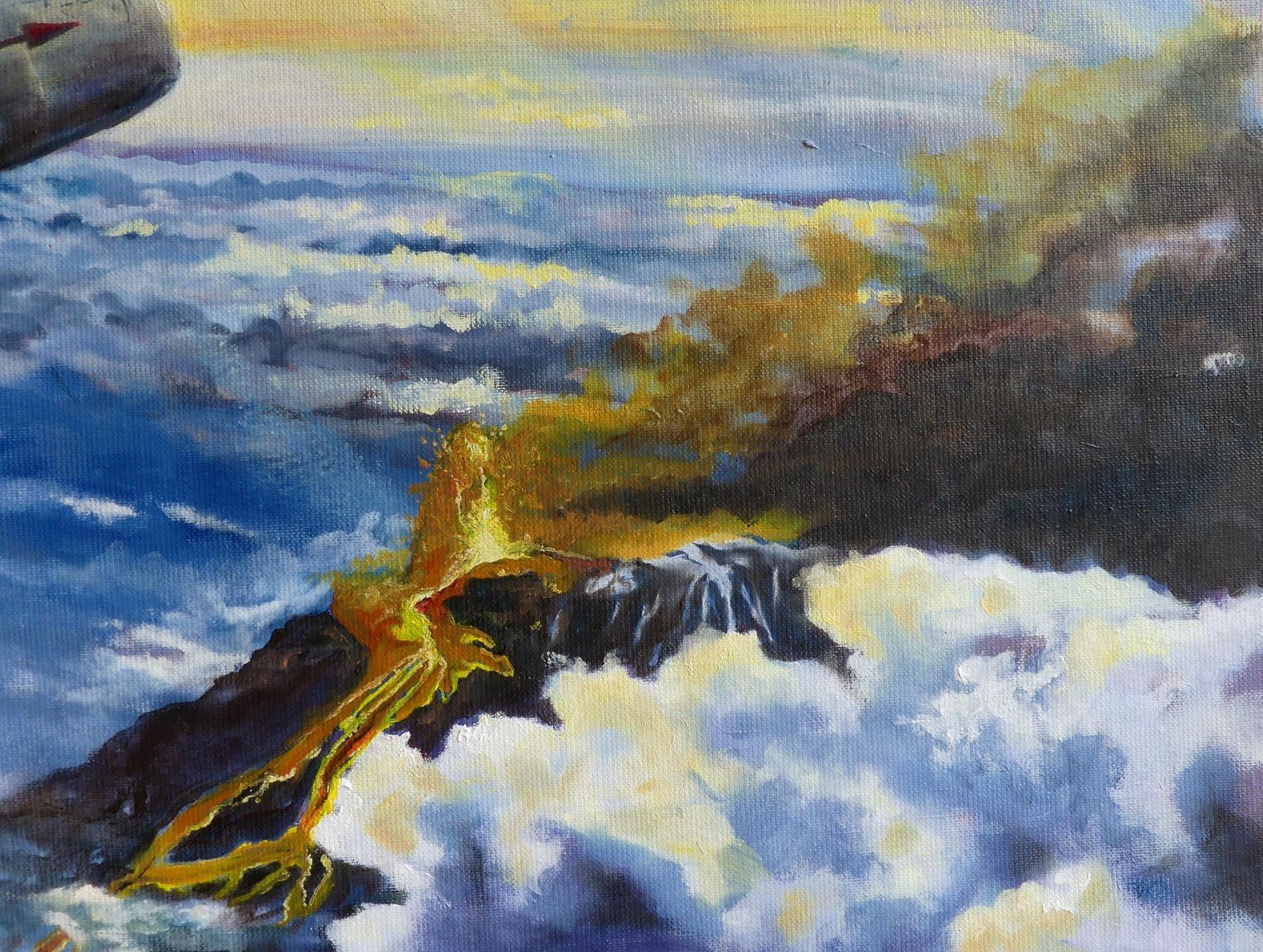 "Interception on eruption", painting on canvas by Jocelyn Lardy - detail on a fountain and the lava flow it feeds.
Sources :
- Jocelyn Lardy sur son site : http://sjlardy.free.fr/
- Global Volcanism Program - Etna – Eruptive history
| Start Date | Stop Date | Eruption Certainty | VEI | Evidence | Activity Area or Unit |
| --- | --- | --- | --- | --- | --- |
| | | | | | |
| --- | --- | --- | --- | --- | --- |
| 1955 Apr 5 | 1956 Apr 7 | Confirmed | 2 | Historical Observations | NE Crater, Central Crater |
| [ 1953 Jul 30 ] | [ Unknown ] | Uncertain | 2 | | |
| 1951 Sep 21 | 1952 May 30 | Confirmed | 1 | Historical Observations | NE Crater |
| 1950 Nov 25 | 1951 Dec 2 | Confirmed | 2 | Historical Observations | East flank (2820-2200 m) |
| 1949 Dec 3 | 1950 Nov 16 ± 15 days | Confirmed | 1 | Historical Observations | NE Crater |