Publié le par Bernard Duyck
The eruption continues in the Lower East Rift zone of Kilauea ; the most important activity remains localized at the median portion of the fissure system, on fissures 22,19, 6, 5, and 23.
The height of the small lava pond was observed 11 meters above the surrounding ground level.
The lava always enters the ocean, causing small explosions and haze.
Civil Defense says the situation is stable at Puna Geothermal Venture, where lava has not progressed to the facilities; no hydrogen sulphide emanation was detected.
Volcanic gas emissions remain very high at the level of eruptive fissures. The sulfur dioxide plume has spread about 2,000 km from Hawaii, under prevailing winds ... the NASa Suomi NPP OMPS satellite measured SO2 concentrations on May 22nd. The image is relayed by Simon Carn who comments: "As the wind speeds do not vary much, SO2 emissions stronger = a longer plume".
Ken Rubin, of the University of Hawaii, annoted a photo from May 23, where he differentiates between SO2 emissions, burning vegetation fumes, and haze by their colors, respectively bluish, greyish and pure white.
The cracks in the ground are the seat of intriguing images during the night: blue flames are observed in Leilani Estates subdivision at Kahukai street.
When hot lava buries plants and shrubs, methane is produced as a by-product of burning vegetation. Methane gas can seep into underground voids and explode when heated, or emerge from cracks in the ground several meters away. When it ignites, methane produces a blue glow.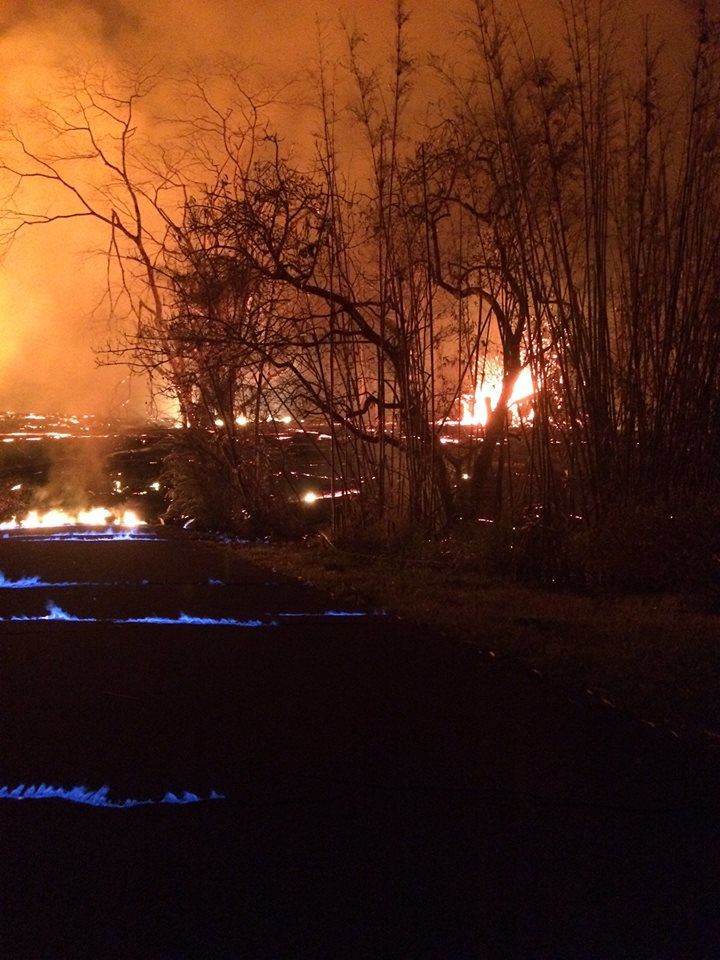 Kilauea - East rift zone 22.05.2018 / 23:30 HST - Methane blue flames at Kahukai Street cracks - USGS photo
Small ash emissions occurred overnight at the Overlook Vent, scattered southwest by the winds. The highest was observed on May 23 at 10:30.
Masks continued to be distributed over the weekend, and ash filtration masks (not intended to protect against gases and vapors) will be distributed in Ocean View Community Center, Naalehu Community Center, Pahala Community Center, Cooper Center, and Shipman Gym / Keaau.

Sources: HVO-USGS, Civil Defense

At Merapi, Magma Indonesia reports two eruptions on May 24th, respectively:
- at 2h56 WIB, which lasted 4 minutes and was accompanied by an ash plume rising to 6,000 meters. Ash falls are reported on Magelang and the surrounding villages.
- The episode of 10:48 WIB lasted 2 minutes and was accompanied by a plume of 1,500 meters in height.
Sources: Magma Indonesia & BNPB
Few changes at Piton de La Fournaise, where lava flows are mostly in tunnels.
On the eruptive site, there are some projections and degassing that remains important.
Top gaseous emissions are reported enriched with CO2, SO2 and H2S.
Source: OVPF