Publié le par Bernard Duyck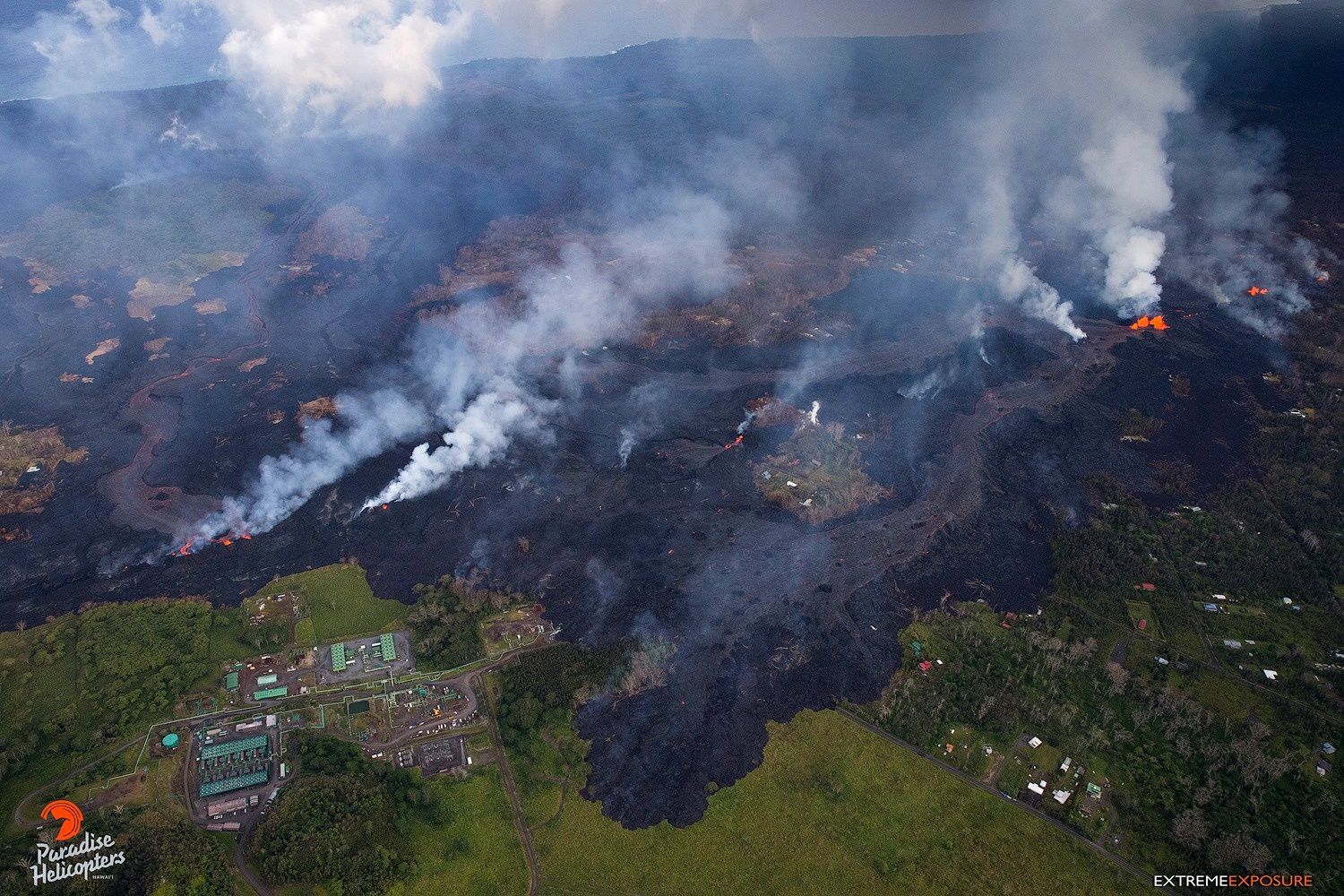 Kilauea East Rift Zone - 27.05.2018 / 5h 45 pm - lava penetrates GVP's terrain - photo Bruce Omori / Paradise Helicopters
Eruption of Kilauea on the East Rift Zone continues:
The fissure 8 released Sunday around 19h a pahoehoe lava flow; it has channeled and is moving north along the edge of an existing stream. At 8 am this Monday 28.05, she began to cross Pohoiki road and slowed her lead. According to Mick Kalber, she continues her way through the forest and swallows some houses.
Fissures 6/13 are inactive; Fissure 7/21 is less active and the lava flows, after covering one of the wells of the Puna Geothermal Ventures, stagnate at this location.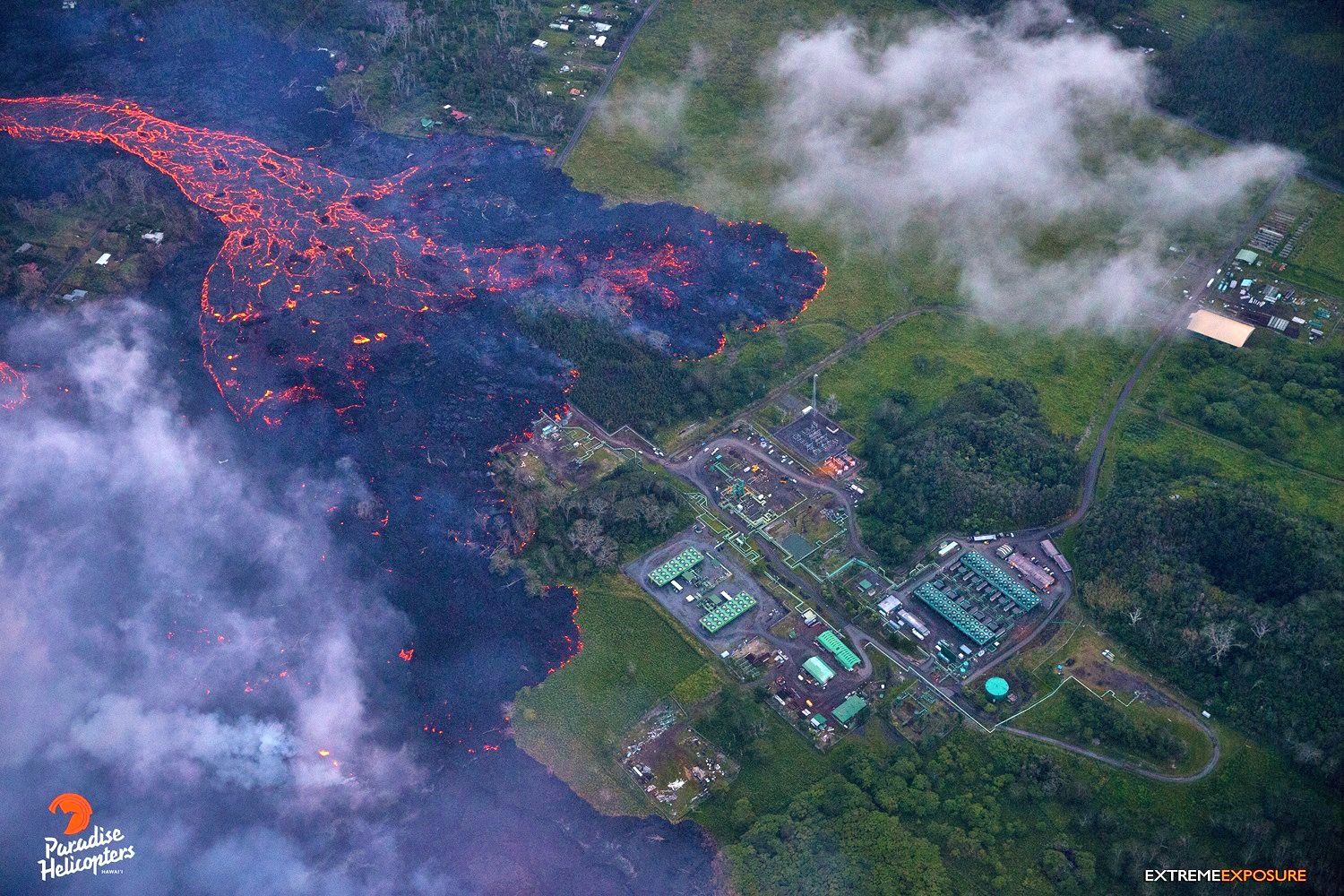 Kilauea East rift zone - 27.05.2018 / 5h 45 pm - lava penetrates the GVP field - photo Bruce Omori / Paradise Helicopters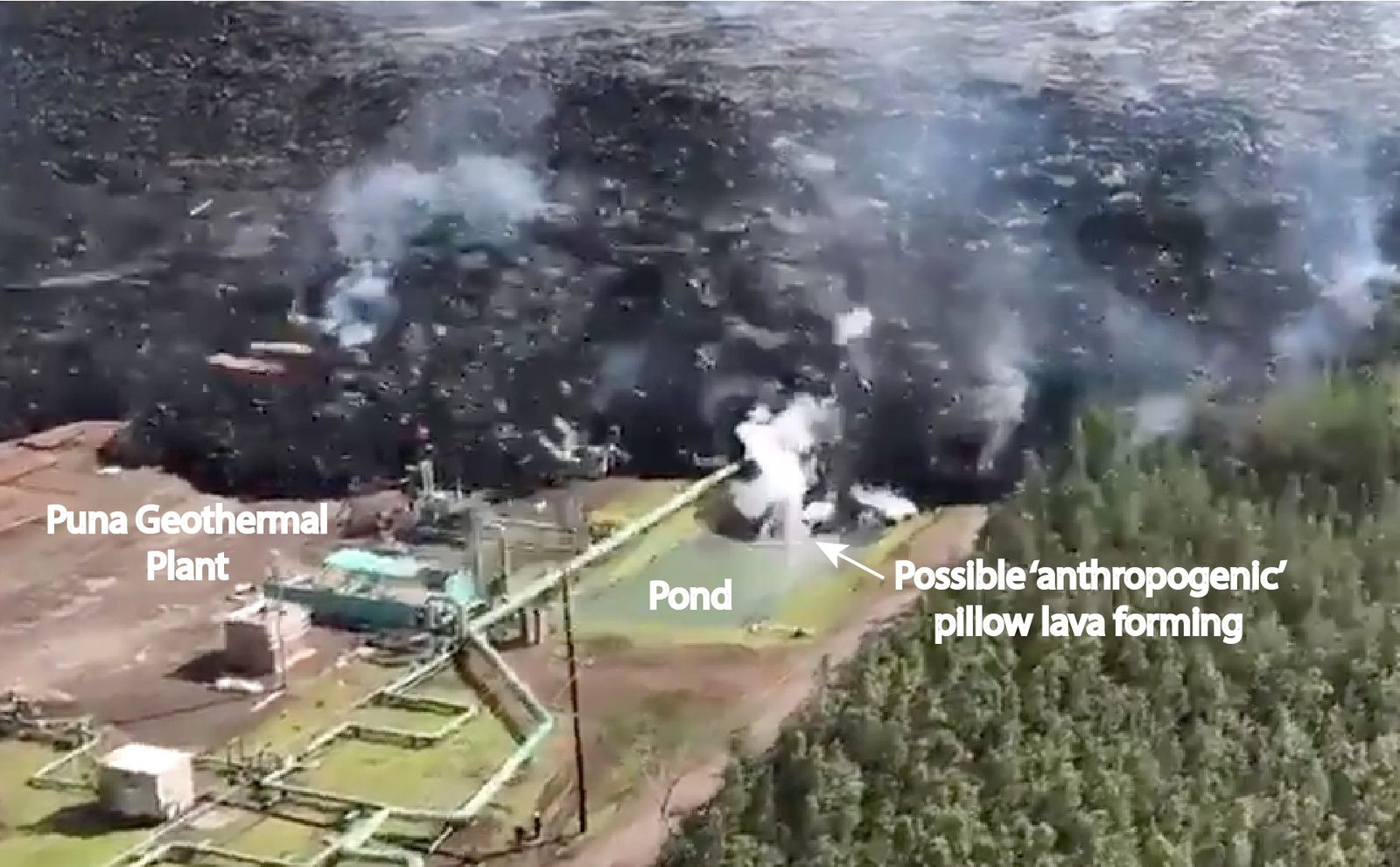 Kilauea East rift zone - 28.05.2018 - possible formation of anthropogenic Pillow lavas following the entry of lava into a water reservoir - Mileka Lincoln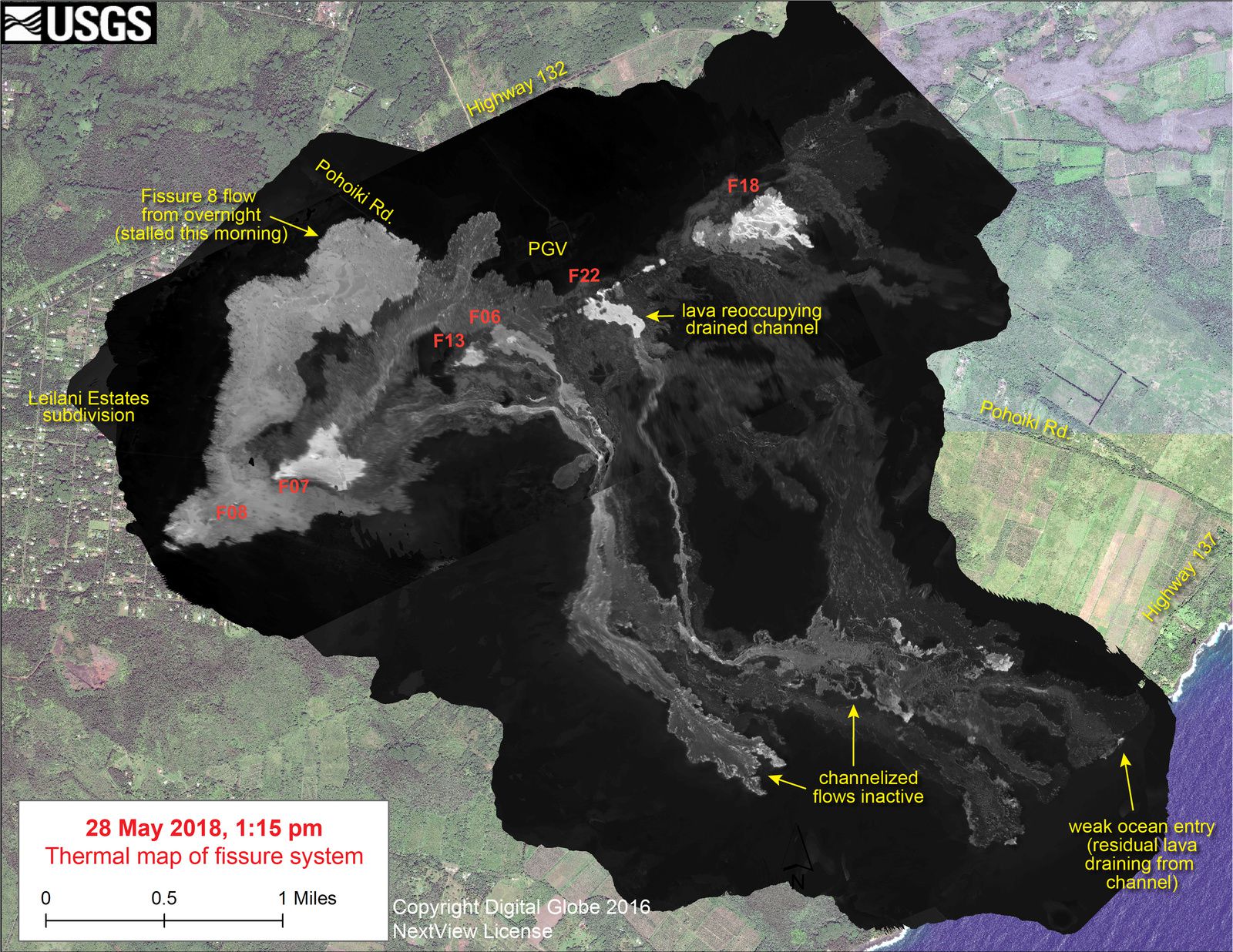 Kilauea East rift zone - thermal image of fissures and active flows at 28.05.2018 / 16h15 - Doc. USGS-HVO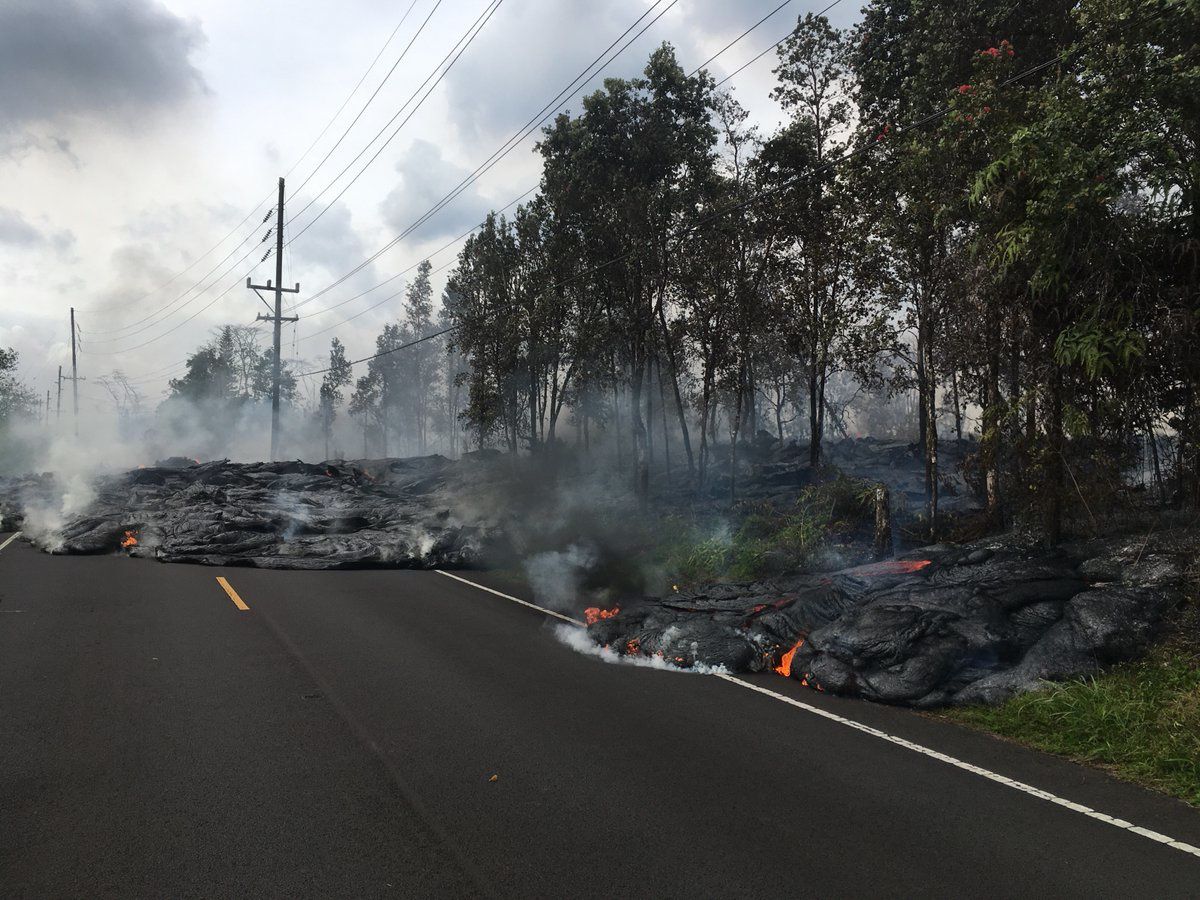 Kilauea East rift zone - the lava flows through Poihiki road on 28.05.2018 at 8:35 am HST -photo USGS
Gas emissions remain high, threatening today the west side of Big Island and the archipelago's chain of islands following the change in wind direction.
Haze reportedly reached the Marshall Islands, 3,700 km from Hawaii, according to an official source.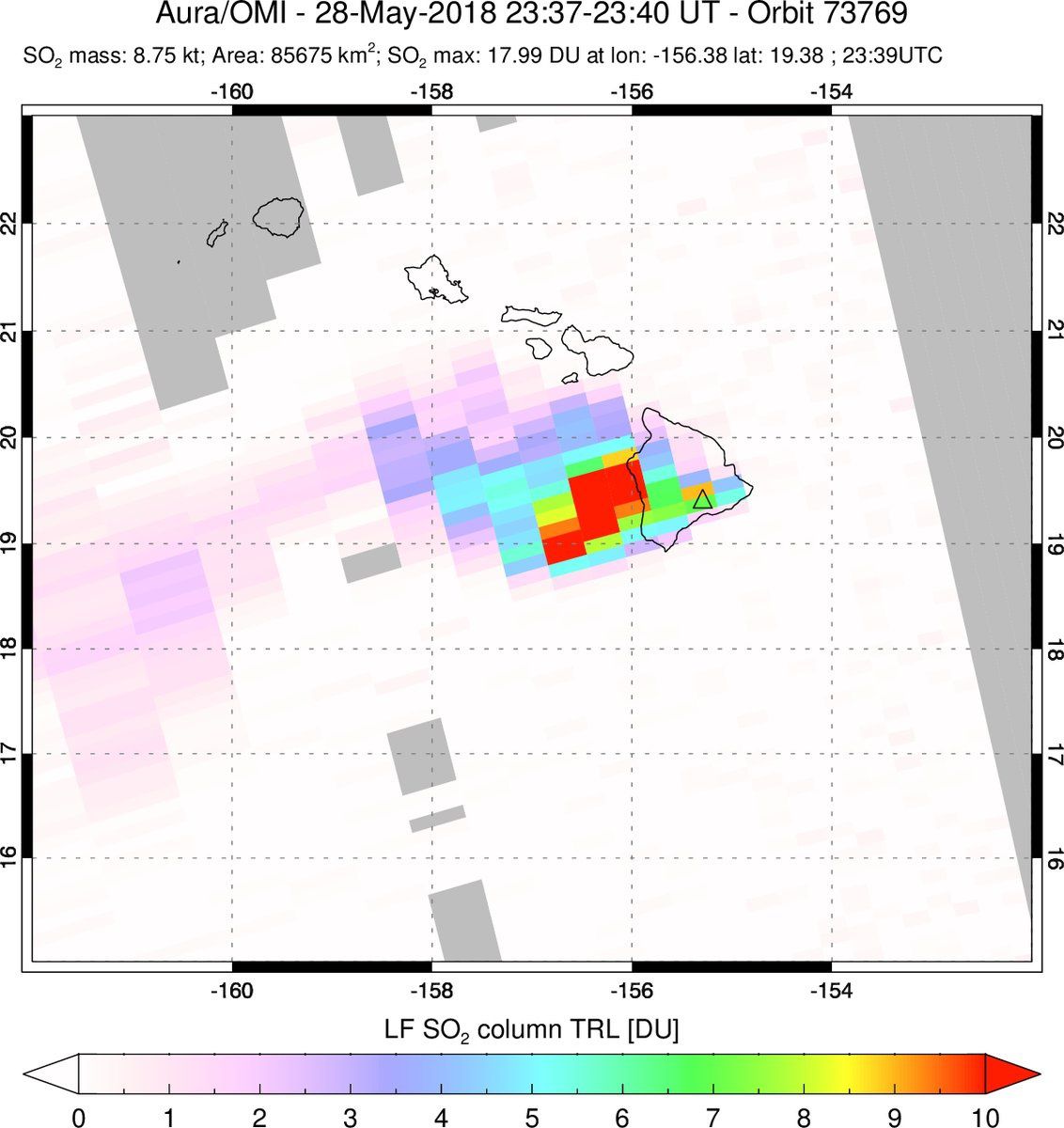 Kilauea - 28.05.2018 / 23:37 - sustained sulfur dioxide emissions observed by the Nasa OMI satellite in a westerly direction following a change in wind direction - Doc. via Simon Carn
Fractures remain worrying and monitored.
Emissions of ash continue intermittently in the crater of Halema'uma'u: two emissions are reported on 28.05, respectively at 4:35 HST and 6:30 HST, with ash falls on a west sector.
The seismicity that marks the summit zone continues, and will last as long as the subsidence and the adjustments following the withdrawal of the magma will be in progress.
Sources: HVO & local media, including Paradise helicopters
The week of May 21 to 27, 2018 in Sabancaya is characterized by an average of 35 explosions per day, ash plumes rising up to 3,300 meters in height. Sulfur dioxide emissions are significant, and thermal anomalies between 3 and 31 MW have been observed.
The volcanic alert remains orange.
Source: IG Peru
Sabancaya - summary of the activity between 21st and 27th May 2018 - Doc. I G Peru
The Yellowstone Observatory reports the 7th water eruption of the Steamboat geyser for 2018, which has entered a more active eruptive phase.
These aqueous eruptions have no implications for the future volcanic activity of Yellowstone.
The observatory continues to monitor the activity of the different geysers, by consulting the data of the seismometers, the temperature of the waters and the possible increase of the discharge, in the case of the Steamboat geyser in Tantalus stream.
For 2018, the Steamboat geyser entered in aqueous eruption the :
- March 15th at 5:37
- 19 April at 16:30 and 27 April at 06:30
- May 4 at 11:50 ; May 13th at 3:54 ; May 19th at 9:49 pm and
May 27 at 7:33
Source YVO - USGS