Publié le par Bernard Duyck
During most of the day of May 18, a plume of white vapor was observed at the Overlook vent in Kilauea's Halema'uma'u crater; several minor emissions of ash are noticed, without significant explosions.
Earthquakes did not exceed the magnitude of 3.5, with a slight increase in background seismic levels during the day.
Radar images show changes in the summit caldera between May 5th and 17th:
- Ash buildup has blackened the floor of the caldera
- The top vent in the Halama'uma'u crater has expanded from about 12 acres on May 5 to about 34 acres on May 17.
- A small depression (area of about 15 acres) was formed on the eastern edge of Halema'uma'u, which reflects the collapse of part of the wall towards the growing pit on the floor of the crater.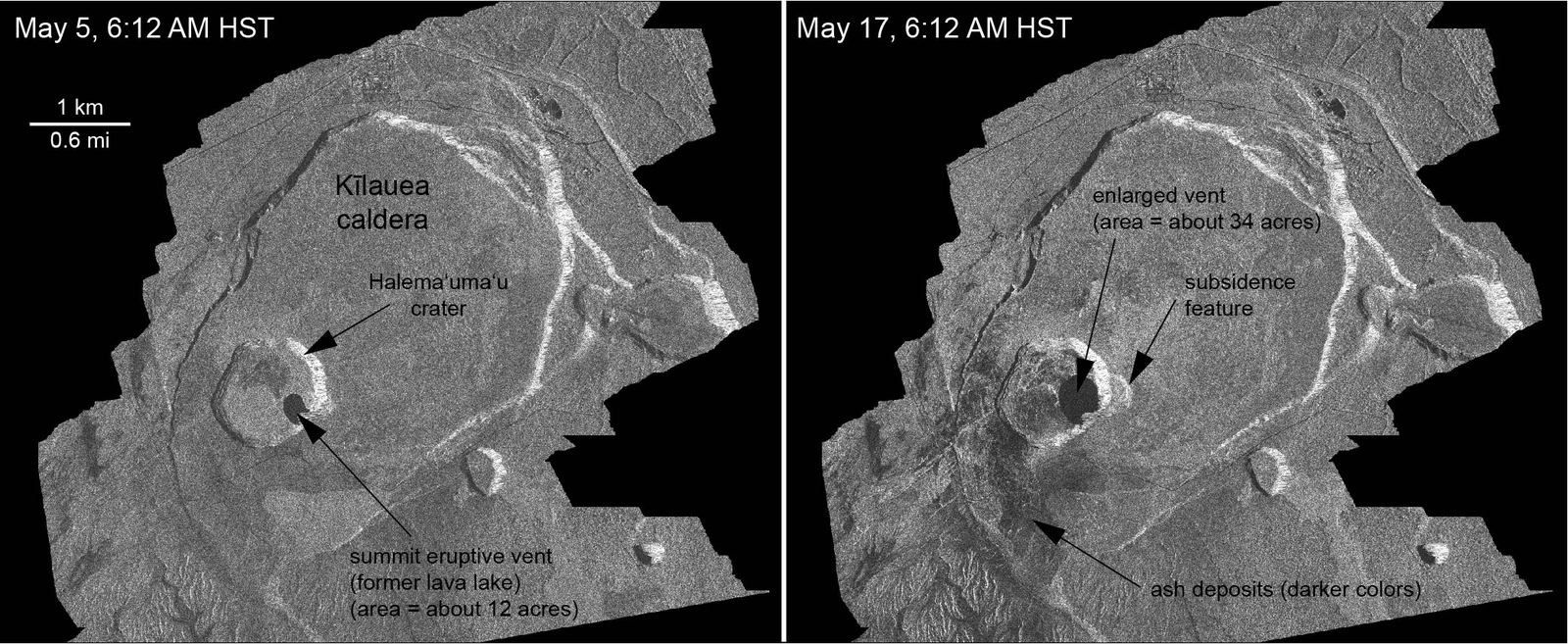 Kilauea - Radar images of the summit caldera and changes observed between May 5 and May 17, 2018, at 6:12 AM - doc. Italian Space Agency's Cosmo-SkyMed satellite system - one click to enlarge
The eastern end of the East rift zone fissure system remains the most active zone, with spattering at fissure 15, 17, 18, 20, 21 and 22, and pahoehoe lava flows at the start of fissure 17, 18 and 20.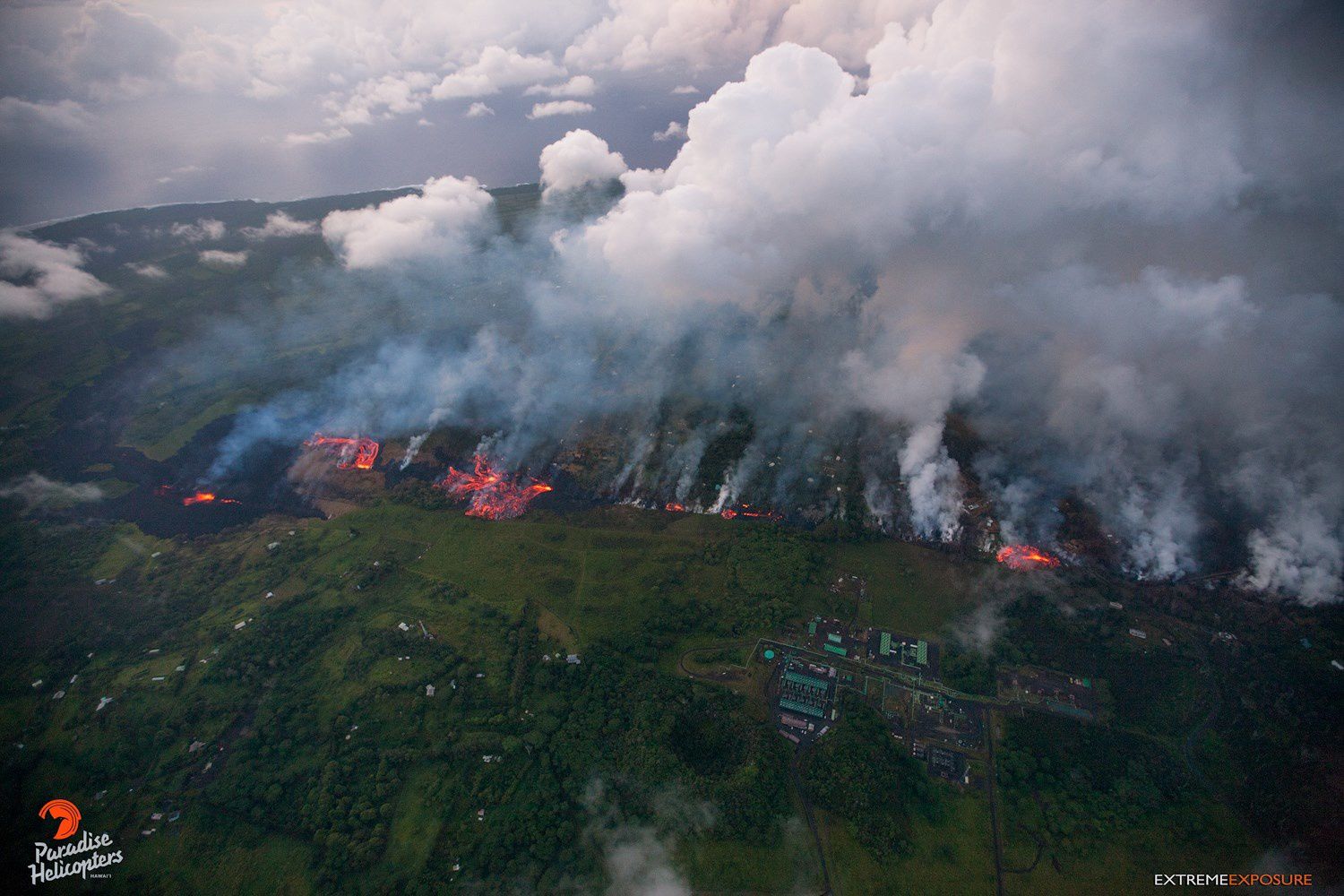 Kilauea - East rift zone 18.05.2018 - many active cracks and significant degassing - photo Bruce Omori / Paradise helicopters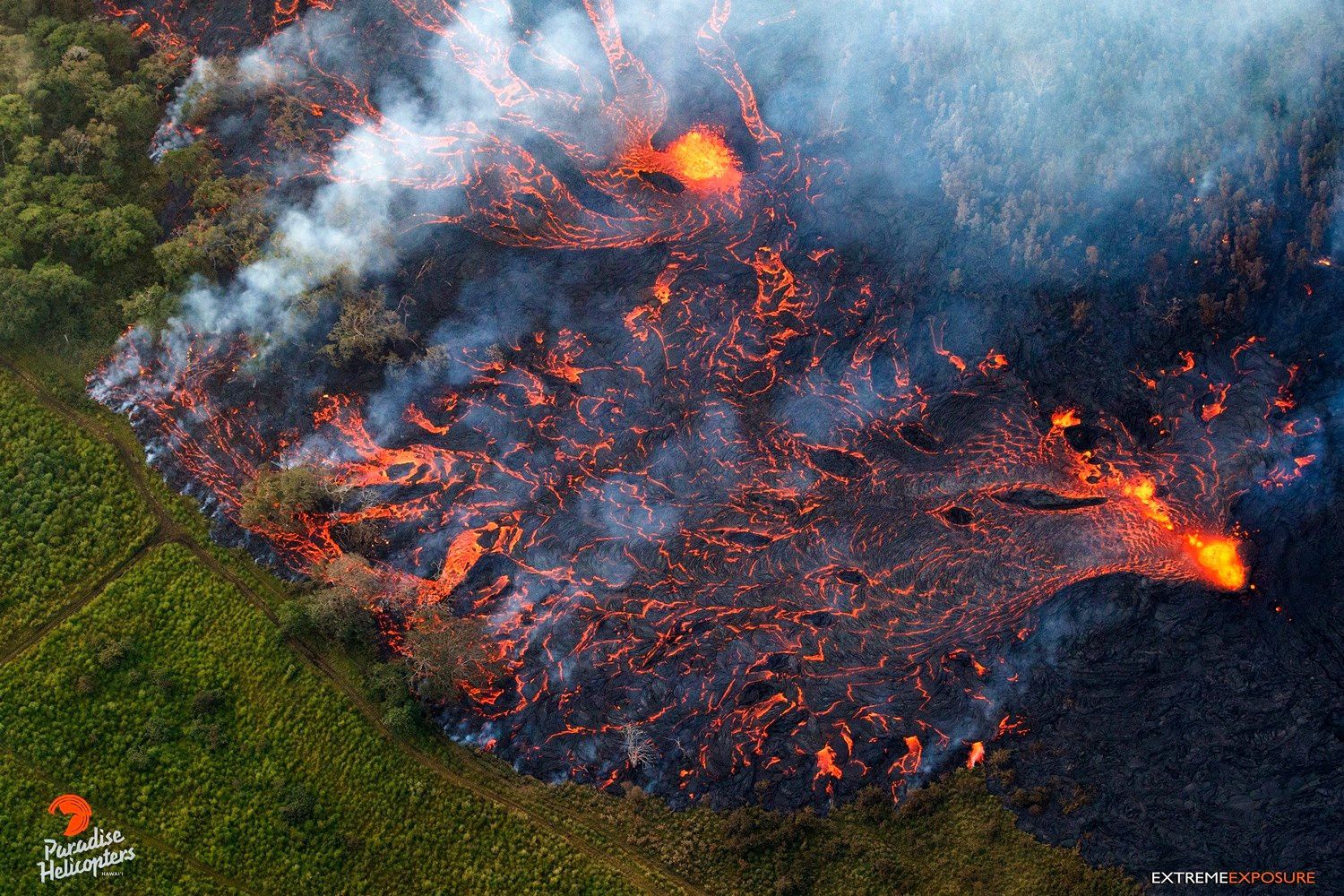 Kilauea - East rift zone on 18.05.2018 - fluid pahoehoe lava flows - photo Bruce Omori / Paradise helicopters
On the fissure 17, a good height lava fountain is produced; another, more modest, is observed on crack 18 in Lanipuna Gardens.
The pouring emerging from fissure 20 quickly crossed Pohoiki road in a southeasterly direction, with an estimated advance of 250-330 m² per hour.
At the level of fissure 21, the lava seems "new", depending on its behavior, its color and its fluidity.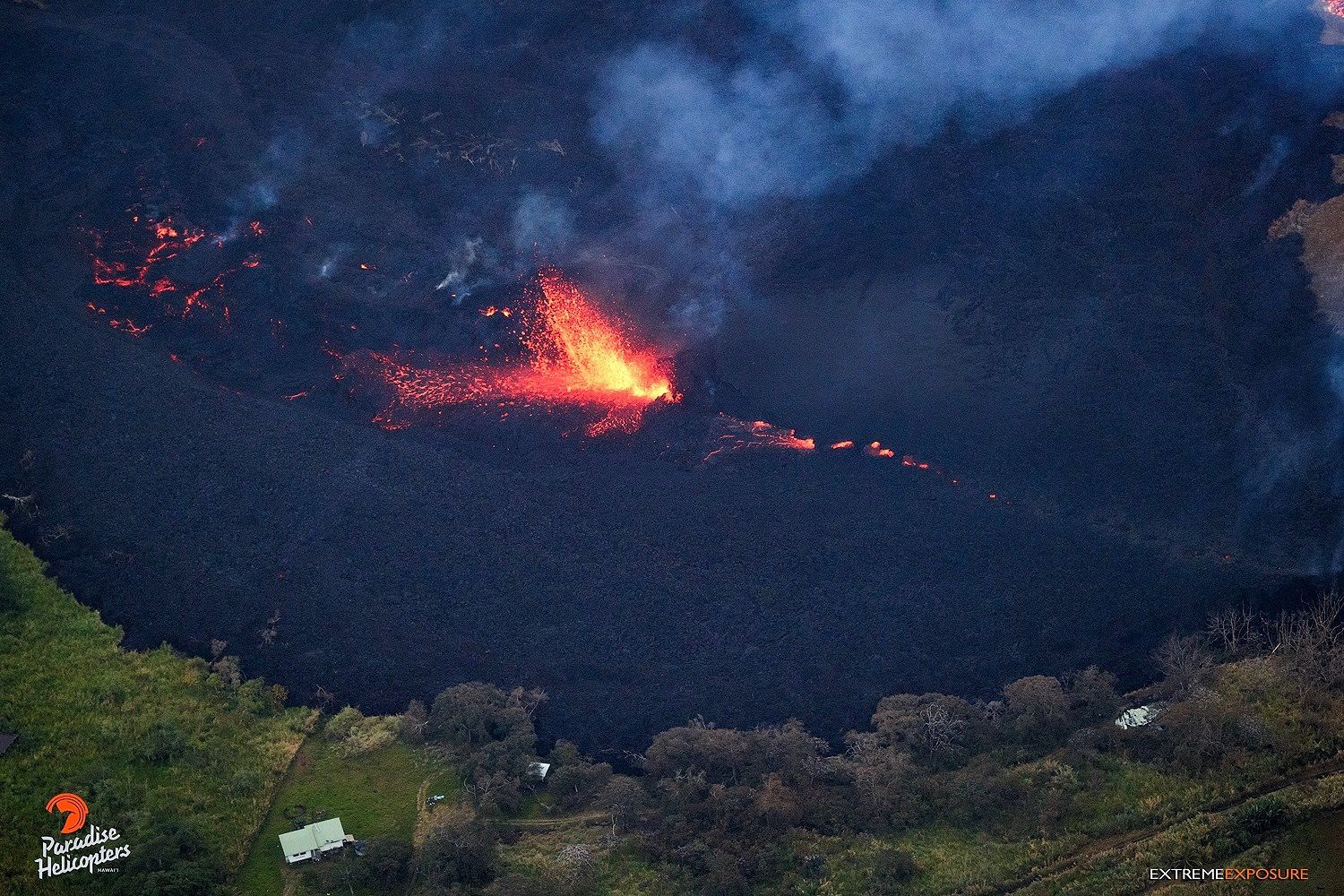 Kilauea - East rift zone on 18.05.2018: high lava fountain on the crack 17 - photo Bruce Omori / Paradise helicopters
Significant outgassing of all cracks, plus the smoke from burning vegetation, contributes to poorer air quality.
The supply of magma in the Eastern rift zone continues, as indicated by the continuous movement towards the NO of the GPS station, as well as a continuous seismic activity ... these factors plead for a continuation of the eruption, which could last for months if one refers to Kilauea's eruptive past.
Sources: HVO - USGS, Mick Kalber & Bruce Omori / Paradise Helicopters, Eric Klemetti and Civil Defense.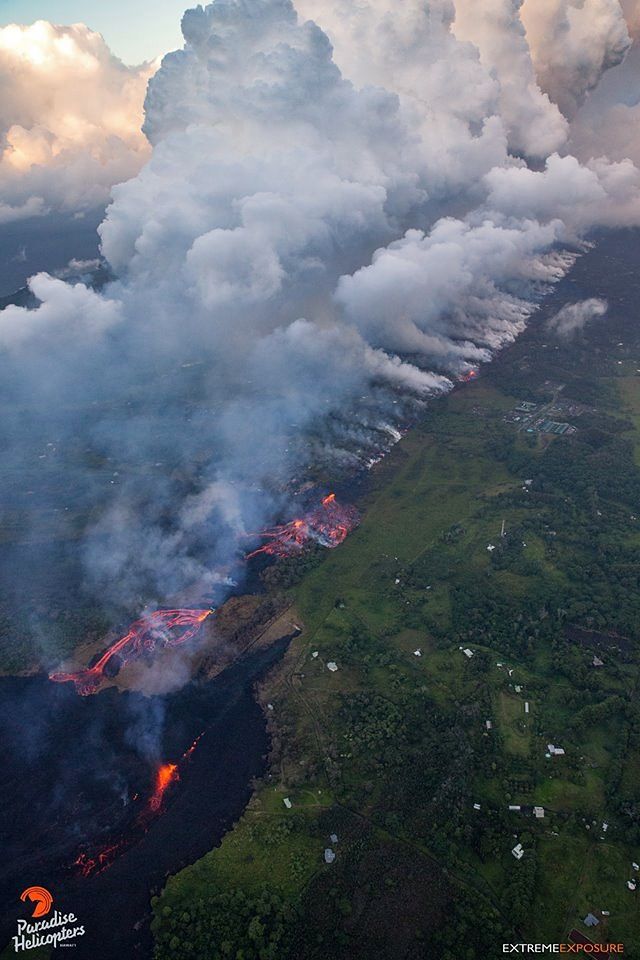 Kilauea - East rift zone 18.05.2018: the atmosphere is not at its best on the fissure - photo Bruce Omori / Paradise helicopters
Update : Saturday, May 19, 2018, 1:33 AM HST (Saturday, May 19, 2018, 11:33 UTC)
At 11:58 PM Local time, a short-lived explosion at from Halema'uma'u created an ash cloud that reached up to 10,000 ft asl - plus de 3.000 mètres - and was carried southwest by the wind. Possible trace ash fall may have occurred along Highway 11.
Additional explosive events that could produce minor amounts of ashfall downwind are possible at any time. Volcanic gas emissions at the summit remain high.

Kīlauea Volcano Lower East Rift Zone
Eruption of lava and ground cracking in the area of Leilani Estates subdivision continues. A fast-moving pahoehoe lava flow that emerged from fissure 20 this afternoon continues to flow southeast. The flow has three main lobes. The easternmost is east of Pohoiki Road and is moving about 230 yards per hour.The westernmost of the lobes is near Malamaki Road and is moving at about 40 yards per hour .Four people had to be evacuated by helicopter tonight as fast-moving lava crossed over Pohoiki Road near Malama Ki Place.
These rates may change with time and USGS crews are in the area to monitor flow advance. Other fissures remain weakly active and volcanic gas emissions remain elevated throughout the area downwind. Smoke from burning vegetation as lava flows advance is also contributing to poor air quality.
At Piton de La Fournaise, the eruption started on April 27, 2018 at 11:50 pm local time continues. The intensity of the volcanic tremor (indicator of surface eruptive intensity) has remained relatively stable over the last 24 hours at values ​​twice as high as those recorded last week.
The flow activity is still predominantly in lava tunnels.
The GPS of the summit zone record an inflation, witness of the putting in pressure of a superficial source.
Far-field GPS record inflation, a testament to the pressure of a deep source.
Source: OVPF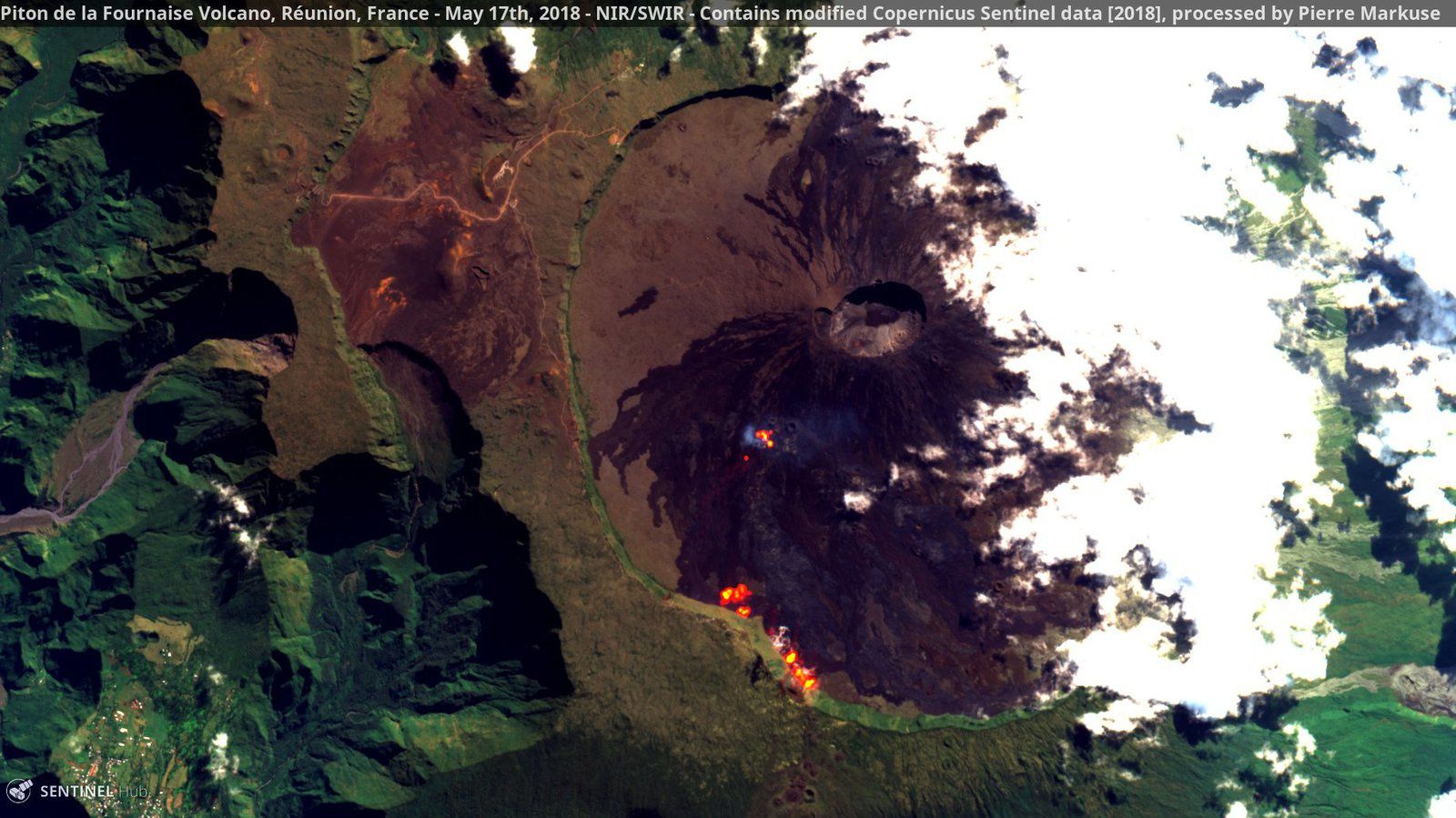 Piton de la Fournaise - lava flows beneath Bert Piton 17.05.2018  - image Sentinel 2A Mixed nat. col.-NIR- SWIR + IR highlights - Doc.Copernicus Sentinel-2A via P.Markuse
Piton de la Fournaise - Evolution of the RSAM (indicator of the volcanic tremor and the intensity of the eruption) between 20:00 (16:00 UTC) on April 27 and 15:00 (11:00 UTC) May 17 on the seismic station BOR (located at Mountain peak). - Illustration of the summit deformation over 2 months. Here is shown a baseline (variation of distance between two GPS receivers) crossing the crater Dolomieu. A rise is synonymous with elongation and therefore swelling of the volcano; conversely, a decrease is synonymous with contraction and therefore deflation of the volcano. Any periods colored in light pink correspond to eruptions. - a click to enlarge.
Due to the heavy rains on the Fuego volcano in Guatemala, a moderate lahar was generated in the Seca barranca, tributary of the Rio Pantaleón. Its width is 26-30 meters, for a height of 1-1.5 meters; it carries abundant volcanic material, blocks 1 to 2 meters in diameter, trunks and branches of trees.
According to the conditions, it could be reinforced, and other barrancas could be affected.
Sources: Insivumeh & Conred