Publié le par Bernard Duyck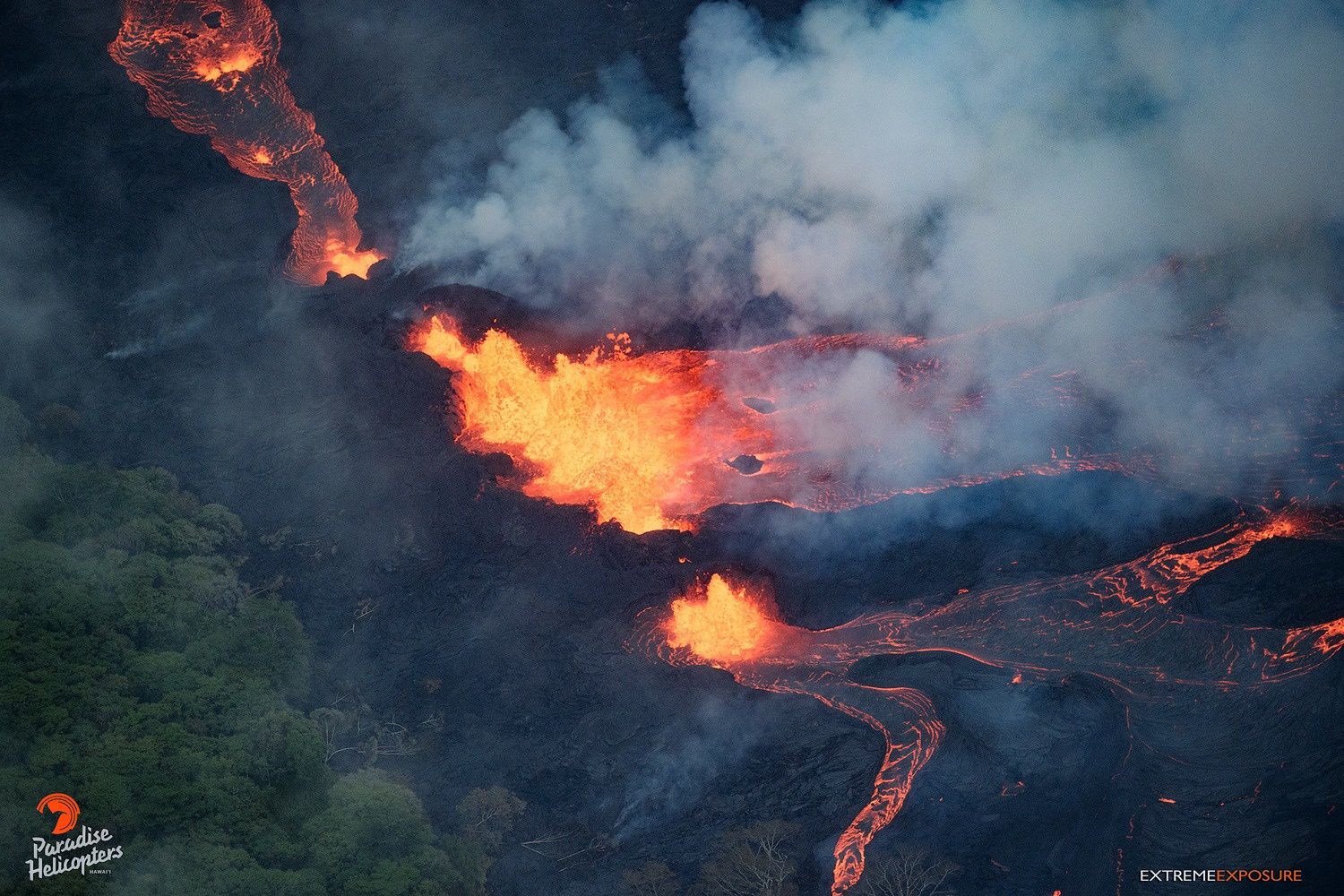 Kilauea East rift zone: 20.05.2018 / 5:45 - the fountaining continues at crack 20 and feeds lava flows - photo Bruce Omori / Paradise helicopters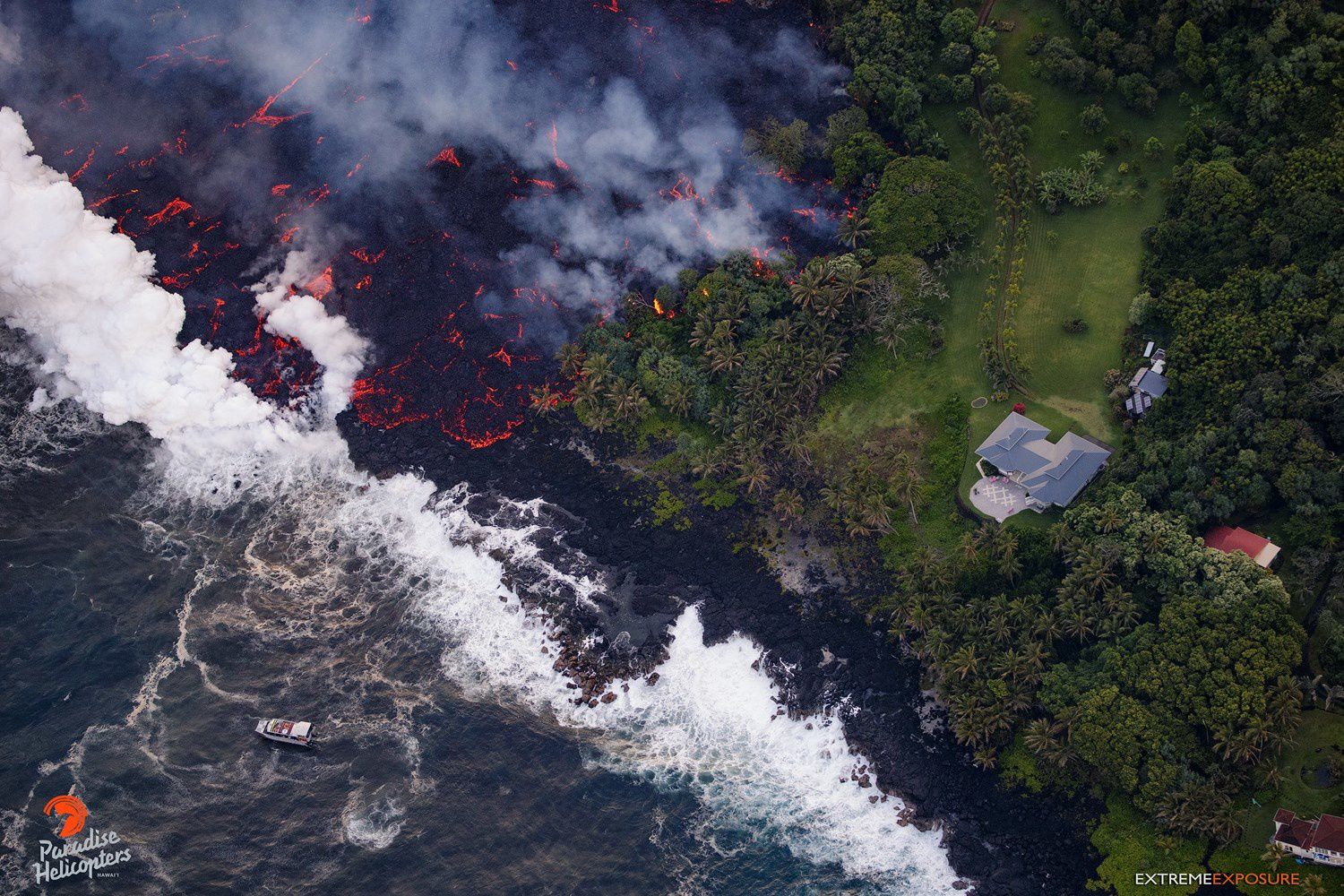 Kilauea East rift zone: 20.05.2018 / 5.45am - entry of lava at sea; note on the right, a property, and on the left, the presence of an observation boat - photo Bruce Omori / Paradise helicopters
At Kiluaea, spattering continues at fissure 6 and 17.
Spattering and large lava flows emanate from fissure 16-20 complex ... two of them reached the ocean near MacKenzie State Park, after joining within a mile of the coast.
As reported yesterday, the entrance of the lava at sea creates a dense white plume called "Laze" (contraction of lava and haze) corrosive and dangerous to health.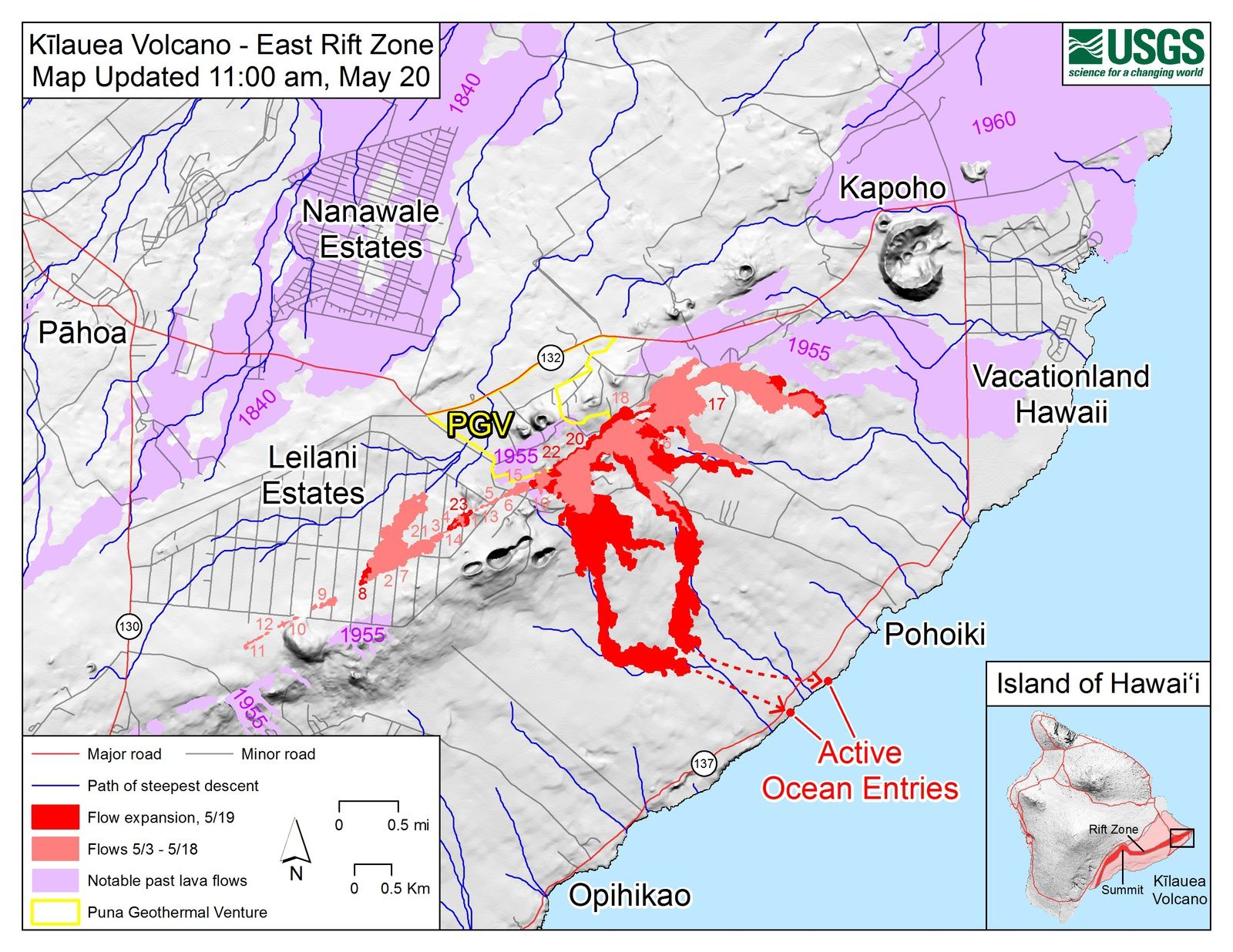 Kilauea East rift zone: 20.05.2018 / 10 am loc - map of the expanding flows (bright red) and of the flows issued between May 3rd and 18th (pink) - Doc HVO-USGS
The east channel lava, coming from the fissural complex 16-20, runs into a fracture that opened in the ground on the morning of May 20 ... it engulfs this lava flow, and consequently moderates the amount of lava arriving at sea.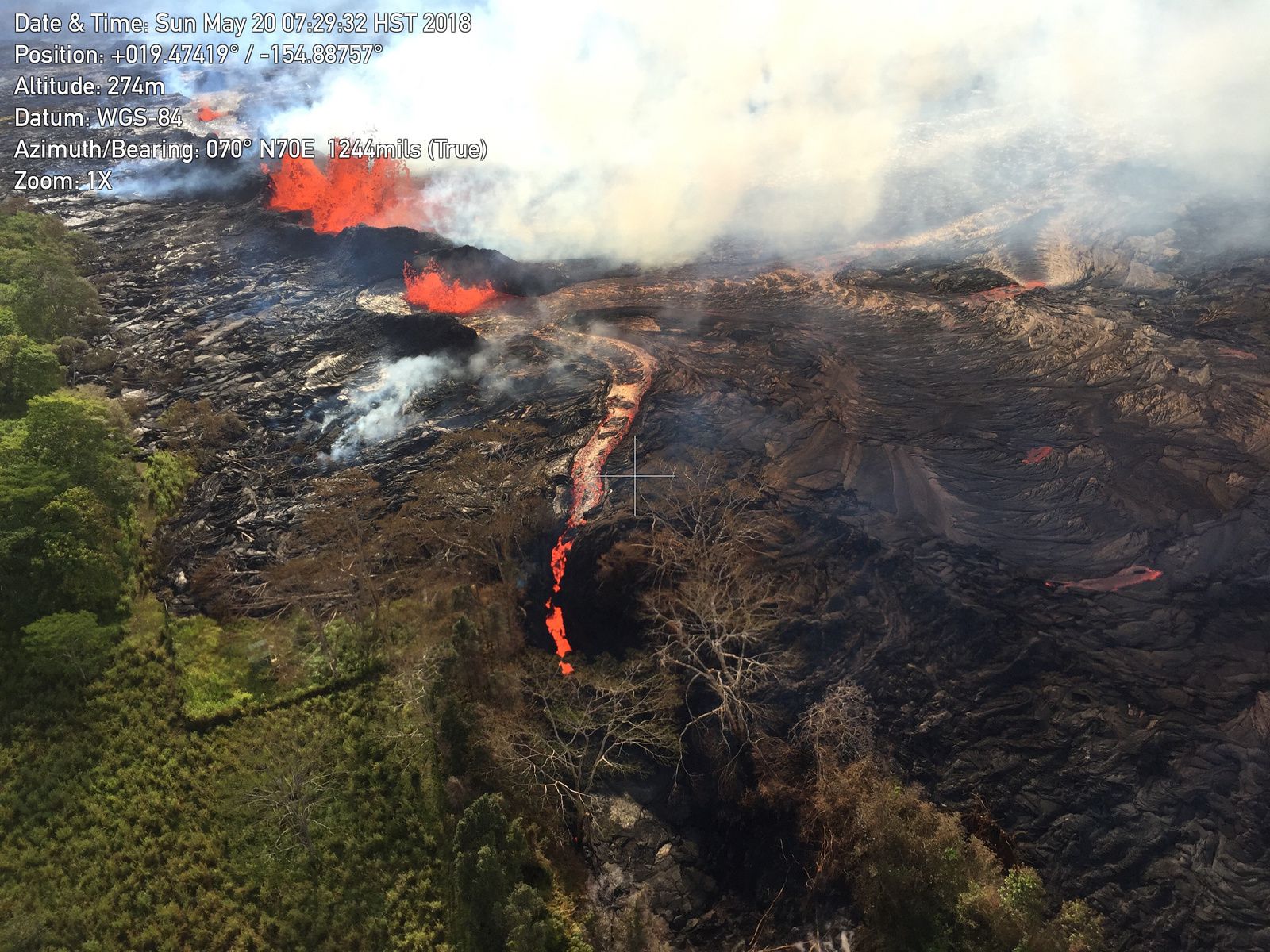 Kilauea East rift zone - 20.05.2018 / 7:29 am - East channel lava flowing in open fracture on May 20th - Photo HVO-USGS
Volcanic gas emissions tripled following the voluminous eruptions of the 16-20 complex, raising sulfur dioxide concentrations in the leeward zone.
A rapid chemical analysis of the lava emitted by fissure 20 since May 17 indicates that this lava, more fluid than at the beginning of the eruption, is similar to that of the lava lakes of Pu'u O'o and Halama 'uma'u.
The first fractures that opened in early May emitted a more viscous lava that remained mostly underground. The USGS now specifies that the flow of fissure 17 is an andesite / containing 57% silica, a rare composition for Kilauea ... suggesting that the magma remained in the rift for a long time - perhaps to be since 1924 - that it has slowly crystallized and is enriched in silica.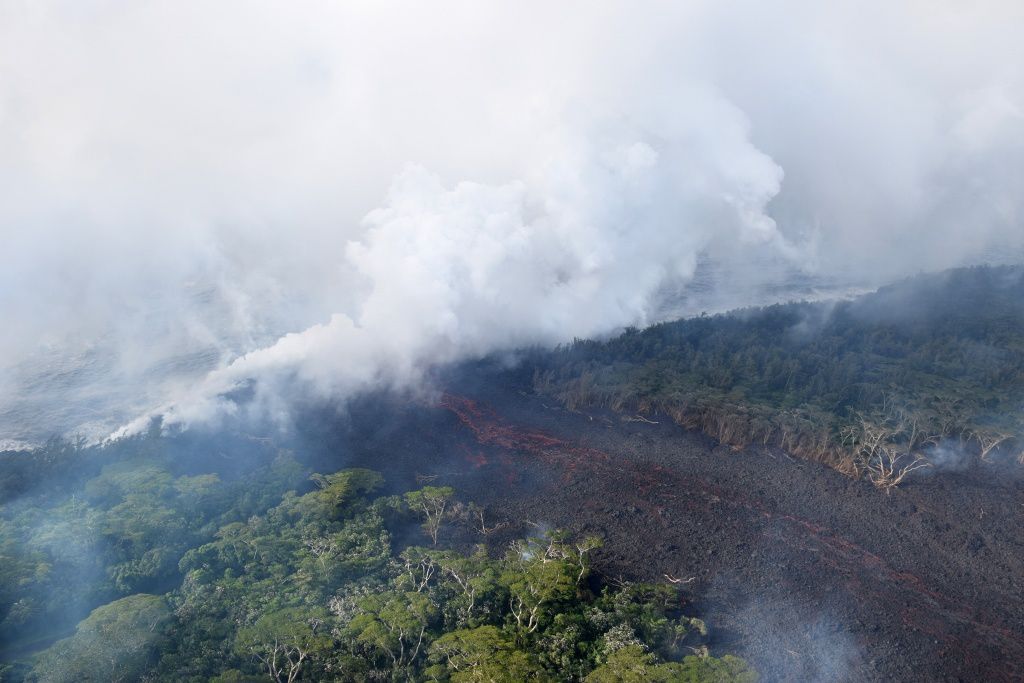 Kilauea East rift zone - 20.05.2018 - Sulfur dioxide (bluish) and haze (white volcanic fog) emissions lead to dangerous conditions for health - photo HVO-USGS
In the summit area, and during the previous days, two explosive ash eruptions took place. Various small lava emissions also took place; at the time of the Observatory's report, a robust plume of gas and vapor overcomes the Overlook vent.
Sources: HVO-USGS, Civil Defense, Paradise Helicopters / Mick Kalber & Bruce Omori, local webmedias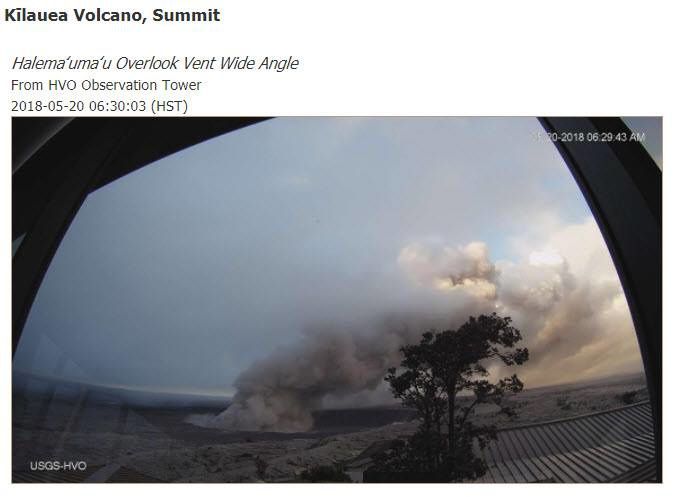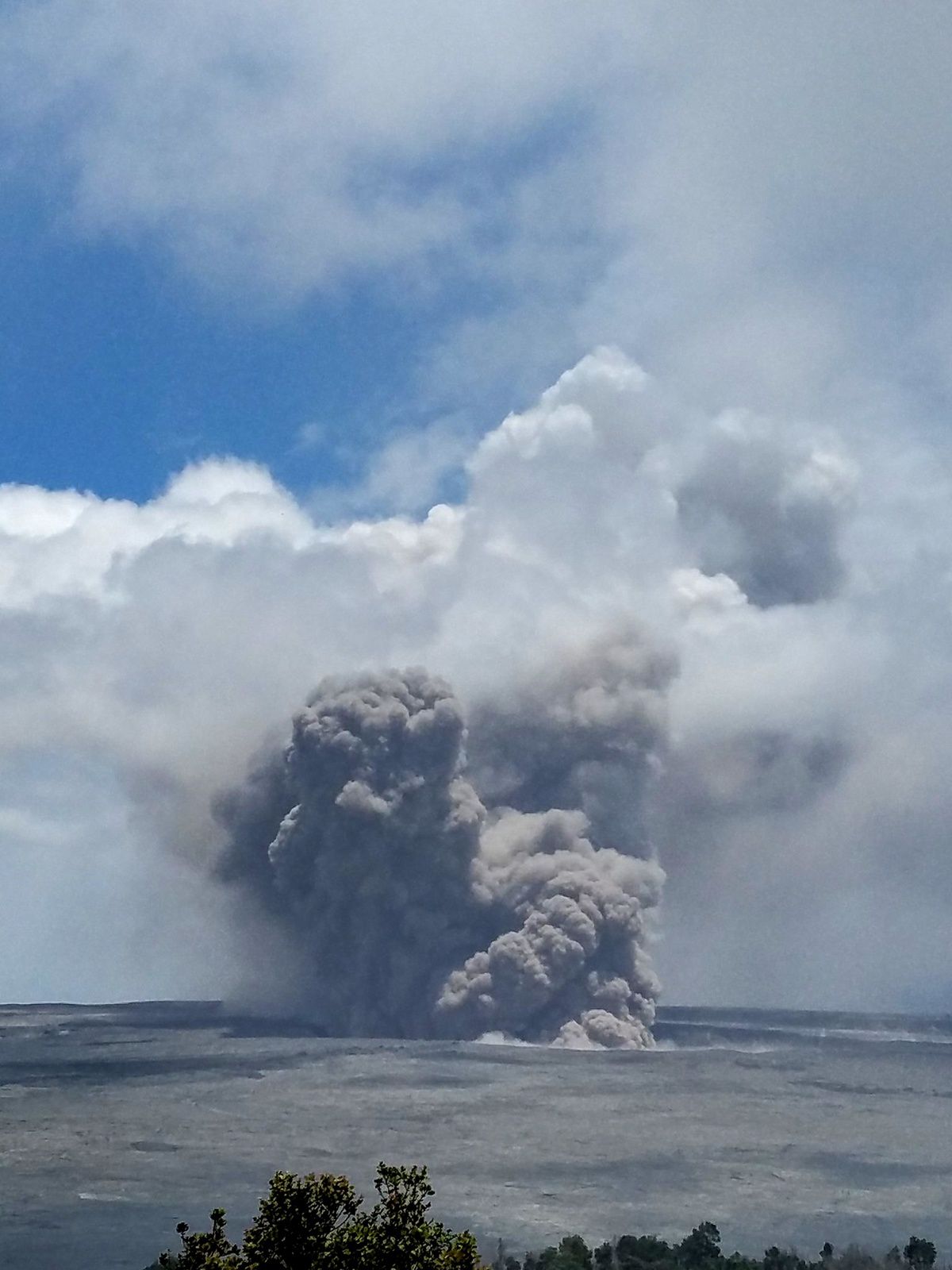 Kilauea - Crater Halama'uma'u / vent Overlook - plume of 20.05.2018 / 6h29 and day of 20.05.2018 / 13h11 HST- Doc .HVO-USGS
At Merapi, on the island of Java, at least two phreatic eruptions occurred on May 21, respectively at 9:40 and 13:25 local, accompanied by plumes ranging between 1,200 meters and 700 meters above the summit.
The activity level remains green / normal, with a 2km radius discarded zone and a yellow VONA.
Sources: PVMBG & BPPTKG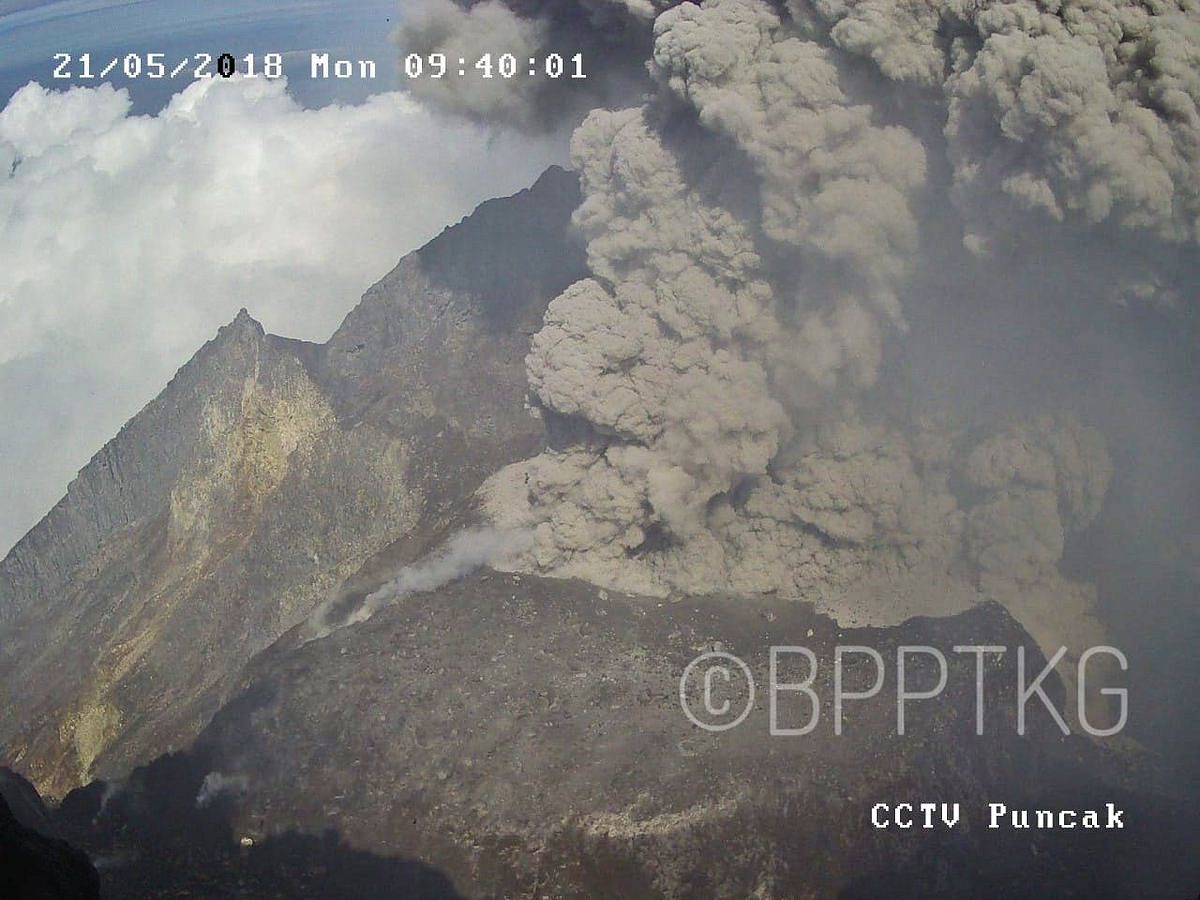 Merapi - gray plume of the phreatic eruption of 21.05.2018 / 9:40; he reached a height of 1,200 m above the summit - photo BPPTKG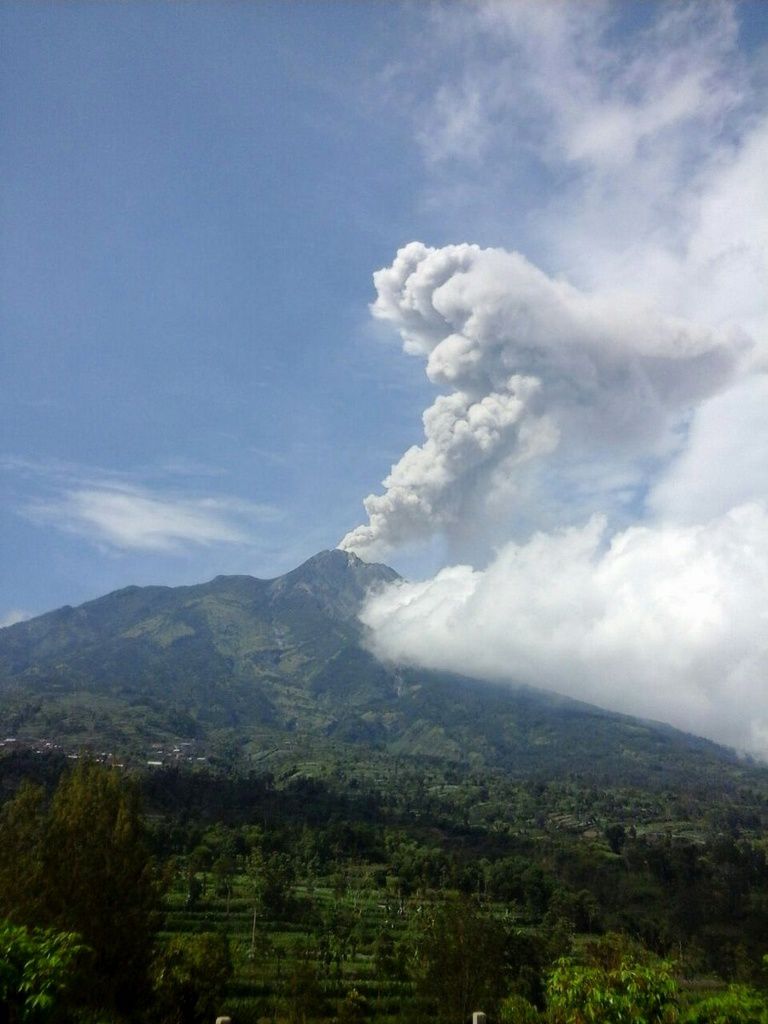 Merapi - plume of the phreatic eruption of 21.05.2018 / 9:40 from another point of view - photo BNPB
An analysis by Chilean volcanologists of satellite images of the Nevados de Chillan complex suggests that the extrusion rate has decreased since December 2017.
The 3D model allows to deduce a dome growth of 2 meters compared to April, and a lateral growth of a few meters.
The dome therefore continues to grow, but at a slower pace;its evolution would depend on the contribution of the magma in depth.
Surface activity always results in gas explosions, mainly water vapor and sulfur dioxide coming out of the main crack.
Source: Equipo Volcanologia Chile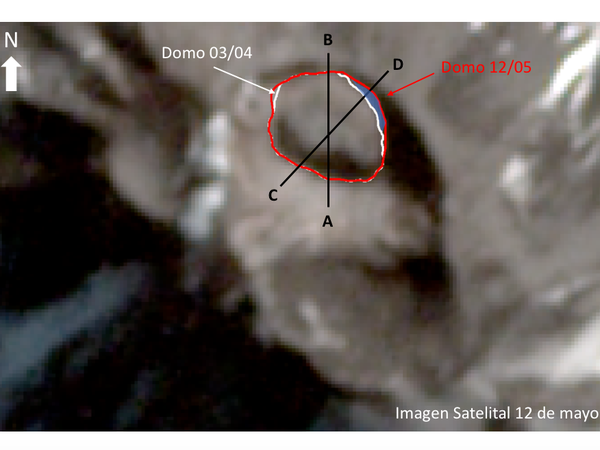 Nevados de Chillan complex - satellite image of 15.05.2018 and cuts along the A-B and C-D axes showing the evolution of the lava dome - Doc. volcanes de Chile - click on the thumbnails to enlarge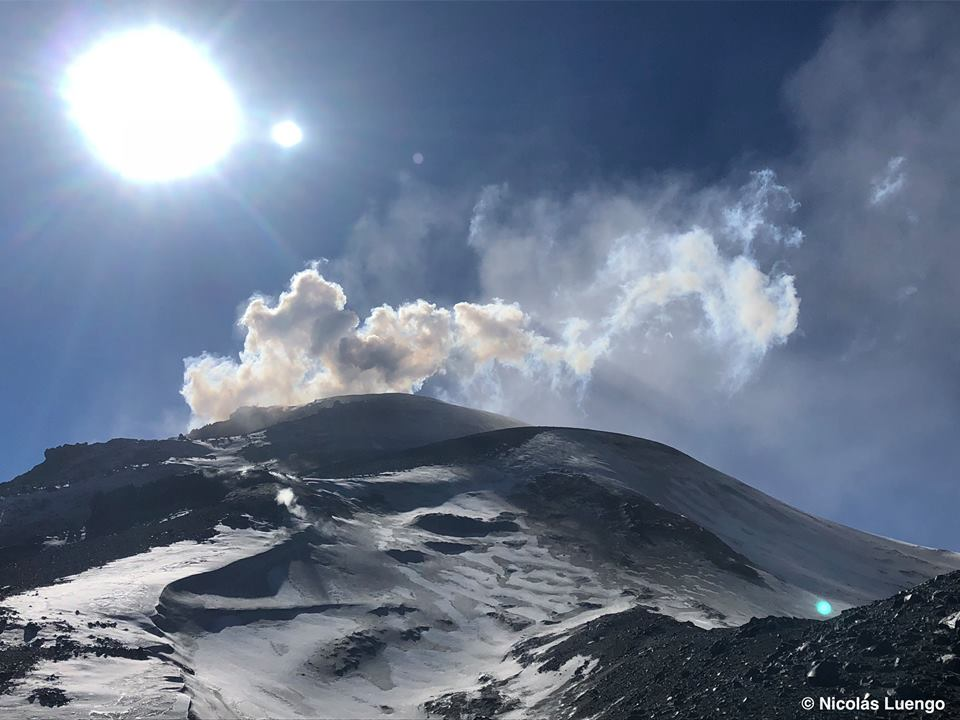 Nevados de Chillan - 12.05.2018 - blue sulfur dioxide and white steam emissions - photo Nicolas Luengo / Volcanes de Chile
Some photos of Kadovar / Papua New Guinea, where the activity is down, but still present.
Sources: Tico Liu / Facebook via Shérine France - Sentinel Hub image.