Publié le par Bernard Duyck
The eruption continues in the eastern rift zone of Kilauea, where the middle portion of the crack system is the most active.
Fissures 2, 3, 7, 8, 14, and 21 have reactivated and emit spatters.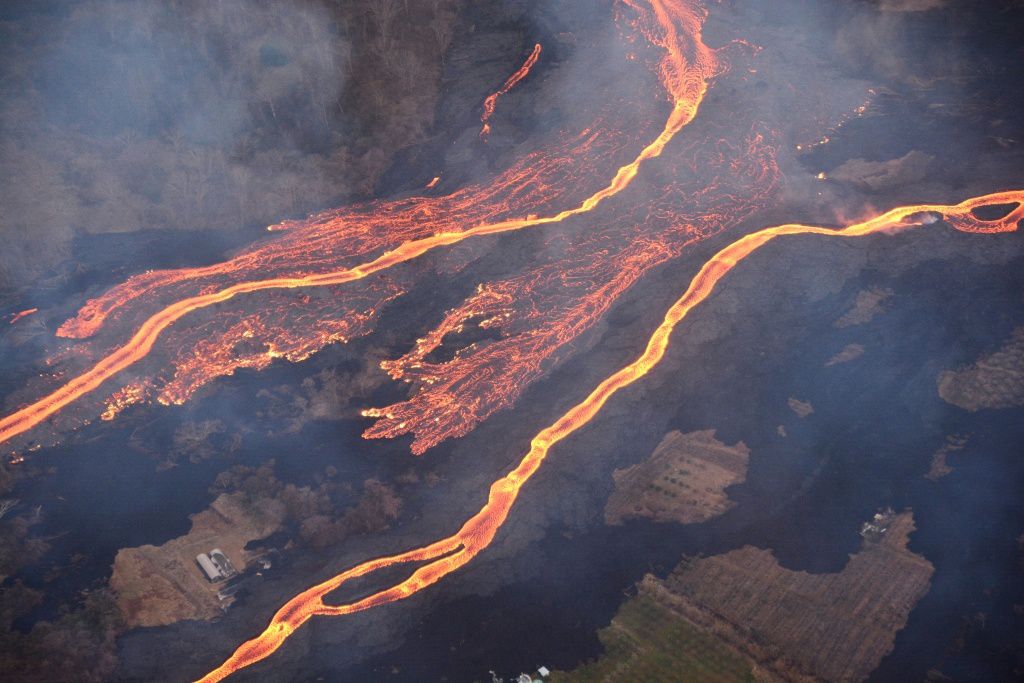 Kilauea East rift zone : Lava flows feeding entrances into the ocean overflowing canals, in an atmosphere charged with sulfur dioxide emitted by cracks - photo Hilo Civil air patrol / J.Ozbolt
At the level of the flows, three sea lava entrances are reported between Pohoiki bay and MacKenzie State Park;
Fissure 22 continues to feed a southeasterly flow;
Fissures 7 and 21 feed a pahoehoe flow advancing eastward over most of the area between Leilani Blvd, Mohala st. and the line of cracks. Note the presence of a sparkling lava pond perched at fissure 7.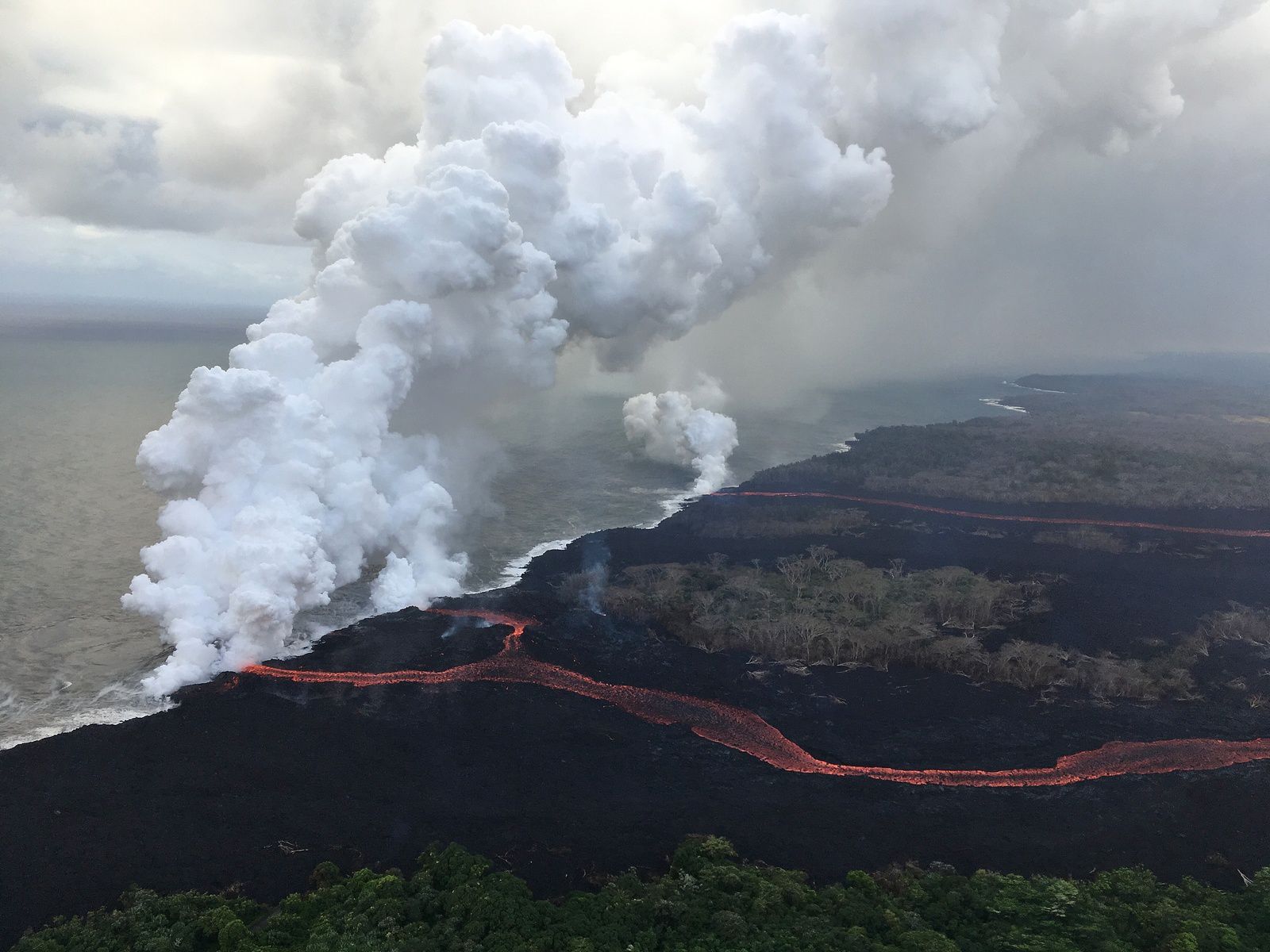 Kilauea East Rift Zone: Two channeled streams fuel three lava inlets in the ocean - Photo USGS / M.Patrick 24,05,2018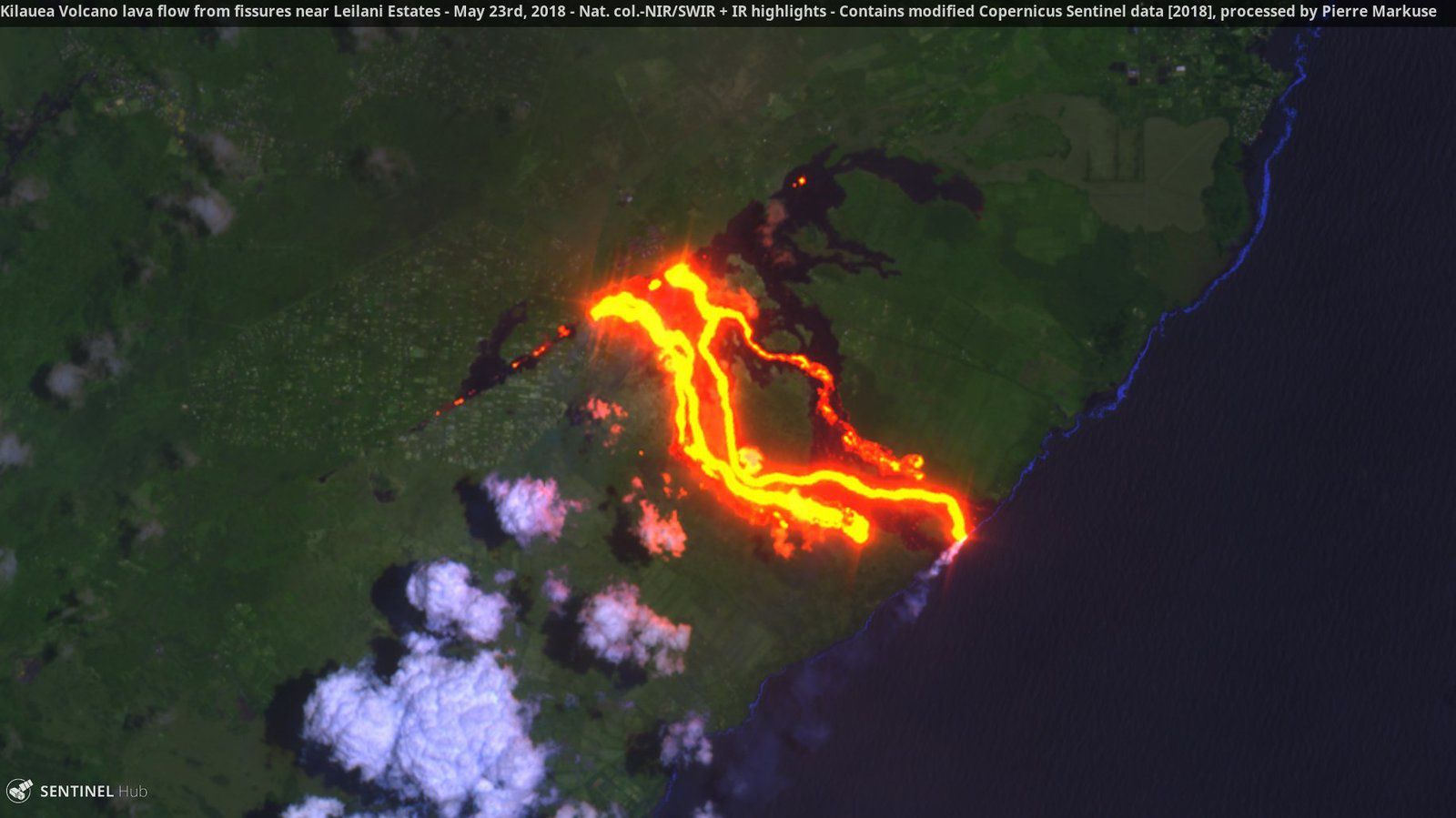 Kilauea East rift zone - the lava flows on 23.05.2018 - image Sentinel 2 Nat. col.-NIR / SWIR mix + IR highlights - Via P.Markuse
An explosion marked the crater Overlook, May 25 at 5h04 GMT and was accompanied by a plume of ash that rose to 3,000 meters asl. before moving to the southwest.
Source: HVO-USGS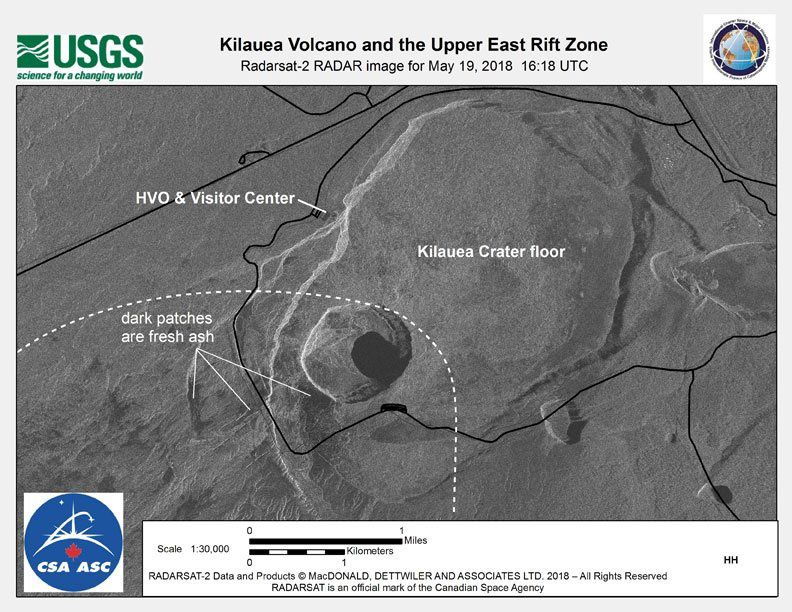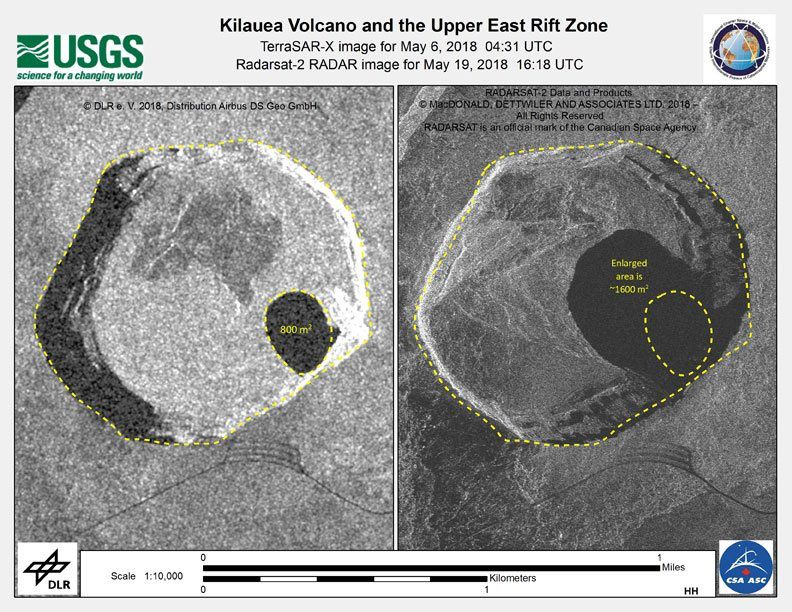 Kilauea summit - radar images of the summit caldera with its ash-covered areas and alterations within Halema'uma'u / Images USGS / CSA 19.05.2018
The radar of the crater of Merapi indicates for May 25 a max. 63°C.
A dense degassing marks the crater, rising between 30 and 75 meters above the crater.
The alert level remains at 2, with a prohibited area of ​​3 km radius
The analysis of samples produced by the May 21 eruption by the laboratories indicates the presence of more acidic magmatic components than the material ejected during the previous May 11 eruption. The equipment produced on May 21st is therefore "new" material coming from inside the volcano, whereas concerning the previous eruption, the material had "old" characteristics and a close origin of the surface / the crater.
Source: BPPTKG
The Insivumeh informs an important lahar in the Rio Cabello de Angel / Santiaguito Volcano this May 24 from 21:30, detected by the seismic station STAT G3 despite bad weather conditions.
Its characteristics are: 18 meters wide and 3 meters high, with fine volcanic material, large blocks between 40 and 60 cm, and trunks and branches in its front part.
In Chile, images from NASA's Suomi NPP satellite, and ESA's Sentinel satellite, detected a thermal anomaly at the Copahue's El Agrio crater.
An incandescent is visible in the crater from the Caviahue camera in Argentina.
Source: Volcanoes of Chile