Publié le par Bernard Duyck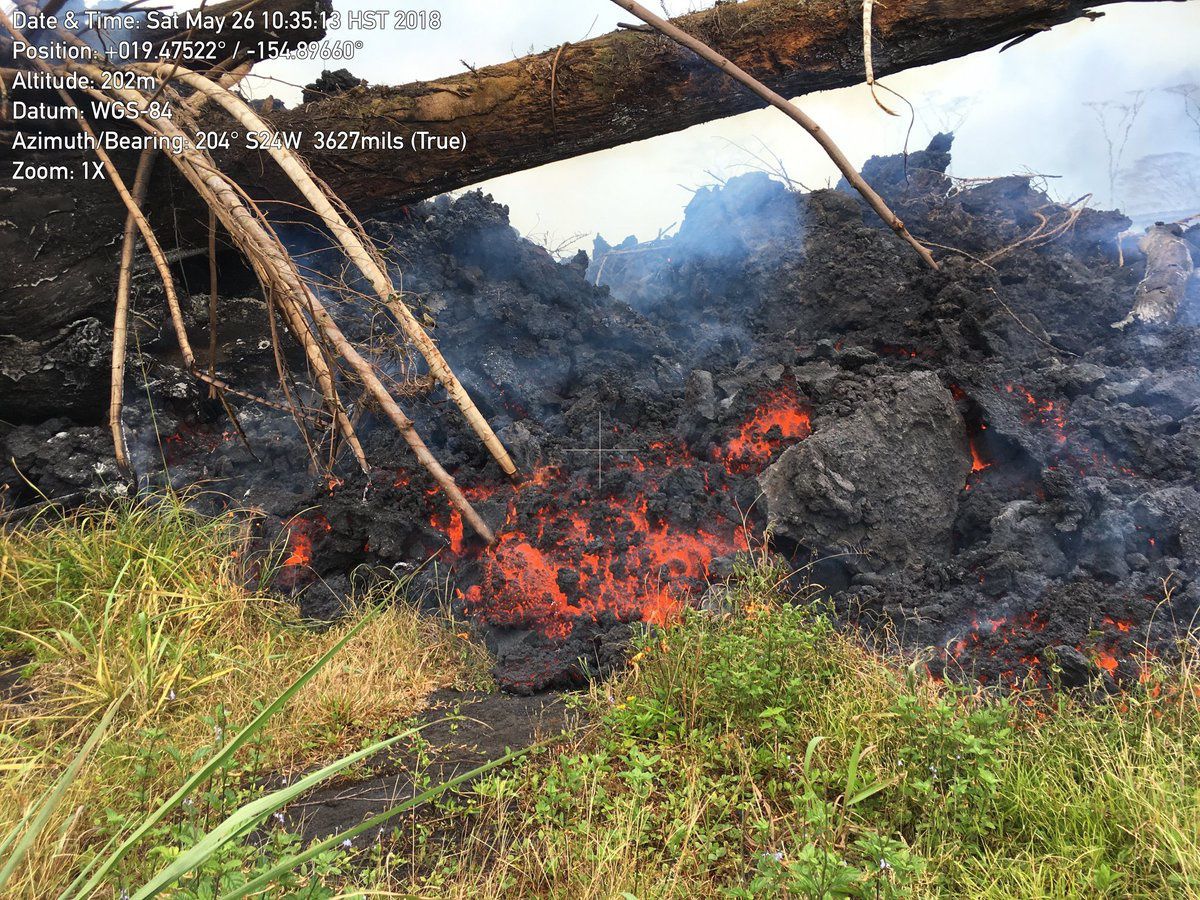 Kilauea East rift zone: 26.05.2018 - the lava flow from fissures 7 and 21 became a'a type, thicker and more viscous - USGS photo
Eruptive activity continued in the eastern rift zone of Kilauea on May 26, where 9.6 km² were covered by lava.
The fissure 22 continues to feed a southeasterly flow and entry into the ocean.
Lava fountains on the fissures 6 and 13 feed a channeled flow that also reaches the ocean.
Fissures 7 and 21 feed a perched lava lake and a north-easterly flow, covering an area between Kaupili and Mohala Streets. On the west side of the fissure 7, a pahoehoe flow appeared on the morning of the 26th, and feeds two small flows westward; at 6:15 pm, a cascade cascaded into the crater Pawaii.
During the night, a vigorous spattering was observed on a cone of fissure 8, while fissure 17 was the site of multiple gas explosions.

At the top, three explosions were observed at the crater Overlook, at 0h42, 1h44 and 5h respectively, accompanied by ash plumes ranging between 3,000-3,400 meters asl., quickly dispersed. Other small explosions occurred during the night.
Source: HVO-USGS
In Poas, the level of seismic activity is low and mainly due to the hydrothermal and fumarolic activity in the crater; a video, shot by two RSN members doing a maintenance work on May 25, let observed a small black cypressoid plume at the base of the steam plume. (https://www.facebook.com/RSN.CR/videos/1828308943899337/)
Passive degassing consists of fumaroles rich in water vapor and a low content of magmatic gases (CO2, SO2 and H2S)
The prevailing winds in the NNE direction direct emissions to Río Cuarto, Pueblo Nuevo, Cariblanco, San Miguel de Sarapiquí, Pital, and Buenos Aires.
Sources: Ovsicori and RSN
At Piton de la Fournaise, the tremor has been decreasing in intensity over the past few days.
Lava flows occur almost exclusively in tubes, and only degassing marks the main vent.
Top gaseous emissions are enriched with magmatic gases.
The OVPF does not report deformations on May 26th.
Source: OVPF