Publié le par Bernard Duyck
After a rise in seismicity for some months, and some more recent major earthquakes, including one of M 4.2 on June 22 at 6:24 GMT and another of M 5.3 on June 26 at 3:15 GMT under the Sierra Negra volcano / Isabela Island to the Galapagos, the seismicity was marked by replicas and tremor.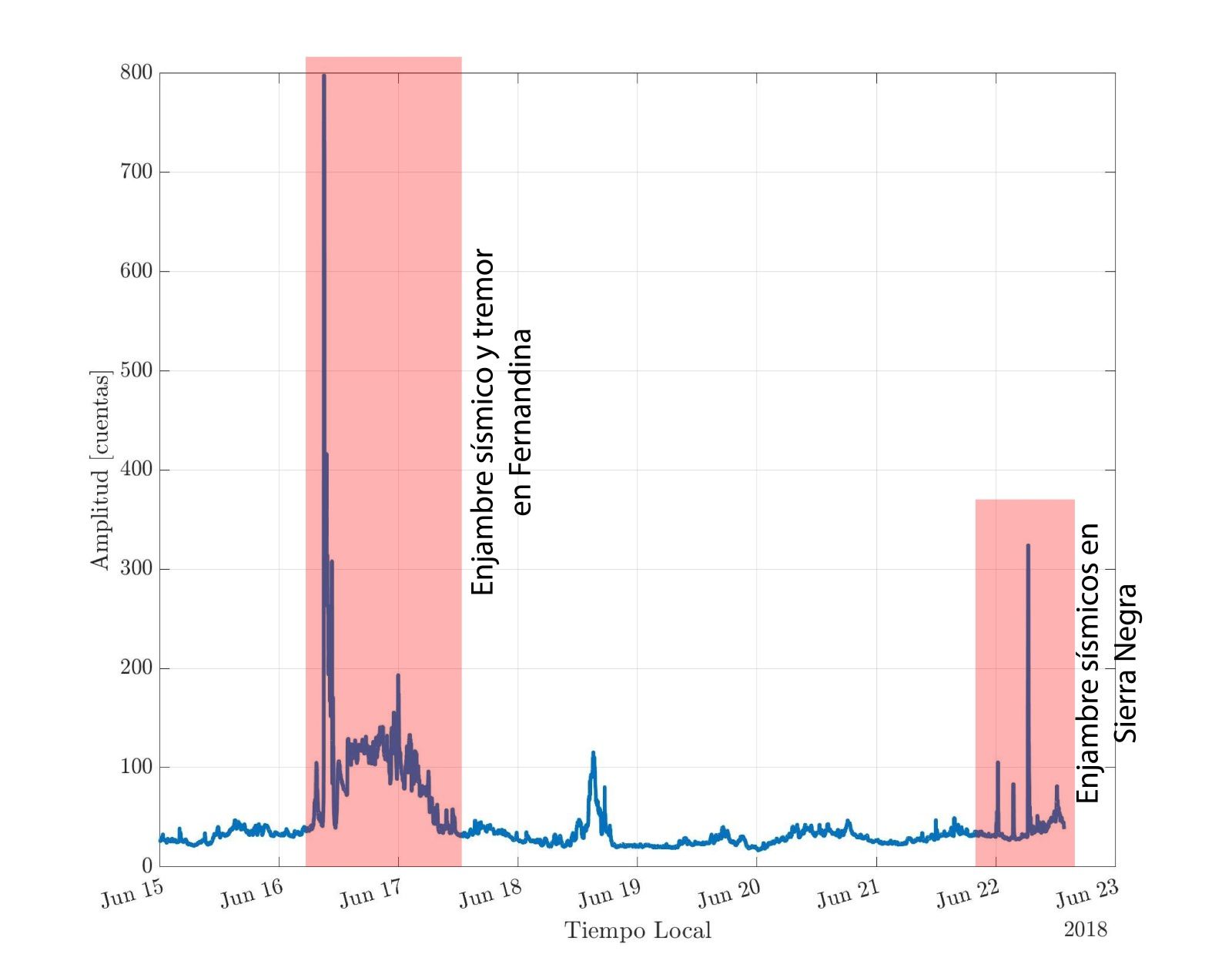 Sierra Negra - Increased Seismicity in June on Fernandina and Sierra Negra volcanoes - Doc. IGEPN / VCH1 station located on the NE edge of the Sierra Negra caldera.
On June 26, from 11:17 am TG, a new seismic swarm began in Sierra Negra; earthquakes are characterized by a depth of between 3 and 5 km and a magnitude of 4.6 maximum.
Since the earthquake of M 4,2 at 13:38 TG, the amplitude of seismicity and infrasonic signals has greatly increased. Galapagos National Park staff report rumbles, forging bellows type, from the Chico volcano (the other name of Sierra Negra) ... all these signs suggest the beginning of the eruptive process.
Images from the GOES-16 Satellite show a strong thermal anomaly in the northern area of ​​the caldera.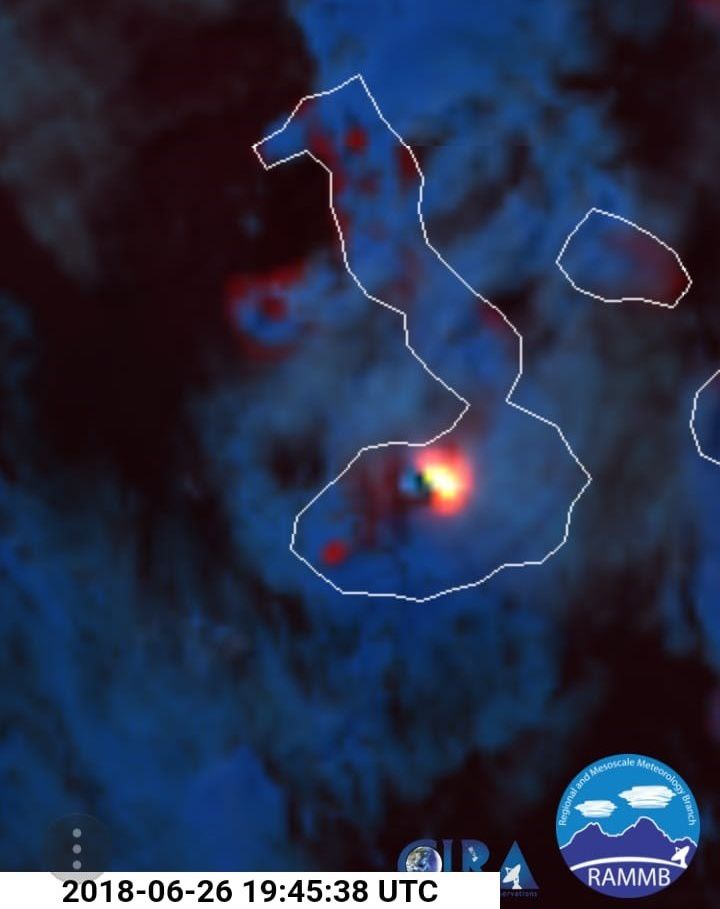 Sierra Negra - thermal anomaly seen by the GOES-16 satellite on June 26 at 1:45 pm TG / 19:45 UTC - Doc. IG
The Park staff then reported lava flows inside the caldera and on the northern flank of the volcano towards Bahia Elizabeth.
Update 7h06 local time :
Thanks to the photos and videos shared by Galapagos National Park staff, several eruptive cracks on the northern flank are visible, with lava flows directed towards the sea between Elizabeth Bay and Punta Morena. It was also possible to confirm the presence of a crack in the caldera that feeds a lava flow. So far, there are no lava flows directed to agricultural or inhabited areas.
As Isabela Island is populated, the authorities have ordered the evacuation of 50 residents, who will be cared for by host families; tourist access to the Sierra Negra volcano area and the El Cura area is restricted.
This eruption - to follow - follows that of the nearby volcano La Cumbre / Fernandina Island on June 16th.
Sources: IGEPN & Parque Nacional Galapagos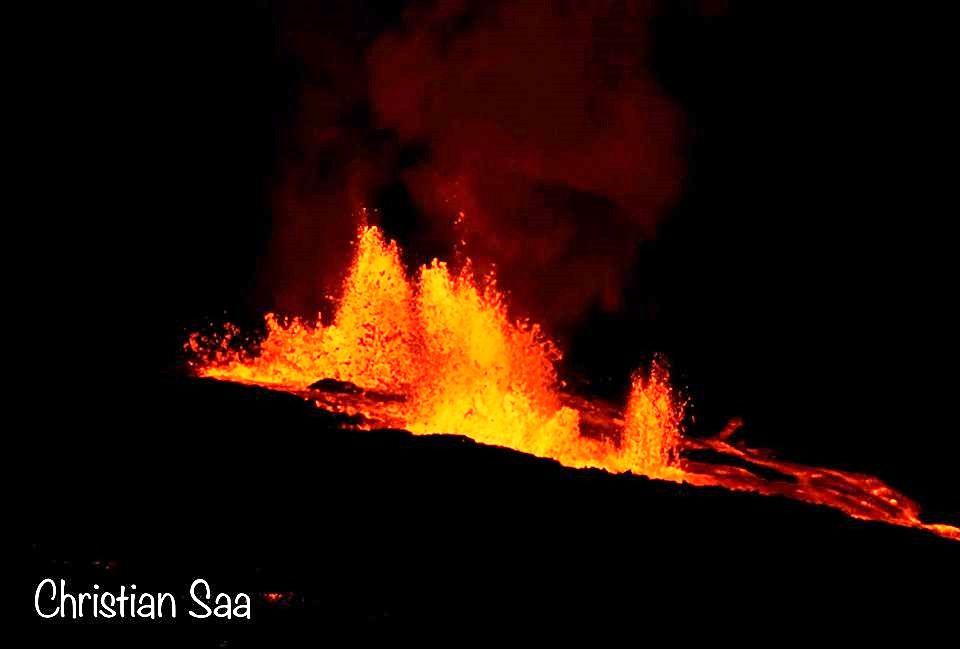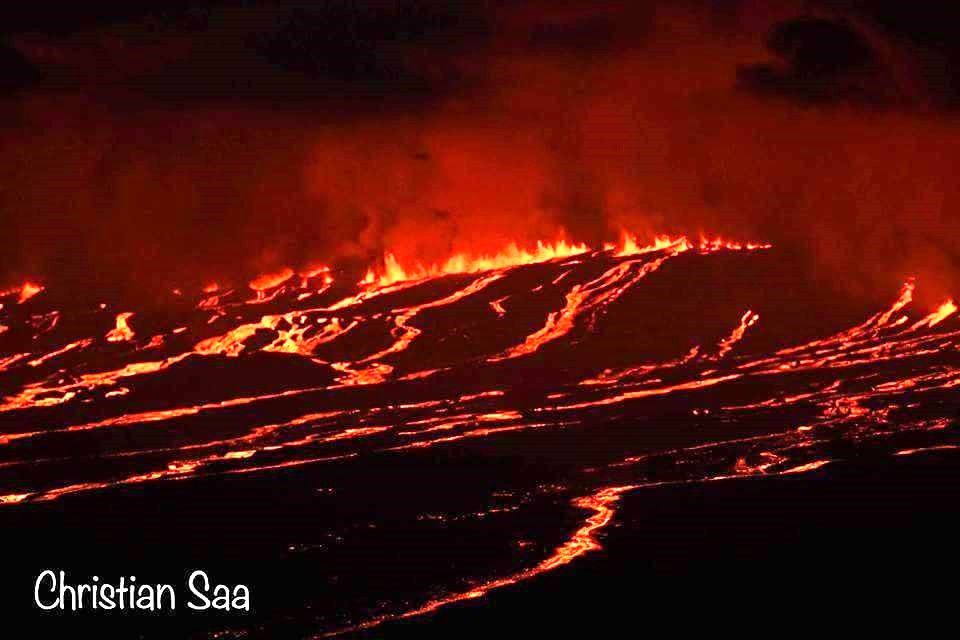 Sierra Negra - eruptive fissures - photo Christian Saa, on board of the National Geographic Endeavour. 21.06.2018 / via Galapagos travel" "
The AVO reports continued instability in Cleveland, doubled this June 25, 2018 by a circular lava flow of about 80 meters diameter on the summit crater floor, and reported by satellite.
On June 26, the satellite data informs a possible steam emission at 0:48 UTC, in connection with the effusion of lava in the crater.
The information on this lava effusion is currently possible only through satellites, transmission problems do not allow to obtain seismic and infrasonic data.
The presence of lava on the active mouth increases the possibility of an explosion in the days / or weeks to come.
The AVO has raised volcanic alert levels to Watch, and the aviation code to Orange.
Source: Alaska Volcano Observatory