Publié le par Bernard Duyck
Not much to eat today ... At Kilauea, the eruption continues; in the Galapagos, Mirova no longer sees any thermal anomaly, a small eruption in Krakatau.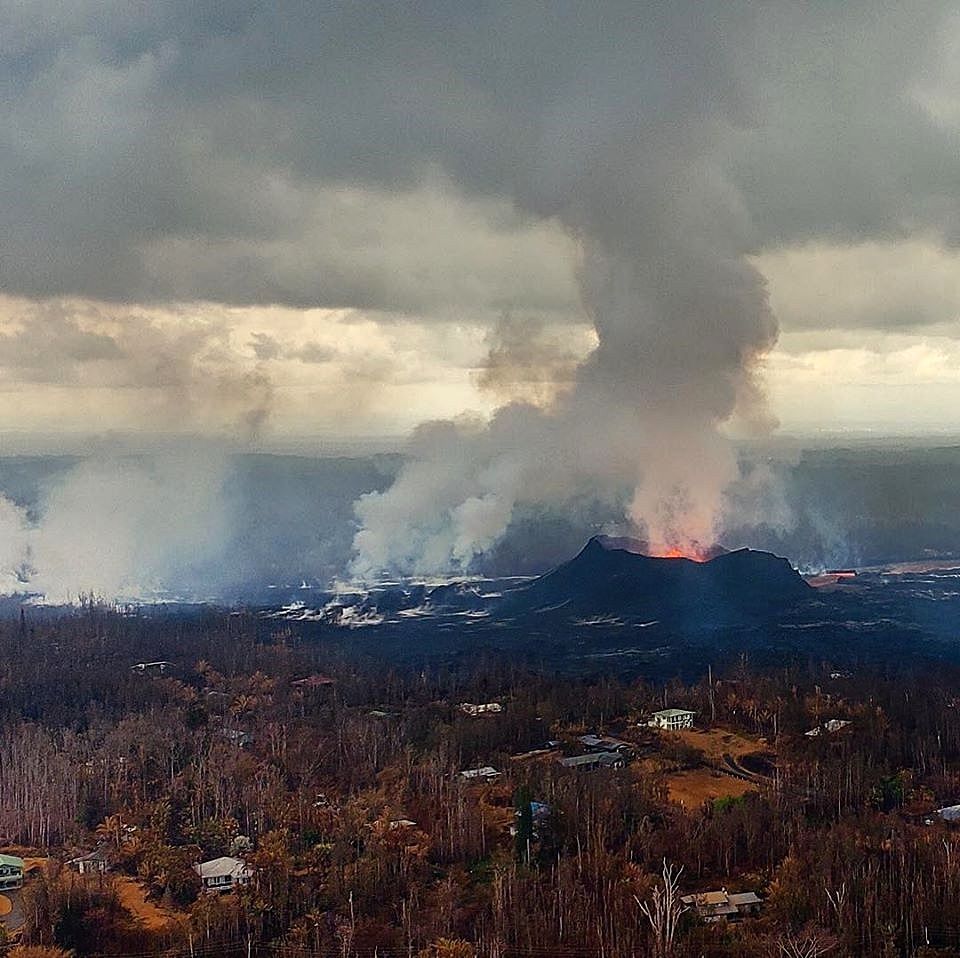 Kilauea East rift zone - the spatter and cinder cone on the fissure 8 - photo instagram 19.06.2018 by Forest Lanning
An amazing day at Kilauea's Leilani Eruption... more later!
On fissure 8 in the eastern rift zone of Kilauea, the spatter and cinder cone is still growing, and the fountains, reaching 60 meters in height during the night, feed a lava flow, where waves are visible in the channel close to the vent, and move at 7.7 m / s.
The channel overflows in several places creating pahoehoe flows that move slowly.
Fissures 6, 15 and 16 ooze from the lava and degass
The entry of the lava into the ocean is done in 2 places; on the lava delta, small basins form at the mercy of the tides.
In Krakatau, Magma Indionesia reports a small Strombolian eruption on 19 June at 19:04 local time, with ejection of incandescent materials 200 meters high.
At the seismicity level, mainly dominated by superficial volcanic earthquakes, the number of emission earthquakes has increased to gradually form a continuous tremor.
For the rest, it is mainly new pre- and post-eruptions:
The IGEPN recalls the collapse of the caldera of La Cumbre volcano on Fernandina observed on June 19, 1968. "The continuous activity of the day was accompanied by major shocks preventing observers from standing up; the collapse caused thick smoke as thousands of tons of rock fell from the walls and platforms collapsed ... " (story in GVP)
In Fuego, images provided by the ARIA / Advanced Rapid Imaging and Analysis team using Sentinel-1 satellite data, show the areas affected by the eruption of the volcano and its lahars and pyroclastic flows. The different drainages are highlighted.
In Alaska, photos taken by an Alaska Air pilot on June 17 show a weak outgassing and a small ash deposit spanning the summit from the vent, following the June 10 eruption at Great Sitkin.

At Sinabung, an image of the webcam shows an activity on June 19 at 21:17