Publié le par Bernard Duyck
Ash eruptions continue sporadically at Agung.
The observatory reports an episode on July 5 at 16:33 WITA, accompanied by a plume of 2,800 meters above the summit, before its lower part moves towards the west, while its upper part drifts towards the east; its duration was 536 sec. and the amplitude of 24 mm on the seismogram.
Øystein L. Andersen reports an episode on July 6th at 12:50 pm, and illustrates it with a burgeoning plume of brown ashes.
The authorities recorded 4,855 evacuees from villages around Agung, resettled in 50 evacuation centers; their evacuation has been voluntary, and corresponds to a need to feel safe.
Sources: PVMBG, BNPB and O.L.Andersen
Anak Krakatau, still on alert level 2 / Waspada, showed an eruption on July 5th at 16:51 local time, lasting 30 sec. with a 39 mm footprint on the seismogram.
Emissions of ashes continue at about 605 m asl, heading northwest.
Sources PVMBG and Magma Indonesia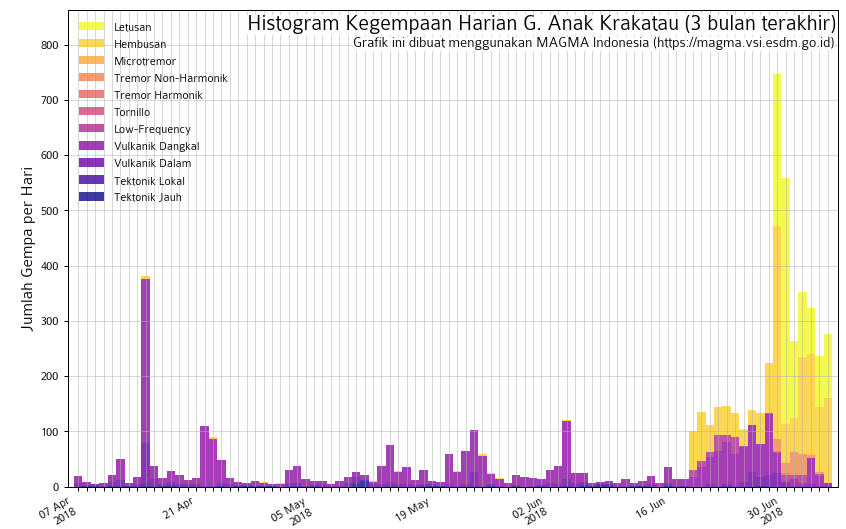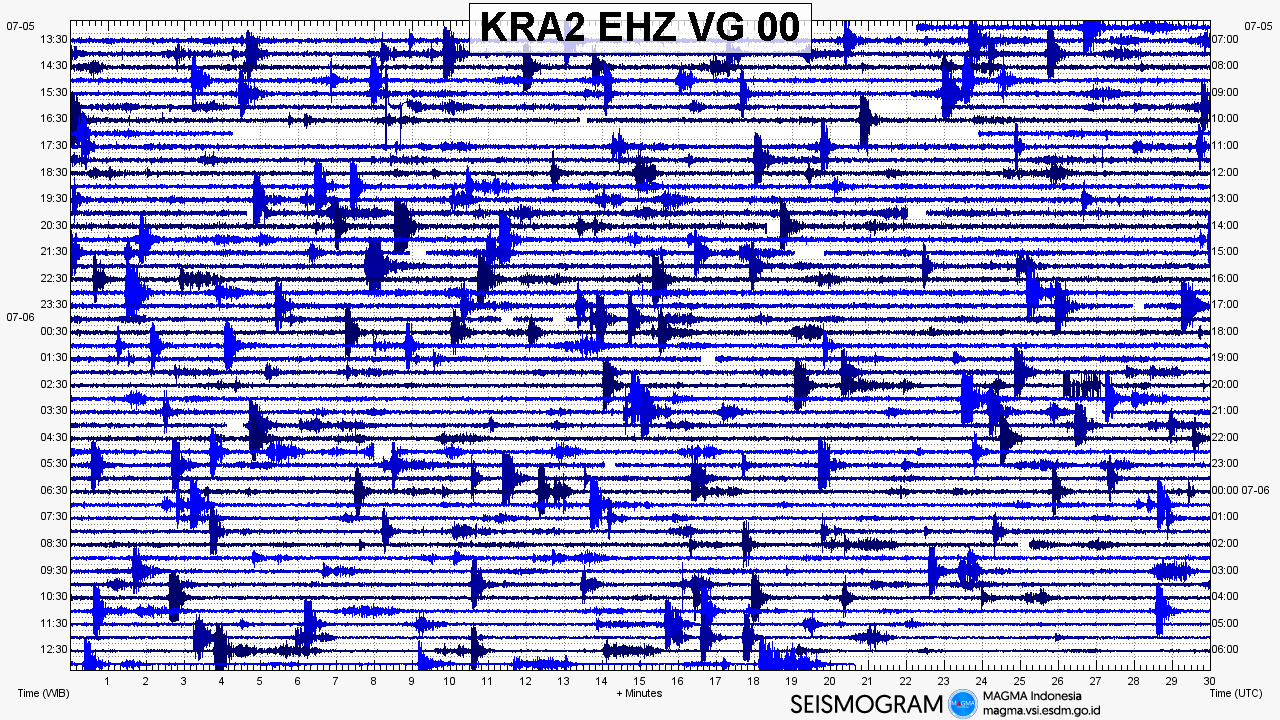 Krakatau - histogram of seismicity from April to July 2018 - and seismogram of 05-06.07.2018 - Doc.Magma Indonesia
Sierra Negra's surface and internal activity levels remain high, as do thermal anomalies.
The seismicity is marked by 112 volcano-tectonics and 9 earthquakes LP, for the period of July 4 / 11am.- July 5th at 11am. Twenty-six earthquakes were located at a depth of less than 2,000 meters; the strongest, of M5.2, is located on the southern flank of the volcano.
Source: IGEPN

The eruption continues without significant change in the eastern rift zone of Kilauea.
The USGS notes that the levels of lava fountains on fissure 8 and lava in the upper channel are lower than in previous days. The lava, from small overflows, cools and congeals along the banks of the lava channel to build lava levees. The levees also accumulate as the moving lava pushes the cooled crust to the edge.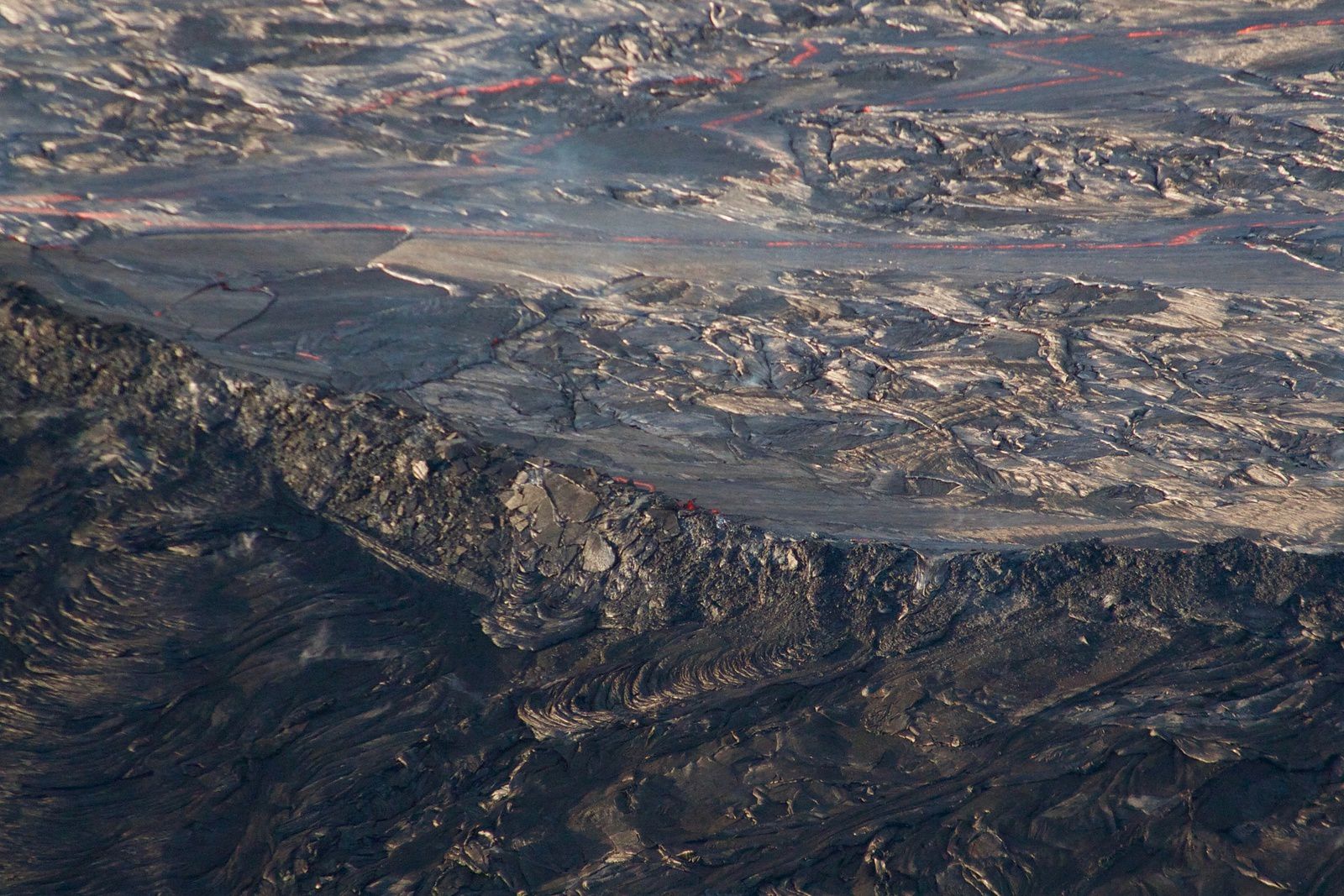 Kilauea East rift zone - lava levees on the perched flow : small overflow frozen in the center; silver lava flow has incandescence in the upper part of the photo - Doc. USGS-HVO
Near the crater Kapoho, the lava channel makes a 90 ° turn ... after the elbow, it forms in its fall a small cascade of lava. The flow of lava has increased in Beach lots.
The fissure 22 is active, with sporadic spattering.
Sources: HVO-USGS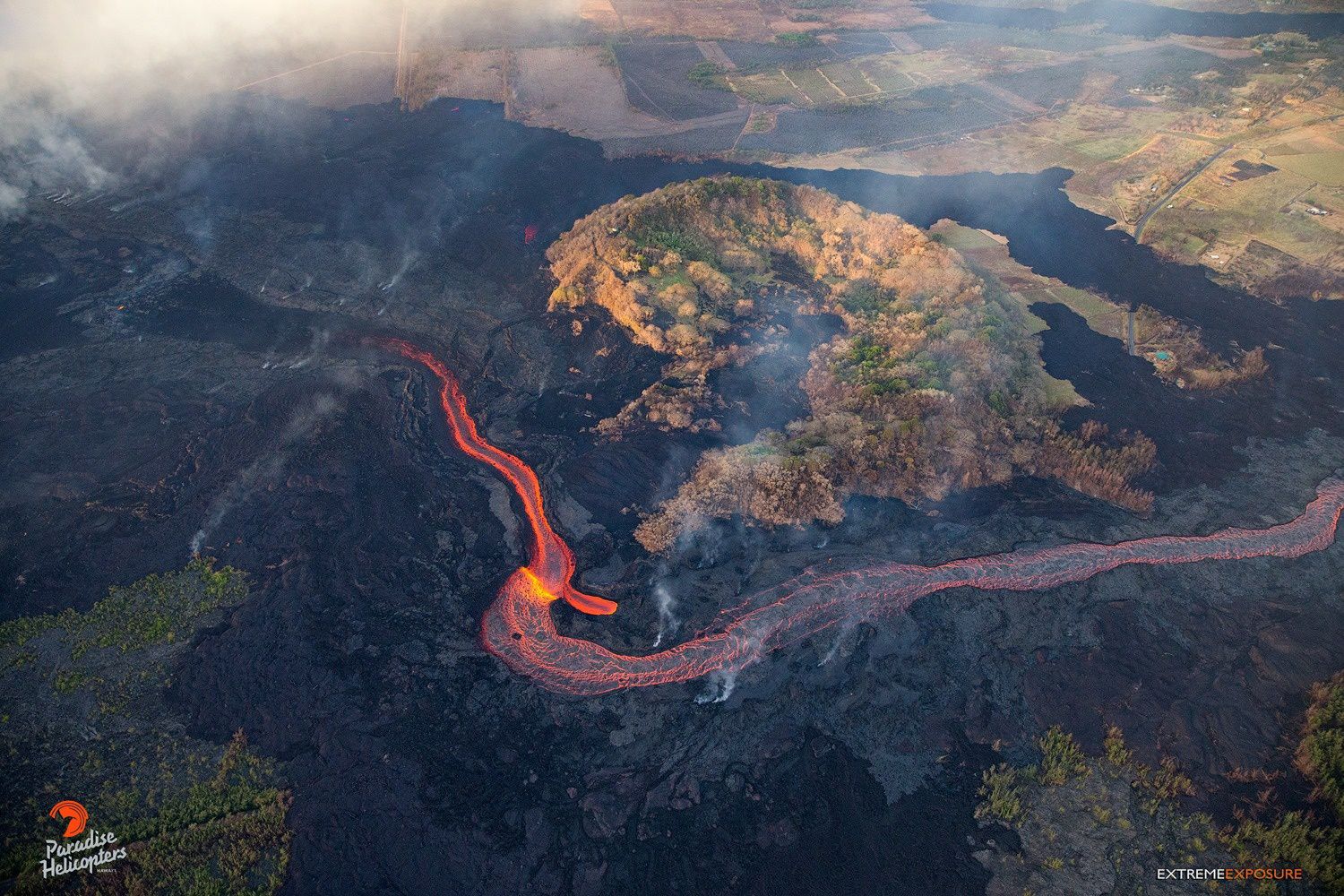 Kilauea East Rift Zone - the lava flow makes a 90 ° turn near the Kapoho crater, where a lava waterfall has a golden color - photo Bruce Omori
In Guatemala, the toll of the Fuego eruption of 3 June is set at 5 July: 113 dead, 332 missing and 27 wounded. The village most affected by the disaster is Escuintla.
Source : Conred