Publié le par Bernard Duyck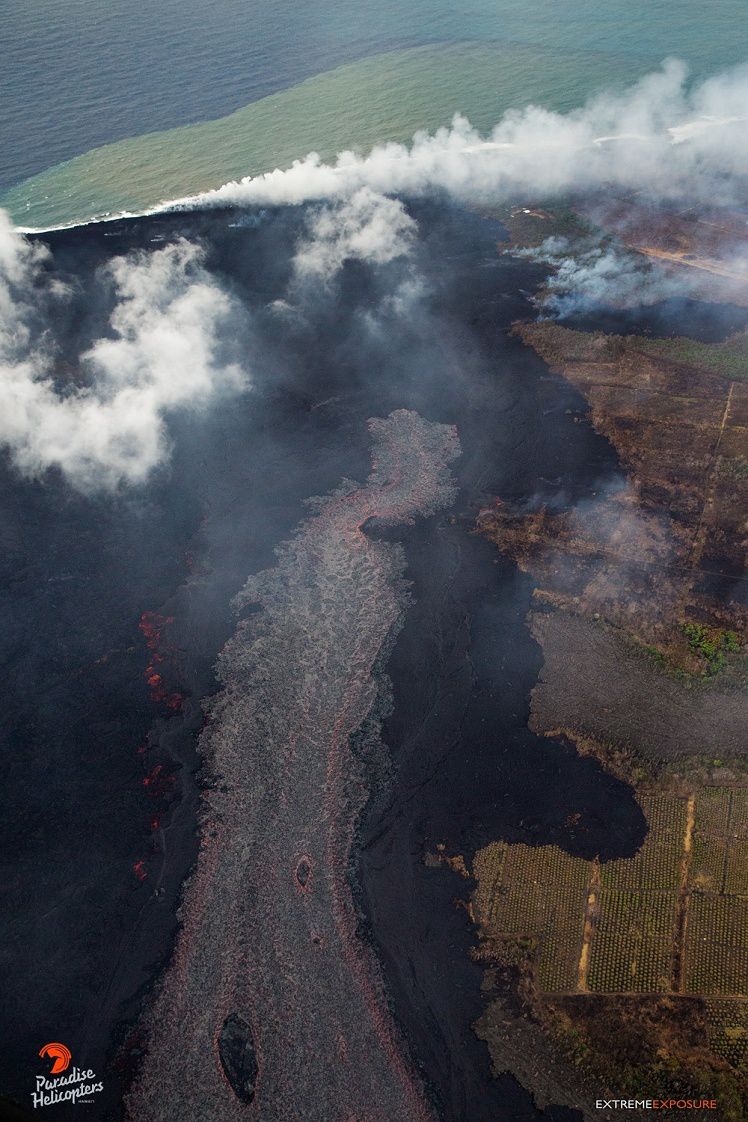 Kilauea East rift zone - a new lava flow on the old a'a flow always active - photo Paradise helicopters
In the eastern rift zone of Kilauea, fissure 8 continues to emit lava in the perched channel. The height of the cone decreased from 180 to 120 feet ... a significant difference, parts of the cone settling while others collapse.
The lava inlet at sea in Ahalanui has slowed, but continues towards Pohoiki, and Isaac Hale Beach, which it could reach this weekend. What seems worrying is the rapid progression of a flow on an old a'a flow always active.

At the top, a collapse occurred on July 19 at 16:33 HST, with an energy equivalent to that of an earthquake of M5,2.
Emissions of sulfur dioxide from the East Rift Zone remain impressive. The total mass of SO2 detected by the NASP NPP OMPS satellite since early May reaches more than one million tonnes (1 Tg), according to a communication by Simon Carn.
Sources: HVO-USGS, Bruce Omori, Mick Kalber, Simon Carn
In Sierra Negra, activity remains unchanged, at a superficial and high internal level.
During the last measurement period, 18 to 19 July at 11am, the number of VT earthquakes decreased, with 39 events; the number of LP earthquakes is 11.
The gas emissions are at least 1,800 meters above sea level, and go to the WNW.
Nighttime glow is observed at the emission points, and on the lava flows.
Source: IGEPN
In Villarica, POVI reports the presence of ash at the bottom of the steam plume emitted on July 18th.
The ESA satellite measured the same day a thermal anomaly at the top, the highest since December 10, 2017 ... validated by the photo taken on July 19.
Source: Werner Keller / POVI
At Popocatépetl, the last 24 hours were marked with 51 exhalations of steam and gas, and an explosion on July 19 at 8:31.
From around 9:30 pm, Popocatépetl presented a series of small explosions, accompanied by light ash emissions in a westerly direction.
Alert level remains unchanged: Amarillo Fase 2
Source: Cenapred