Publié le par Bernard Duyck
The triptych depicting the eruption of Mount Bandai, in Japanese Bandaisan, on July 15, 1888, is attributed to Tankei Inoue, also called Inoue Yasuji.
This eruption occurred during the Meiji period (1868-1912) of the Japanese Empire. This period is considered as "the time of the lights" compared to the time of Edo, described as "feudal and vulgar period".
This is the second wave of the Ukiyo-e, meaning "image of the floating world", an artistic movement comprising a popular and narrative painting, and engravings on wood.
As Japan opens up to the West, and to imported photographic and printing techniques, prints are still informative and ephemeral.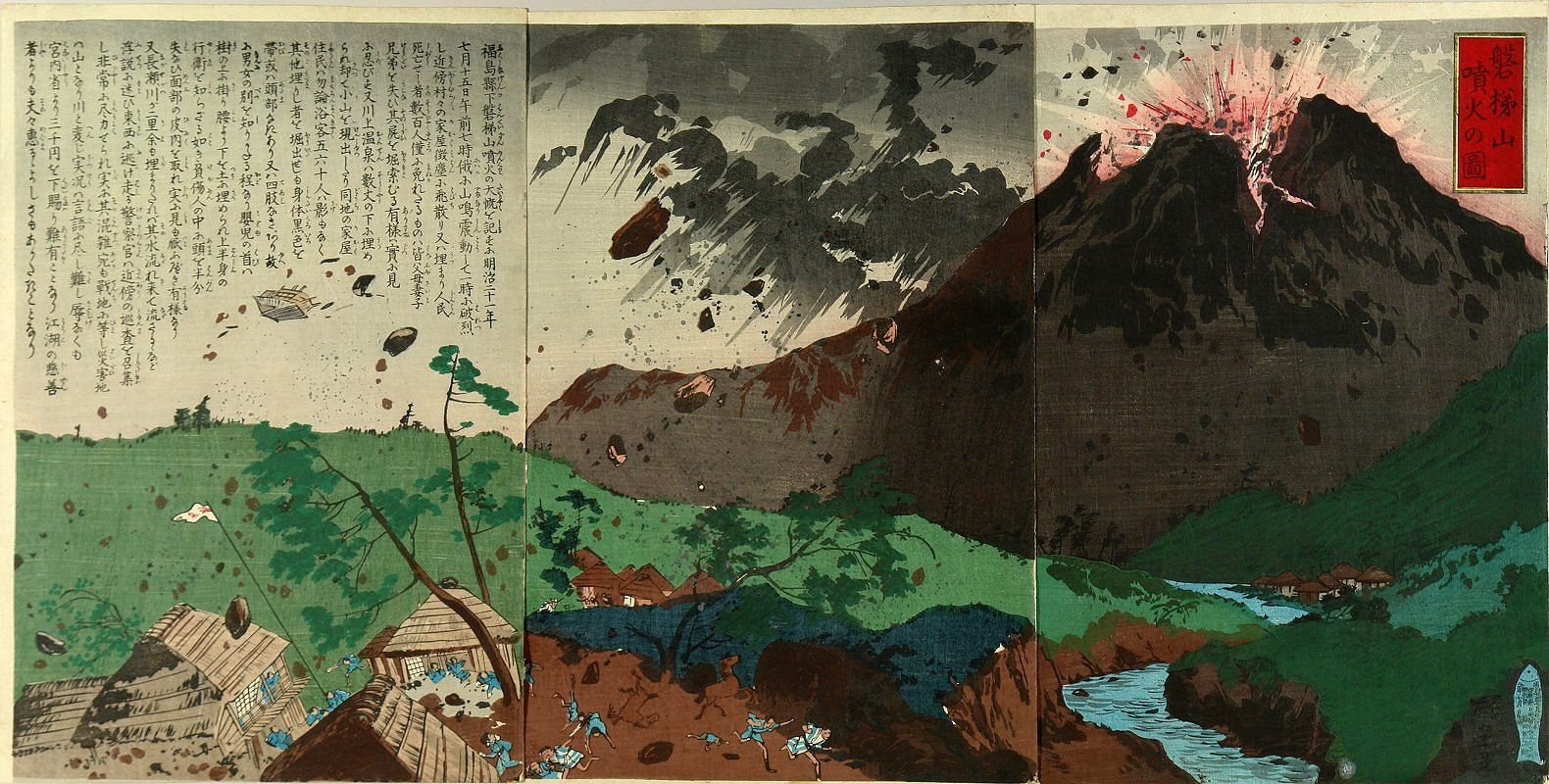 Ukiyo-e print of Tankei Inoue depicting the Bandaisan eruption of July 15, 1888 - One click to enlarge - Doc.Art and Design of Japan
Before its eruption in 1888, the Bandaisan was a conically shaped stratovolcano (seen from the south), often compared in literature to Mount Fuiji. It is in fact a complex of overlapping andesitic stratovolcanoes located on the main island of Honshu.
On July 15, after several earthquakes, one of magnitude 5, a phreatic eruption begins on the flanks of Kobandai (the youngest building), 100 meters above the Kaminoyu hot springs. The explosions follow one another at the rate of 15-20 / minute, accompanied by thunder traveling through a black eruptive column.
The eruption culminates in a cataclysmic explosion that destroys the Kobandai cone: a vertical plume develops and reaches 5,000 meters, a lateral blast, pyroclastic flows and debris avalanches estimated at 1.5 cubic kilometers, which cover 34 km² . Villages are swept by the avalanche moving according to visual testimony at 80 km / h, and 461 Japanese are killed.
Debris avalanches cause a dam that will give birth to Lakes Ibara and Akimoto.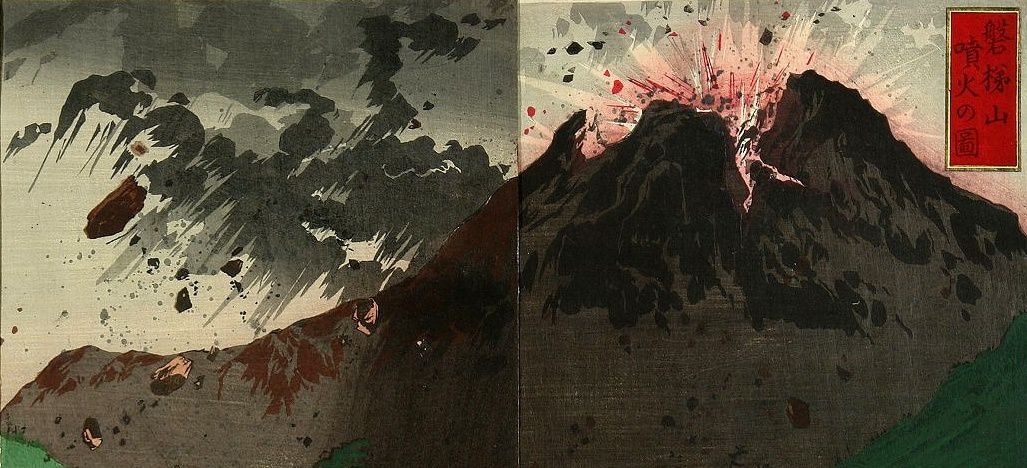 Ukiyo-e print of Tankei Inoue depicting the Bandaisan eruption of July 15, 1888 - detail on the pulverishing of the top of the volcano and the lateral blast - Doc.Art and Design of Japan
Tankei Inoue describes in his triptych, both earthquakes overturning homes, the explosion of the summit and the eruptive lateral blast, accompanied by gigantic bombs, and the desperate flight of the inhabitants and animals along a river.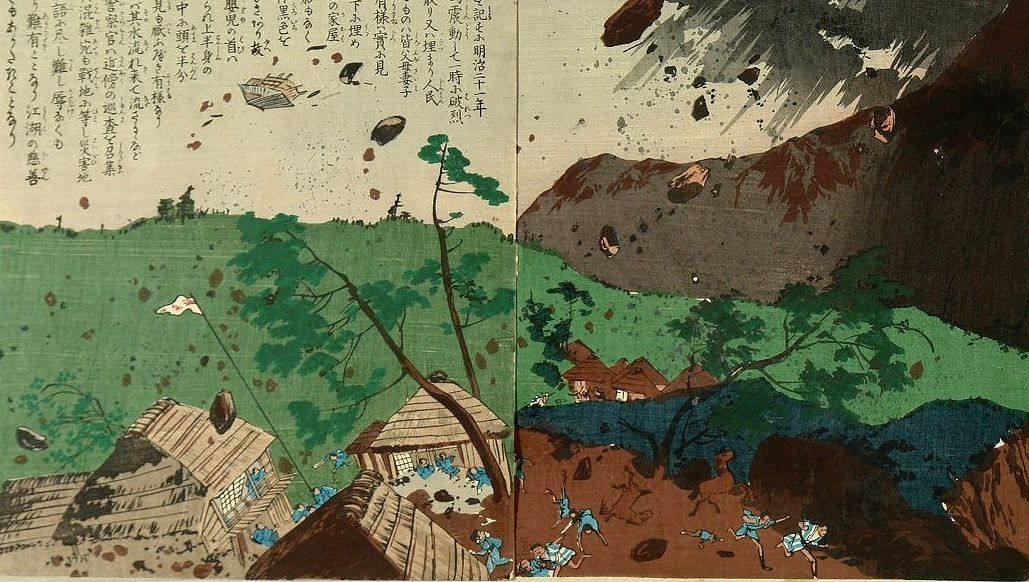 Japanese geologists from Tokyo Imperial University, Seikei Sekiya and Y.Kikuchi, will visit the devastated area in the days following this one-day eruption. After a study of several months, they will publish a report in English in the Journal of Sciences that become a classic of volcanology, describing a phreatic eruption and a flank collapse defining "Bandai type eruption".
A photographer will make the first pictures printed by Yomiuri Shimbun.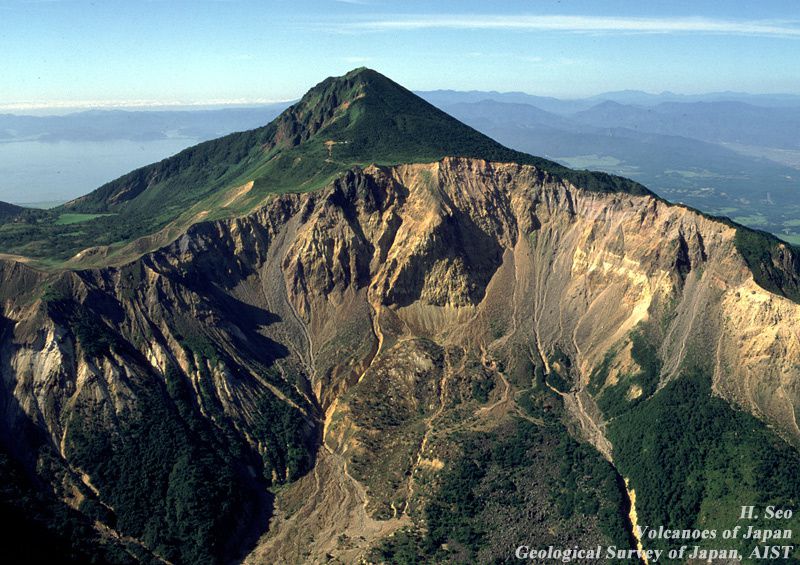 Bandaisan - the caldera left by the summit explosion during the 1888 eruption - Doc.H.Seo / Geological Survey of Japan / AIST